Nick Bailey (© Sarah Bailey)
On 4 March 2018, British police officer Nick Bailey found himself caught up in the Salisbury poisonings.
What he expected to be a normal day at work led to him being inadvertently contaminated, and fighting for his life in intensive care at Salisbury hospital. He survived, but that day changed his life forever.
Bailey was eventually discharged from hospital, but did not feel in good health, physically or mentally. He and his family lost their home and all their belongings. He suffered from anxiety and depression. He tried to return to work three times but in the end he left the police – the only job he had ever wanted to do.
Yet, incredibly, Bailey has found his way on to a path of recovery, and running has been a key part of this journey. To mark Mental Health Awareness Week, Bailey explains how running has been part of his life, and how it has helped him to process the trauma of that March day and its aftermath.
Bailey has been a runner for many years but says his approach to it is a bit 'all or nothing'. He has spells of running regularly which he enjoys, but also times when life's pressures, especially work, have left him with no time to run.
He loves the feeling of being physically fit and healthy. Bailey also enjoys the simple pleasures of running – getting out and about, being immersed in nature, seeing beautiful countryside, having time to himself, the sense of freedom, and taking a step to being a little bit fitter and healthier.
"I can relax after a run, because I've just done something really positive and proactive for my physical and mental health," he says of the sense of satisfaction that comes after running. But he doesn't run to be competitive or to win races. "I just want to better myself, and beat my own times."
Going back to March 2018, Bailey had not run for a long time because he had been so busy with work and pursuing his career. When Bailey was discharged from hospital, he returned home to his family but not to their family home – they had been forced to abandon their real home and start over. After a few months, Bailey was really feeling the pressure of his family's situation and circumstances; he felt physically and mentally very unwell. But he remembered the sense of exhilaration and achievement that running had given him in the past, and wanted that back.
"I wanted to harness that feeling again for my own sense of self-worth, and for my mental health," he reflects. So he decided to just start running again, without taking it too seriously.
After just one run of three miles, Bailey decided he needed a goal, something to aim for. The next day he entered the Salisbury Marathon, a tough, hilly, trail race, held annually in August. "The marathon is the ultimate achievement" he says, and Salisbury just "seemed right".
He decided to raise money too, for the Stars Appeal charity, which provides support for the intensive care unit at Salisbury Hospital. "They saved my life, and put themselves in harm's way. It was a very stressful and difficult time for them too. So I wanted to give something back; I owed them a debt of gratitude." His wife knew nothing of his plans at this point, so he called her. "I've done something silly," he told her. Thankfully, she just laughed.
And so Bailey's marathon journey began. He had about six months to prepare. He roughly knew what training he had to do. He ran every other day, including some longer and faster runs. He didn't want it to take over his life, so he decided not to use a formal training plan. Along the way, however, there were setbacks.
He had to take a break from training for six weeks because his depression had worsened, and he could not face training. He also picked up a knee injury with just two weeks to go. But he made it to the start line in one piece – perhaps the toughest challenge of taking on the marathon.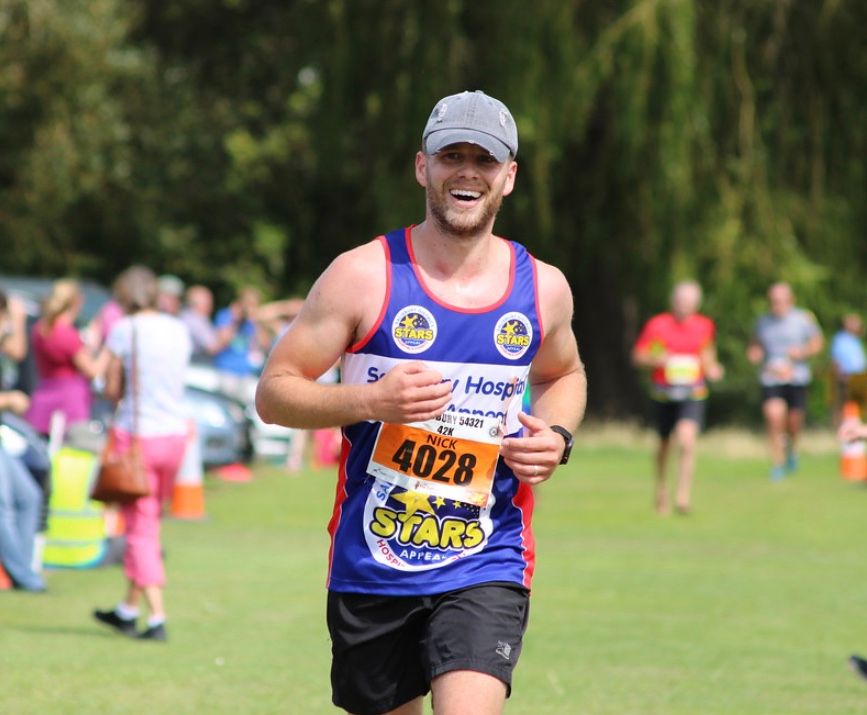 When asked how the marathon went, Bailey's answer was clear: "Horrible!" But he finished it, despite severe pain in his knee from about half way. His wife, children, parents and friends were all there to support him, and see him cross the line. "It was an overwhelming feeling of happiness and elation," he says about completing it. After a well-deserved rest, Bailey resumed running and started playing tennis again. He hopes to run another marathon sometime, and perhaps some shorter races and parkruns.
Bailey has been through a truly unique trauma. It is difficult, perhaps impossible, for others to have any real understanding of his experience. But it is clear he is exceptionally resilient. Through sheer hard work, he is turning his life around and looking forward. How has running helped his mental health?
Control has been a key factor, says Bailey. His and his family's lives were spiralling out of their control. They had lost their home and all their possessions. He couldn't work. Decisions were being made about him and his family which they weren't involved in. But running was one small part of his life that he could control.
"I could control when I ran, where I chose to run, how far and fast I ran… I called the shots on that. It was one small part of my life that I was in charge of – a mini victory," he says. It may not have helped him regain control of other parts of their lives, but at least it was something. "I never had any expectations that running would solve my problems, but I started to feel mentally a little bit more resilient by running."




The feeling of being mentally and physically fitter was another positive effect that running brought. "It was a time to reflect, process and think things through," he says. "I always used to think of a healthy mind and a healthy body, and exercise will make you feel better, no matter what you are going through." When faced with the task of managing and processing his experience, running gave him something positive; it made him feel better, both mentally and physically.
The way Bailey approached his running also helped his mental health. He wanted to enjoy the process and not be fixated by times, so he deliberately did not use a training plan. He made sure running did not rule his life or become a chore.
"I felt so different mentally to where I had been, I was quite often too scared to push myself into something because I did not know how I would react to it," he explains. Bailey's conscious and deliberate decision to adopt an approach to running which ensured he would enjoy it came across as very powerful – a deliberate act of being kind to himself when difficult times demanded it.
Finally, having a goal – the Salisbury Marathon – was a positive step for his mental health. After having to stop running for six weeks with depression, Bailey somehow found the strength to return to his goal and resume training. He did not want to let down the people who had generously sponsored him, nor let himself down. Having that goal helped to bring him back to a more positive outlook.
What comes next for Bailey on his road to recovery? He has left the police and is starting out on a new chapter in his working life. He wants to help others through his experiences of coping with trauma, using his resilience, and finding ways to improve his mental health. He has refocused on what is really, truly important in life. And he still runs – the exhilaration, that feeling of becoming fitter, and the satisfaction of doing something positive are all part of running's enduring appeal which he still enjoys.
"I still get that same buzz, that same feeling from it," he says. "It has the same impact on my mental health – it frees up my mind."
Running has been a small but invaluable part of his journey to turn his life around.
Mara Yamauchi for World Athletics Be Active