Runners from Global Sports Communications on their long run (© Vincent Riemersma / NN Running)
The long run, for elite and amateurs alike, forms an integral part of distance runners' training.
In the west of Kenya, 20km to the south-east of Eldoret, that weekly ritual takes place early on a Thursday morning.
At 6am sharp the first runners make their way out of the gates of the Global Sports Communications Camp in Kaptagat to join some local runners who will try to keep them company.
In the pitch-black late June morning, the runners have already woken up half an hour or so before to get dressed, take some sips of water and go to the toilet.
The 30 or so athletes do not eat beforehand. They have determined that there are benefits to running fasted, the most prominent being training your body to get better accustomed to taking energy from your body's fat reserves, something that may be important when carbohydrates sources are depleted towards the end of a marathon.
Athletes tie their shoelaces before a long run (© Vincent Riemersma / NN Running)
Of course, these are experienced athletes. For the double Olympic champion making his way to the group, he has spent 20 years building up and adapting his body to such challenges.
What is possible for Eliud Kipchoge would be simply unsustainable, and even ill-advised, for athletes new to the sport.
This particular morning, coach Patrick Sang has assigned the 'Boston loop' – an undulating route with far more elevation than its namesake marathon, eventually finishing high on the escarpment a few hundred metres higher than the 2200m starting elevation at Kaptagat.
For the Global Sports group, it is simply 40km straight out; the minibuses and pick-up trucks following them picking them up after to drive them home.
Most of Sang's athletes training for an autumn marathon are expected to complete the full distance, among them three-time world cross-country champion Geoffrey Kamworor, fellow 2:04 marathon-man Kaan Kigen Özbilen, Kipchoge and a collection of five others all boasting either sub-60-minute half marathon or sub-2:07 marathon bests.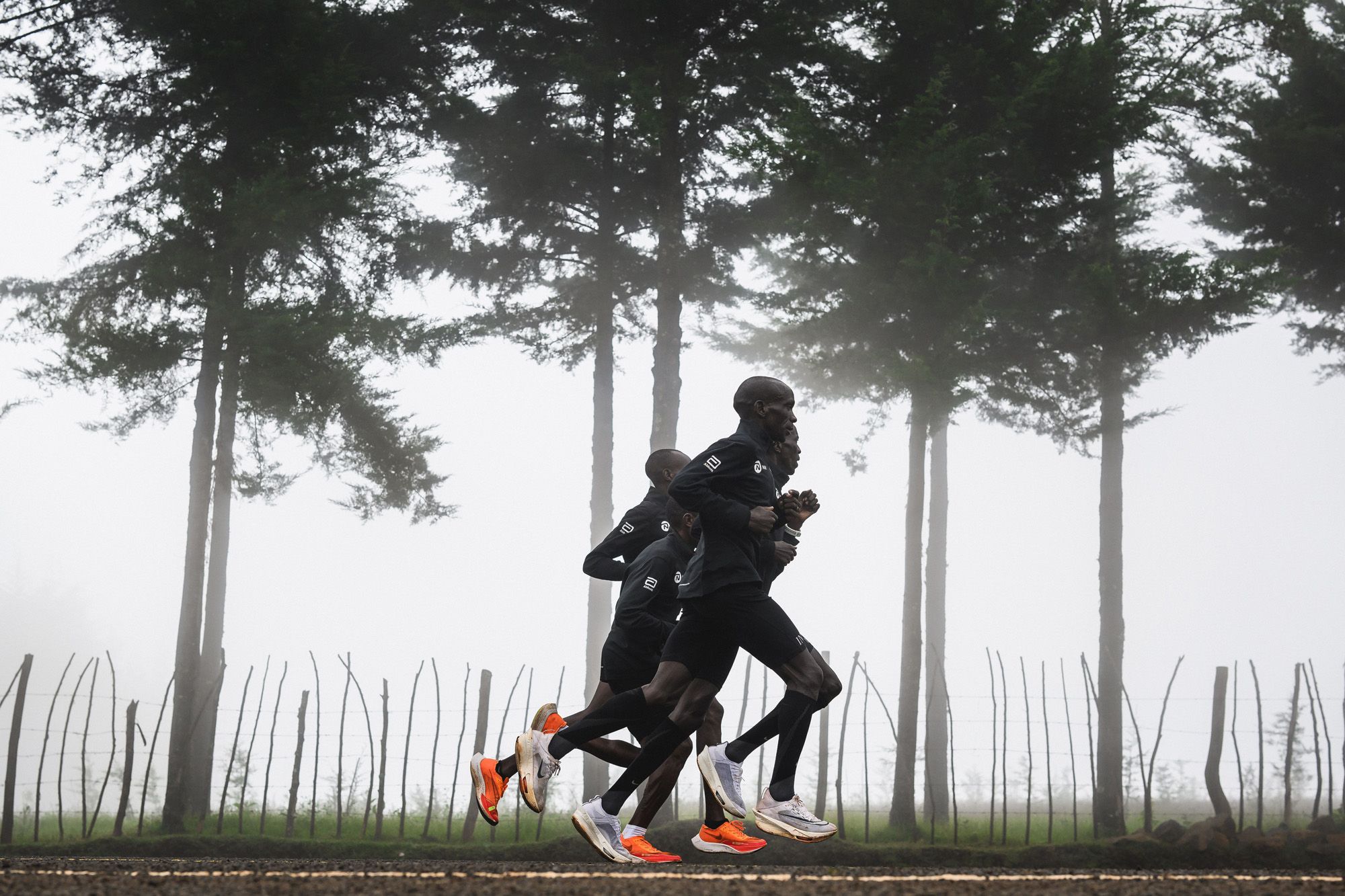 Eliud Kipchoge and his training partners on a training run (© Vincent Riemersma / NN Running)
World and Olympic medallist Linet Masai and 2:20 marathon runner Selly Chepyego, setting off 15 minutes beforehand, have also been set that distance goal.
For world and Olympic champion and multiple world record-holder Faith Kipyegon, today's task is 30km. Despite being on the longer end of what might be expected from a 1500m runner, Kipyegon is insistent that this run is her favourite type of training.
It may also be some indication of the strength shown in her 5000m world record in Paris.
Sang's final instructions are minimal. He does not prescribe paces, simply asking that his athletes set an honest pace, go on how they feel and try if possible to pick up the pace towards the end of their run.
The early footsteps are on a dirt road, the group paying attention to where their marathon-specific shoes land and running in silence. Information about tree routes or dips in the road is often communicated via hand signals pointing to the hazard.
From the off, the going is uphill and within 10km the group is receiving the first of their carbohydrate drinks being passed from the pick-up truck following them.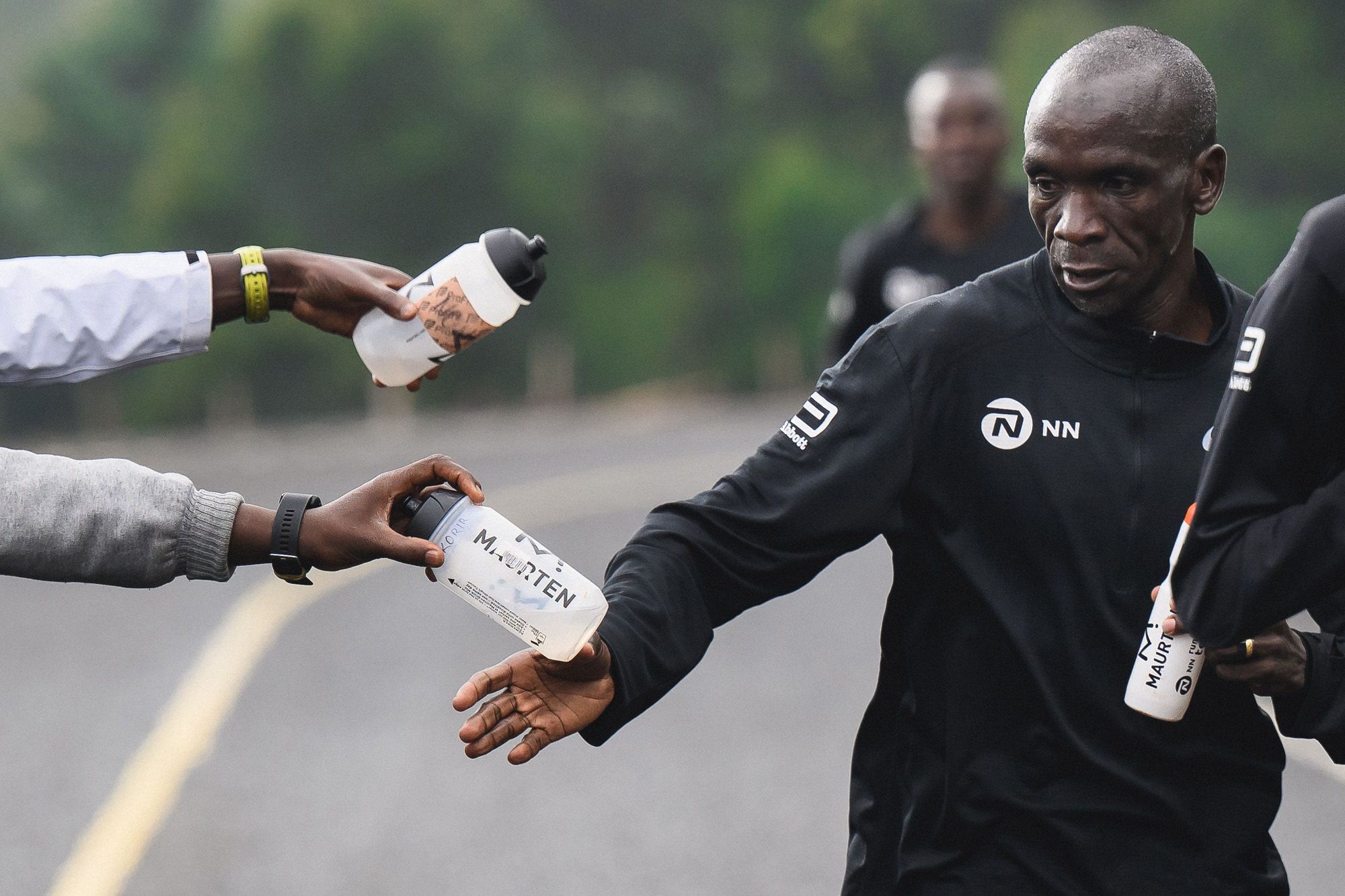 Eliug Kipchoge takes a drink on his training run (© Vincent Riemersma / NN Running)
After 15km the group hits the first of the tarmac roads of the C51 and the pace then starts to rise, slowly and subtly.
As they do, they gradually catch the groups ahead of them.
Geoffrey Kirui, the 2017 world marathon champion, has been told to run by himself as he is returning from an injury. Sang has intentionally encouraged Kirui not to fall into the usual pitfalls of over-exerting himself to go with a group.
Likewise Daniel Mateiko – the ninth fastest half-marathon runner in history, boasting a 58:26 best – was told to set off a few minutes before and will then join the group up to about the 35km marker. Still only 24 years of age and racing over a shorter distance, Mateiko's training has its own minimal differences with the shorter-distance athletes generally doing shorter long runs.
Throughout the run, Sang will come alongside in the pick-up, judging his athletes' efforts from the way they run. He later tells us he can notice minor indications from the way they land their feet on whether recent training has taken its toll.
Little advice is given; those he coaches have done this route many times before. More welcome instead are the drinks passed around every 5km or so. The group stays intact for almost 30km before it slowly fragments, Sang encouraging his athletes to sustainably push their effort over the final kilometres.
Kipyegon herself is nearing the end of her run, gradually progressing throughout the 30km but not pushing herself to the point of depletion.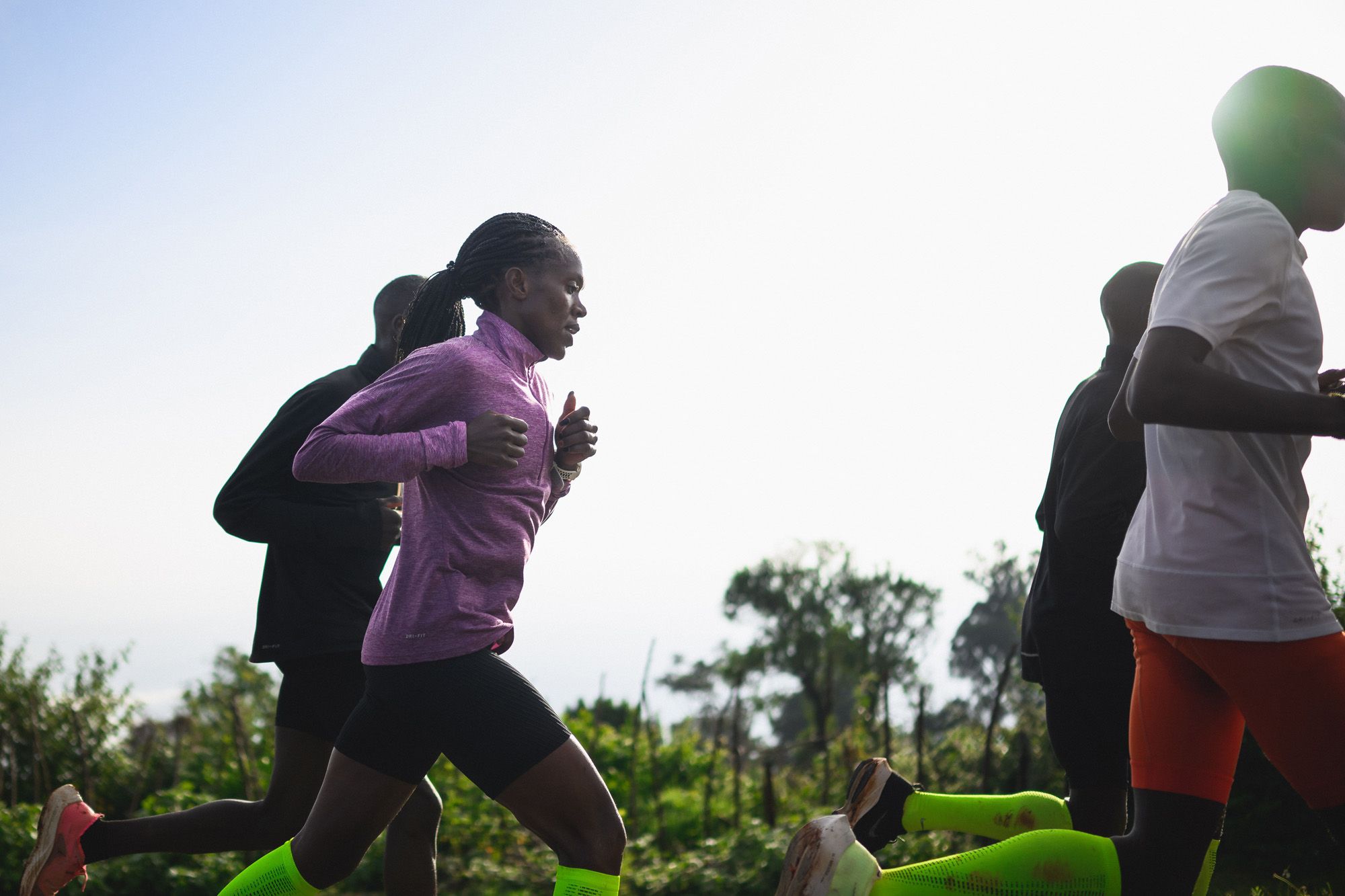 Faith Kipyegon on a long run (© Vincent Riemersma / NN Running)
Unfortunately for her, the moment her watch completes the distance, a few minutes over two hours after she began, is almost the highest point the group will reach that day.
She stops, jogs slowly for a few hundred meters before jumping in the van.
About a litre of carbohydrate drinks consumed after her run, she will not eat until an hour or so later when the whole group returns to the camp.
A long line of runners scattered along the road has yielded to a few isolated pockets completing the full distance and the leading group has whittled down to four.
Though interspersed with steady rises, the final five kilometres are slightly downhill. Kipchoge, Özbilen, Laban Korir and Hillary Kipchirchir run four abreast, completing these last kilometres in a few seconds inside 15 minutes.
Two hours 22 minutes after they started, they finish their undulating 40km with over 500m of elevation at a pace about 30 minutes slower than their best marathon times. It is an effort they might refer to as 'steady' and one in the midst of a typical 220km training week.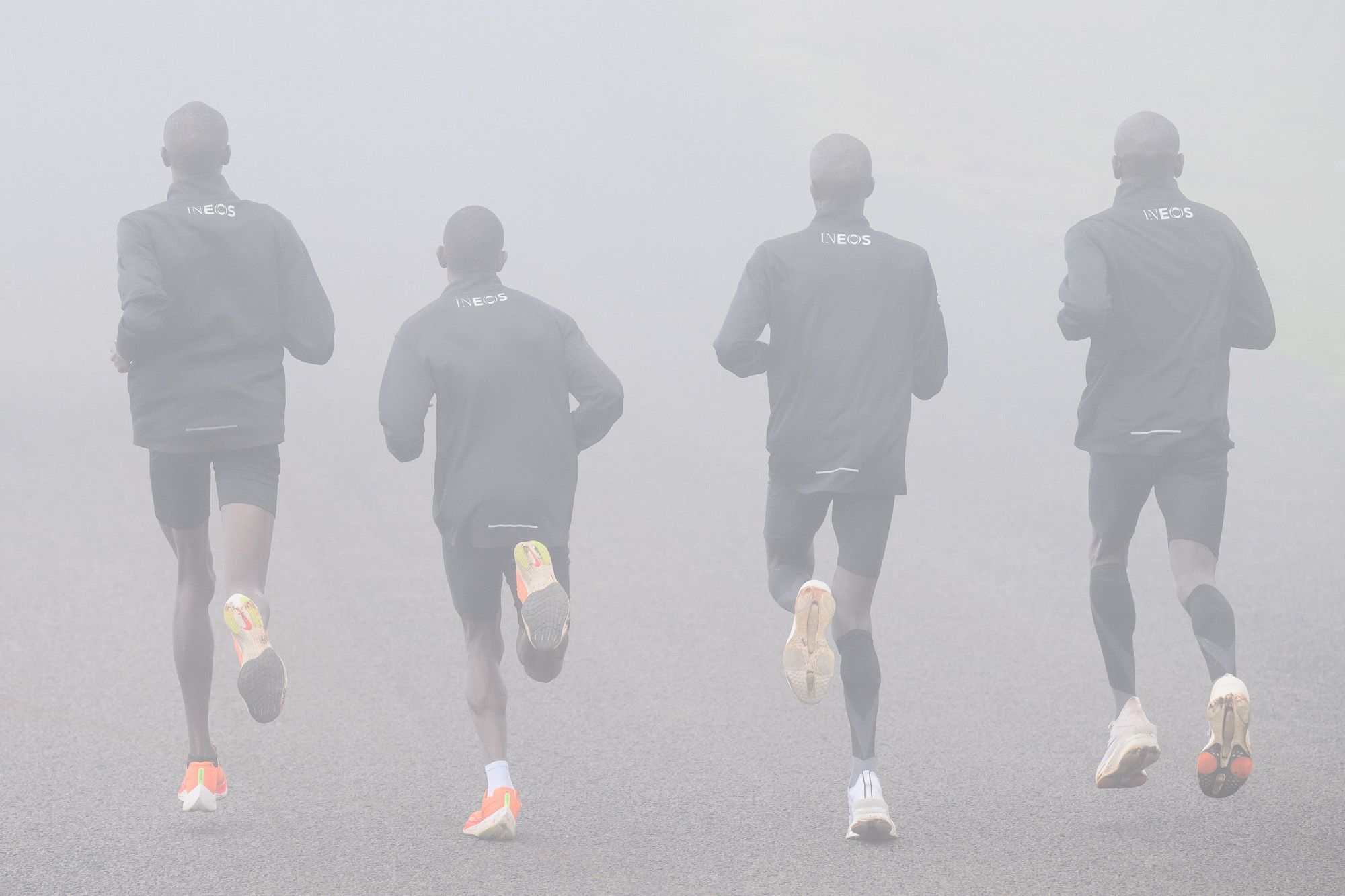 The last four athletes on the long run (© Vincent Riemersma / NN Running)
Like Kipyegon, they consume about a litre of drink as they get in the vans and make the 40-minute journey home, eating a nutritionally simple meal of beans, ugali, vegetables and some protein upon their return.
Their reward? A rare afternoon without another run, some sleep and a lighter Friday of two short easy runs.
A similar routine in a different setting to runners throughout the world, there are morsels of lessons for the everyday runner.
Progress sustainably, hydrate appropriately and perhaps trust your effort over your watch.
George Mallett for Personal Best