Eliud Kipchoge during a training session (© Vincent Riemersma / NN Running)
We arrive at the Moi University track on the outskirts of Eldoret a few moments after 6:30am, the equator sun rising in its customary spectacular fashion.
The assembled media are running late, a group of 10 athletes adorned in all black already making their metronomic steps round the 400m dirt track.
Kaan Kigen Ozbilen, or Mike as he's known to teammates, leads the way. The 2:04 marathon man is one in a long line of world-class distance running talent looking rigidly at the feet in front of them.
Some 20 metres from the finishing line is Patrick Sang, world and Olympic silver medallist in the 3000m steeplechase. For more than 20 years as a coach, he has developed an ever-burgeoning group of athletes, now known as the NN Running Team based out of Kaptagat, a few miles to the east.
Sang explains the session, one early in their autumn marathon build-up. Five sets of two, then one-kilometre repetitions.
The group is big, I offer. Sang laughs. We are still early into the session, he reminds me.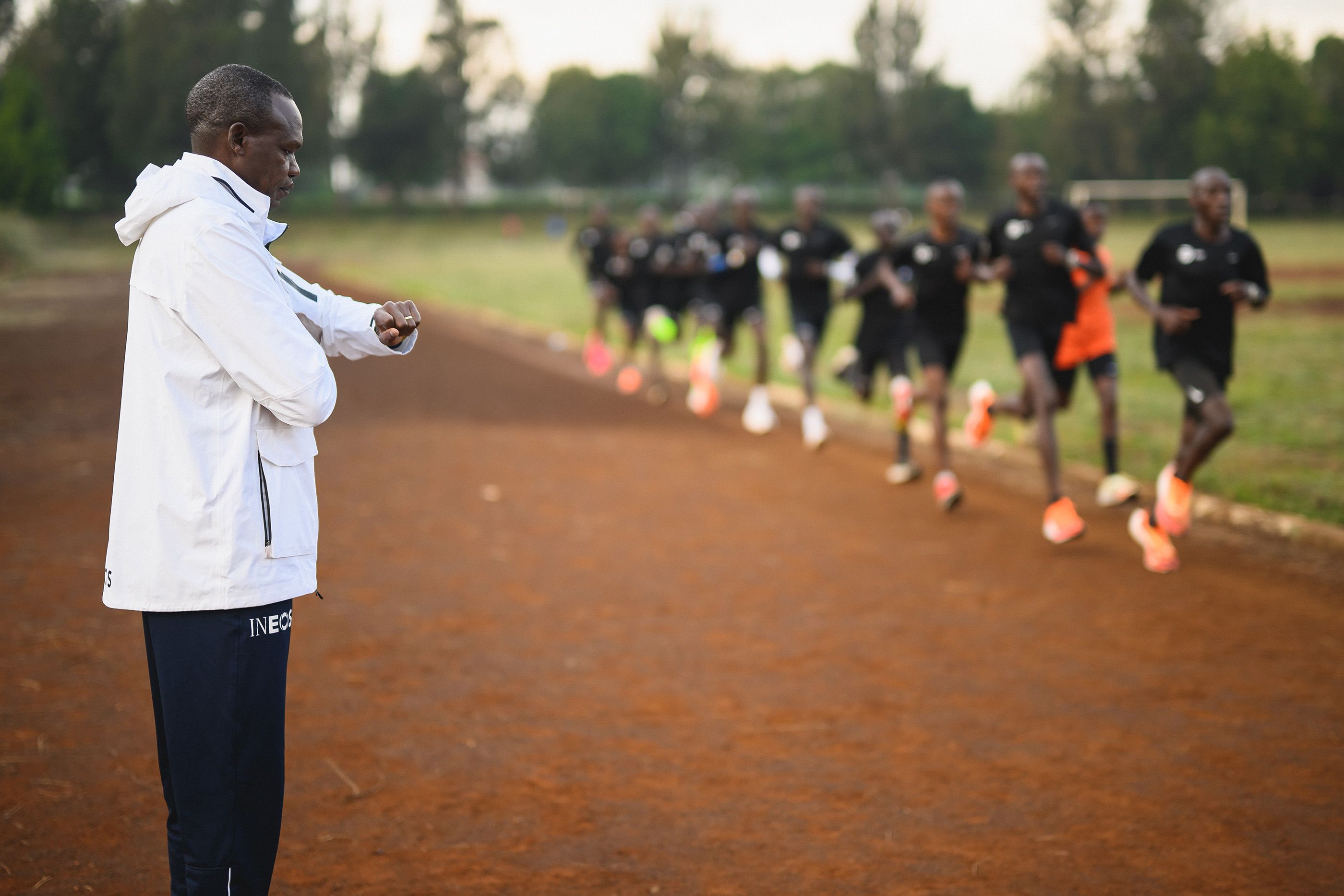 Coach Patrick Sang (© Vincent Riemersma / NN Running)
The pack passes, 71 seconds since their last rotation. Stopwatches click. Sang's three assistants take their notes.
A couple of minutes later, the first repetition finishes: 5:52, a duration revisited without variance for all four of the subsequent 2km intervals. Respite is a 100m walk, turning into a 100m jog between everything. Just under two minutes recovery in total.
As the athletes start the first of their kilometre reps, a familiar face hits the front. Two chairs mark each half lap and as they pass the one on the back straight, two-time Olympic champion Eliud Kipchoge checks his watch.
A pace of 2:50 per kilometre has been prescribed and he is on schedule, 68 seconds ticking by for each lap.
There was a time when Kipchoge would get excited and push the reps. That time has long gone. His 2003 world 5000m title win emphatically reminded him there is reward in discipline, he says.
The first set is complete and the sun reveals a dramatic sky, the 2200m of altitude blanketed by an ominous cover of cloud. It will not rain today, I am told.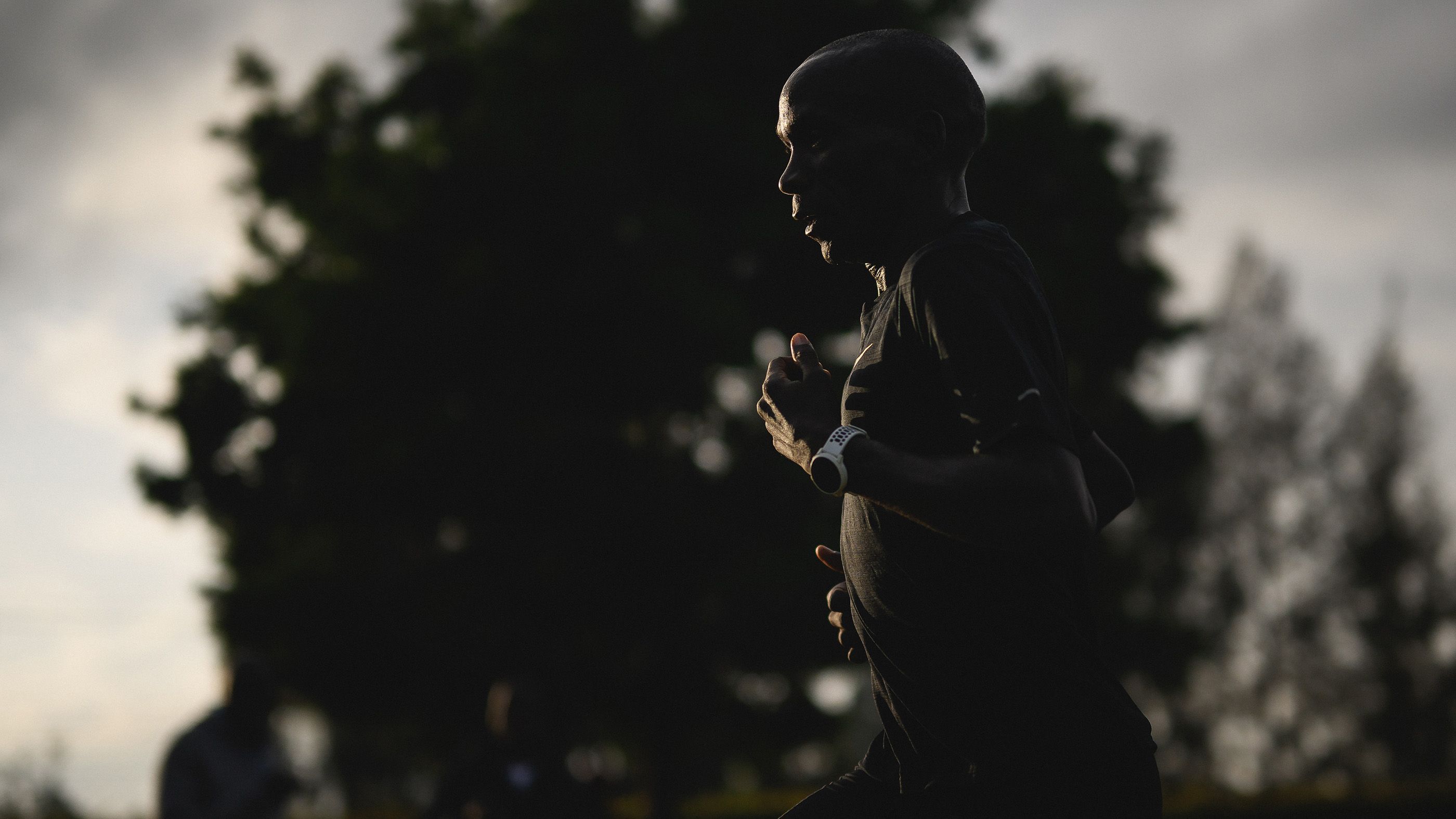 Eliud Kipchoge during a training session (© Vincent Riemersma / NN Running)
Erick Sang has raced twice overseas, in Venlo in the Netherlands and recently Jeddah, Saudi Arabia. Like those two victorious outings, once more he takes the lead, but no burst will be injected today. The 22-year-old guides the group to another 5:52 2km.
Next Geoffrey Kamworor takes the reins. Three times a world cross country champion, and a three-time winner of the world half marathon crown, here he finds relative anonymity. As the laps pass by, the group – still 10-strong – strings out. And so it repeats. Daniel Kipchumba has this year earned a marathon best of 2:06:48 but that day he was narrowly out-sprinted in Japan. He remembers it well. He takes the group past the halfway mark.
Of course, the track is not empty, even at this time. Linet Masai, the Olympic 10,000m bronze medallist from Beijing who claimed a world medal of the same colour three years later, does a similar session.
She is accompanied by Selly Chepyego, buoyed by running 2:20:03 in this year's Barcelona Marathon and looking forward to potential selection for the World Championships.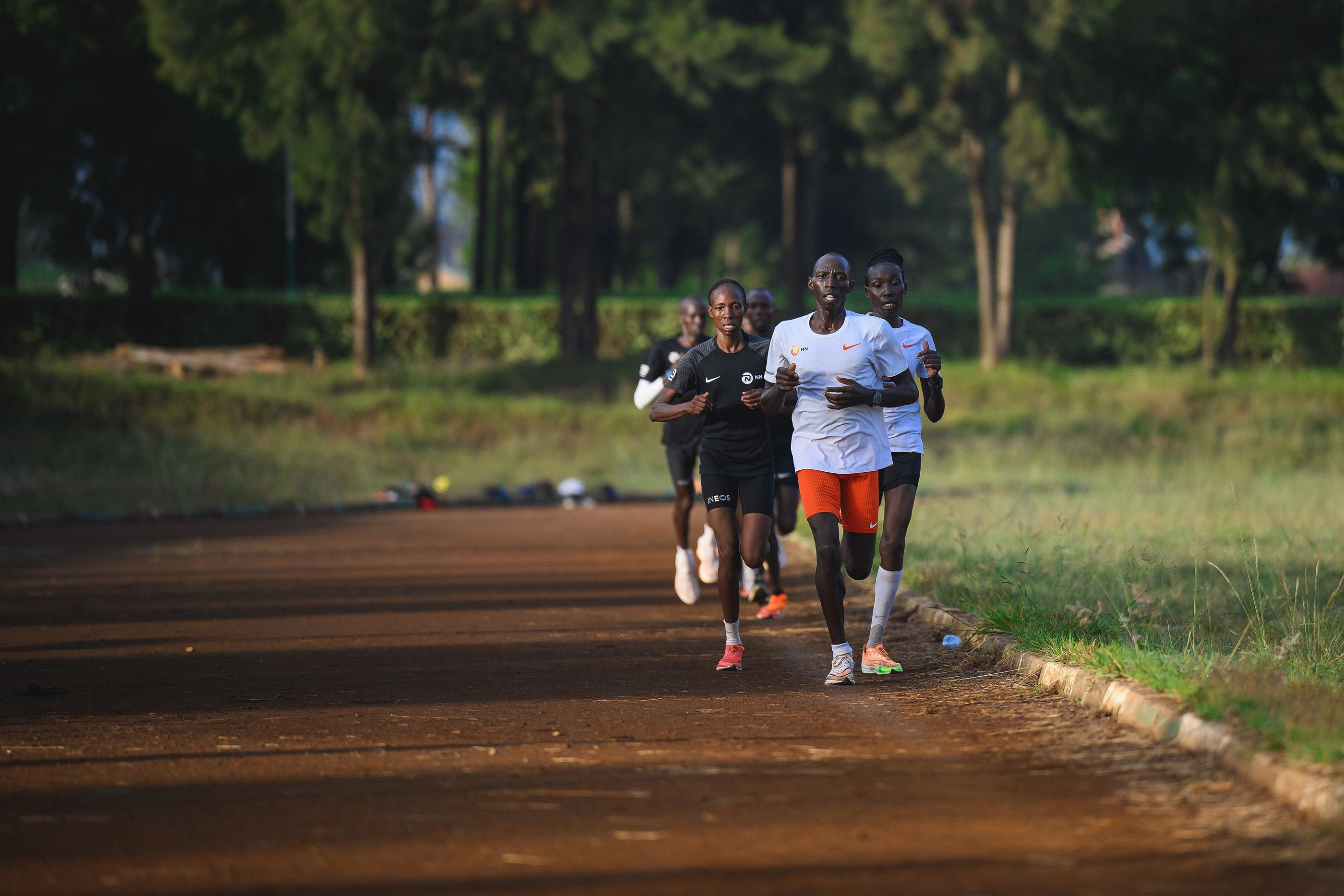 Linet Masai and Selly Chepyego train with their group (© Vincent Riemersma / NN Running)
In between is a less uniform bunch, kit passed down from their professional friends, and each with dreams of one day making the jump.
It would not be unprecedented. As the long line reaches the crescendo of the session, Kennedy has hit the front. He has graduated from the group behind and now leads. It is one of his first tests. One he duly passes.
Serenity has been replaced by some visible stress, but the tempo maintains and the lead continues to rotate.
The 2:05 men of Laban Korir and Philemon Rono sit behind Hillary Kipchirchir Chepkwony and Augustine Choge. Chepkwony strides with the confidence of a man who has recently made his mark, breaking 60 minutes for the half marathon in Venloop. Choge, a Commonwealth Games winner 17 years ago, still allows himself to offer a hint of a familiar smile.
The session is coming to a thankful end and each of the 10 team members have done their work.
Some slaps of the hand, stifled laughter and another 100m walk before a few laps of jogging and they are back in their cars, excited for their first food of the day.
Fifteen kilometres of hard effort completed on an empty stomach.
For Sang, however, the work is not done. An hour later arrives the lone figure of an Olympic and world champion, recently crowned as the first in history to break the 1500m and 5000m women's world records, and with a world mile record to follow in Monaco.
Faith Kipyegon – under a sun now shining strong and warm – runs some lonely laps in a full dark grey tracksuit. She has 45 minutes until her session begins but she knows what needs to be done to get herself ready.
Jackline Chepkoech, the Commonwealth Games 3000m steeplechase champion, joins her and the pair prepare. 9:30am is when the session begins.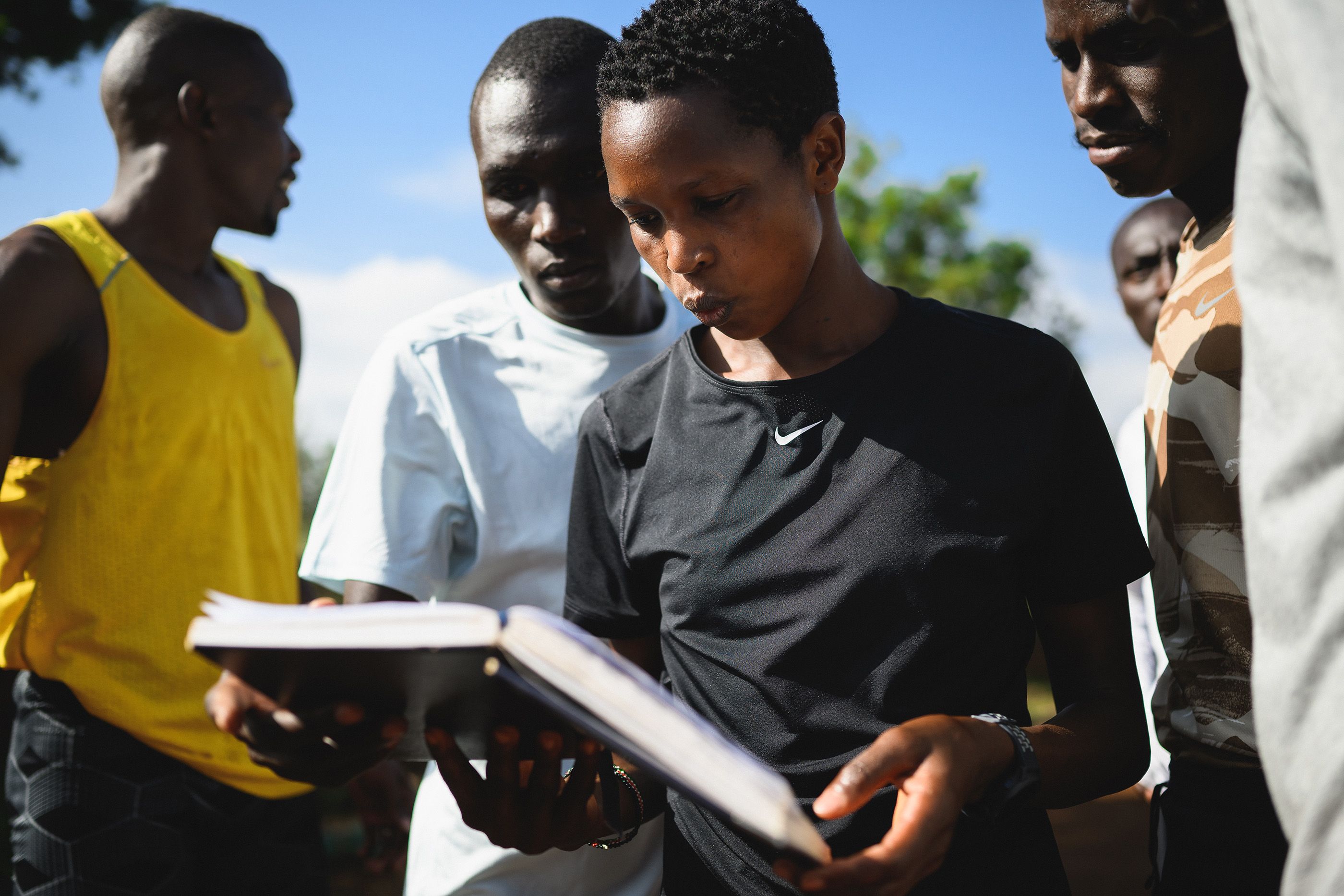 Jackline Chepkoech looks over the training session (© Vincent Riemersma / NN Running)
Kipyegon's pacemaker of 13 years, Bernard Soi, also arrives to receive his instructions. A bump of the fist and off they go.
Two kilometres in 6:18. For the pair, the session begins as gently as any such effort can and the group is keen to enjoy a one lap of recovery. It is just the target they have been prescribed.
Three 1km efforts are hit with the same discipline for which we are fast becoming accustomed.
With a 100m walk and 100m jog in between, Sang slowly introduces Kipyegon to her future life as a marathon runner, but Kipyegon is keen to joke about her dissatisfaction.
Hitting a pace of 3:00 per kilometre on the nose, they pass through the final kilometre in 2:59 - a rare deviance.
Their mini-set complete, Kipyegon, Chepkoech and Soi are permitted a longer 400m recovery.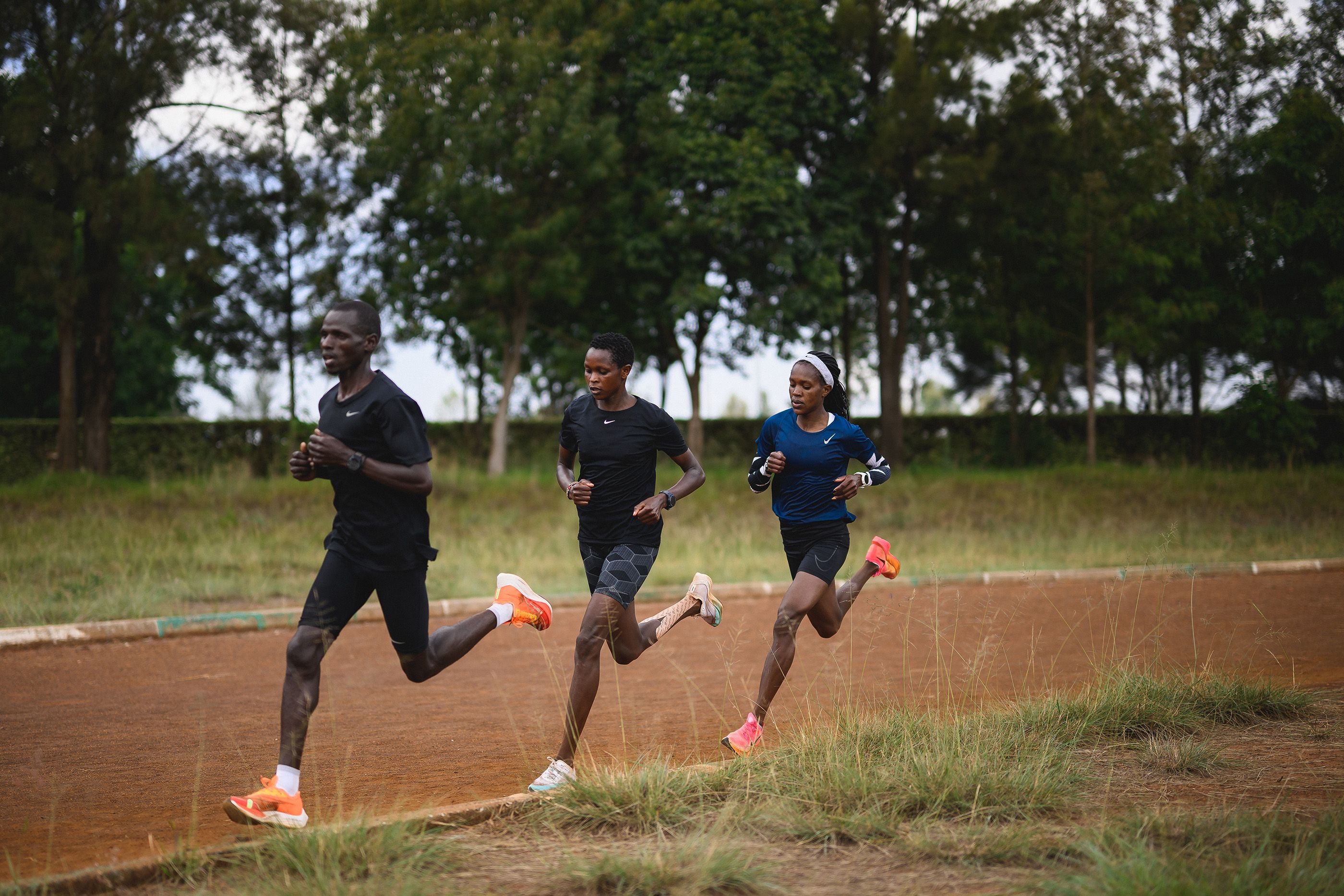 Bernard Soi, Jackline Chepkoech and Faith Kipyegon in action (© Vincent Riemersma / NN Running)
The track, however – with a long light line marking the inside path – does not get a reprieve.
Wycliffe Kinyamal and his 800m squad fly past the trio, a 51-second lap, most of their morning's work. A fast 200m and their tracksuits come on barely moments after Kipyegon has completed her rotation, the group in the midst of a busy racing block.
Around them, Ronald Kwemoi's middle distance group have run an anonymous 1:57 for their 800m effort, the rest of their session impossible to follow in the bustle of a now congested track.
Seven reps of 400m form Kipyegon's second half, the last four intended to be slightly quicker than the previous three. The first three reps are completed in 66 seconds, before Kipyegon gives her training partners a fraction head start.
Closing the stagger quickly by every back straight, the native of Keringet County clocks 64 seconds for the final four.
A 100m walk and 100m jog recovery throughout this section, and the morning ends as it started.
A few warm down laps and the track empties - rest and recovery the final repetition.
It is barely 10:15am and another track session is complete at Moi University.
There will be plenty more to come.
George Mallett for World Athletics Personal Best