"The refugee team is a team for humanity, one all nations can cheer for."
- Tegla Loroupe, marathon legend, peace-building, women's and refugee rights advocate
With that notion in mind, the World Athletics Athlete Refugee Team (ART), composed of athletes who have fled violence, conflict and injustice at home, was founded in 2014 as a collaboration with the Tegla Loroupe Peace Foundation (TLPF) in Ngong, Kenya, to support its work with refugees.
The team made its first competitive appearance as part of the Refugee Olympic team at the 2016 Olympic Games in Rio de Janiero, a debut that became a source of inspiration for tens of millions of displaced persons from around the world and whose stories resonated with millions more. Through its Athletics for a Better World Programme, World Athletics decided to continue building upon that foundation by creating a more structured approach to eventually build what in now considered an actual team – albeit one whose athletes are currently spread across five countries.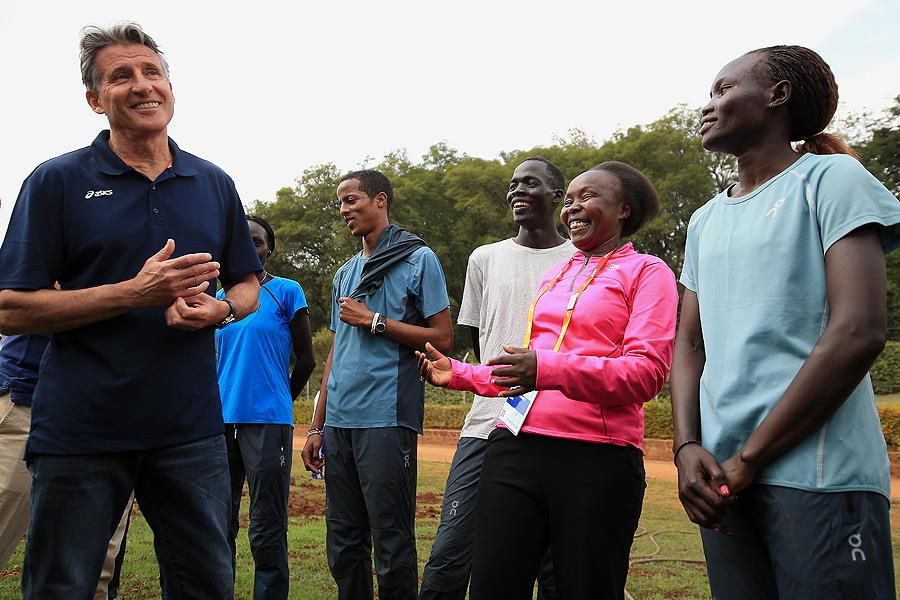 Since that debut in Rio, the Athlete Refugee Team has competed at every World Athletics Series event since: the 2017 and 2019 World Championships, teh 2017 World U19 Championships, the 2018 and 2021 World Half Marathon Championships, the 2017 and 2019 World Athletics Relays and the 2018 and 2021 World U20 Championships.
The project has grown to include athletes based at two main camps: the TLPF training centre in Ngong and the Alley Runners Club in Tel Aviv. World Athletics provides financial assistance to fund the head coach in Ngong, for a doctor who visits the centre regularly, for a coach at the Kakuma Refugee Camp in northwest Kenya who works primarily with U20 athletes as well as general upkeep and maintenance at the camp. The Athlete Refugee Team project also employs a team manager, currently based in Tel Aviv, who helps with day-to-day tasks and logistical matters, ensures that there is regular communication between the two camps and is in daily contact with World Athletics. 
World Athletics is also providing competitive opportunities at one-day meets and continental championships where our Area federations have opened opportunities to compete. In 2018, the CAA, the African confederation, invited a refugee team of athletes based in Africa to compete at their championships and in 2021 European Athletics opened entry to refugee athletes who live in European countries.
Most recently, seven members of the World Athletics Athlete Refugee Team were selected to represent the Refugee Olympic Team in Tokyo, led by marathoner Tachlowini Gabriyesos, a 23-year-old native of Eritrea who clocked 2:10:55 in March to become the first refugee athlete to better an Olympic qualifying standard. A team of three also represented the Athlete Refugee Team at the World U20 Championships in Nairobi in August 2021.