WHAT IS THE WORLD ATHLETICS AIR QUALITY PROJECT?
Launched in 2018, the World Athletics Air Quality project is part of a broad campaign to raise awareness about air pollution around the world and the impact it has on elite athletes and recreational runners. Across the globe, that means 1.4 billion people who run regularly and who are especially susceptible to risk from this silent killer that, according to the World Health Organisation, claims more than seven million lives annually.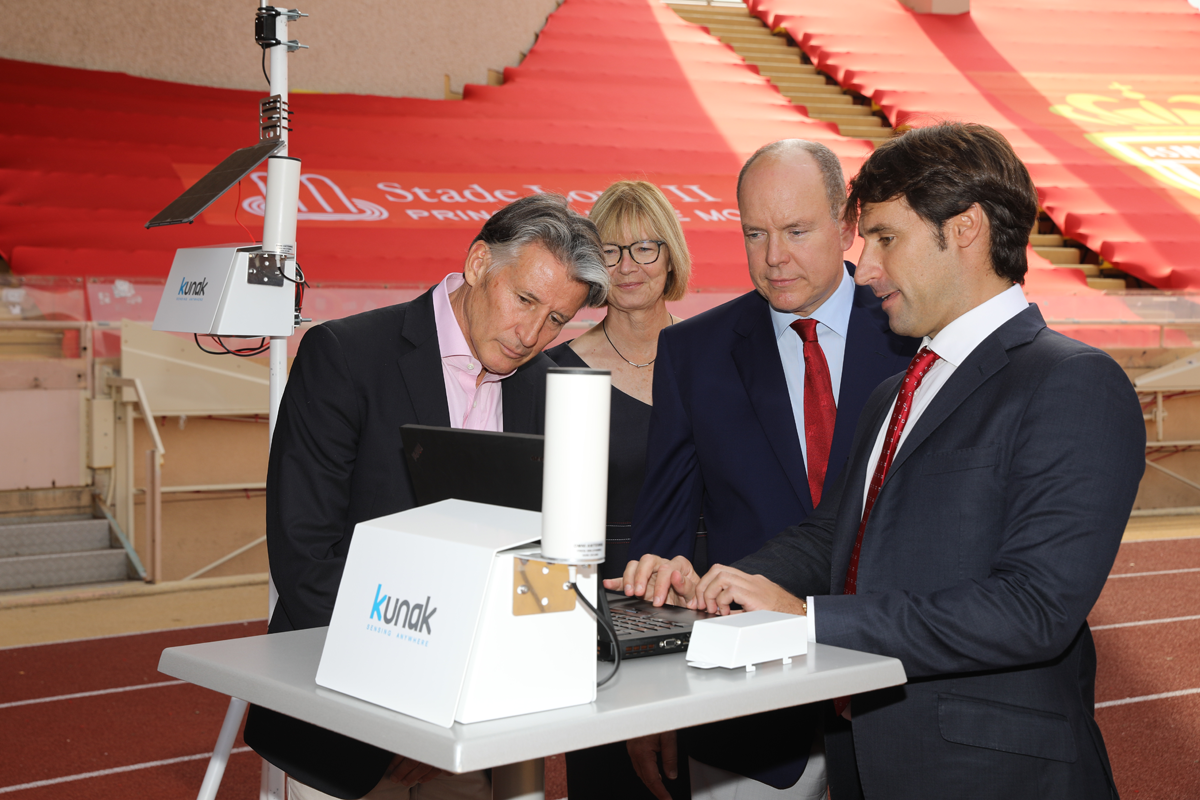 World Athletics President Sebastian Coe, Sustainable Development Advisory Group Chair Sylvia Barlag and HSH Prince Albert II and Kunak Technologies CEO Javier Fernandez Huerta at the air quality monitoring device installation in Monaco
Through a growing network of air quality monitors installed in stadiums or alongside courses where World Athletics events are held, the project will create a real-time global air quality database, a collection of data and information that is critical in both identifying sources of local air pollution and in finding the best solutions to combat it.
Designed with athletes' health as its primary concern, the project's objectives include:
To collect data and produce scientific evidences clarifying the effect of air pollution on exercise performance and health;
To campaign and advocate for clean air by providing real-time information on air quality online and through smartphone technology, and to use that data to influence policy, find air pollution solutions and run awareness campaigns;
To collaborate with UN Environment, global NGOs and partners to create a global database of air quality and mitigation initiatives around athletics events;
To utilise the information from our network of air quality monitors, in collaboration with government and other existing monitoring networks, to create data-sets that would allow World Athletics to advise on the best times to participate in sports in each location;
To provide real time updates that can be used to find solutions that would reduce air pollution exposure in running or walking relevant locations;
To work with local and national governments, as well as media and communications partners, to share the findings of the air quality monitors; and
To provide insights for further study on the correlation between air quality and the performance of athletes.
The project kicked off in September 2018 when the first Kunak air quality monitoring device was installed at the Stade Louis II in Monaco, followed by similar installations at stadiums in Addis Ababa, Sydney, Mexico City and Yokohama. That network will eventually link dozens of World Athletics-certified tracks from around the world.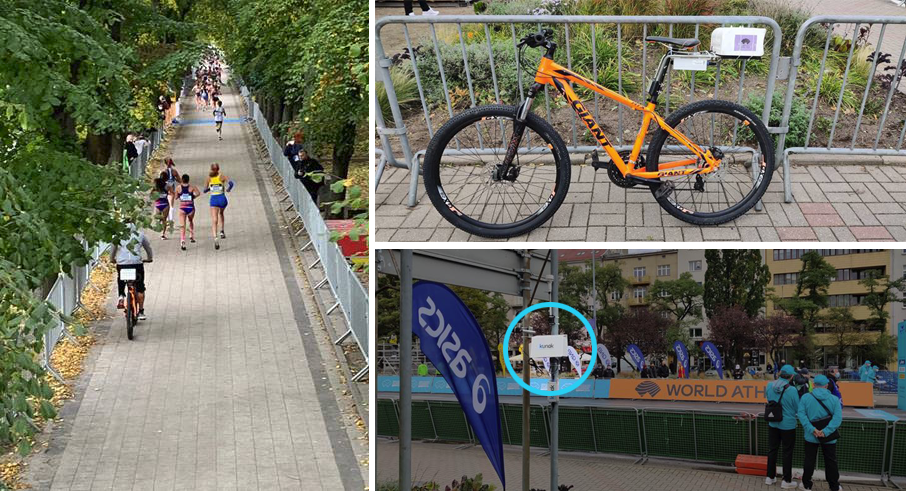 Air quality mobile and fixed monitoring at the 2020 World Half Marathon Championships in Gdynia, Poland
With its feet planted firmly on five continents, the project ventured outside of stadiums for the first time at the Mexico City Marathon in August 2019 and then again at the Valencia Marathon the following December where air quality was tracked over several hours at an urban event in which tens of thousands of people participated. Other mass events followed.
Road races in urban settings are uniquely placed to provide a treasure trove of data to scientists and researchers, given the amount of time runners spend on the course, and the varying environmental conditions they're exposed to over that time. So are popular public trails, roads and parks where runners regularly exercise, which is why another aspect of the project will now reach out directly to recreational runners and invite then to help collect data from their communities through our Run Smarter City Challenge, which was launched in the Swiss Swiss cities of Geneva and Lausanne on 5 June 2021, World Environment Day, and piloted throughout that month.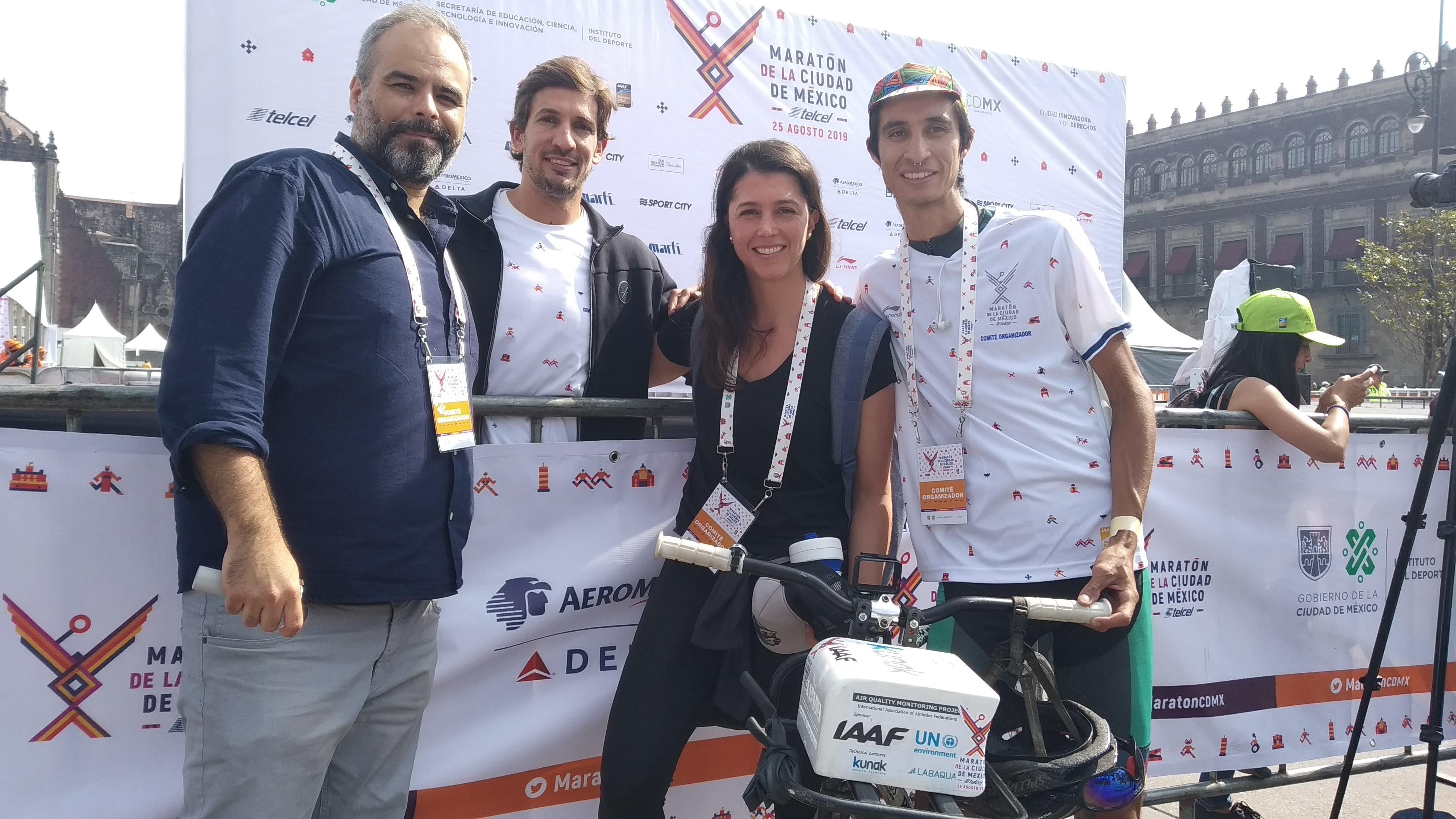 Kunak Technologies Business Development Manager Miguel Escribano, Mexico City Marathon Director Javier Carvallo, Stephanie Montero, lead coordinator of Air Quality and Health Projects at SEDEMA, and local professional bicyclist Luis Eduardo
Combating air pollution and working to improve air quality is one of the six key pillars of the World Athletics Sustainability Strategy, a ten-year road map unveiled in April 2020 whose goals include transitioning to carbon neutrality across all of its operations and events by 2030.
For more information or to get involved, contact healthandscience@worldathletics.org.