Valencian paella (© Mara Yamauchi)
It has been a historic season of marathon racing. Because of the pandemic, all the world's major races have been packed into a two-month window, and what a festival of incredible performances it has been! On Sunday (5), the Spanish city of Valencia will host the final World Athletics Elite Platinum Label marathon of the year, to bring the curtain down on this exciting, unique and intense period of racing.
If you follow my writing, you'll know that food is never far from my thoughts! Having been an elite marathon runner for several years, food and fuel have always been a high priority. When I was training and competing as an elite athlete, I always tried to eat as much as possible of what I call 'highly nutritious' foods, namely foods that contain a large amount of micro-nutrients. One of these foods is seafood – I ate clams, oysters, squid, prawns, scallops and more, as often as I could. Which brings me back to Valencia, and tomorrow's marathon.
The classic Spanish dish, paella, is from the Valencia region and shares its name with the large flat pan it is cooked in, over an open fire. Traditional Valencia paella contains meat, especially chicken and rabbit. But being a seafood fan, my favourite is an alternative version which is packed with whole prawns, mussels and squid.
Paella, like so many traditional, iconic dishes, has numerous variations depending on the region, who is making it, what is available, and so on. Its simple combination of rice, meat or fish, and vegetables is great for distance runners. I wonder how many runners in Valencia will sit down tomorrow evening to a delicious local paella? I must say, I wish I was there with them!


Ingredients
• 1 large onion, finely chopped
• 3 cloves of garlic, finely chopped
• olive oil for frying
• 4 medium tomatoes, finely chopped
• half teaspoon saffron
• 1 teaspoon smoked paprika
• 200g rice (ideally Bomba rice, but I use sticky white rice)
• 100g squid, cut into rings
• 10 king prawns, shell on
• approx 20 mussels
• 300ml fish stock
• 150ml white wine
• 1 lemon, chopped into wedges


Method
• Start by scrubbing the mussel shells clean, cutting off any beards, and discarding any that are opening. Place the clean mussels in a saucepan with a well-fitting lid. Add 1cm of boiling water and steam for 10 minutes with the lid on. Discard any that have not opened and set aside.
• Next, in a paella pan if you have one, or a large flat frying pan, fry the onions in the olive oil for 5 minutes. Add the garlic and continue frying for 2 minutes. Add the tomato, saffron and smoked paprika, turn down the heat and continue stirring until the tomatoes have broken down. Add the squid and cook for 2 minutes, then the rice and stir well for another 2 minutes. Now add the wine and most of the stock. Give it one quick stir and then stop. Allow the mixture to cook on a low heat for about 15 minutes, depending on which type of rice you use. You may need to top up with a little extra fish stock or boiling water if the mixture becomes too dry before the rice is fully cooked.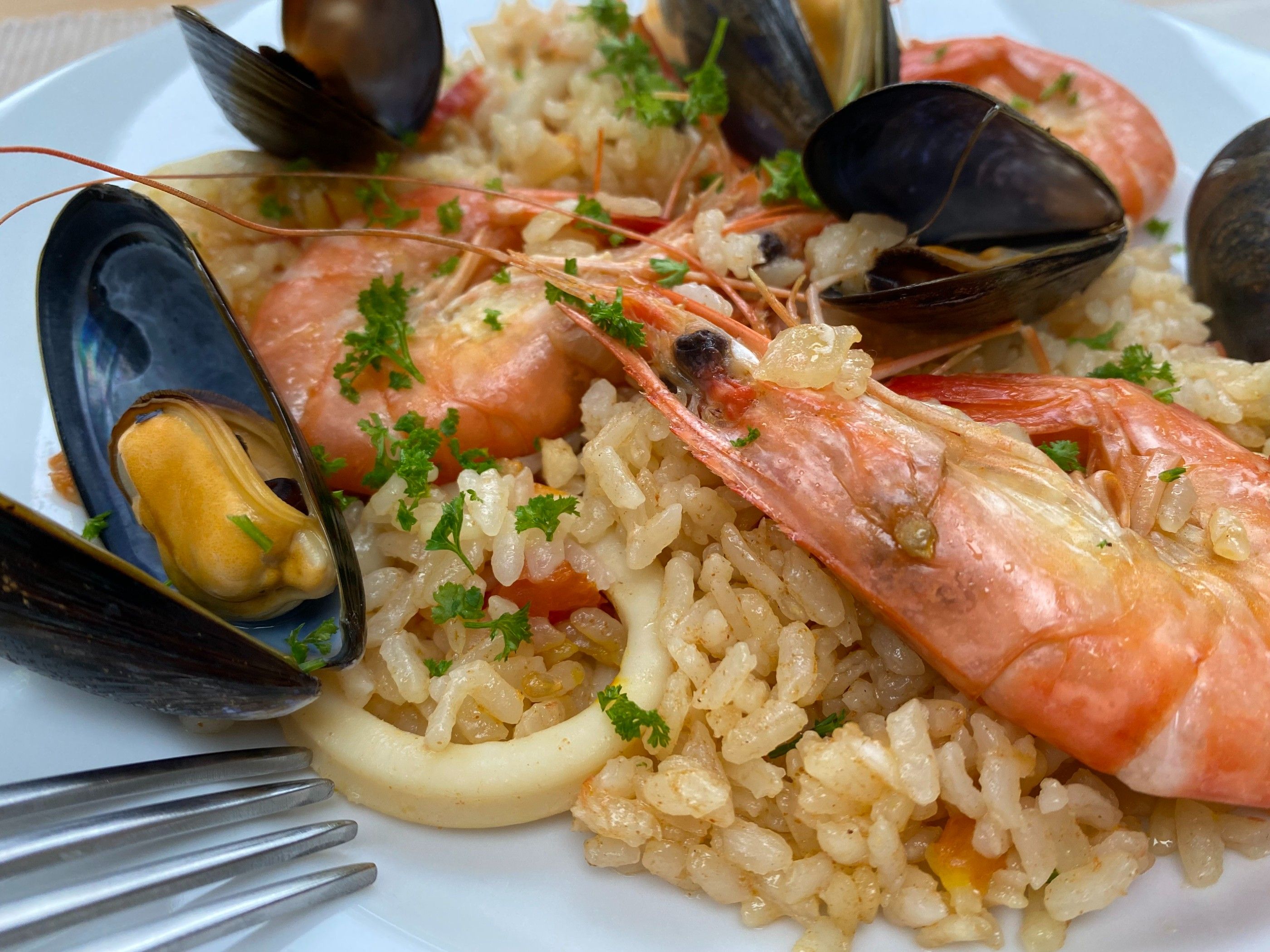 • While the rice is cooking, place the prawns on top, spread around so they cook through. Once pink on the underside, turn them over. If the rice becomes brown and crispy on the bottom of the pan, that is fine – this is one of the tastiest parts of a paella!
•Finally, arrange the steamed mussels and lemon wedges on top and serve immediately.
Mara Yamauchi for World Athletics Be Active