Remarkable runner Lindsay Walter
As part of @PBPersonalBest's Remarkable Runners series, Lindsay Walter shares her passion for the sport and how she went from a basketball player to an ultramarathon runner.
What sets Walter apart is her journey as an athlete with alopecia, a condition that causes hair loss. Here, Walter – who is based in Charlotte in North Carolina, USA – talks about her experiences: from discovering her love for running to finding unwavering support within the running community.
How did you get into running?
Actually, I had been a basketball player my whole life. I played in college up in Duluth, Minnesota, and it was just always my sport. Duluth has a high-profile marathon called Grandma's Marathon, which I'd go out with my friends to watch every summer. Then, in my senior year, I thought I'd like to run it so I could cross it off my bucket list and be able to say, 'I've run a marathon!' I'd never done track or cross country but I went on a few longish runs to train. So, that's kind of how it started. And, man, I loved it. It was incredible. The people, everything about the race, was so much fun.
Is running something you hold dear? Is it something that you do on a daily or weekly basis to find peace and confidence?
My running has really evolved from something that I initially did because it was fun. It's still fun, but it also makes me feel my truest self – it provides my 'me' time. I feel so confident when I'm out running – even with my bald head. When I started running, that wasn't me at all. I didn't feel self-assured. It's through running that I've gained confidence and continued to enjoy it.
I can set goals for myself. I really enjoy competing with myself, too. Competition, training, setting different goals – whether it's a 100-miler or a marathon, I love the variety and challenges. I feel like I've always got more to learn and accomplish. I'm never satisfied and am constantly looking for the next challenge.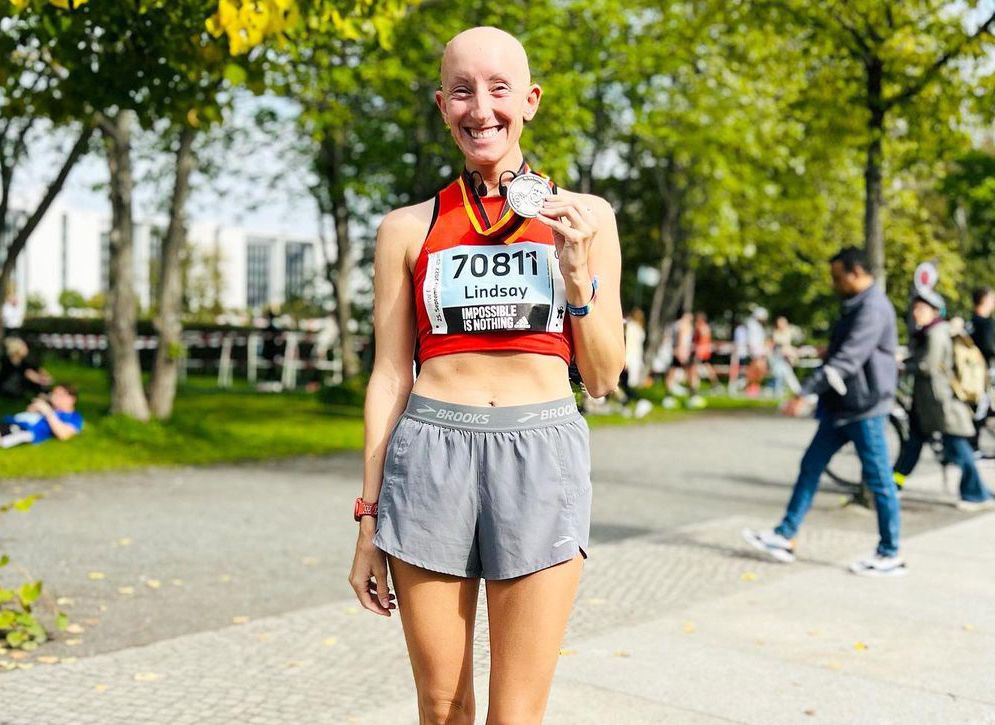 Lindsay Walter
Since you started running, you have grown your social media profile. How did you begin to build yourself as this inspirational ultra runner?
To be honest, social media was never a goal of mine initially. I ran because I enjoyed it. The more I ran, the more I enjoyed it; I became more self-assured, eventually accepting my alopecia. Not running with my wig anymore and going through the associated emotions is when I started to properly connect with more people. We all have our differences; we all have something that makes us feel self-conscious. And because I did have an obvious difference, I gained attention that way. Sometimes it isn't easy to relive hard moments, but if my story helps one person – not necessarily someone with alopecia, but anyone who's having a difficult time – then I think it's all totally worthwhile. I see alopecia as a gift. I didn't always and I didn't always like it, but now I see it as something special. So, it's my mission to give back and to inspire and encourage others.
Is there anything else about the running community that makes you love it so much?
For sure. Running can be an individual sport, but it can also be a team or community sport. After you finish a race, everyone says congratulations, even if you didn't have the race you wanted, and that feels great. No one says: 'That was a terrible time.' They're so encouraging, which is why I feel so accepted. Everyone might look different, train differently, have different goals, but we all come together at the start line for one common goal: to finish the race.
You've moved into doing more ultramarathons. Have you had to change your training and your goals?
I have always been intrigued by the 100-miler and ran my first one in spring 2021 after they cancelled the Boston Marathon. I felt I had to do ultras. I knew I would thrive because I'm mentally very strong. The training was different, though. You're not really doing tempo runs or speedwork, but rather long runs at a slower pace. I have to run 30 miles today and then 20 tomorrow – but I love that and look forward to it. My first experience in 2021 was great. In the same year, I did more 100 milers and then did my first 48-hour ultra – in the same place as I'd done my first 100! It was amazing to be back there this past April and I ended up winning overall, which was incredible. I love it. I thrive in that environment.
View this post on Instagram
Do you think what you've been through with your alopecia has built up this mental toughness that helps you run these long distances when it's quiet and you're on your own?
For sure, it's made me tough mentally. I have to believe in myself. That carries over to running. You have to believe that you're going to hit your goal.
What would your running tips be for novice runners, for someone training for their first marathon or ultramarathon?
Overall, I'd say make it your own. Don't run anyone else's pace, don't run anyone else's race, and don't compare yourself to others. Social media can be great, but sometimes it's easy to be discouraged. You might say, 'I did a 10-mile run, it was easy, and I ran it at this pace,' and someone responds, 'Okay, 10 miles, well I ran it at a 6:30 pace.' But there's lots of factors involved. Where are they in their training cycle? What experience do they have? What's their heart rate?
Don't get caught up in the numbers game, but remember you have to work hard, and you have to be committed. And enjoy yourself! There will be hard runs, of course, but keep your goals in mind. Knowing what my goals are keeps me inspired and motivated on days where maybe I'm tired or don't feel like running. No goal is ever too big, so don't be afraid of them. If someone says, 'Oh, you could never run a marathon', don't listen to them – have a go, nonetheless!
What's next? Do you have any goals or ambitions for the next year, or for the next five years?
Completing a 200-miler is a huge goal of mine and there's a lot of these cool races on my bucket list.
Our channel is Personal Best. What does that mean to you?
I love the term 'personal best' because it's so meaningful on a personal level. It helps make you feel the most confident, super proud. No one can take away your PB – for me, it's always going to be time based and about competing with myself. It's not just to finish. Whereas early on in my marathon journey, I was like, 'Hey, I just want to finish this' and I didn't really have a time goal.