Nijel Amos and Rose Mary Almanza in the 800m at the Olympic Games (© Getty Images)
Men's 800m
Entries | timetable | world rankings | 2021 world list | world all-time list | how it works
A new champion will be crowned in Tokyo for the first time since 2012, with two-time winner David Rudisha not returning to defend his title, and a number of athletes could take the step up to succeed the Kenyan great.
After breaking the world record with 1:40.91 to win his first Olympic gold in 2012, Rudisha became the first man since New Zealand's Peter Snell in 1964 to win consecutive 800m titles thanks to his win in Rio four years later. But injury has prevented the 2011 and 2015 world champion from competing since 2017 and during that time the major medals have been split.
France's Pierre-Ambroise Bosse won the 2017 world title but finished seventh in his semifinal two years later in Doha, where Donavan Brazier became the first US athlete to win a world 800m gold. The world indoor title in 2018, meanwhile, was claimed by Poland's Adam Kszczot.
Bosse is the only athlete from that trio in Tokyo, with Brazier finishing a shock last in the final at the US Olympic Trials. Winner on that day was Clayton Murphy, returning to the sort of form which saw him claim Olympic bronze as a 21-year-old behind Rudisha and Algeria's Taoufik Makhloufi.
"I've become a lot more confident in myself," said Murphy, when reflecting on his development over the past five years. "It's less about 'can I do this?' or getting excited about doing it; it's more 'I want to be here, I deserve to be here'.
"Now it's time to I guess show off what I have been working hard for," added the 2019 world eighth-place finisher, who ran his PB of 1:42.93 in Rio and clocked 1:43.17 to win the US title. "I know I can do it, now it's about going there and doing it."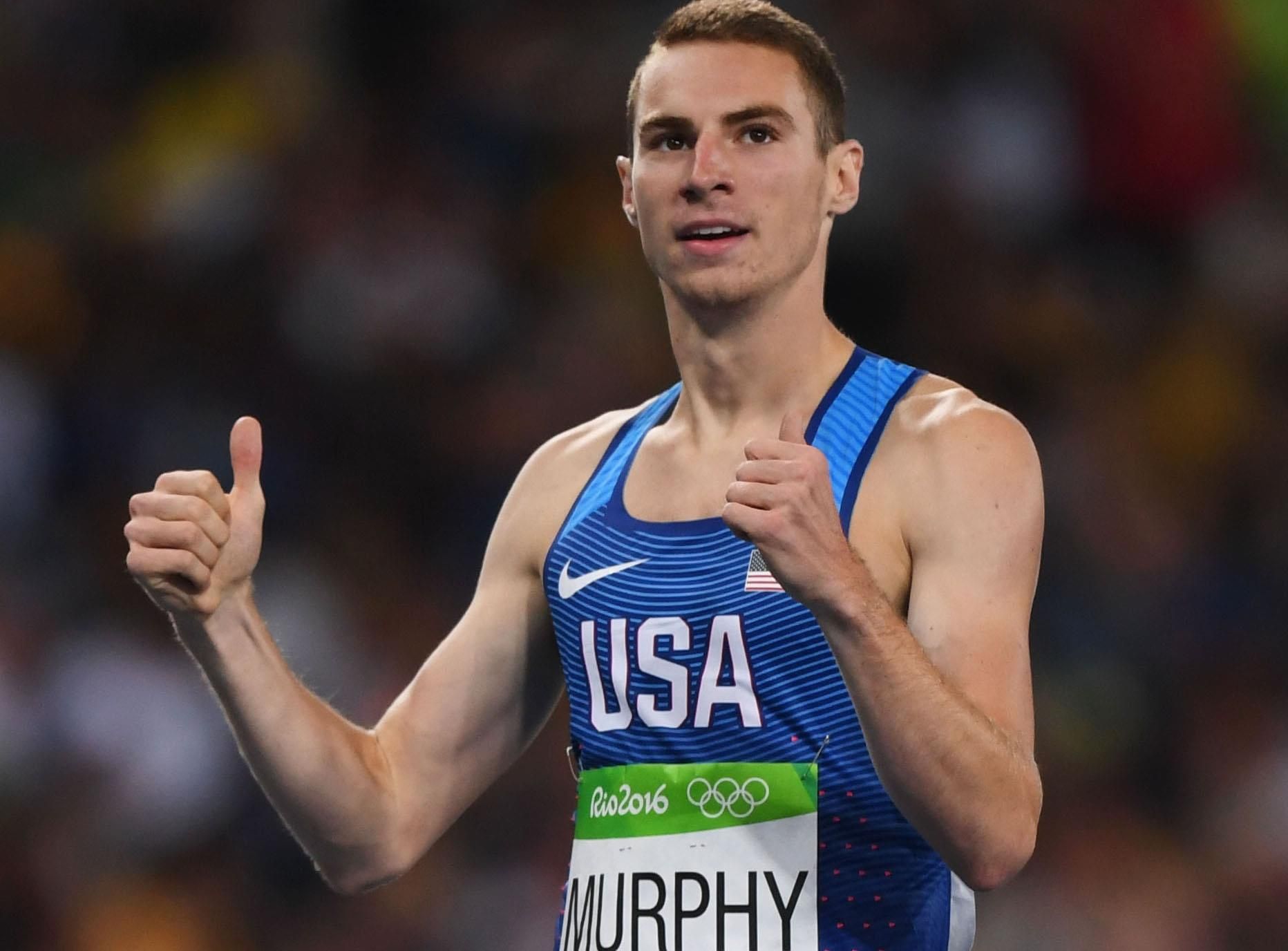 There will be multiple other athletes in the field with that same mind-set, though. Murphy placed seventh at the Wanda Diamond League meeting in Monaco, which was won by Botswana's 2012 Olympic silver medallist Nijel Amos.
For Amos, that win in Monaco was a superb return to top form after injury struggles, including that which forced him to miss out on the 2019 World Championships. He had only raced the 800m twice since then but at the Stade Louis II stadium the 27-year-old stormed to a world lead of 1:42.91 to beat some of the rivals he will face in Tokyo, including Kenya's Emmanuel Korir (1:43.04), Canada's Marco Arop (1:43.26) and Kenya's world bronze medallist Ferguson Rotich (1:43.57).
"I had an injury when I was supposed to race Doha, but running 1:42 today shows that things are going in the right direction towards the Olympics," Amos said.
In a race which could mirror the Olympic final, Britain's Elliot Giles finished fifth behind that quartet in Monaco, while Poland's former 400m hurdles specialist Patryk Dobek was sixth, Murphy seventh and Bosnian two-time world medallist Amel Tuka eighth.
Giles raced at the 2016 Olympics, just two years after being left barely able to walk after a motorcycle crash, and since then he has competed at every global championships. He has set PBs indoors and out in 2021, with his 1:43.63 in February breaking Seb Coe's British indoor 800m record and launching him to second on the world indoor all-time list.
Dobek, meanwhile, only started racing the 800m this year but quickly made an impact, winning the European indoor title in what was only his fourth competition at the distance. He set his outdoor PB of 1:43.73 in June.
Clayton's US teammate Isaiah Jewett, the NCAA champion, is a committed front-runner and will no doubt make the rounds interesting.
Michael Saruni joins Korir and Rotich on the Kenyan team after his win at the national trials, while Bryce Hoppel completes the US trio. Others to watch out for include Jesus Tonatiu Lopez, who ran a Mexican record of 1:43.44 earlier this month, plus Australian champion Peter Bol, NCAA indoor champion Charlie Hunter and Britain's Oliver Dustin.
Jess Whittington for World Athletics
Women's 800m
Entries | timetable | world rankings | 2021 world list | world all-time list | how it works
Athing Mu doesn't mind being called a prodigy. In fact, she embraces it.
"Being a prodigy is something I've always wanted to be," said the 19-year-old US middle-distance star, who has been lighting up the track with a flurry of records. "It's awesome to be called that."
Mu's next wish: becoming an Olympic champion.
That goal is in sight in Tokyo, where she is among the favourites in the 800m and vying to become the first US woman to win gold at the distance in more than 50 years.
"I was made for this," she said.
Mu (pronounced "Mo") won the 800m at the US Trials in 1:56.07, the second-fastest time ever for a US woman and the fastest time in the world this year.
Mu burst on to the scene when she was just 16, setting a senior US indoor 600m record of 1:23.57. The athlete from Trenton, New Jersey, has gone on to break a string of high school, collegiate and age-group records from the 400m to the 800m. She was silver medallist in the 800m at the 2018 Youth Olympics in Buenos Aires.
This year, as a freshman at Texas A&M, Mu broke six collegiate records, including the indoor 600m and 800m and outdoor 400m and 800m marks. She also set a world U20 indoor 800m record of 1:58.40 in February and followed it outdoors with five North American U20 records over 400m and 800m.



Mu is the second youngest of seven siblings whose parents moved to the US from Sudan 20 years ago. She dreams of emulating Madeline Mims, who won the 800m at the 1968 Mexico City Games and remains the only US champion in the event.
"Whenever someone asks, 'Who do you want to be?' I say I want to be a professional athlete and I want to be an Olympian," Mu said. "It's now a reality. This is exactly where I'm supposed to be. I've worked for this."
Mu will face a field in Tokyo that is loaded with top contenders, including four other women who have run sub-1:57 times this year.
Rose Mary Almanza notched up a trio of 800m victories at home in Cuba and claimed victory in the 4x400m at the World Relays in Silesia. She then racked up three more wins on the European circuit, including a PB of 1:56.42 in Ordizia, which she then improved to 1:56.28 when winning at the Wanda Diamond League meeting in Stockholm.
She committed to the swift early pace in Monaco and paid the price on the second lap, eventually finishing ninth, but still came away with a 1:58.51 clocking.
Almanza has competed at the 2012 and 2016 Olympics and the past four World Championships but has never advanced beyond the semifinals.
Jamaica's Natoya Goule, the 2019 Pan American Games champion, ran a close second to Almanza in Stockholm in 1:56.44. She set a Jamaican record of 1:56.15 in 2018 and went on to finish sixth at the 2019 World Championships.
Ethiopia's Werkwuha Getachew set a national record of 1:56.67 to win the Ethiopian trial race in Hengelo. That remains her only ever race outside of her home country, so it will be difficult to know what to expect from her when she steps up to the Olympic stage.
Laura Muir broke the Scottish 800m record, winning the Diamond League meet in Monaco in 1:56.73, but she has decided to run only the 1500m in Tokyo.
Britain will still be well represented, though, in Jemma Reekie, who placed second to Muir in Monaco in 1:56.96, and Keely Hodgkinson, who won the European indoor title in March and improved to 1:57.51 outdoors in her final race before the Games.
World champion Halimah Nakaayi of Uganda posted a national record of 1:58.03 while finishing seventh in Monaco, so is rounding into form. Raevyn Rogers and Ajee Wilson, who took silver and bronze respectively behind Nakaayi at the 2019 World Championships, will also be in contention.
France's Renelle Lamote, Oceanian record-holder Catriona Bisset and Canada's Melissa Bishop-Nriagu are among the other contenders.
Steve Wilson for World Athletics