Yulimar Rojas and Hugues Fabrice Zango in the triple jump at the Olympic Games (© Getty Images)
Women's triple jump
Entries | timetable | world rankings | 2021 world list | world all-time list | how it works
Yulimar Rojas was thrilled to take the silver medal in Rio five years ago.
Aged just 20 at the time, she headed to those Games as the second-best jumper in the world and confirmed it with her second-place finish behind Colombia's Caterine Ibarguen. She also made history by becoming the first Venezuelan woman to win an Olympic in athletics.
But that competition also marked the beginning of a new chapter in the women's triple jump. And now, anything less than gold at the Olympics would be something of a disappointment for Rojas.
Ibarguen, who won world titles in 2013 and 2015, hasn't returned to the top of a global championships podium since the Rio Games. Rojas, meanwhile, has won all three major crowns: world gold in 2017 and 2019, plus the world indoor title in 2018.
During the current – and extended – Olympic cycle, Rojas is the only woman in the world to have jumped beyond 15 metres. In fact, she has done so 17 times, including at all six of her competitions this year.
Last year she broke the world indoor record with 15.43m and in May this year she matched that distance to set an outdoor PB, coming within seven centimetres of the world record and consolidating her No.2 spot on the world all-time list.
It seems just a matter of time before she breaks the world record of 15.50m, set by Inessa Kravets back in 1995, two months before Rojas was born. Rojas had a couple of huge fouls at the recent Wanda Diamond League meeting in Monaco, her last outing before heading to the Games. A proven championship performer, Rojas will be difficult to beat in Tokyo.
Difficult, but not impossible. Jamaica's Shanieka Ricketts was the last person to jump farther than Rojas in a competition, doing so to win the 2019 Diamond League title. She finished second to Rojas at the World Championships in Doha, then returned to the Qatari capital in 2021 for the Wanda Diamond League meeting and improved her PB to 14.98m, once again finishing behind Rojas.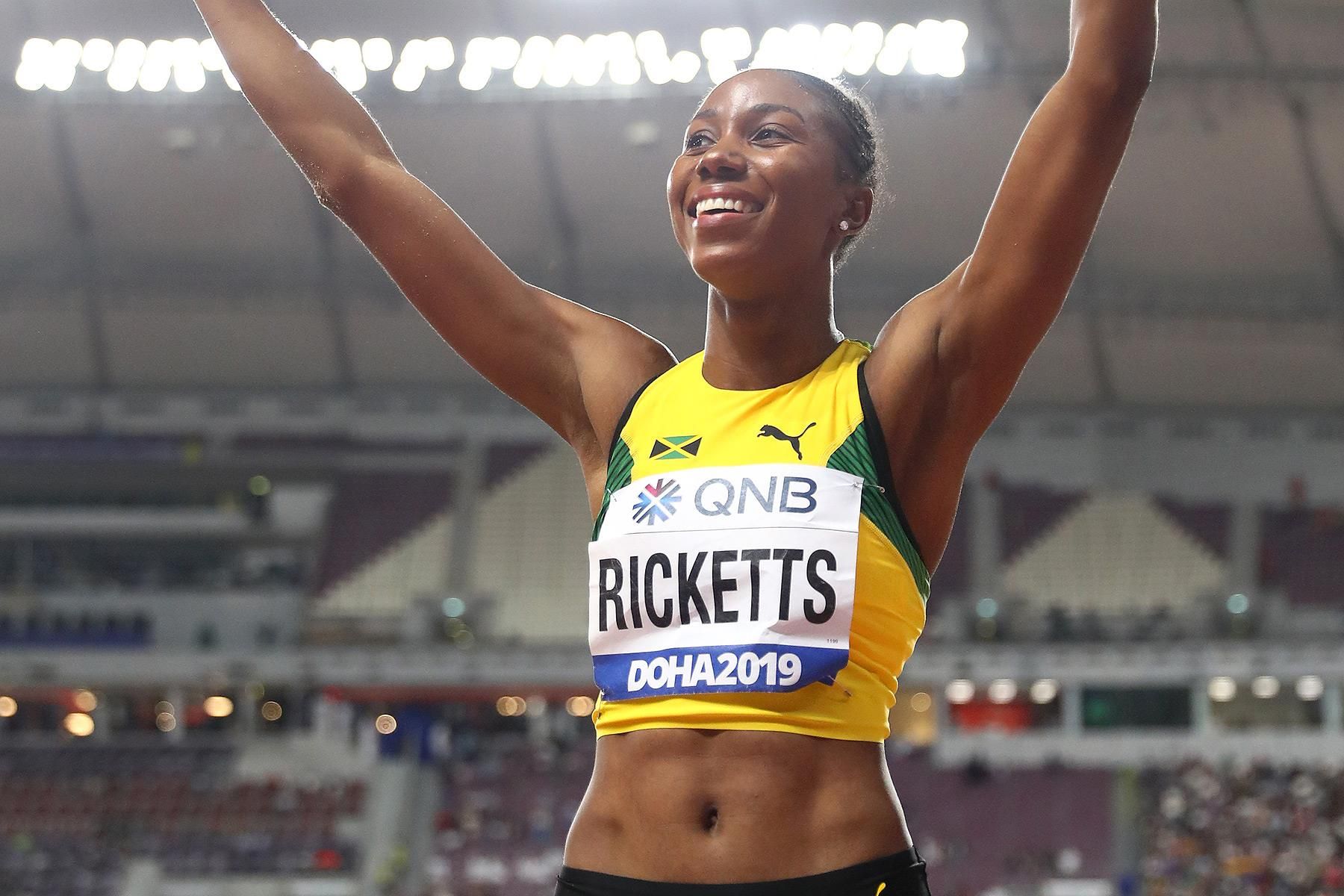 Ricketts is one half of a strong Jamaican duo. Kimberly Williams took world silver behind Rojas in 2018 and has won the past two Commonwealth titles. She may not be as close to the 15-metre barrier as her compatriot, but she is incredibly consistent and has finished in the top six at all but two of her last nine global championships appearances, dating back to the 2012 World Indoor Championships.
Liadagmis Povea has emerged as something of a force in the past few years. The 25-year-old Cuban jumped a wind-assisted 15.05m back in 2019 and set a PB of 14.93m earlier this year. The Pan-American bronze medallist will be keen to make up for her showing at the 2019 World Championships, where she missed out on making the final.
Keturah Orji, aged just 20 at the time, narrowly missed out on what would have been a historic medal for the USA at the 2016 Olympic Games. Her 14.71m US record was just three centimetres shy of the bronze medal position. Earlier this year, Orji set a US record of 14.92m and has been competitive on the international circuit. Memories of Rio could spur her on to a podium finish in Tokyo.
Five women who have set national records this year could be in the medal hunt.
Portugal's Patricia Mamona improved her own national record to 14.66m in Monaco. She clearly excels in Olympic years, as her previous two national records were set in 2016 and 2012. She has won four medals at the continental level, including European gold in 2016, but has yet to land a global podium finish.
Senni Salminen, who set Finnish records of 14.51m and 14.63m last month, has been the surprise package of the event this year. Spain's Ana Peleteiro, the 2019 European indoor champion and training partner of Rojas, has also been in record-breaking form this year, leaping 14.61m.
NCAA champion Ruth Usoro has set Nigerian records indoors (14.36m) and out (14.50m) this year to qualify for what will be her first major international championships. Thea Lafond of Dominica set an outright national record of 14.54m back in February. An injury just before the 2016 Games meant she finished last in qualifying in Rio, but she'll be hoping for a much better Olympic experience in Tokyo.
Ibarguen and Olga Rypakova, the Olympic champions in 2016 and 2012 respectively, have competed sparingly this year. Neither woman has bettered 14 metres, suggesting their medal-winning form may be behind them, but both will be competing at their fourth Games.
Jon Mulkeen for World Athletics
Men's triple jump
Entries | timetable | world rankings | 2021 world list | world all-time list | how it works
USA teammates Christian Taylor and Will Claye finished 1-2 in the men's triple jump at the last two Olympic Games. Only one of them has a chance of reaching the podium this time.
Taylor ruptured his achilles in May, ruling him out of the Tokyo Games and wrecking his hopes of a third straight Olympic title. That leaves Claye, fully recovered from a torn achilles of his own, among the favourites for gold.
Claye – who also settled for silver behind Taylor at the past two World Athletics Championships – will try to keep the triple jump crown in American hands against a field of top contenders including Hugues Fabrice Zango of Burkina Faso and Portugal's Pedro Pichardo.
The 30-year-old Claye has made a strong comeback after tearing his achilles while playing pickup basketball in November 2019. Earlier that year, he had jumped 18.14m, the third best of all-time behind Jonathan Edwards (18.29m) and Taylor (18.21m).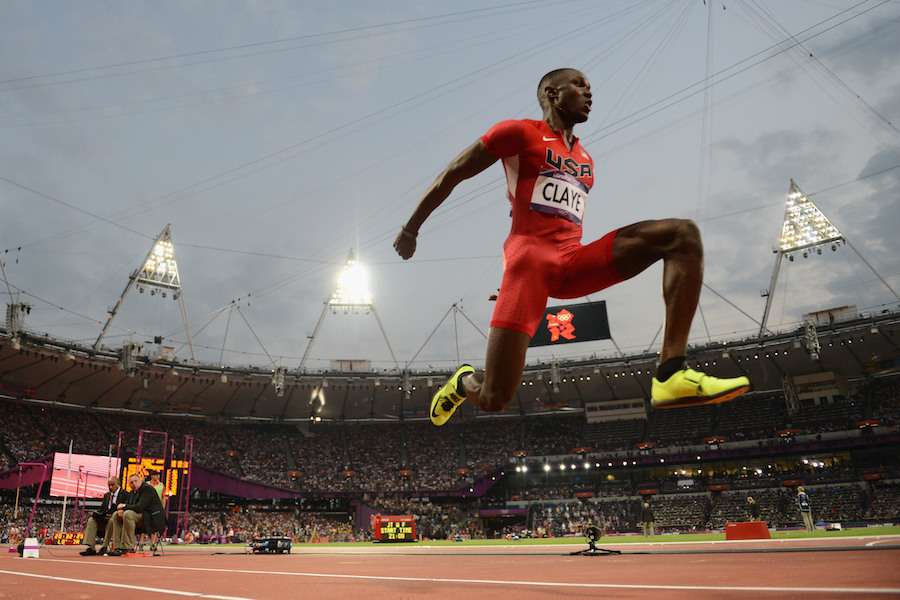 Claye's achilles injury would most likely have ruled him out of the Olympics in 2020, but the one-year pandemic postponement gave him the time to rehab and return to full fitness for a chance at his first gold.
"I'm back and feeling like myself again and feeling better,'' Claye said after winning the US Olympic Trials in June with a jump of 17.21m. "I want to go out there and put on a show."
Putting on a show comes natural for Claye, who also happens to be a rap artist with his own music label and fashion line. He has a taste for the dramatic: When he won the silver medal at the 2016 Rio Games with a jump of 17.76m, Claye hopped into the stands, dropped to a knee, took out a ring from his backpack and proposed to hurdler Queen Harrison, now his wife.
Claye, who also won a bronze medal in long jump at the 2012 London Games, is now focused on winning his first major championship title. He finished second at the 2019 World Championships in Doha behind Taylor, his former University of Florida teammate.
Taylor, a four-time world champion, tore his achilles while competing at the Ostrava Golden Spike meet in the Czech Republic in May. That ended his hopes of equalling the record of Viktor Saneyev of the former Soviet Union, who won three Olympic long jump titles in a row from 1968 to 1976.
The 31-year-old Taylor underwent successful surgery and is now looking to return for next year's Worlds in Eugene, Oregon, and the 2024 Olympics in Paris.
Claye vowed to perform at his best for his friend and rival in Tokyo.
"I will hold things down until Christian returns," he said.
But there are several other top jumpers looking to break the American dominance.
Look no further than Zango, the bronze medallist in Doha who is aiming to win his country's first ever Olympic medal. The 28-year-old broke the world indoor record with a leap of 18.07m in Aubiere, France, in January, and has the second best outdoor jump in the world this year of 17.82m.
The world's leading outdoor performance this year belongs to Pichardo, the 28-year-old Cuban-born athlete who jumped 17.92m in Szekesfehervar, Hungary, on 6 July.
Pichardo set a Cuban record of 18.08m in 2015, putting him fifth on the all-time list, and also won two world silver medals representing Cuba. Competing for Portugal, he finished fourth in Doha. Pichardo won the 2021 European indoor title and prevailed at the final Diamond League meeting before the Olympics with a 17.50m effort at Gateshead.
Cuba's Andy Diaz, China's Yaming Zhu and Italy's Andrea Dallavalle could also be among the medal contenders.
Steve Wilson for World Athletics