Athing Mu after winning the 800m at the Tokyo Olympic Games (© AFP / Getty Images)
Athing Mu may have won the Female Rising Star honour at the World Athletics Awards 2021, but the US teenage track luminary has already ascended astronomically. Such are her achievements this year – double Olympic gold among them – that Mu also earned a nomination for World Female Athlete of the Year.
There's no stopping now, though. With further success to shoot for, the 19-year-old is determined to continue to climb.
With her Olympic 800m and 4x400m wins, world U20 indoor 800m record and North American U20 records at 400m and 800m, Mu gained the Rising Star award ahead of a strong list of contenders, while she joined athletes such as world record-breakers Sifan Hassan, Sydney McLaughlin and Yulimar Rojas, plus eventual winner Elaine Thompson-Herah, in being nominated for World Female Athlete of the Year.
"It's awesome and I would say it's kind of crazy at the same time," Mu says of her double award nomination. "Just getting nominated for the women's Athlete of the Year as a whole was kind of surprising. It was a really big compliment for me. I was proud of being recognised."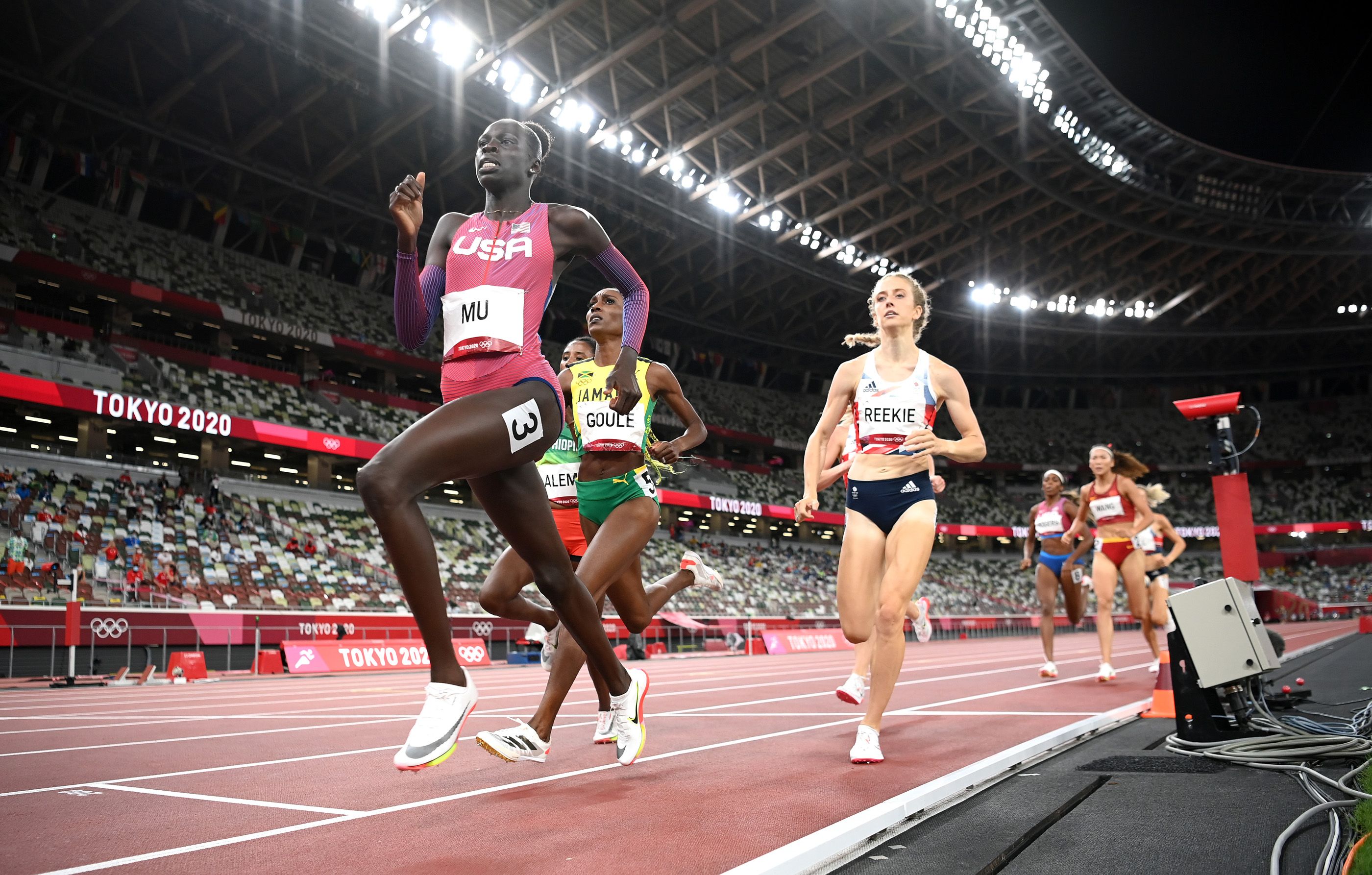 But that recognition is richly deserved.
Running has been Mu's passion since she stepped on the track at the age of six. The second youngest of seven siblings, she followed them into the sport and ran for Trenton Track Club in New Jersey before joining Texas A&M University to study kinesiology. During her early career, Mu didn't have to look far for sources of inspiration.
"I would see Sydney (McLaughlin) and all these records that she was setting while she was in high school, and then there was Ajee Wilson, whose records I was working towards just because I would always see her name whenever I was competing," Mu explains. "They were athletes from New Jersey who just put such a mark on the state. For an athlete like me, just to follow their path and try to get to their level, that was definitely something I looked up to."
When it comes to making a mark, Mu did so – significantly – herself at the age of just 16. Running 1:23.57 at the US Indoor Championships in 2019, she moved to second on the world indoor all-time list for the less regularly raced 600m, missing the world best by just 0.13. Later that year she improved her 800m PB to 2:01.17 outdoors and ran a 400m PB of 51.98.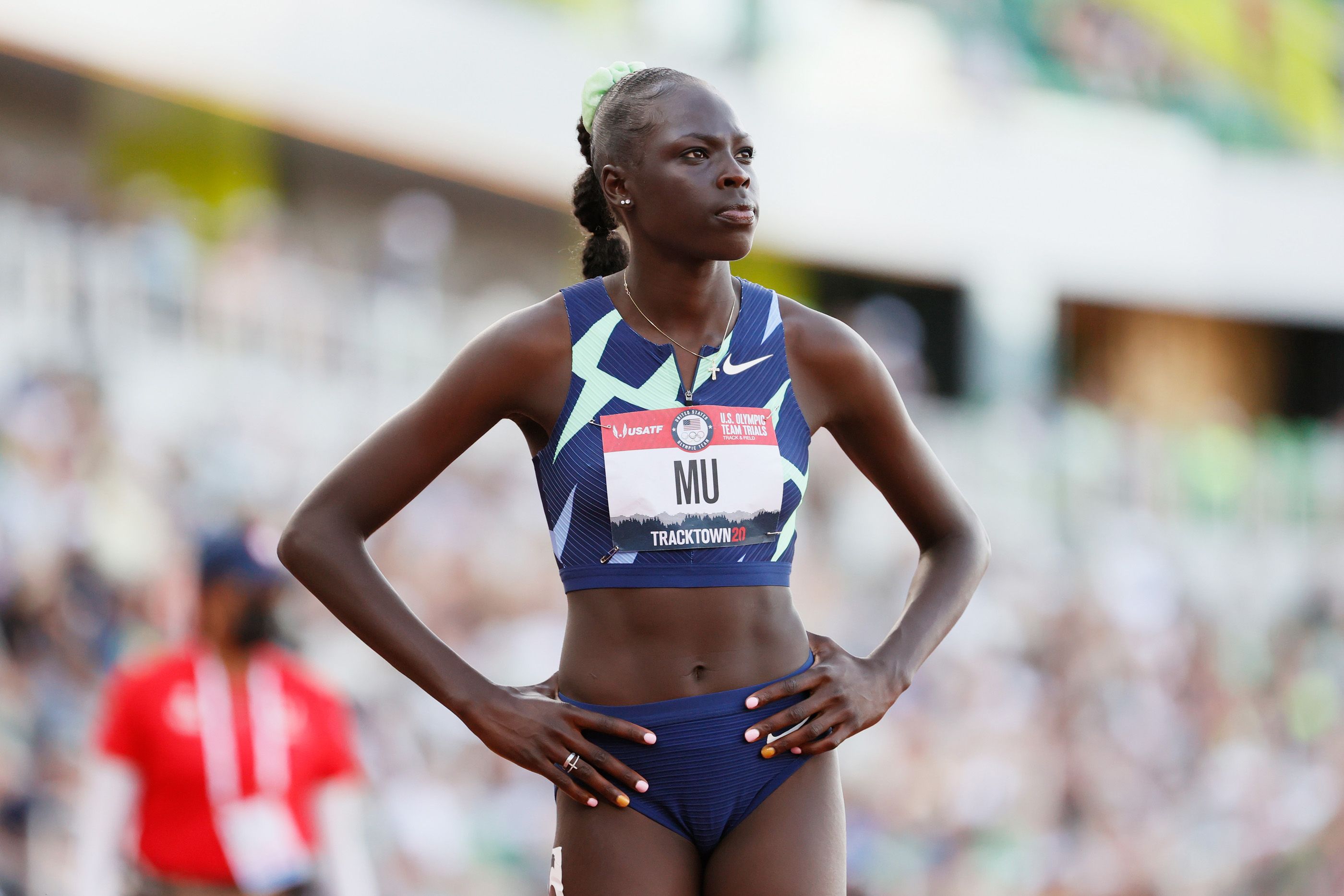 While she was unable to build on that in 2020 because of the pandemic, Mu picked up from where she left off at the start of this year. After setting an outright 400m PB of 50.52 indoors on 6 February, three weeks later she ran 1:58.40 for 800m, a world U20 indoor record.
Her record-breaking continued outdoors, with a 1:57.73 800m in her first race of the season improving the North American U20 mark. Three continental U20 400m records followed, as Mu took her best to 49.84, 49.68 and then 49.57 to win the NCAA title.
"This is just the beginning," Mu wrote on social media a couple of weeks later, when announcing that she would be turning professional.
Next up was the US Olympic Trials at Hayward Field, where she won the final in a world-leading 1:56.07 to book her place on the Olympic team for Tokyo. Once there, Mu dominated the final and won in 1:55.21, breaking the US senior record which had been held – coincidentally – by Wilson since 2017. She led a teenage 1-2, with Britain's Keely Hodgkinson – a fellow 19-year-old and Rising Star award nominee – claiming silver in a national record of 1:55.88.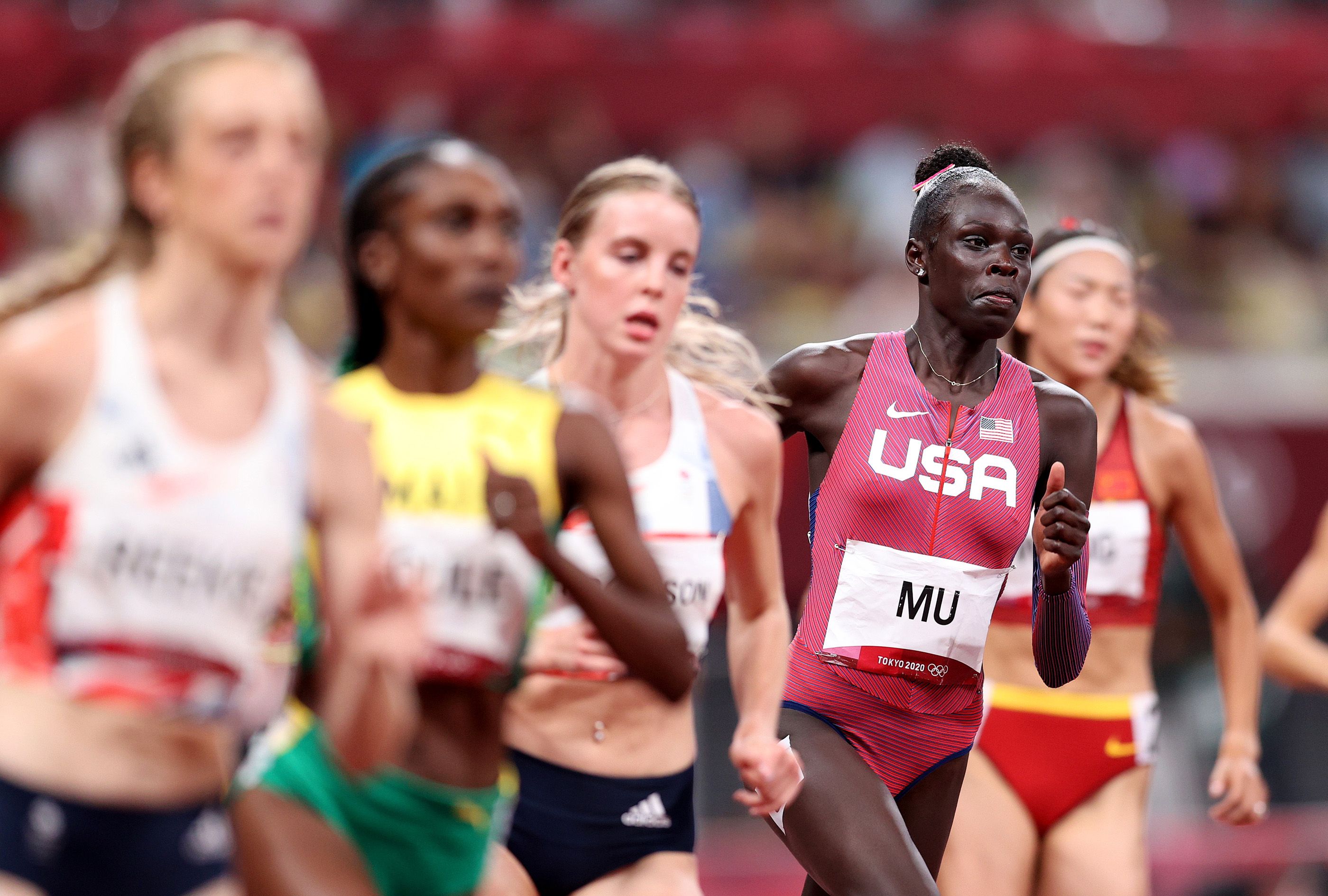 Four days later, Mu was back on the track to form part of an impressive 4x400m team alongside 400m hurdles stars McLaughlin and Dalilah Muhammad, plus history's most decorated female track and field Olympian, Allyson Felix. Running the anchor leg, the teenager clocked the fastest split of the race with 48.32, bringing the team home in a winning 3:16.85 – the fifth-fastest mark in history and the quickest time in the world since 1993.
"I'm blown away by it, because I still haven't really comprehended the whole idea of being an Olympic champion," she says, reflecting on her year. "I think about it – even just being an Olympian as a whole – but it's still kind of a shock."
And not just an Olympic champion, but a double Olympic champion. "It was definitely a dream come true," she smiles. "Just being on the 4x400m, first of all, was something I wanted to do the whole season. It is something that I have, I guess, joked about or envisioned after watching multiple 4x400m races and the USA always being dominant. So that was a dream come true, but then for us to have that great line up; I just felt like I was running a very historic race. I was blessed and super excited to be on that, but I am glad, most of all, that I did my part and brought us home!"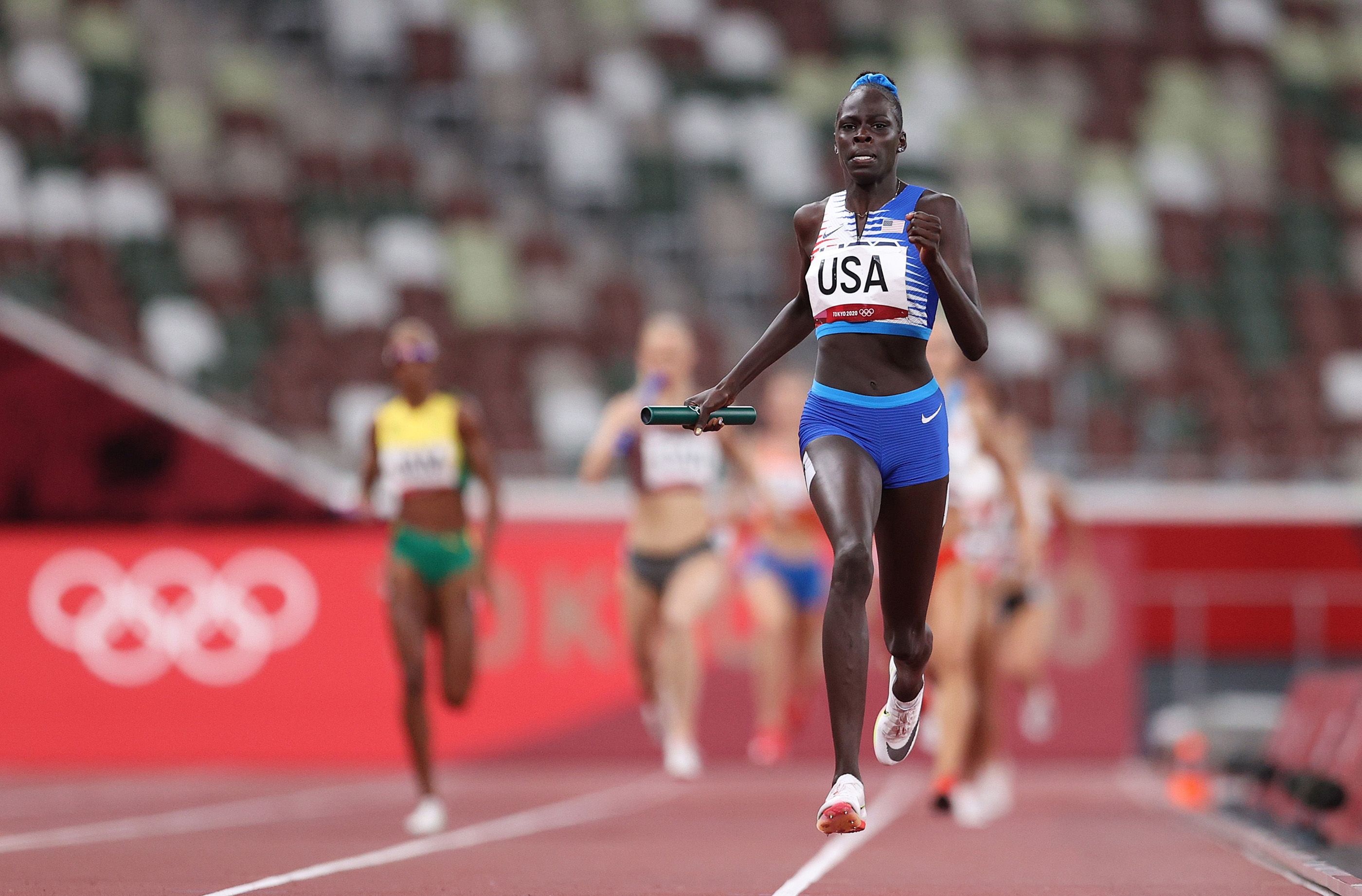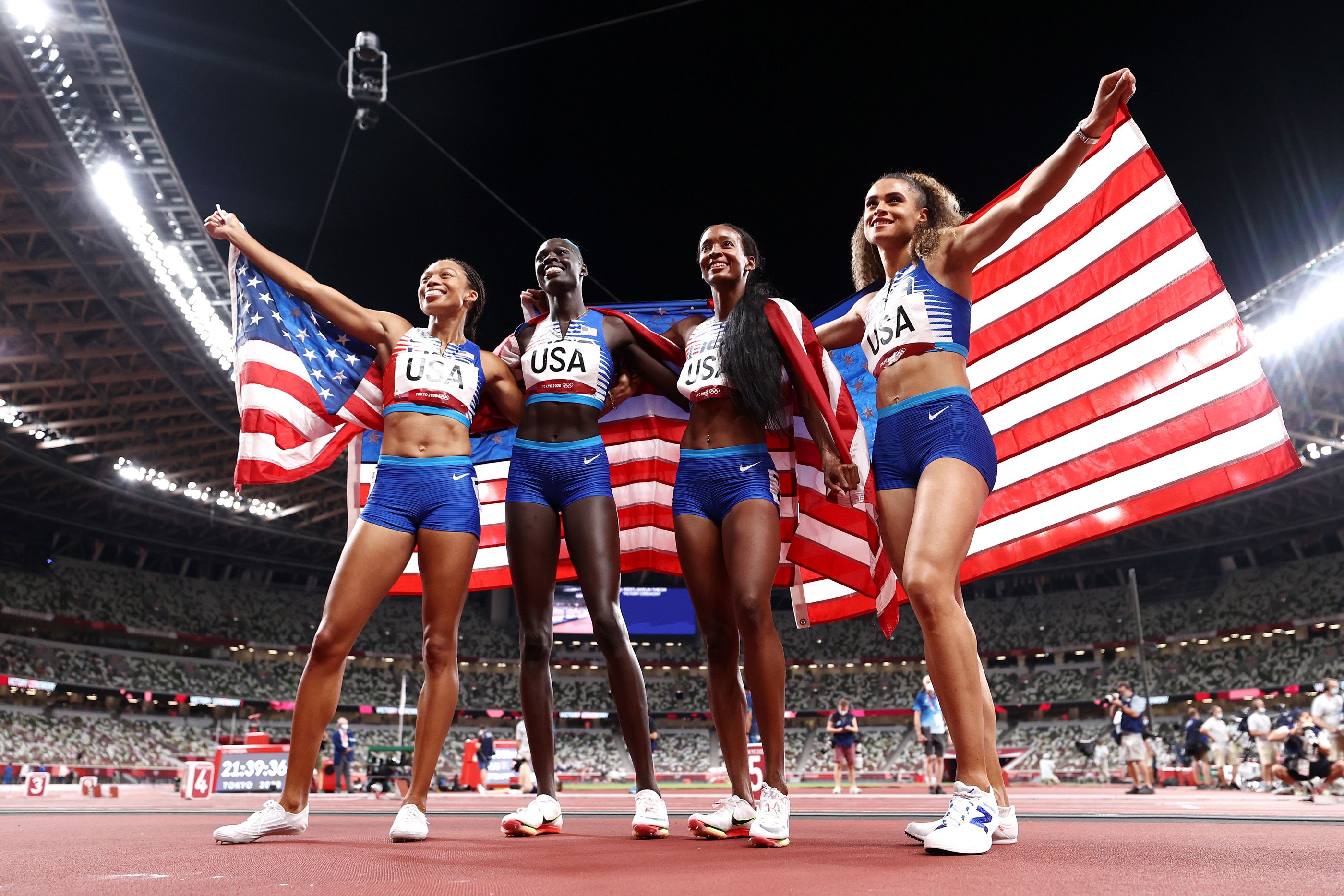 After that, she had one race left to run. Back at Hayward Field – venue for next year's World Athletics Championships Oregon22 – to compete at the Wanda Diamond League meeting, she clocked another world lead of 1:55.04 to improve her own US record.
"It happened quicker than I expected it to," she explains, reflecting on her progress. "I went to every single meet just focusing on that meet. The season went by really quickly and by the time Trials came, I again accomplished a goal by making the Olympic team, and then it was the Olympics. It flashed before my eyes."
Just like a shooting star.
"A lot of times I get asked, what are my next goals?" she adds. "And I think about the world record and all those types of things. I think the 800m is moving in a new direction, especially with Keely and I being super young and super competitive with one another, even though we haven't really raced that much this past year. I am just excited because I know when you have good athletes in one race all shooting for the same thing, running with the same determination and everything, we can go pretty far. I definitely believe that in the 800m, we're going to make some history in that event over the coming years."
She intends for that to be the case indoors, too.
"When it comes to the next season, I usually like to duplicate what I did the previous season – so whatever I did last year, I want to do the same or better this upcoming season," Mu says. "One of the main goals that I really want to do this upcoming season is the American (indoor) record in the 800m, which is like 0.2 off the time that I ran last year. And I want to get the U20 400m record, since this is my last year of being a junior, so I'd like to get those records while I can."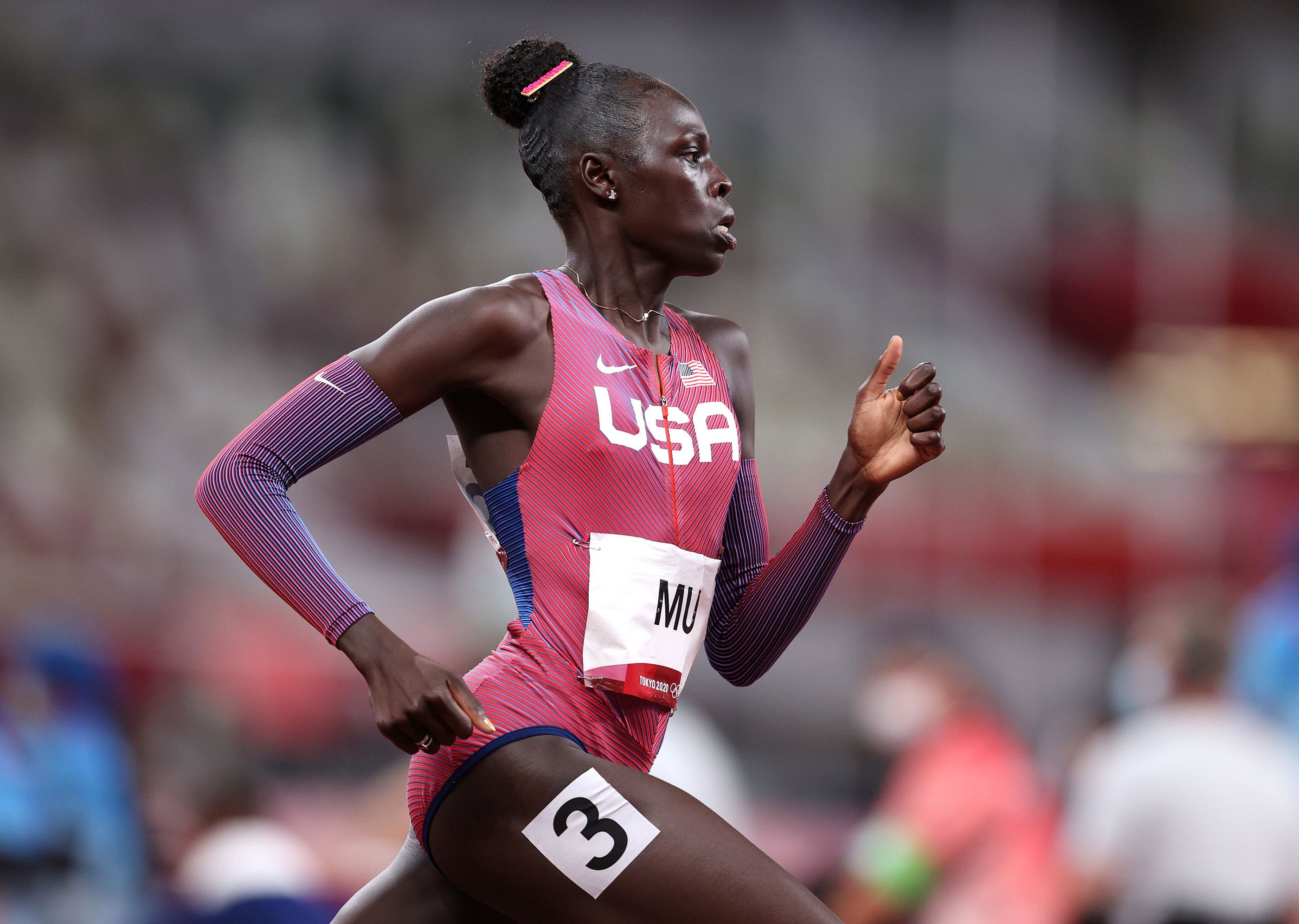 While Mu's performances this year, and particularly those in Tokyo, will have inspired many, it was the achievement of Sifan Hassan in claiming two gold medals in the 5000m and 10,000m, plus 1500m bronze, which most impressed Mu herself.
"I enjoyed watching Sifan Hassan do her thing, trying to get the triple. That was a lot," she says. "It's one of those things where it's like, oh, wow, she is doing that, so doesn't that mean that I can do it too? It was one of those inspiring moments."
So, could it be that next year, at the World Championships on home soil, Mu targets her own treble, in the 400m, 800m and 4x400m?
"I would love to but as of right now, I am only thinking about the 800m," she smiles. "We'll see about the 4x400m and how it goes again this year. My season hasn't started yet, it's kind of early, so we're going to wait to see how the season progresses."
But one target is certain.
"That is the next big goal – to be 800m world champion," she confirms. "Coming off this year, it's another big championship, so may as well go big and shoot for gold again."
Jess Whittington for World Athletics