Athing Mu wins the women's 800m at the Tokyo 2020 Olympic Games (© Getty Images)
No tears of joy. No screams of shock. No big deal, really.
For 19-year-old US sensation Athing Mu, winning the Olympic gold medal in the women's 800m on Tuesday (3) was just what she expected of herself all along.
"I'm satisfied," Mu said after becoming the first US woman to claim the Olympic 800m title in more than half a century. "I came out here and did what I had to do. My goal was to be a medallist. I knew it was possible so I'm not shocked or anything."
In a commanding display of speed and grace, Mu grabbed the lead from the start and never looked back, pulling away to finish in 1:55.21, breaking the national record and improving her previous best of 1:56.07 that she set at the US Olympic Trials in June.
Another 19-year-old, Britain's Keely Hodgkinson, took silver in a national record of 1:55.88, while the USA's Raevyn Rogers made a late surge to claim the bronze in a personal best 1:56.81.
Mu, the second youngest of seven siblings whose parents moved to the US from Sudan 20 years ago, is the first US woman to capture the women's 800m title since Madeline Mims at the 1968 Mexico City Games. She's also the second-youngest Olympic champion in the 800m after Kenya's Pamela Jelimo, who won gold in 2008 at the age of 18.
For all her youthful exuberance, Mu displays the poise and self-confidence of an experienced veteran way beyond her years. Winning the Olympic title was all part of the plan and the high standards that she set for herself, a belief that this is her time.
"I'm accomplishing all the crazy things. Being an Olympic gold medallist, that's insane," said Mu, draped with an American flag and flashing a megawatt smile. "I expected it. I knew this is where I was supposed to be at this point in time. I knew this was definitely possible."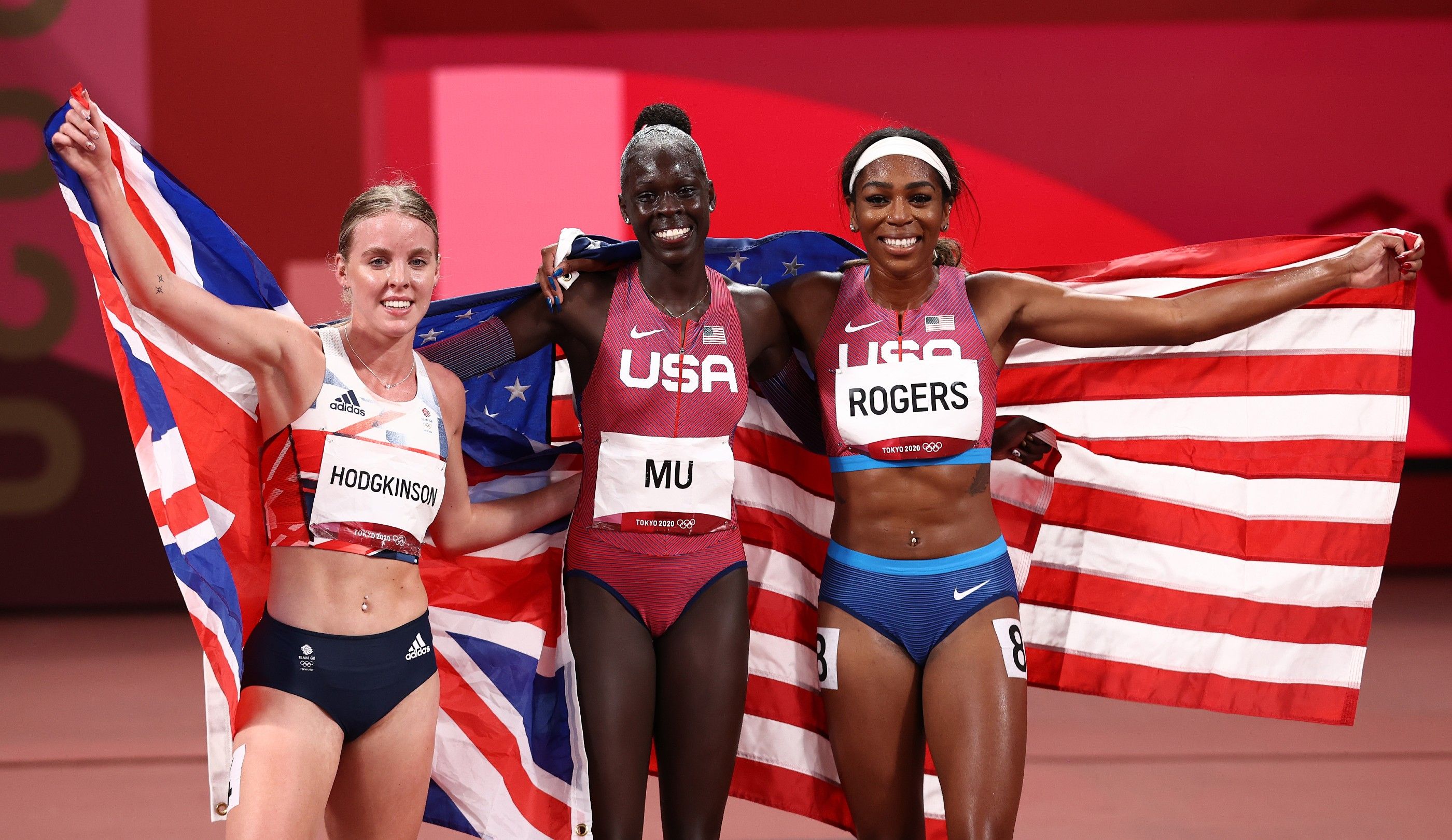 Mu displayed that go-for-it mentality in her race strategy, breaking out to the front right from the start and not letting go. She covered the first lap in 57.82 and kept up the pace the rest of the way. She stormed around the final bend and accelerated down the home straight in total command with her long strides, her win never in doubt.
"I don't want to leave anything up to chance," Mu said. "I'm not going to stick with the pack. I'm going to chase my time. If I want to get a gold medal, I'm going to go out an compete for the gold medal. I'm not going to leave it up to anyone else to decide my race."
Hodgkinson ran a stunning race of her own to break 2004 Olympic champion Kelly Holmes' 26-year-old British record of 1:56.21.
"I am quite in shock about that time," said Hodgkinson, a former European U18 champion who won the European indoor 800m title in March. "From European Indoors to breaking some records to now the biggest stage on the world, still a junior, is absolutely crazy."
Rogers, meanwhile, was second-from-last going into the final straight but used a late burst to grab the third podium spot.
"You don't really know how far (behind) you are until you look at the video," she said. "I just knew that I needed to definitely make some progress going on the last 100."
The future of the women's 800m looks bright with Mu and Hodgkinson leading the new vanguard.
For her part, Mu promised a lot more to come.
"This isn't the last time you're going to see me run," she said. "This is just the beginning. There's more. One thing I will say: My time is now. Six years from now, two years from now, it's going to be my time. I'm going to do whatever I can in my time, no matter what age I am, no matter what I'm doing, and do whatever I can to be great."
Mu said one of her goals is to complete a rare 400m-800m double. Another is to take down Jarmila Kratochvilova's 38-year-old world record of 1:53.28.
"I'm also going to break the 800m world record eventually," Mu said matter-of-factly. "No, not even eventually. We're going to break it."
Who's to say she won't?
Hodgkinson has set more modest goals.
"I am just going to continue doing what I am doing," she said. "Don't break something if it's not broken. What I've done in the past year has got me to this point. I am going to carry on trying to enjoy it."
Athletics fans should sit back and enjoy the show.
Steve Wilson for World Athletics
WOMEN'S 800m MEDALLISTS
🥇
Athing Mu 🇺🇸 USA
1:55.21 NR
🥈
Keely Hodgkinson 🇬🇧 GBR
1:55.88 NR
🥉
Raevyn Rogers 🇺🇸 USA
1:56.81 PB
Full results