Male World Athlete of the Year, Karsten Warholm (© Dan Vernon)
It's no surprise to hear that since the Tokyo Olympic Games, Norway's men's 400m hurdles champion and world record-holder Karsten Warholm has been receiving even more attention in his home country.
Not that he minds, however, which is just as well as his solution otherwise is an idea he refuses to entertain.
"Norwegians have been very kind to me," he smiles. "There is a bit more attention, but if I want to get rid of the attention I could just run slower, and I don't see that as an option right now!"
Given the year Warholm has had, that is an incredibly exciting prospect.
The 25-year-old is speaking to the world's media, fresh from having been named Male World Athlete of the Year at the World Athletics Awards 2021 in Monaco. The honour caps an incredible season in which the hurdles star twice broke the world 400m hurdles record – taking the event to a whole new level to become Olympic champion – and also claimed the Diamond Trophy, broke the world 300m hurdles best and extended his now three-year unbeaten streak in his specialist event.


It's another big moment for Warholm, as being named World Athlete of the Year is an honour he has been chasing since he claimed his first World Athletics award in 2017.
"This award has been on my bucket list, especially since I got the Rising Star award some years back," he says. "I feel like it's even better when you can complete that, because the Rising Star is an award to show that you are on the right path, but this award shows that I managed to take the big step into being an elite senior athlete as well. So, it's a very proud moment for me and I cherish and really appreciate that World Athletics has given me this award."
Back in 2017, Warholm was celebrating having won his first world title, just a couple of years after switching his focus from multi events to the single one-lap discipline. "I figured what I liked even more than being a multi evener was to win and I wanted to go to the Olympics," Warholm, the 2013 world U18 octathlon champion and 2015 European U20 decathlon silver medallist, has explained.
His 2017 world gold, won in the rain in London, would prove to be just the start of his global success.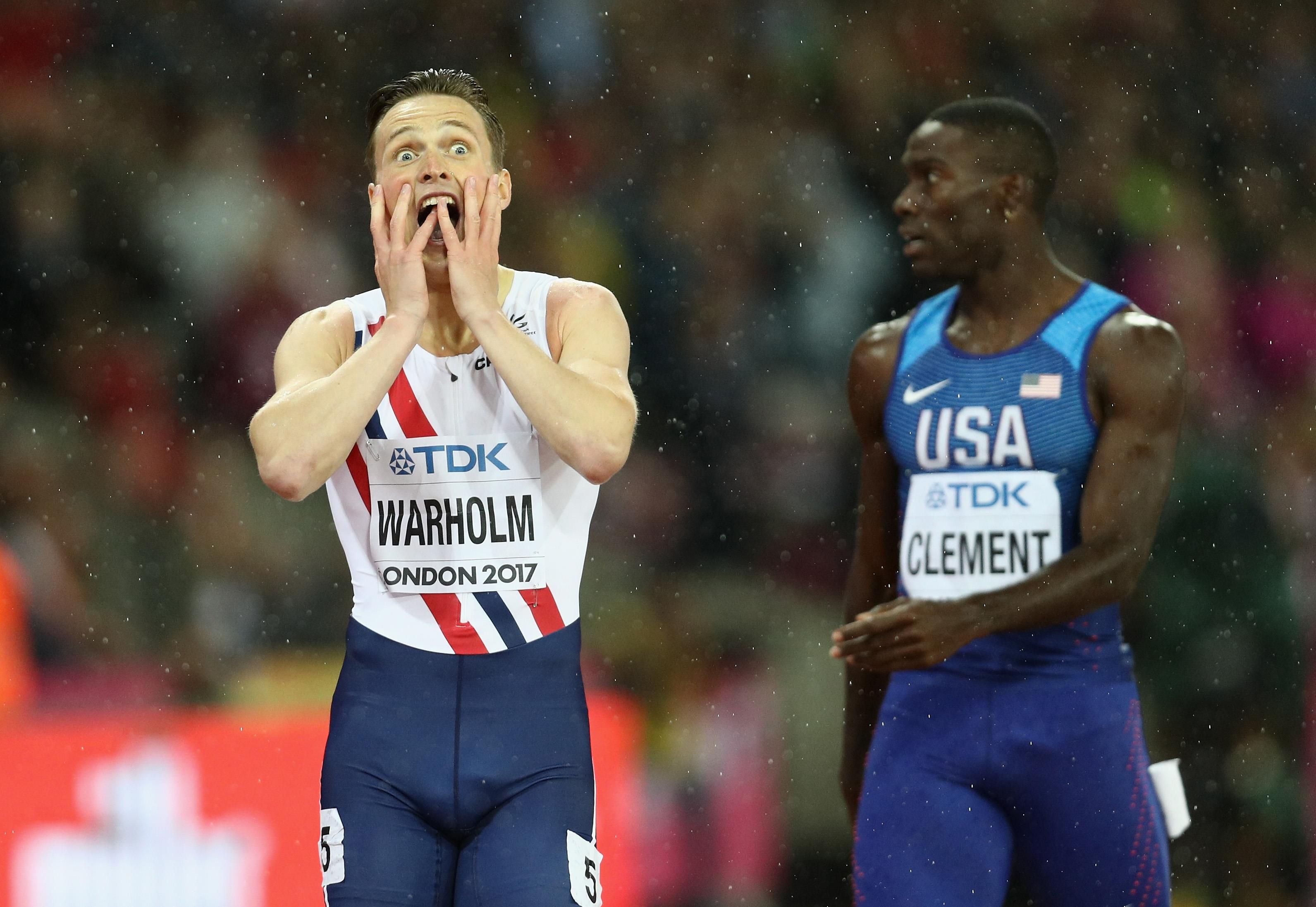 After improving his PB to 47.64 when winning European gold the following year, Warholm retained his world title in Doha in 2019 and moved to second on the world all-time list with a 46.92 clocking in Zurich that same season.
He would remain in that No.2 spot, consolidated by the 46.87 he ran in Stockholm in August 2020, until the USA's Rai Benjamin pushed him down a place by running 46.83 at the US Olympic Trials in Eugene this June. That came at the beginning of a remarkable few months for the discipline, in both the men's and women's events.
Five days later, Warholm lined up at the Wanda Diamond League meeting in his home Bislett Stadion in Oslo. Just 46.70 seconds after the gun went, he stormed over the finish line. The crowd, understandably, went wild, as did Warholm, with his time having taken 0.08 off the world record which had been set by Kevin Young at the 1992 Barcelona Olympics, three and a half years before Warholm was even born.
"It might take another world record to win the Olympics," he said at the time.
He was right.
In Tokyo, in what proved to be one of the most incredible performances in athletics history, the Norwegian obliterated his own world record, running 45.94 to get gold in a race of remarkable depth. Behind him, both Benjamin and Brazil's Alison dos Santos finished inside Young's pre-2021 world record.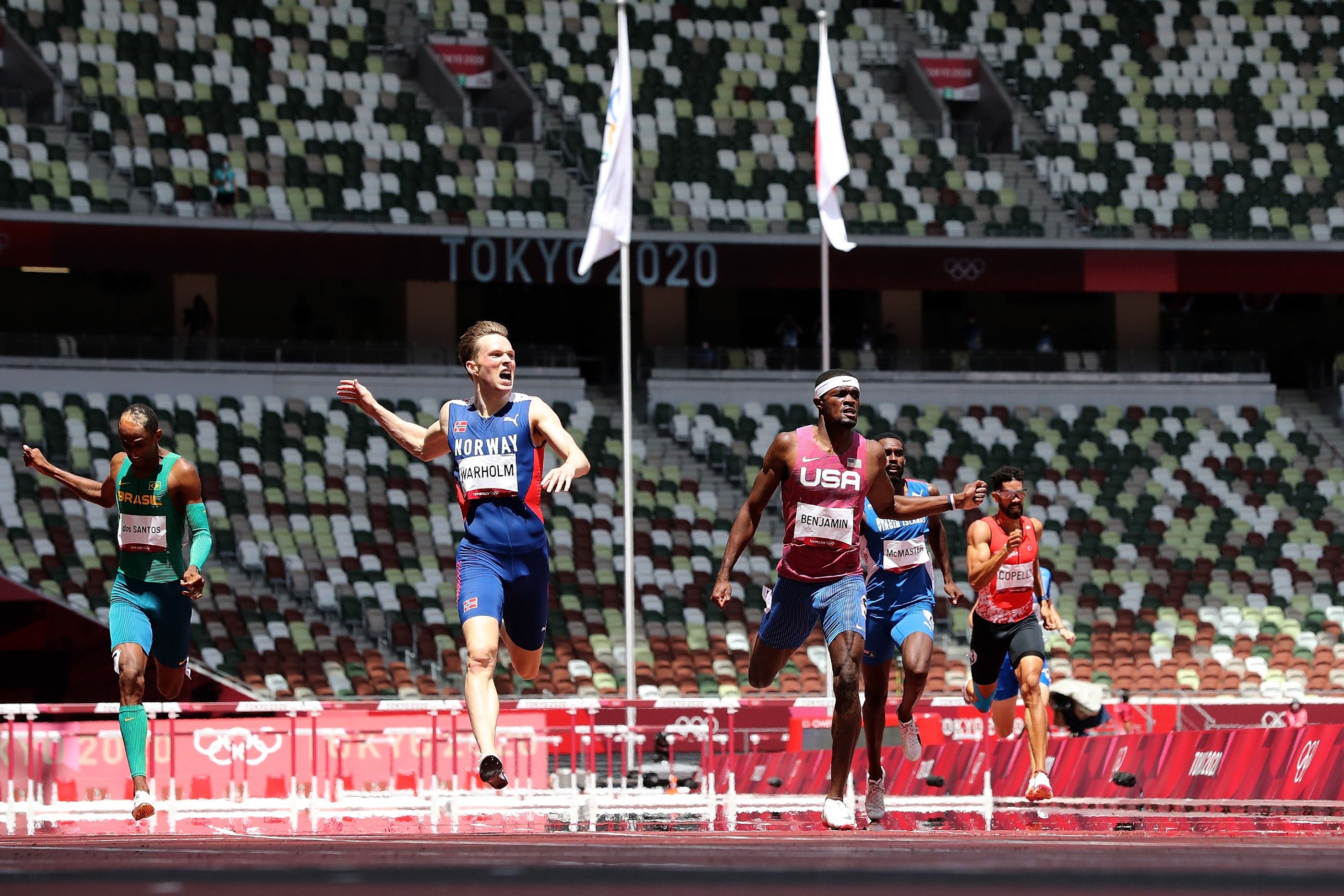 "It has been an incredible journey and I was very lucky to have that 2017 season where I won the gold in the 400m hurdles in London and nobody expected it, not even myself," Warholm explains. "It gave me the belief that I was able to perform at the highest level and win medals.
"Then I had a bit of a tough 2018, I was beaten a lot that year, but I got back in 2019 and started to run really quick. Through the pandemic, I was able to train very well. Then in 2021 I was able to break the world record on home soil in Oslo. It felt almost like fate. It has been a lot of hard work and I think it is also a lot about consistency. That is what I have probably learned the most: you need to have a lot of years to be able to build something. It has been a very fun journey and I hope it will continue."
Someone who will, without doubt, continue to join him for the ride is Leif Olav Alnes – Warholm's coach and mentor since 2015, but above all, his friend.
"Me and Leif, we are first of all really good friends and we spend a lot of time together," Warholm says. "I really enjoy our relationship and what is good is our communication, I think that is probably the key. He is the brain, he is the architect behind this, and I am the machinery, so we work really well together."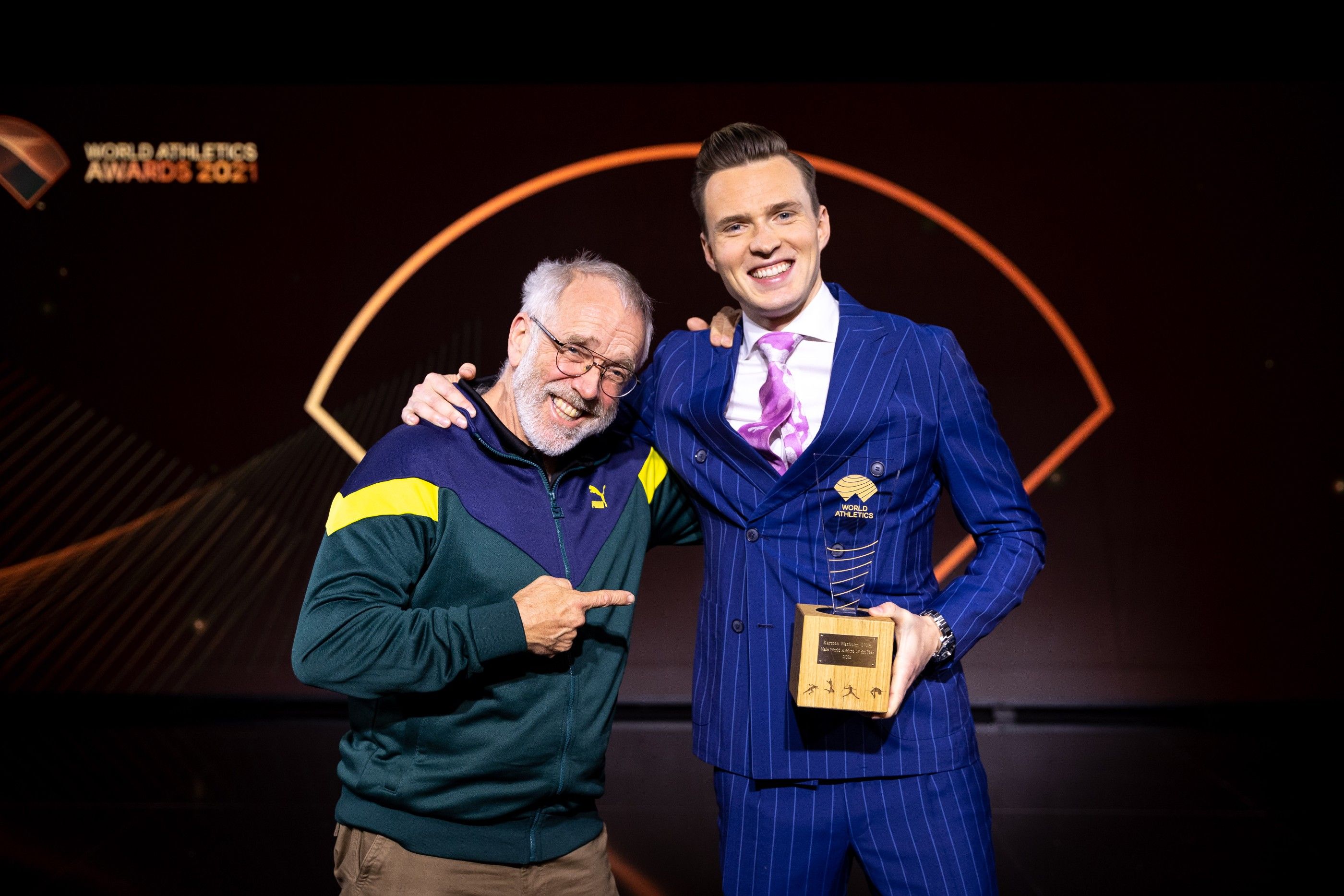 A dream team, and despite so much having already been achieved by the duo, there is plenty more to aim for in the next few years, with the World Athletics Championships in Oregon in 2022 and Budapest in 2023, and then the Olympic Games in Paris in 2024.
"I like that there is a lot of championships coming up, because it keeps you on your toes and you know that there will always be a chance where you can perform," Warholm says. "When you have the medals, everybody wants to be in your position, so all the guys are chasing me now. I need to be able to perform and it is all about putting in the work. But at the same time, it is also tough because you don't get a lot of time to restart the system.
"What I was actually very surprised about is how tired you get after something like the Olympics. You spend so many years preparing for that moment and then it is like, boom, empty, right? It mostly motivates me to go out there and try to defend my titles. You can never promise anything, you don't know what you can do, but anything can happen and that is why we love the sport."


"I'm so happy for this," says newly crowned Male World Athlete of the Year @kwarholm.

"First when I saw the time [in Tokyo], I was like, 'This must be a mistake!' Because I didn't see that one coming. And I didn't see the victory coming before crossing the finish line." pic.twitter.com/BMCma5VmHy

— World Athletics (@WorldAthletics) December 1, 2021

So those are his more immediate ambitions when it comes to the track, but how about his life aims in general?
"It is difficult because right now, when you are an athlete, you are so focused that you forget that there is something coming after your career," he says. "I sometimes think to myself that the only thing I know how to do is to run one lap with 10 hurdles!
"What I can say is that I will always be good at getting over obstacles, and that is a nice thing to have on my resume. It's about finding a passion and that's what I like about where I am right now – this is my passion. Sometimes in an athletics career, you have to move on. It's a short career, and then I hope that I can find a new passion, something that I live and breathe for.
"I learn a lot from talking to people that are older than me because they have the life experience and it is funny to see how in life, there just comes chances and it is also about coincidences. It's just a coincidence that me and Leif met and we found a good tone. It is just about living and doing your best and a lot of things can happen, that is the fun part of it."
So, for now, he will continue to express that passion on the track – to train hard, compete and as a result, get recognised.
"More people come to talk to me right now and take selfies, asking for autographs, especially children, and I like that, to be honest," he adds. "Not just because of the recognition, that is one thing, but the other thing is I feel like I can inspire people somehow.
"If you think about it, running 400m around a track and jumping over barriers, that is quite simple, but once you see what I see – what it gives to people and what they take from it – that is one of the things that makes it even more worth it for me."
Jess Whittington for World Athletics