Karsten Warholm breaks the 400m hurdles world record at the Tokyo Olympic Games (© AFP / Getty Images)
Nearly two and a half hours have passed since Karsten Warholm blasted across the finish line of the Olympic 400m hurdles final and the sporting world is still trying to grasp what it had witnessed at Tokyo's National Stadium on Tuesday (3) afternoon.
Thirty-three days ago, the Norwegian broke the world record in the event which had stood for nearly 29 years, clocking 46.70. This morning he won the most anticipated face-off of the 2020 Olympic Games by obliterating that mark with an unfathomable 45.94* performance to rip another 0.76 from his own world record.
Adequate superlatives don't yet exist to describe the magnitude of what the 25-year-old has just accomplished – world records over one lap of the track simply don't get smashed by the margin that Warholm managed to concoct this morning. For now, calling this the finest race in athletics history will have to suffice.
Indeed, all the more astounding is that Warholm had Rai Benjamin, his chief rival, for company for nearly those entire 45.94 seconds. Benjamin crossed the line in 46.17, itself an extraordinary performance that would have shattered the previous world record. Illustrating the race's extraordinary depth, Alison dos Santos of Brazil finished a well-beaten third in 46.72, a performance that would have broken the world record just over a month ago.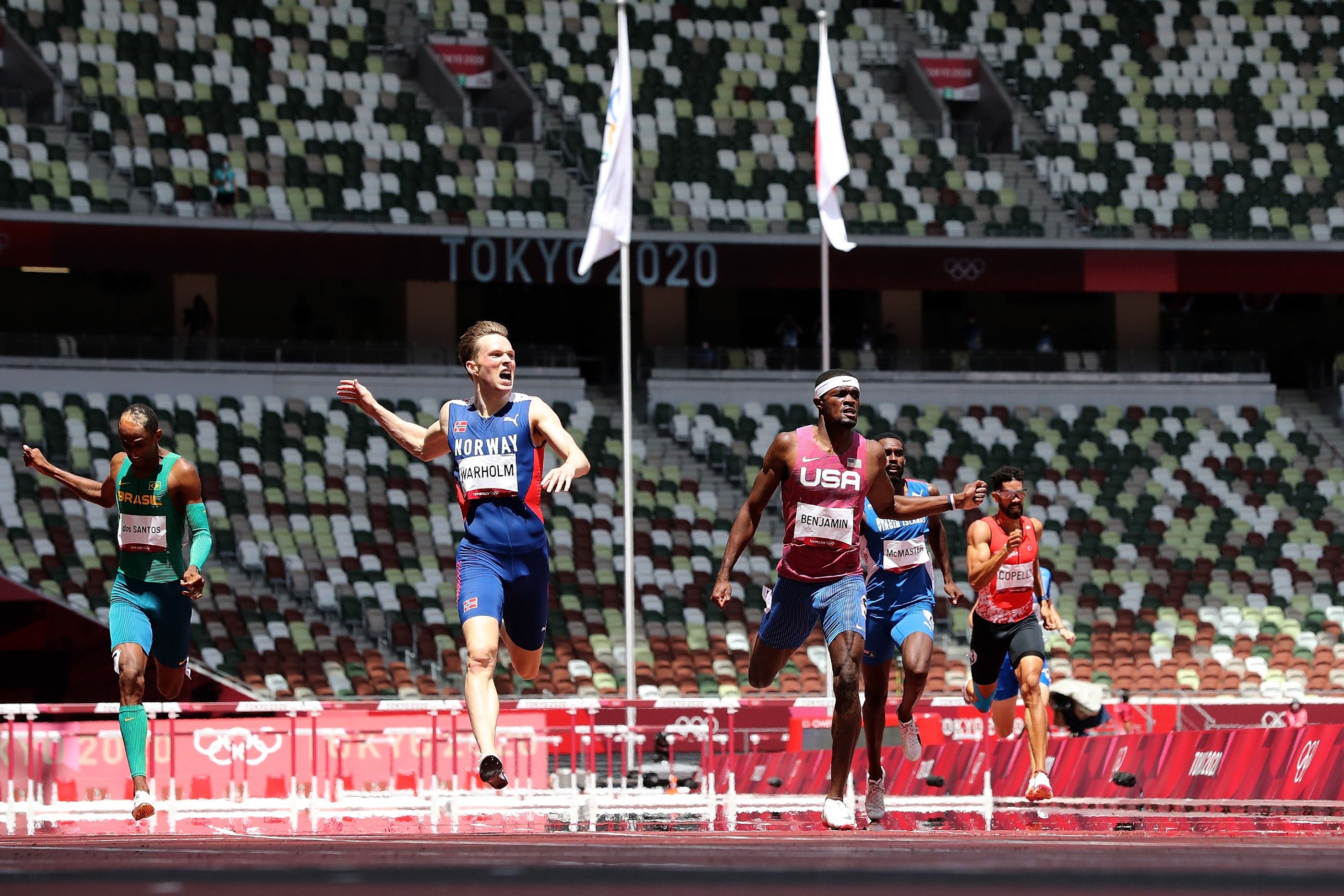 Nearly three decades had passed before someone managed to chip 0.08 from Kevin Young's legendary mark set at the 1992 Olympics. Today's performance eclipsed that by nearly a full second, blasting the record into sub-46 territory, something utterly incomprehensible – until today.
Even Warholm looked at the scoreboard in disbelief as he powered down after crossing the line, his jaw dropping, eyes popping. The only obvious reaction was to rip open his singlet and let out a series of roars.
"It's so crazy," Warholm said. "This is by far the biggest moment of my life."
To the former, Benjamin concurred.
"I don't think Usain Bolt's 9.5 was better than this," he said, referring to Usain Bolt's 9.58 100m world record set in 2009.
The pair – Benjamin in lane five, Warholm in six – set off on an aggressive pace, marking clear distance on the field by the second hurdle. Warholm chiseled together a visible advantage by the third barrier and carried a clear lead into the final bend. But Benjamin didn't panic.
Warholm led as the pair entered the final straight, but wasn't gaining ground as they approached hurdle nine. Benjamin managed to chip away at the lead and nearly caught Warholm at the final hurdle, but that surge cost him, leaving him drained as he landed, unable to respond as Warholm began to pull away.
World records can't be predicted but this showdown was always the best bet for one on the fast Tokyo track. Benjamin improved to 46.83 at the US trials, just four days before Warholm finally eclipsed Young's long-standing standard.
Their seemingly effortless semifinal performances – 47.30 by Warholm, 47.31 by Dos Santos and 47.37 by Benjamin – would have sufficed to take gold at all but one Olympics since Young set his world record in Seoul in 1992. Clearly the three were in the best shape of their lives. Historically profound shape, as it turned out.
How did Warholm reach this historical moment?
"I train like a f***ing maniac," he said. "I use all my time on this. Now I just have to set myself new goals because I'm not done yet."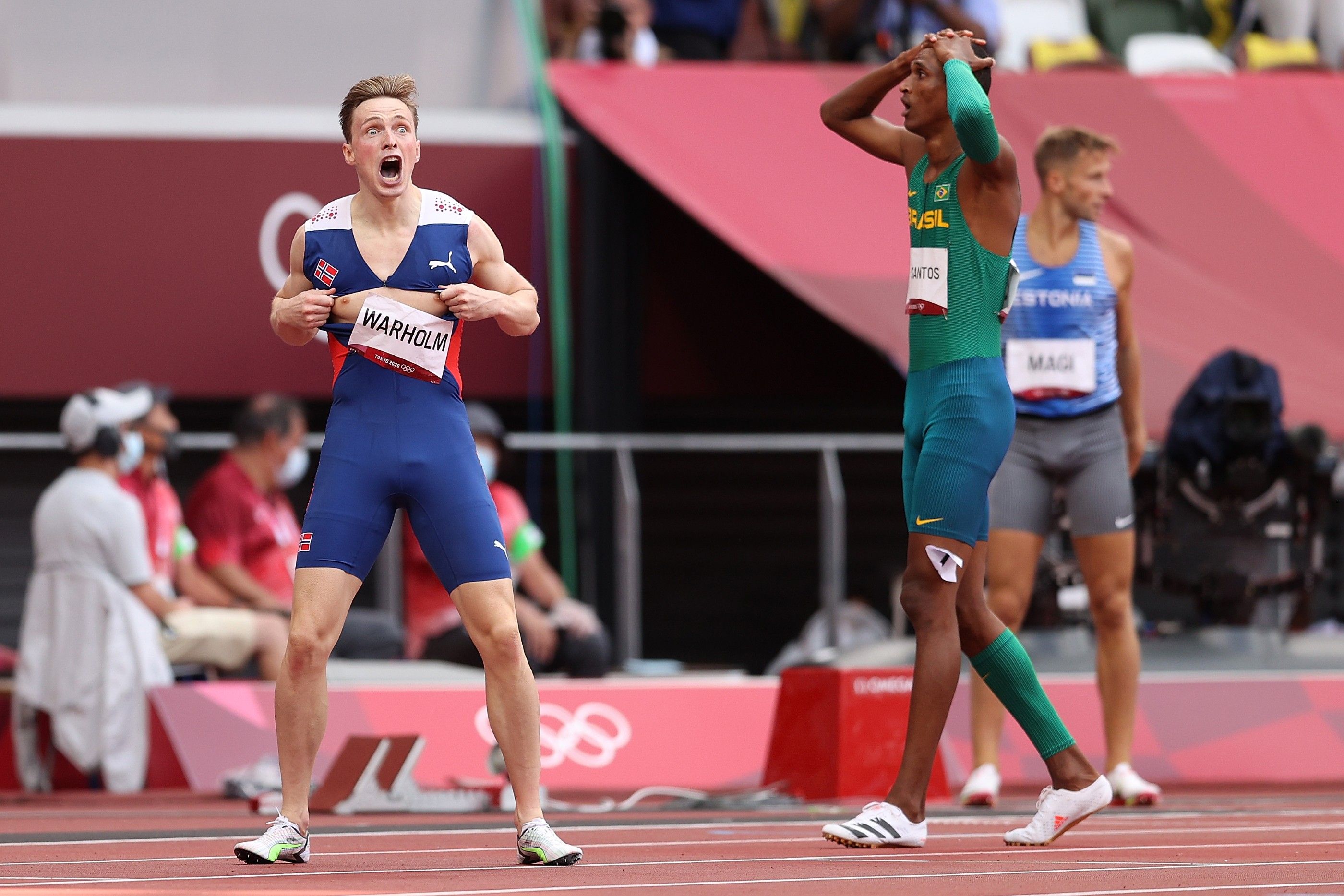 Neither is Benjamin, who despite his colossal achievement, couldn't hide his disappointment.
"I just worked so hard all year," said the US champion, who finished second to Warholm at the 2019 World Championships in an earlier epic duel. "This is what matters. I got a medal, but it just hurts to lose. Next year, I'm coming. I'm a dog. I'm going to fight. I made some mistakes that cost me but I'm going to fix them."
If Warholm made any mistakes, he didn't immediately go looking for them. There was no need. He said he was confident last night and woke up confident this morning that something special was in the air.
"(Last night) I had this special feeling in my chest when I'm nervous," he said. "It's the feeling I had as a six-year-old on Christmas Eve. It's a feeling you don't think you'll ever have again. But I had it last night."
Dos Santos, just 21, was thrilled by his performance, and he too can't wait to see what will come next in the event's new era.
"We want to run faster, we want to be better and this is amazing," he said. "If (Warholm) can break 46, I can break it, too. I want to run faster. I want to be better."
Behind them, a slew of records fell.
Kyron McMaster finished fourth in 47.08, a national record for the British Virgin Islands which landed in the No.8 spot on the world all-time list, with Abderrahman Samba of Qatar fifth in 47.12.
Yasmani Copello clocked 47.81 to equal the Turkish national record in sixth, with Rasmus Magi seventh in 48.11, a national record for Estonia.
Bob Ramsak for World Athletics
*Subject to the usual ratification procedure
MEN'S 400m HURDLES MEDALLISTS
🥇
Karsten Warholm 🇳🇴 NOR
45.94 WR
🥈
Rai Benjamin 🇺🇸 USA
46.17 AR
🥉
Alison dos Santos 🇧🇷 BRA
46.72 AR
Full results