Female World Athlete of the Year, Elaine Thompson-Herah (© Dan Vernon)
When an athlete makes history by achieving something that has never been done before, you'd think they'd struggle for motivation in the aftermath.
But Elaine Thompson-Herah – who this year became the first woman to win back-to-back Olympic titles in the 100m and 200m – says winning the World Female Athlete of the Year award has simply given her more motivation for next year and beyond.
The 29-year-old Jamaican beat a high-quality list of finalists – including world record-breakers Yulimar Rojas, Sydney McLaughlin and Sifan Hassan – to secure her spot as the top woman in the sport for 2021.
"It's very special to win this award, because I was up against some phenomenal women," she says. "To capture the double, repeat my titles, get the world lead of 10.54, it is just an amazing feeling.
"The season was a tough one, but we went out there with our heart and our soul and we put on a show," she added. "It's an honour to win this award and I'm humbled to accept it. It will keep me motivated as I continue to work towards my targets."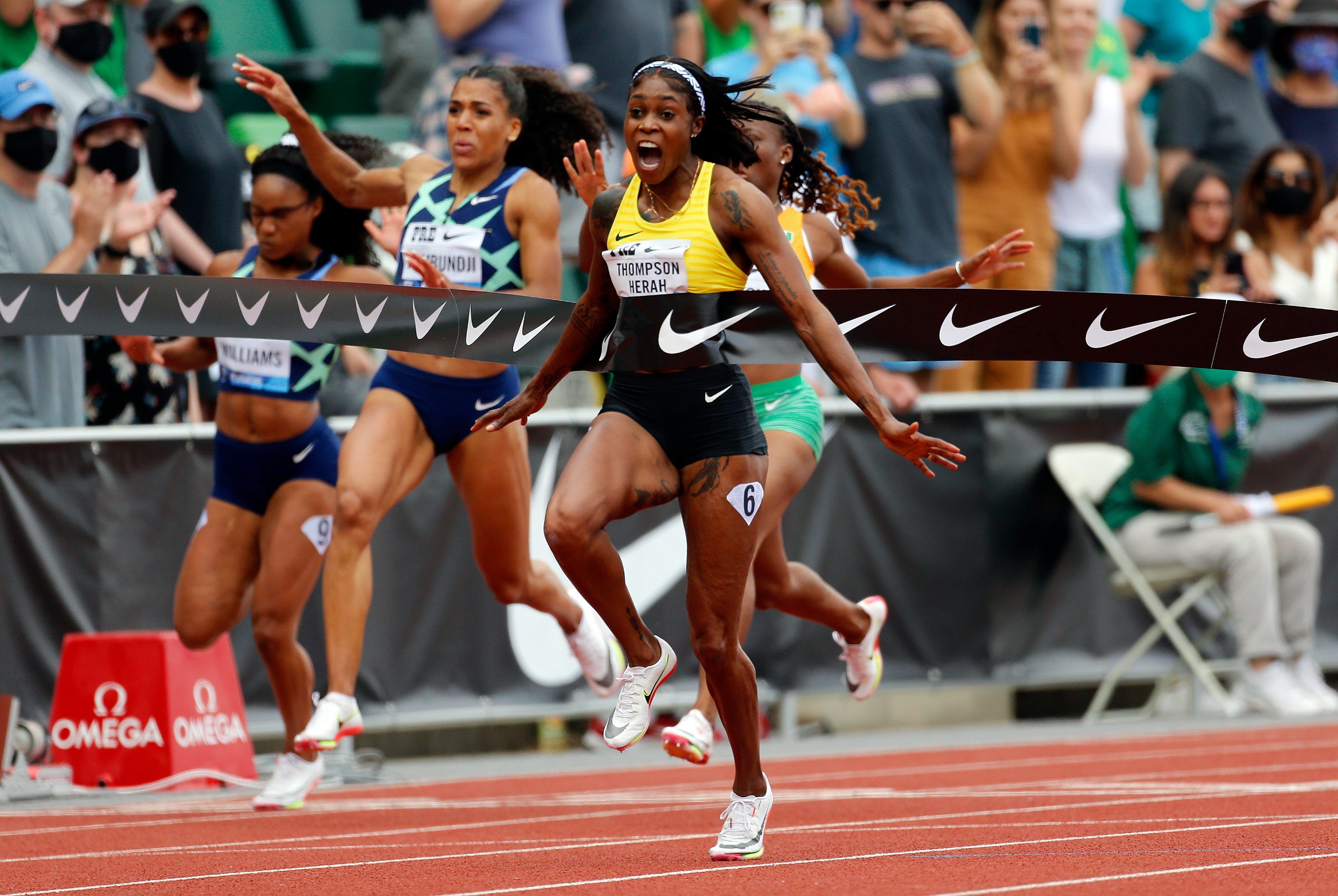 Thompson-Herah accomplished her first Olympic sprint double in 2016 when she sped to 100m and 200m victories in 10.71 and 21.78 respectively in Rio. Coming just a year after her 2015 breakthrough season, in which she took world 200m silver in 21.66, it seemed as though she'd be the next big force in sprinting, but injuries prevented her from reaching the podium in any individual event at the 2017 and 2019 World Championships.
When the achilles problems recurred in 2020, she feared it would count her out of the Tokyo Olympics. But the postponement of the Games worked in her favour.
"I was so happy (about having a year 'off' competing) because I was in boots recovering from an achilles injury in 2020," she says. "Even though the achilles injury was challenging and meant I was unable to sprint or even walk at times, I continued to work. To come back from that and achieve what I did is a surreal feeling and I'm happy and proud.
"Every champion has struggles that they've been through. There will always be obstacles and you have to learn to hurdle them – you're never too old to learn new stuff. I think I've learned a lot over the past year, and the main thing is that I've learned to listen to my body. Like any athlete who wants to be a champion, you tend to want to train through your pain, but sometimes it's better to rest and listen to your body, which will help you in the long run. That's one of the mistakes I've made in the past; I'd try to push through the pain."
Having smartly rehabbed her way through her achilles injury, Thompson-Herah got her 2021 season off to a strong start, speeding to a wind-assisted 10.76 and a wind-legal 10.78 in early May. She was surprisingly beaten in both disciplines in high-quality races at the Jamaican Championships, but her third-place finishes in 10.84 and 22.02 were more than sufficient to earn her places on the team for the Olympic Games.
"You get a lot of motivation when you achieve your first victory of the season," she says, looking back on her year. "You think, 'okay, I'm ready for the next one', then each race comes and you want to be better."
Job done at the national championships, she then headed to Europe to continue her preparation for the Games and showed she was rounding into top form with victory over 100m at the Continental Tour Gold meeting in Szekesfehervar. She stopped the clock at 10.71, a Hungarian all-comers' record and just one hundredth shy of her PB – but, more significantly, finishing comfortably ahead of compatriot and world champion Shelly-Ann Fraser-Pryce.



Her Olympic campaign began three weeks later with an incredibly easy looking 10.82 100m heat win – faster than the gold medal-winning times at all but four editions of the Games. And she then went even quicker in the semifinals, winning her race in 10.76.
But even then, her margin of supremacy and winning time in the final still came as a shock. Despite running into a -0.6m/s headwind, she claimed gold in an Olympic record of 10.61 to win by 0.13 – which, in sprinting terms, is significant.
Following one rest day to reflect on a Jamaican podium sweep in the shorter sprint, Thompson-Herah was back on track for the 200m. She ran a comfortable – though borderline risky – 22.86 to advance from her heat, but then looked imperious in the semifinals as she stopped the clock at an equal PB of 21.66, despite slamming on the proverbial brakes before the finish line.
She went on to claim 200m gold in 21.53, breaking the long-standing Jamaican record that had previously been held by sprint icon Merlene Ottey, and moving to second on the world all-time list.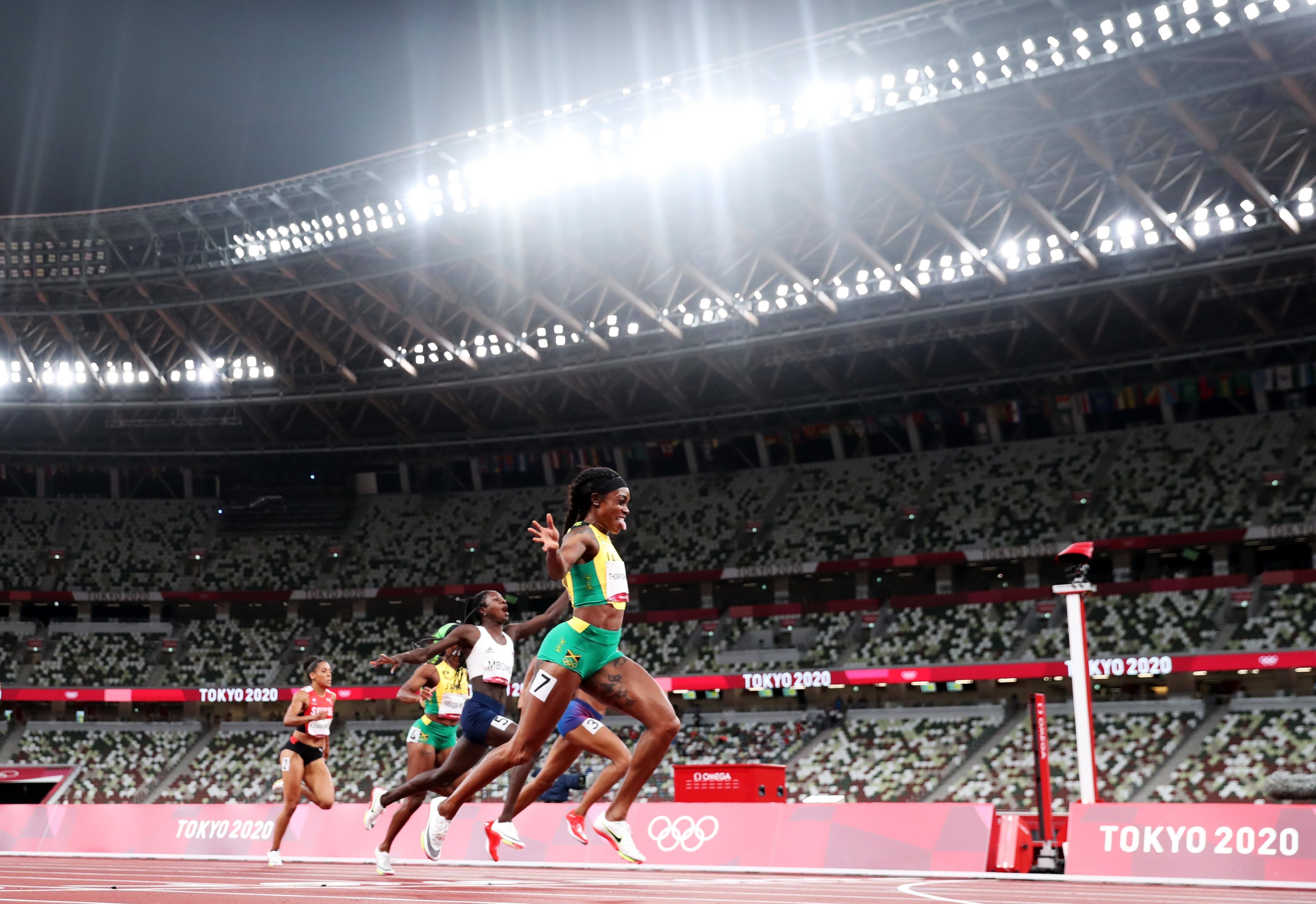 She wasn't done there, though. She capped her Olympic campaign three days later when joining her Jamaican teammates to claim gold in the 4x100m, setting another national record with 41.02 and exceeding what she achieved in Rio.
"The 200m was the hardest event because we didn't get much rest," she says. "Normally we'd have one round each day, but in Tokyo we had the first two rounds on the same day, which was super difficult. In the nine months before the Games, we geared our training around preparing for that, but it was still a little bit challenging.
"Every time I go out there, I want to be a better version of myself," she adds, explaining her general racing approach. "I try to compete with myself and to nail every race I get."



That also explains why she has so much respect for Karsten Warholm, winner of the Male Athlete of the Year award.
"I was tuned in for his Olympic final," she says. "45 seconds – most elite men are running that in the flat 400m! He's really pushing the boundaries."
Thompson-Herah came close to breaking boundaries in the latter stage of the season. Competing against a high-quality 100m field at the Wanda Diamond League meeting in Eugene, she sped to a world-leading national record of 10.54, moving to second on the world all-time list. It was also just 0.05 shy of the long-standing world record.
It took Thompson-Herah completely by surprise.
"The 10.54 felt kind of slow!" she reveals. "When I crossed the line, I didn't see the time straight away, but it felt sluggish and kind of awkward. But sometimes a race may not feel perfect, yet you end up running fast. When I finally saw the time, I was overwhelmed, elated, excited, everything."



She hopes to return to Eugene's Hayward Field for the World Athletics Championships Oregon22. Although she'd like to win multiple gold medals, as she has done at the past two Olympic Games, her main goal will simply be to win her first individual world title.
"I am definitely looking forward to the World Championships in Eugene because I don't yet have an individual world title," she says. "The aim is to try to do the double, or even three golds. I felt the track and know what it feels like, so I am looking forward to a good championships. And it's closer to home, of course."
Before then, she may compete at the World Athletics Indoor Championships Belgrade22, but those plans are not yet confirmed.
"The World Indoors is on my radar but I am just going to see how my body feels," she says. "I enjoy the 60m, even though I am not a quick starter. I do need the speed, of course, and I'd love to win my first world indoor title, but it all depends on how I feel nearer to the time. I'm just taking things step by step at the moment."


"I went very close to the world record so you know, anything is possible," hints newly crowned Female World Athlete of the Year @FastElaine.

"The @WCHoregon22 is most definitely my next big target."

Watch this space 👀 pic.twitter.com/ZRou2Osbh0

— World Athletics (@WorldAthletics) December 1, 2021

Along with winning world titles and breaking world records, one of Thompson-Herah's other long-term goals is to continue to inspire young athletes, particularly in Jamaica.
"It means a lot to be Jamaican," she explains. "I started running when I was about six years old, and as a young girl growing up, making the Olympics was my dream. We have the Boys and Girls Championships back home in Jamaica, which is like a mini Olympics for Jamaicans. Everybody learns to be competitive there, which we then bring into elite performance.
"Once you turn professional, it's all about making a name and your own brand, but for us as Jamaicans we also want to put our little island out there. When I was younger, I'd look up to Veronica Campbell-Brown, Merlene Ottey, Usain (Bolt) and Asafa (Powell), so for me to become one of those big stars like them, it's amazing.
"My advice for young athletes would be to just believe, keep working and stay focused. The athletics world isn't an easy one. But put in the work, take motivation from your fans, and just have fun. If you put in the work, you'll get the result that you want.
"I want to be a great athlete and a great person overall. This sport has taught me a lot, and I have learned a lot over the years. I never dreamed I could travel the world, so I'm grateful for everything this sport throws in my hands.
"I want to leave a legacy in this sport that will inspire the younger generation to go on and do even greater things than I've done."
Jon Mulkeen for World Athletics