New Zealand trail runner Ruth Croft
The 2019 World Trail Running Championships silver medallist Ruth Croft is among the very best in her craft. Here the 32-year-old New Zealander offers her top tips for the trail running beginner.
Wear the correct footwear
The trails can present a multitude of varying terrains, making the choice of footwear critical, according to Croft.
"Make sure you select a shoe with the right traction and for the longer races having the right support is important, because there is an increased chance of picking up blisters," she says.
"If the race includes slippery rock underfoot, make sure you wear shoes with a good grip. On more technical terrain select footwear with bigger lugs but on smoother trails chose shoes with smaller lugs. Depending on the terrain and length of the race you may also be able to get away with wearing racing flats."
Be prepared
The demands of running the trails can present varying challenges compared to road races. Conditions and terrain can change markedly, meaning selecting the right equipment is of the utmost importance.
"Make sure you invest in a good hydration pack, so it doesn't bounce around. Many races require compulsory equipment and it is always good to invest in a waterproof seam-sealed jacket, waterproof pants, survival blanket, a hat and gloves."
Croft also explains how various trail races can serve up extremes in weather conditions and it is important pre-race to become accustomed with what you might face.
"Whether it is a race run in freezing temperatures or in the heat, make sure you are acclimatised to the conditions, which will help you massively on the day."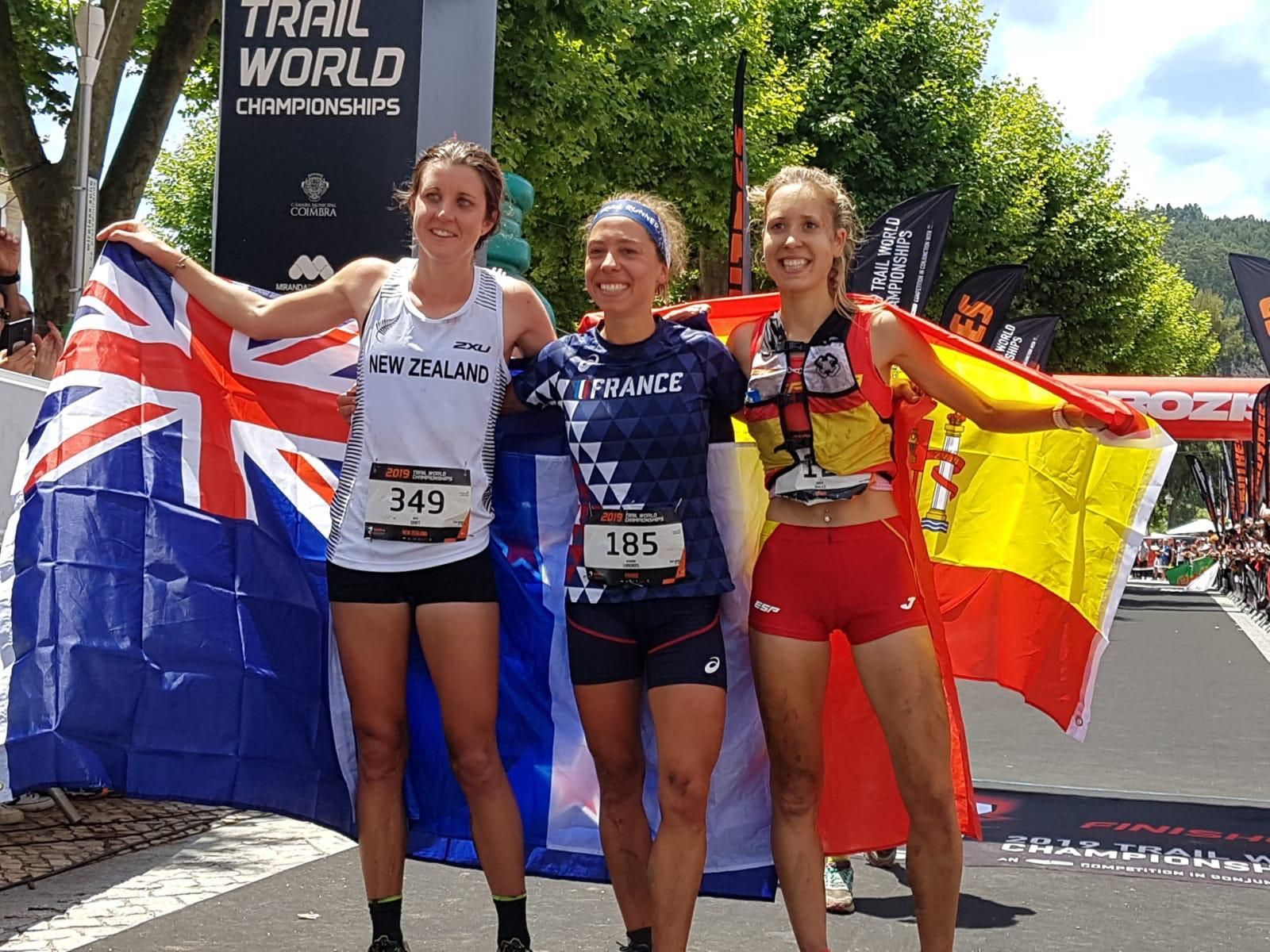 World Trail Running Championships women's podium, from left: runner-up Ruth Croft, winner Blandine L'Hirondel and third place finisher Sheila Aviles (© Mayayo-Carrerasdemontana.com)
Don't step up the distance too quickly
In the early days of a trail runner's career, Croft insists the temptation is to quickly move up the distance but she suggests a more cautious approach.
"Many people will first step into trail running a distance of around 20km and the next minute many will want to run 100km," she explains.
"However, a more gradual approach is better. Remember, a 20km trail race can take longer than 20km on the roads. There are many more factors that come into play when running over longer distances such as weather conditions, terrain, gear and nutrition. After running 20km get used to running 50km and then slowly step up to 75km or 80km. Don't bite off more than you can chew.
"Also, in the trail running world there is a lot of hype around running 100 miles. I got caught up in that hype, but when I stepped up to that distance I found I didn't enjoy it, so I stepped back down to races in the 50km range.
Practise on the terrain
Getting familiar with the terrain you plan to race on can enhance co-ordination and technical running skill.
However, one area Croft believes is often overlooked is running downhill in training.
"A lot of emphasis is on running uphill in training yet many beginners don't have much confidence running downhill and this is a skill which should be practised, too.
"I understand running downhill can be tricky because there is an injury risk but to learn to run properly downhill can help avoid any accidents. There are many YouTube videos to check out how to run downhill more efficiently."
Nutrition
The extra distance of trail races compared to many road races means a careful approach to nutrition is vital, according to the New Zealand endurance athlete.
"Taking a very general approach, I'd suggest eating and drinking something every hour," adds Croft. "Although, the amount will depend on the type and length of event you are racing.
"Remember, practise your nutrition. Try different approaches using gels and solid foods to see what works, but no size fits all."
Steve Landells for World Athletics