Mara Yamauchi celebrates her performance at the 2009 London Marathon (© Getty Images)
This year's stupendous season of outdoor track and field has finally drawn to a close, and goodness me, what a season it has been!
The World Athletics Championships Oregon22 took place only two months ago, but it feels like an eternity has passed since, with the Commonwealth Games, World U20 Championships, European Championships and NACAC Championships giving athletics fans the world over a feast of unforgettable performances.
If you are feeling your athletics fever dwindling somewhat, fear not, because September is always the month when we turn our attention to the roads and (I admit I am biased) the best event of them all – the marathon!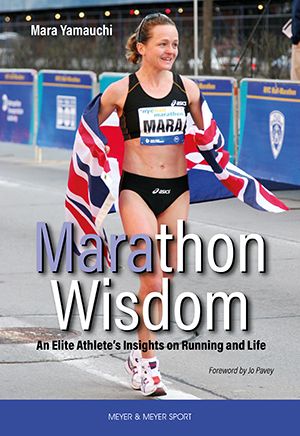 The names of iconic marathon host cities – Berlin, London, Chicago, Valencia – will soon be in the news. Perhaps you are taking on the 26.2-mile challenge at one of these events? Or thinking about dipping your toe in during 2023 as the northern hemisphere spring marathon season beckons? The lure and appeal of the legendary marathon distance seems as popular as ever. If you haven't tried a marathon yet, naturally I recommend it; and I always advise persevering beyond the first time as it definitely improves with a few attempts.
It is nearly 10 years since I retired from elite competition, so I'm thrilled that my first book, Marathon Wisdom, An Elite Athlete's Insights on Running and Life, was published earlier this year by Meyer & Meyer Sport. It is a collection of 42.195 (the number of kilometres in a marathon) nuggets of wisdom which I learned from a lifetime of running – as a child, a young adult, a world-class athlete, and now as a retired recreational runner.
From setting goals and overcoming setbacks, to making the best of a bad situation and celebrating success when it comes, these insights are universal and relevant for all levels of runner. The following extract – Insight 1: What Fires You Up? – gives you a flavour of my book. It can be read from cover to cover, or dipped in and out of when time allows. It is available now from online retailers and in bookshops.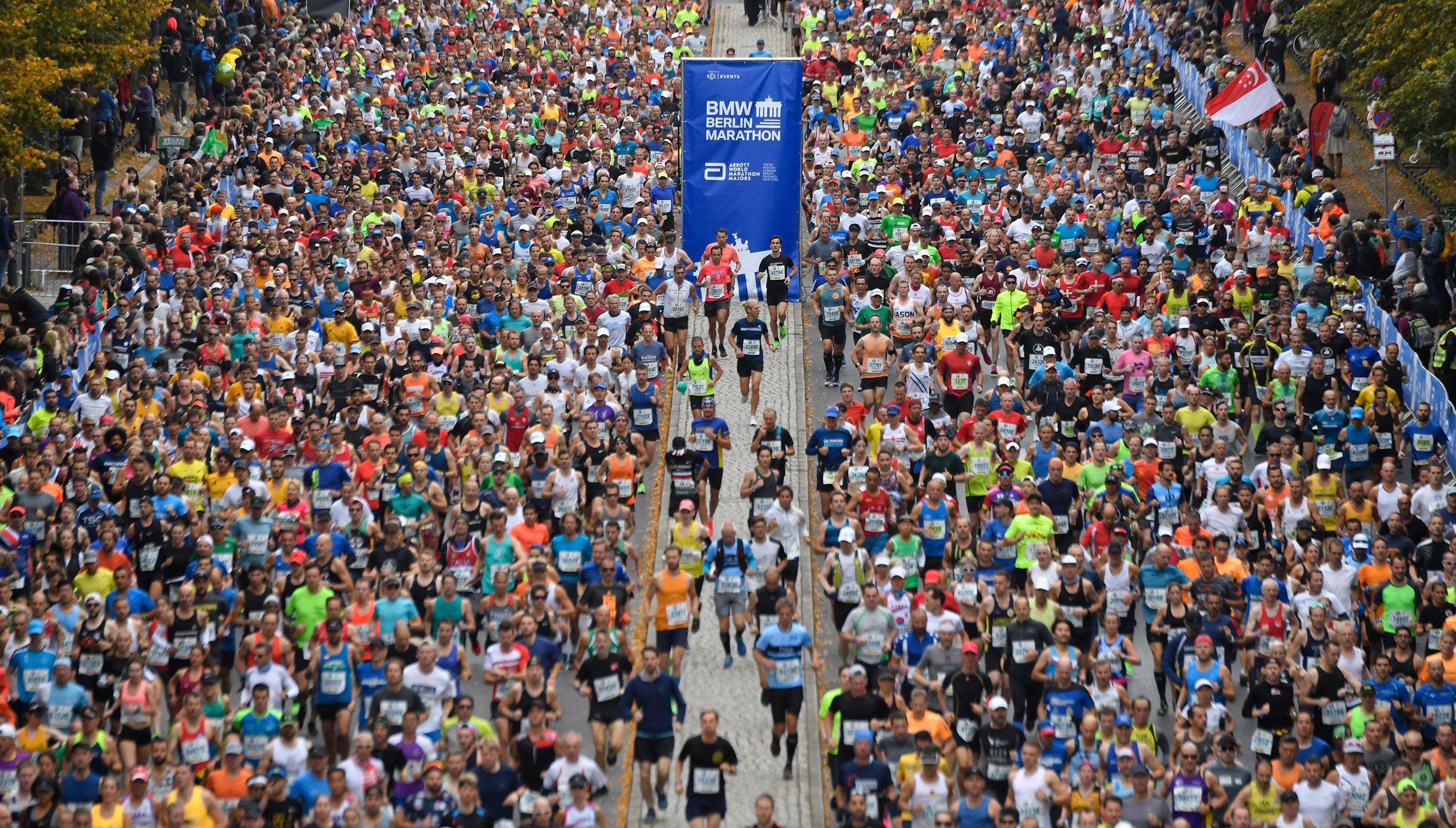 Runners in the Berlin Marathon (© AFP / Getty Images)
What fires you up?
When I was a small child growing up in Nairobi, Kenya, I loved playing outdoors. I ran up and down the steep driveway to our house and dived into all kinds of adventures in the garden. The year-round tropical, warm climate lent itself to spending time outside. I grew up loving sports and being physically active. At weekends and during the holidays, my parents took my sister and me on safari, or to the coast and the Indian Ocean, or any number of exciting adventures under Africa's sun and big skies.
Fast-forward to 1984 and my family had moved to Oxford, England. During that summer, at age 11, I remember watching the Los Angeles Olympics on television and being utterly mesmerised by the sports extravaganza taking place on the other side of the world. The enormous stadium, the glitz and glamour, the athletes giving it their all … I was transfixed by this spectacle and spent many hours watching it all on television.
Strangely, in hindsight I was not really interested in the women's marathon, which was making its hard-won debut in the Olympic Games. Instead, I was focused on the best all-rounders there are, the decathletes and my hero, Daley Thompson. To be able to compete brilliantly in all those various events inspired awe in me, and encompassed what I wanted to be: an all-round athlete.
The excitement of watching wore me out and I could not stay awake for the final event, the 1500m. My mother woke me up in the middle of the night to tell me that Daley had won the gold. After the Games were finished, I watched the BBC's highlights on videotape, set to Spandau Ballet's Gold, again and again. After watching those Games, I decided I wanted to be a top-class, world-beating athlete. At age 11, I had no idea how I was going to do it, but from that summer on I had discovered something that really fired me up – a dream of becoming a sporting champion.
Becoming beside yourself with excitement is one of the wonders of childhood. Many children want to be like the fabulous and attractive people they encounter. But if I can describe in general terms what that summer gave me, it was an enduring, aspirational desire to do something special and specific with my life. This desire never left me and always gave me a clear goal to aim and strive for.
Between that summer and 17 August 2008, when I finally stood on the start line of my first Olympic marathon in Beijing, 24 years had passed. A quarter of a century! You could say it was not a very motivating or compelling dream since it took me so long to make it happen. But it was not a straightforward journey. I had become side-tracked with other activities along the way, such as earning a living. I believe it is testament to how strong that desire was that it sustained me for so many years to keep going and ensured that I never gave up on my dream.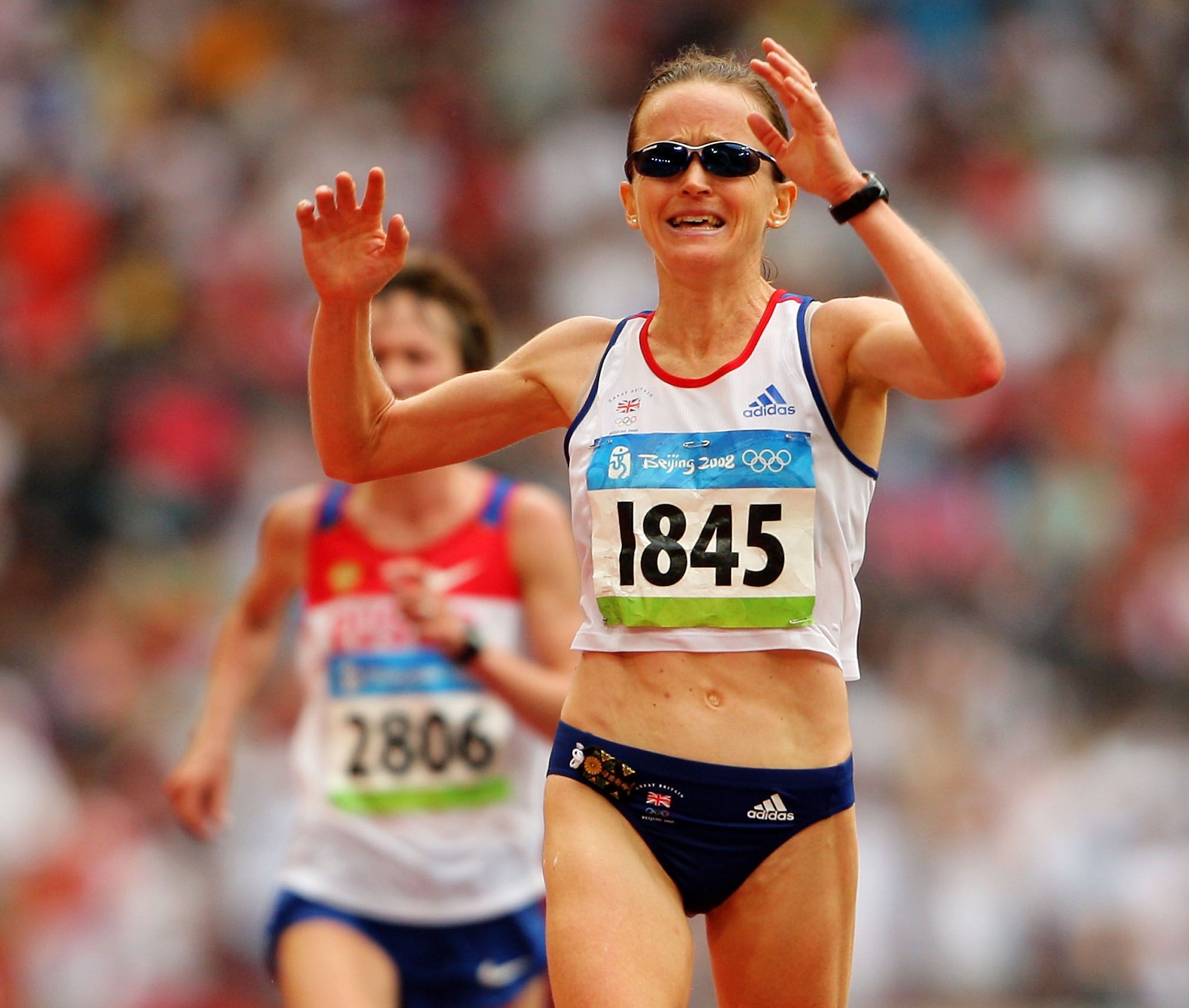 Mara Yamauchi finishes sixth in the marathon at the 2008 Olympic Games in Beijing (© Getty Images)
What I learnt from this burning desire born all those years ago was that discovering a love for something is immensely valuable and worth spending time on. That having a dream which really inspires you provides the engine for hard work, a motivating goal to focus on, and the ability to keep going through hard times. That a love for a particular activity might hit you at a time when you can't do much about it and you might need to return to it later. And that being clear about what you are aiming for is important because it gives you direction and motivation.
Why did it take me so long to realise my childhood dream? Most world-class athletes become professionals straight after or during their full-time education and retire while they are young adults. For me, it was different. When I left university, I wanted to become a full-time athlete but was nowhere near fast enough to earn a living from it. My parents encouraged me to look for a 'proper job'. Like many students, I had no money. Therefore, on leaving full-time education I had no choice and simply had to find a job. I applied to the British Civil Service's Fast Stream graduate recruitment programme and became a diplomat with the Foreign Office. This too was a fascinating adventure. I travelled to places I had never been, had the opportunity to learn Japanese and the privilege of working with issues that mattered. I was posted to the British Embassy in Tokyo and enjoyed further adventures there … but during all that time, the dream of becoming a world-class athlete was always there in the back of my mind.
When my Tokyo posting came to an end and I returned to London at the age of 29, I decided that if I was to realise my childhood dream, it was now or never. I spent the next three years working and training hard and finally became a full-time athlete in 2006 at the age of 33. I was 35 when I finished sixth in the 2008 Beijing Olympics women's marathon, the joint best performance ever by a British woman in the Olympic marathon. I was 35 when I set my personal best of 2:23:12 in the 2009 London Marathon.
It was a long journey of ups and downs, going off on tangents, and spells when realising my dream seemed like a very distant prospect. But throughout that quarter century, I was always clear what my goal was and what I wanted to be.
Sport is not everyone's cup of tea. Nor is spending a large part of your life pursuing one clear goal. I am not claiming that this is the only way to live a life. But this was my experience. My wish is that by sharing it, you will see how you can pursue and achieve an ambitious goal. We all have talents and gifts of one kind or another, whether it's in sport, music or something else.
Having a dream or overall goal provides motivation, direction and meaning. It might take time, but pursuing what you love is an enriching, life-changing journey.
Mara Yamauchi for World Athletics Be Active