Italian race walker Eleonora Giorgi
Olympic fever is building as the Tokyo Olympics open in just six days' time. Are you feeling inspired to improve your fitness? Maybe thinking about taking up a new sport? Or dreaming about giving your best in your next competition?
The Olympic athletes we'll soon see on our TV screens can seem like super-humans from a different universe. But to be honest, and as a former elite athlete myself, I promise this is not the case. The world's best athletes all started at the bottom and worked their way up. They suffer setbacks and disappointments like the rest of us. They certainly work very hard, but there is a lot we all have in common.
One of those athletes is Eleonora Anna Giorgi of Italy, one of the world's top race walkers. Training at her base in Milan, she is currently finalising her preparations for what will be her third Olympic Games, where she will compete in the women's 20km race walk in Sapporo on Friday 6 August.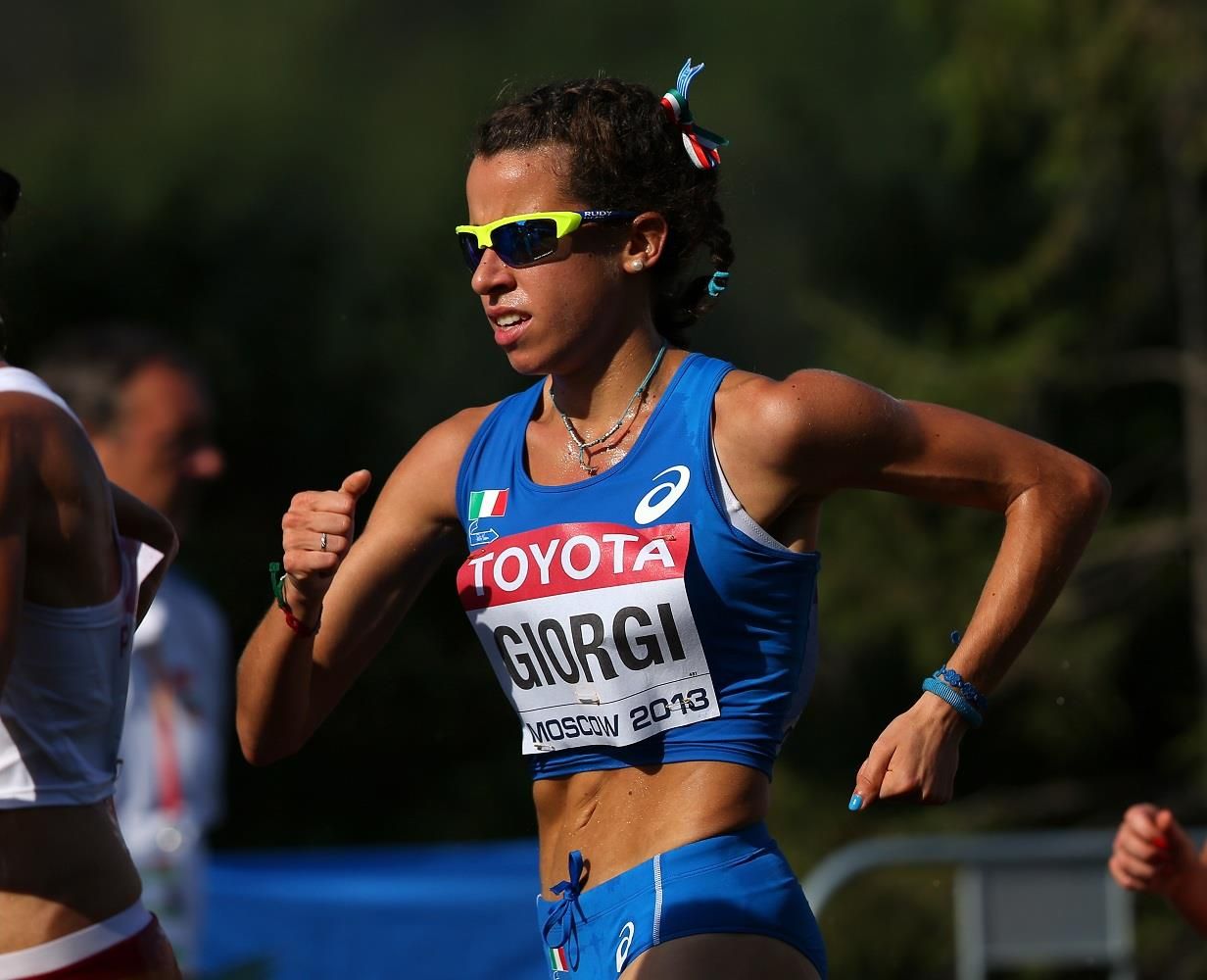 Giorgi is the Italian record-holder in the 20km and holds the European record in the 50km. But perhaps her best achievement to date was the bronze medal she won in the 50km in the sweltering heat and humidity of Doha at the 2019 World Championships.
Five of the six women's race walking medals on offer in Doha were won by the formidable Chinese team; Giorgi was the only athlete who managed to prevent a double Chinese sweep of the podiums.
I caught up with her ahead of her flight to Japan, to hear how her preparations are going, and to glean a few tips from her for beginners and recreational athletes.
We started with training, and how elite athletes' sessions can be adapted for recreational athletes. "Every kind of training can be adapted – the pros just go faster," says Giorgi. "Race walking is great for beginner runners, because there is less impact on your joints.
"I recommend trying one minute fast walking, like you are trying to catch a bus, then one minute of slow running, and repeat", she explains. "If you do a minimum of thirty minutes in total, you will see results, but you can do this for longer – as long as you like."
I asked about technique for anyone who has not learned the proper race walking technique. "Just keep your arms down and use your hips," she explains. Giorgi says fast walking is better than running for anyone trying to lose weight because it is easier on the knees. "I often try to convince my Dad to do some fast walking," she laughs. Alternating one minute of walking and running is just one example, but she says you can vary this as you like, for example three minutes running, one minute walking. "Variation makes time fly and makes training fun."
Fast walking is booming in Italy. Fit walking, a form of speed walking started by race walking legends, brothers Maurizio and Giorgio Damilano, is very popular, along with Nordic walking with poles. Giorgi says many people now enter marathons to walk, rather than run them, and the sport is attracting many younger people too.
Although race walking is now her speciality, Giorgi started out as a runner, mainly in the 800m and cross country. But injuries made her switch to race walking. She still uses running in her training, especially in winter.
One of her track sessions involves alternating 100m of very fast walking (under 4:00 per km) with 100m of slow jogging. Intuitively, many might think that in a run-walk training menu, the running is the hard bit. But in Giorgi's session, the walking is the tough part and the jog is the recovery.
When we spoke, Giorgi had just completed a 15km session of 1km race walking, alternating with 1km slower walking – another session which could be adapted for recreational athletes.


View this post on Instagram

Being a devotee of Italian food, I had to ask Giorgi for her top tips on nutrition for beginners. Perhaps predictably, she replied: "I am Italian, so of course I love pizza and pasta!" She went on to explain that she believes you can eat whatever you want if you train hard, and your own health should be the top priority. But she also aims to achieve a balance of macro-nutrients, with the three thirds of any meal comprised of carbohydrate, protein and vegetables, all washed down with plenty of water, especially in summer. Giorgi says she pays attention to her nutrition but does not follow any diet. "I train hard so I can eat a pizza."
My next question for Giorgi was what are her tips for people who might want to try race walking for the first time? "Don't be shy" was her top tip. "Just try fit walking or Nordic walking to start. If others see you out in a park, they will be curious and follow your example," she explains. And don't go alone – it is always easier with the support of friends.
Perhaps her most practical tip is this: "Take your bag to work, then go straight to training afterwards without going home first. If you go home, you'll sit on the sofa!"
She also emphasises the positive aspects of walking. "You can walk anywhere – in the city, mountains, countryside, anywhere. And I sometimes sing when I train – just a few notes but it gives me energy."
After hearing Giorgi's top tips, we talked about her immediate goal – the Tokyo Olympics. Of course, she wants a good result and will do her best, she explained, but she will also be happy simply to be there, since competing at the Olympics is an athlete's dream. "I hope to enjoy the journey, and live some magic moments," she says. "It will be a beautiful experience."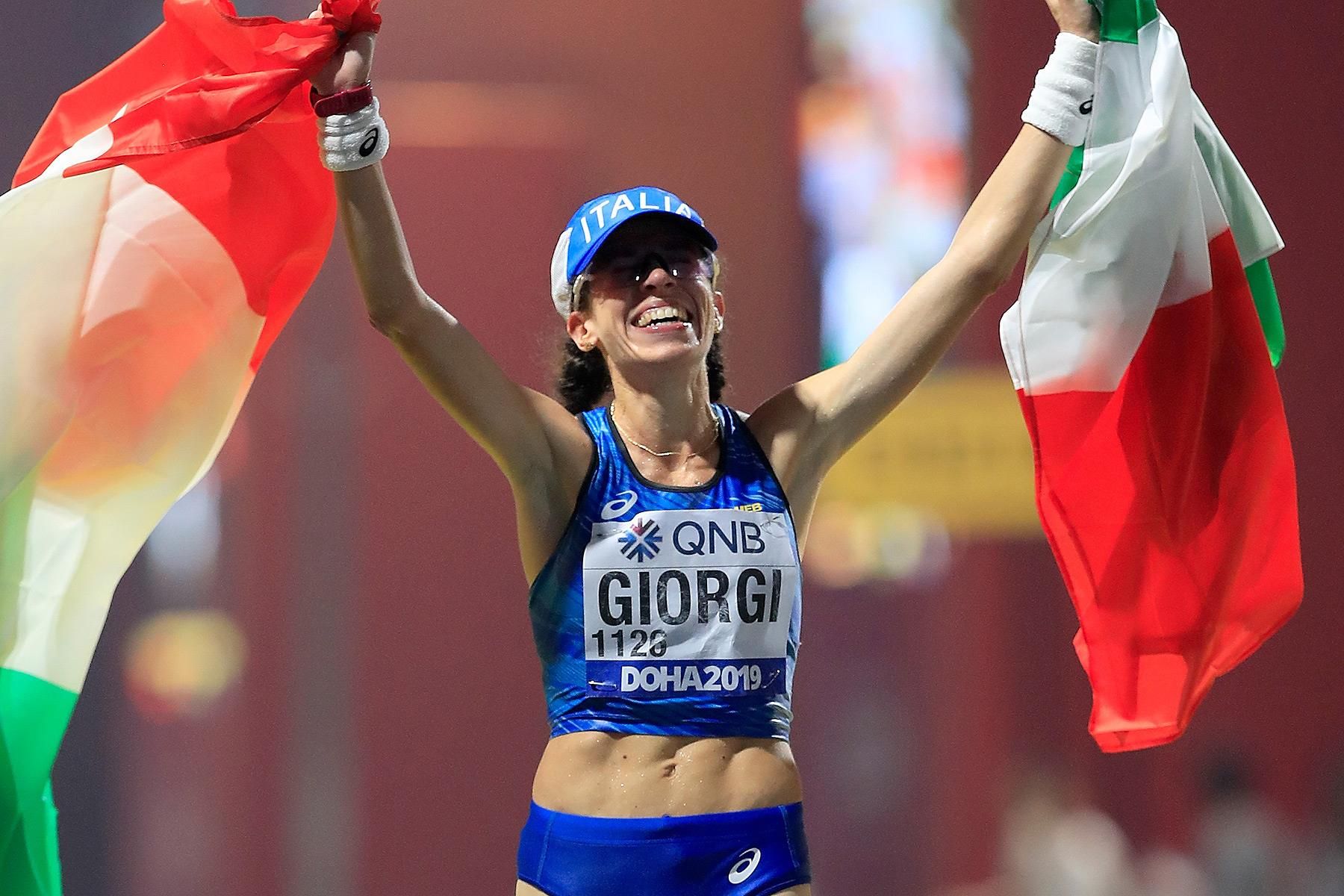 Giorgi's last appearance at a major championship was over 50km in Doha. But the 50km has now been discontinued; next year's World Championships in Oregon will feature race walk events of 20km and 35km for men and women.
"I am a little sad about the 50km, but on the other hand, race walking has to change to survive and attract more young people," she says. "I understand the decision."
Giorgi is excited about the new 35km event and believes it will become very competitive. But she confesses she wanted a new race walk event over the marathon distance, 42.195km, partly so that runners could really appreciate how fast race walkers are. "Runners sometimes get mad at me when I overtake them in the park," she laughs.
Giorgi's memories of her 50km in Doha illustrate well how elite athletes are just normal people. "I was struggling with stomach ache from 15km, so I just focused on completing the next one kilometre, and then the next. I thought I would not be able to finish." But the finish eventually came for Giorgi, along with her bronze medal. "I had been trying to win a medal for six to seven years but failed because of injuries and disqualifications, so to win a medal was very good."
Giorgi, like all elite athletes, is just a normal person working very hard at their craft. And perhaps Italy's victory at the Euro 2020 football tournament will inspire Giorgi when she puts on the azzurri blue uniform of Italy on Friday 6 August in Sapporo. Forza Giorgi!
Mara Yamauchi for World Athletics Be Active