World Athletics Women's Week (© Christel Saneh )
During World Athletics Women's Week, a look at the strides being made in the media world – inside athletics and further afield
---
What do you love most about athletics? Is it the running? The jumps? The throws or the race walks? For me, it's all of those things ­– I am captivated by the sport's diversity.
There hasn't always been such range, of course – particularly for women. I still find it hard to comprehend that until the 1980s the longest track race in international competition for women was 1500m. Another three decades would go by before parity in the number of track and field events was achieved at major global championships following the inclusion of the women's 50km race walk at the World Athletics Championships in London.
"Right through my athletics career, the events weren't there," two-time London Marathon winner Joyce Smith, who placed 11th in the 1984 Olympic marathon at the age of 46, once told me. "I moved up events as they came in so that's why my career prolonged."
There are not many sports in which women and men compete at the same time in the same arena. As a result of the aforementioned strides towards equality in athletics, prize money at major championships is now level, to match the equal number of disciplines.
It is vital that other sectors keep striving to catch up.
I feel incredibly lucky to have had a number of strong role models to emulate throughout my media career, and because of that, I have never felt less able to do my job as a journalist because I am a woman. However, although mine has been a positive experience, I am acutely aware that across the wider industry, that has not been the case for everyone.
There are a number of trailblazing figures I have to thank for the world I now work in.
One of the most influential is Vikki Orvice, who paved the way as one of Britain's most experienced and admired athletics writers. Posthumously honoured with World Athletics' President's Award for her services to athletics coverage, Vikki – who we so sadly lost in 2019 – has had an incredible impact on me and countless others in this industry. I will forever be grateful for her support, advice and encouragement. Likewise Wendy Sly, so inspirational as an athlete, has continued to motivate me as she swapped racing for publishing and guided me for many of my eight years as web editor at Athletics Weekly (AW).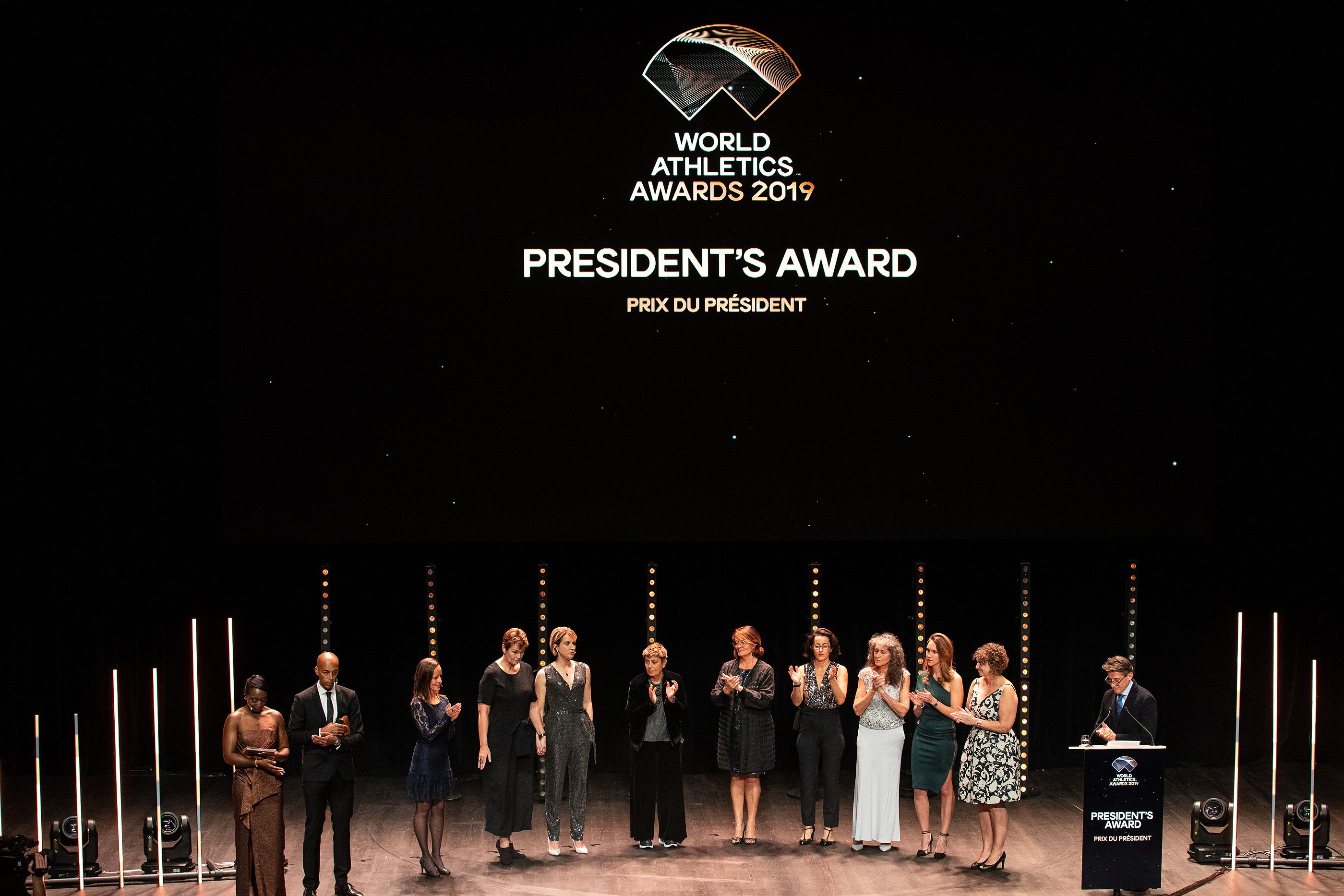 Vikki Orvice honoured at the World Athletics Awards 2019
Although the profile of professionals covering athletics is changing, the fact remains that the sports media world continues to be heavily male-dominated, both in terms of production and action showcased. In athletics, of the 970 members of accredited media for the 2019 World Athletics Championships in Doha, just 15% were women. Similarly, at the global event in London two years earlier, where 1154 members of the press were accredited, 84% of those were men.
Further to this, while the statistics are not athletics-specific and focus on UK sports media, figures published by the Black Collective of Media in Sport in 2018 highlighted that of the 338 roles analysed across broadcast and written media covering specific events (the FIFA World Cup, Winter Olympics and Paralympics, Wimbledon, Commonwealth Games and multi-sport European Championships) for the major national newspapers and broadcasting networks, just 11 (3.25%) were women from black, Asian and minority ethnic (BAME) backgrounds.
To reflect the field of play where there is now such diversity, a range of voices is essential if we are to effectively tell the sport's stories.
"If we want to present really rich and interesting stories, we need journalists and content creators from a range of different backgrounds," agrees Danielle Sellwood, co-founder of Find It Film, which shines a spotlight on women's sport and adventure.
Back in 2008 Sellwood also co-founded a women's sports magazine, Sportsister, which is where my own journey in journalism began.
"At the beginning of Sportsister there were very few female journalists in sport," adds Sellwood. "There are so many more women working in the field now, but it has taken 13 years. It is so important in terms of representing women and having a view on women in the sport.
"If we are talking about actually changing the image of women's sport, we need more women's sport on television, not just more women working in the sports world. It's a combination of the two things.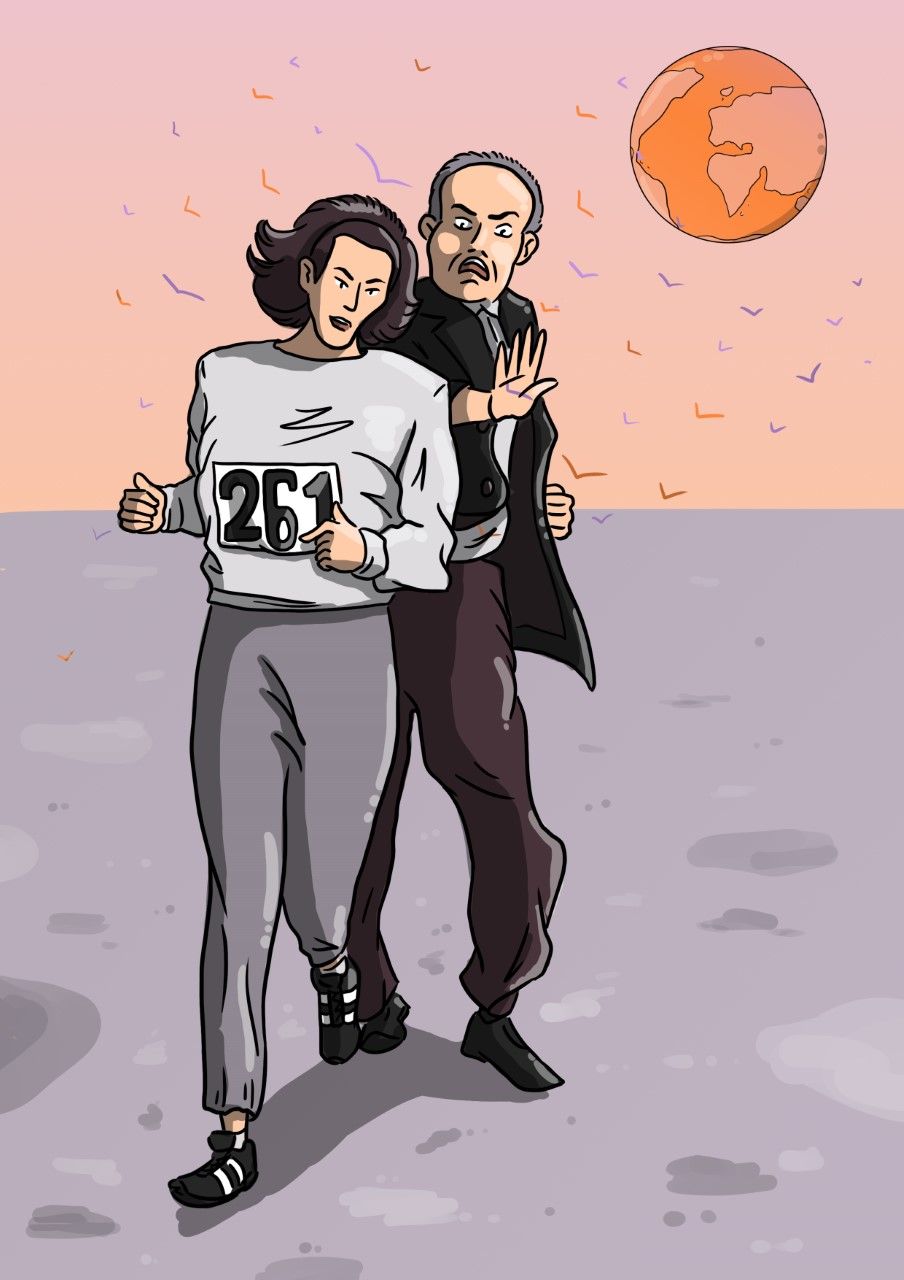 "The good thing is there has been a massive shift in people's attitudes towards sport and exercise over the past few years. The whole culture of women's sport has changed enormously and it is more aspirational now. All we can do is keep presenting alternatives and a range of really great role models."
The same can be said about the media landscape.
That's why it is so important that the #WeGrowAthletics campaign recognises this, with its pledge to ensure a platform for women's voices. As part of the launch, World Athletics is striving to further advance the role of girls and women in athletics in three core areas – empowering women in leadership positions, breaking with traditions and shining a spotlight on women's stories across its platforms.
I hope I never take for granted how lucky I am to be a part of this world, where the people I work alongside are striving for a level of diversity which more accurately reflects the wonderful sport we cover.
Having the support of male peers is vital, too, and that is another thing for which I am thankful, having had such a positive experience during my time at AW.
As I reflect, I remember a conversation I had with athletics pioneer Kathrine Switzer, who became the first woman to officially run the Boston Marathon in 1967. The image of the race director trying to force her off the course is a stark reminder of how different things were half a century ago.
"The male runners have always been supportive of women," Switzer told me in a 2018 interview for AW. "We would never be where we are today without those guys, they were fantastic. It's never been a sense of discrimination there."
Let's ensure this continues to be the case in the storytelling of the sport.
As #WeGrowAthletics, my personal pledge is to help promote diverse voices as an editor of the World Athletics website. I am proud to play a part in sharing our sport's incredible stories.