Jamaican sprinter Shelly-Ann Fraser-Pryce (© AFP / Getty Images)
Shelly-Ann Fraser-Pryce has become the second-fastest female 100m sprinter in history with a sensational 10.63 (1.3m/s) run in Kingston, Jamaica, on Saturday (5).
Racing at the aptly-named JOA/JAAA Olympic Destiny Series meeting, Jamaica's two-time Olympic and nine-time world gold medallist further proved her intention to add another title to that tally in Tokyo later this year. Powering out of the blocks, the 34-year-old made it look easy as she hit top speed and surged away from her rivals to run hard through the line before clapping and raising her arms in celebration.
The fastest time in almost 33 years, only Florence Griffith Joyner has ever gone quicker with her world record of 10.49 and runs of 10.61 and 10.62, also achieved in 1988.
"When the hard work finally pays off!" Fraser-Pryce wrote on social media after the race. "So much accomplished, yet so much more to go."
Behind Fraser-Pryce was Natasha Morrison who finished second in 10.95.
The competition was Fraser-Pryce's third this season and it followed the 10.84 she ran to win at the Wanda Diamond League meeting in Doha as she works towards Tokyo, where she will aim for a third Olympic gold after her 100m wins in 2008 and 2012. Her incredible CV also includes four 100m titles as part of her world championships haul, with her most recent claimed in Doha in 2019 following the birth of her son Zyon in 2017, with Fraser-Pryce having gone into labour while watching the world 100m final that year.
The day before the race in Kingston, she had posted an update on social media which read: "'Mommy' is the best title I could have ever earned."
Fraser-Pryce's previous best had been 10.70 from 2012, a Jamaican record time which Elaine Thompson-Herah equalled in 2016.
Her performance at the Olympic Destiny Series meeting launches her to the top of the world rankings ahead of the USA's Sha'Carri Richardson, who ran 10.72 in April, and Thompson-Herah, who clocked 10.78 at the start of May.
Also in Kingston, world champion Tajay Gayle jumped a wind-assisted 8.56m (2.5m/s) to win the long jump, while O'Dayne Richards won the shot put with a 19.49m throw.
Others to triumph included Janieve Russell in the 400m hurdles (54.88) and Stephenie Ann McPherson in the 400m (51.06).


Warholm improves world 300m hurdles best in Oslo
Karsten Warholm took half a second off his almost year-old world 300m hurdles best in Oslo on Friday (4), clocking 33.26 at the Bislett Night of Highlights meeting in Oslo.
Norway's two-time world 400m hurdles champion had opened his 2020 outdoor season with a time of 33.78 at the Impossible Games, a mark which improved the 34.48 world 300m hurdles best set by Chris Rawlinson in 2002 and was also inside Kevin Young's 400m hurdles world record split (34.1).
That year Warholm went on to clock a 46.87 PB in his specialist event in Stockholm, a time just 0.09 off Young's world record, which indicates the shape he is in now during this Olympic season.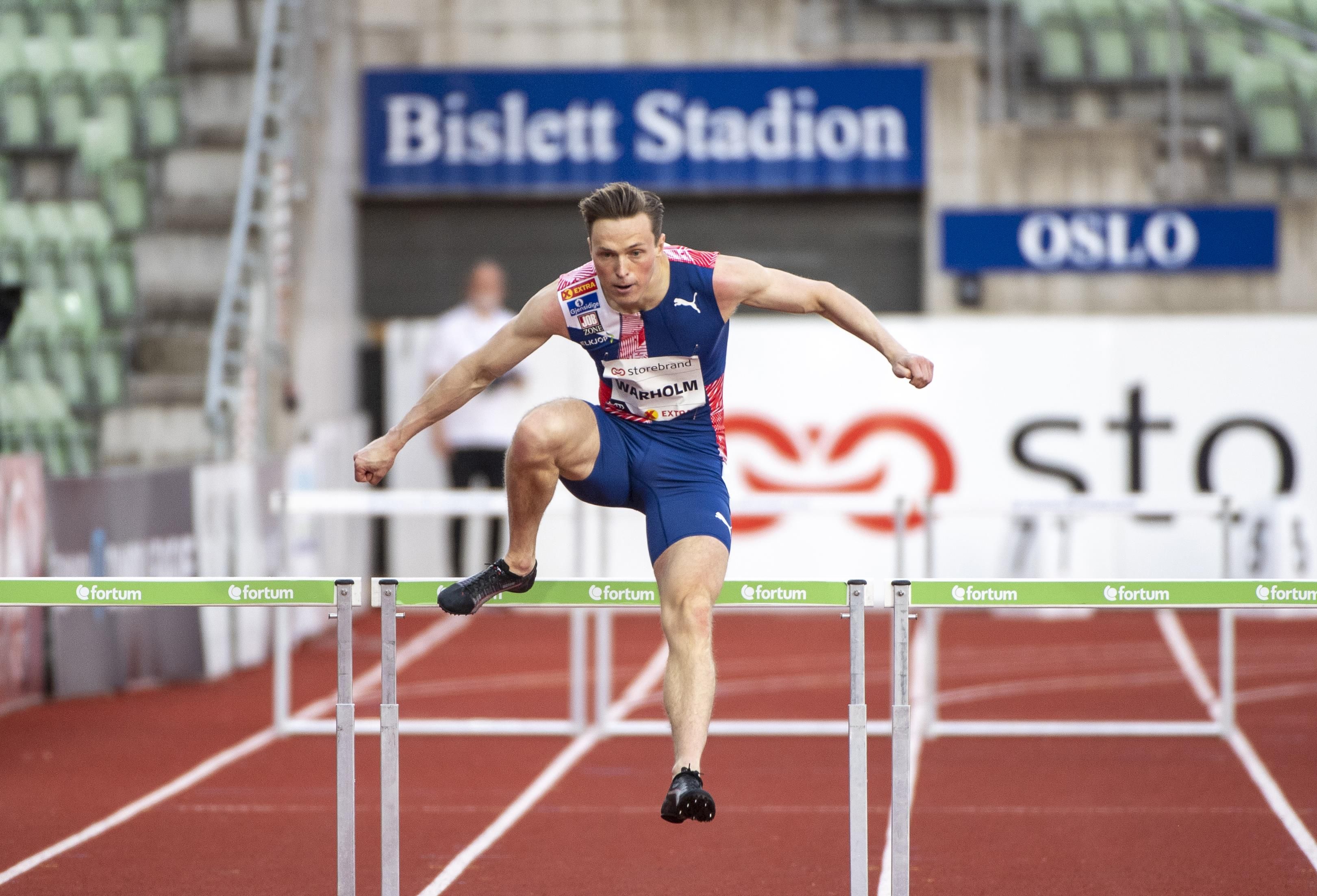 (© Thomas Windestam / DECA Text&Bild)

The 25-year-old ran alone when setting his 2020 mark and although joined by three other athletes in this race he finished almost three seconds clear, with teenager Herman Ellingsen second in 36.19.
Also in Oslo, European 3000m steeplechase bronze medallist Karoline Bjerkeli Grovdal ran quicker than Grete Waitz's Norwegian 3000m record time (8:31.75) with 8:30.84.
Her performance cannot be ratified as a national record for various reasons, including the use of male pacemakers, but it is another impressive result after her 14:39 road 5km at the start of May.
Henrik Ingebrigtsen won the 5000m in 13:16.80, while Sondre Nordstad Moen ran 28:11.71 for 10,000m.


Yamagata runs 9.95
Ryota Yamagata clocked 9.95 (2.0m/s) at the Fuse Sprint meeting in Tottori, Japan, on Sunday (6) to break the Japanese 100m record and move to third on the Asian all-time list.


【#布勢スプリント 】
男子100m 決勝(+2.0)
1着 山縣 亮太(セイコー) 9.95 NR GR
2着 多田 修平(住友電工) 10.01 GR
3着 小池 祐貴(住友電工) 10.13#超人スタジアム #サトウ食品日本グランプリシリーズ pic.twitter.com/J1XMo3ttUw

— サトウ食品日本グランプリシリーズ (@japan_gpseries) June 6, 2021

His time improves the national record of 9.97 set by Abdul Hakim Sani Brown in 2019 as Yamagata becomes the fourth Japanese sprinter to break 10 seconds for 100m.
Olympic 4x100m silver medallist Yamagata, whose previous best was 10.00 from 2017, also ran 10.01 in the heats.
Shuhei Tada finished second in the final in 10.01.
There were also some fast times in the women's 100m hurdles as Masumi Aoki equalled Asuka Terada's recently set Japanese record of 12.87 (1.8m/s). Terada was also in the race and she too dipped under 13 seconds with 12.89.


Amdouni and McColgan win European 10,000m Cup
Olympic places were booked at the European 10,000m Cup in Birmingham, UK, on Saturday (5), with the event incorporating the British trials for Tokyo.
France's Morhad Amdouni won the men's race in 27:23.39 as the top three – also including Belgium's Bashir Abdi and Spain's Carlos Mayo – all finished inside the Olympic qualifying time of 27:28.00.
An exciting race came down to a sprint finish and European 10,000m champion Amdouni had the strength in the final stages to move away from Abdi and Mayo, who clocked 27:24.41 and 27:25.00 respectively. Germany's Nils Voigt was fourth in 27:49.04 and France's Yann Schrub fifth in 27:49.64, both also PB performances.
Marc Scott won the British title – adding it to his national 5000m title won in September – as he was seventh overall in 27:49.94 to secure his place on the GB team for Tokyo.
Finishing one place behind him in 27:50.64 was 10-time global track gold medallist Mo Farah, whose loss was his first over 10,000m since the 2011 World Athletics Championships in Daegu.
In the women's 'A' race, Britain's Eilish McColgan gritted her teeth to hold off Israel's Selamawit Teferi, 31:19.35 to 31:19.50 – both well within the Olympic qualifying time of 31:25.00.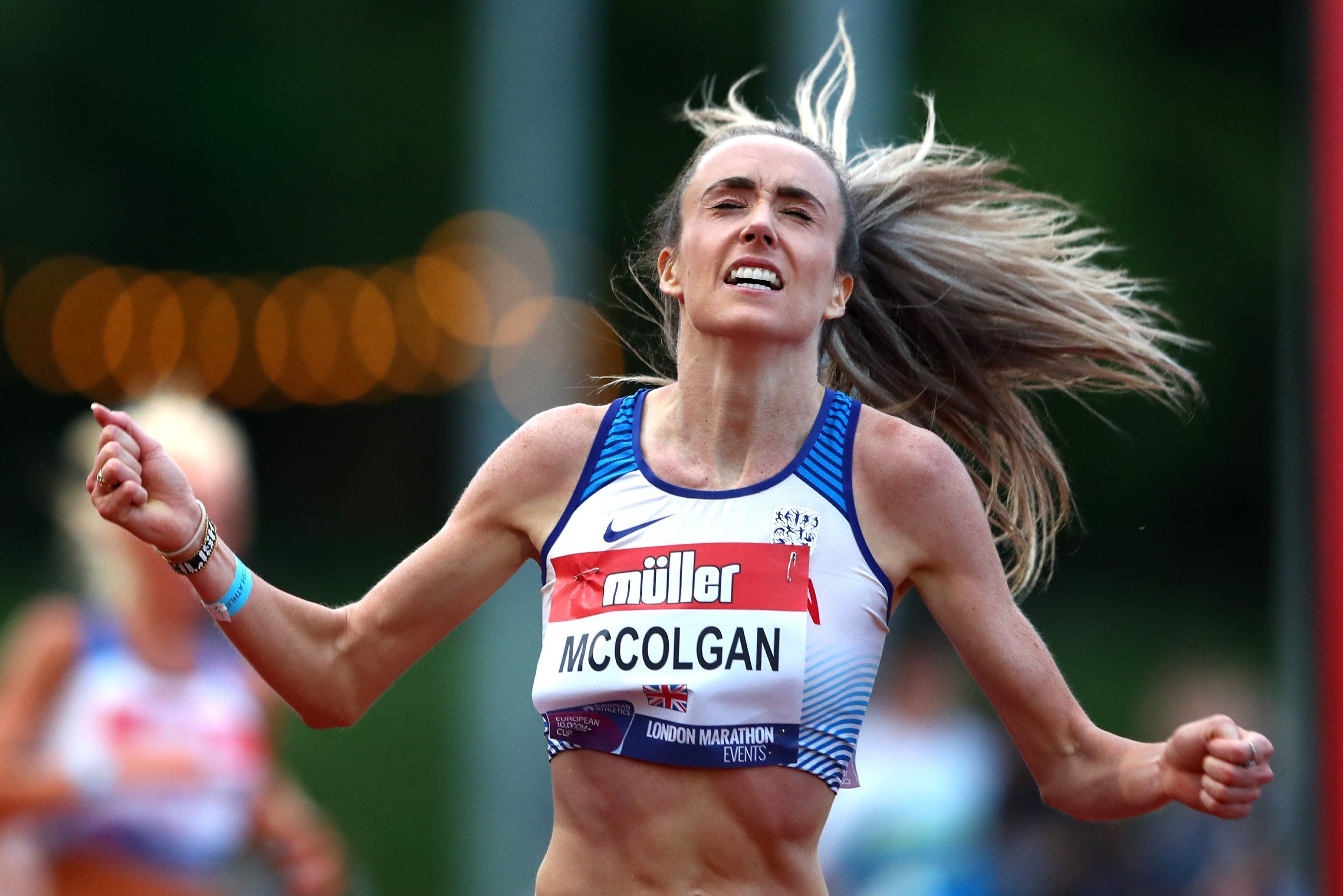 (© Getty Images for British Athletics)

That secured McColgan her spot for the Olympics and she will be joined by Jess Judd who ran a PB of 31:20.96 in third to also achieve selection.
Their fellow Britons Verity Ockenden and Amy-Eloise Markovc finished fourth and fifth with respective times of 31:43.70 and 32:04.38.


Kerr clocks US all-comers' record
Josh Kerr ran the fastest ever 1500m on US soil with 3:31.55 at the Stumptown Twilight meet in Portland, Oregon, on Thursday (3).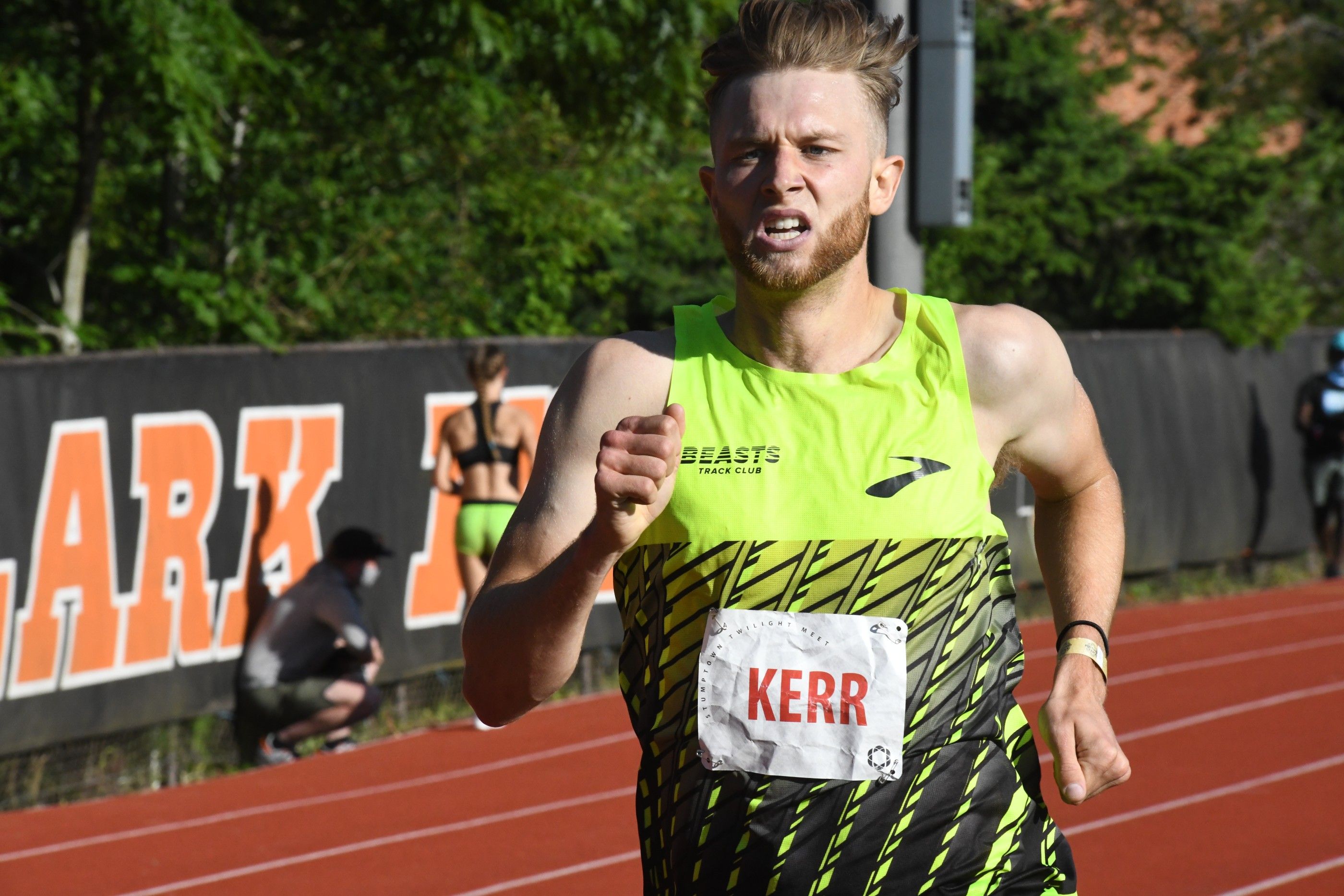 Josh Kerr on his way to a US all-comers' 1500m record in Portland (© Paul Merca)

That PB time moves the Briton to second on the world rankings behind Kenya's Timothy Cheruiyot, who clocked 3:30.48 in Doha last month.
Craig Engels won the 800m in 1:46.14, while Emily Infeld ran 15:14.97 for 5000m.


Echevarria leaps 8.30m, Diaz 17.63m
Cuba's world indoor long jump champion Juan Miguel Echevarria was among the winners at the VII Prueba de Confrontacion in Havana as he leapt 8.30m (-0.1m/s) on Saturday (5).
That mark came in the fifth round of the competition and followed his opening jump of 8.02m (-0.4m/s).
The day before, Andy Diaz improved his PB to 17.63m to win the triple jump and strengthen his second place on this season's world rankings behind Hugues Fabrice Zango (17.67m).
Jordan Diaz jumped 17.34m (1.8m/s) for second place.
Liadagmis Povea won the women's triple jump with a 14.33m (0.8m/s) leap to finish ahead of Leyanis Perez with 14.27m (0.3m/s).
Over at the Greek Championships on Sunday (6), European long jump champion Miltiadis Tentoglou achieved two 8.40m-plus jumps, leaping 8.41m in the third round and then 8.48m in the fifth.
Jess Whittington for World Athletics


Bol gets the job done as Oceania Invitational Series opens on Gold Coast
With the Covid-19 pandemic restricting international competitions, the Oceania Invitational Series was set up to give athletes in the World Athletics area chances to qualify for the Tokyo Olympic Games.
Peter Bol grabbed his opportunity at the first time of asking with a 1:44.88 800m on the Gold Coast on Saturday (5), a performance which extricated him from a tenuous position within the event quota and added his name to the list of athletes to have the automatic qualifying standard.
Paced through the first 550m by Jared Micallef (just over 51 seconds for the first lap), Bol still had some work to do to stay ahead of James Preston and his Australian-based New Zealand teammate Brad Mathas. Having twice narrowly missed the standard during the Australian domestic season, Bol made it third time lucky, drawing away along the final straight to win by almost three seconds from Preston(1:47.50) and Mathas (1:47.73).
It was a selfless performance by Micallef who as runner-up to Bol in the national championships in April could have been eyeing the race as a chance for further improvement. He will no doubt get further opportunities as the series continues with another meeting on the Gold Coast next Saturday (12) and in Townsville the following week.
Bol narrowly missed breaking the Queensland all-comers' record of 1:44.78 set by Peter Bourke at the 1982 national titles in Brisbane, the year he went on to win the Commonwealth Games gold medal. Bol has had a minor history of missing out – he beat Joseph Deng in Stockholm in 2018 a few weeks before Deng became the Australian to finally take down Ralph Doubell's long-standing national record and he had run 1:45.23 and 1:45.58 during the domestic season as he pursued the Tokyo standard of 1:45.20. Not that this latest 'miss' will count for anything as he now has certainty as he continues his preparation for his second Olympic Games.
Bol's was the only Tokyo standard of the meeting, but there were narrow misses from New Zealand's Maddison-Lee Wesche, who won the women's shot with a personal best 18.40m against the 18.50m standard, and from the Sally Pearson-coached Hannah Jones, who clocked 12.91 in the 100m hurdles against 12.84, plus Hana Basic, a wind-assisted 11.14 (2.4m/s) in the women's 100m, just over the allowable limit.
Competing on the Gold Coast, where she won her Commonwealth Games gold medal in 2018 with a personal best 68.92m, Kathryn Mitchell won the women's javelin with a best distance of 61.67m. Mackenzie Little was second with 59.98m and Tori Peeters third with 56.99m. Reigning world champion Kelsey-Lee Barber threw only 54.10m for fourth place.
New Zealand's Connor Bell was over the 60m line in the men's discus in another strong throwing performance. Bell won with a best distance of 61.25m.
Ash Moloney, who is down to do a decathlon with Cedric Dubler in Townsville, competed in the men's 100m and the 110m hurdles. He ran 10.50 in the 100m, which was won by New Zealand's Eddie Osei-Nketia in 10.26m (1.8m/s), and 14.58 in the hurdles.
Len Johnson for World Athletics
---

Results
JOA/JAAA Olympic Destiny Series