Pedro Pichardo and Yulimar Rojas (© AFP / Getty Images)
Women's triple jump
Timetable | world rankings | 2022 world list | world all-time list | how it works
Yulimar Rojas might be a five-time world gold medallist, Olympic champion and world record-holder, but there are always new goals to aim for.
At the World Athletics Championships Oregon22, the Venezuelan triple jump superstar has the chance to become her event's first three-time women's world outdoor champion, while the 15.50m championship record – a former world record that Rojas first broke in Tokyo – will surely also be a target, along with improving her own incredible lifetime best.
Rojas first competed on the global stage in Oregon at the World Athletics U20 Championships in 2014 and since then she has become the greatest women's triple jumper of all time. Undefeated at global championships since the Rio Olympics in 2016, the 26-year-old claimed a third world indoor title in Belgrade in March, sealing her success with an outright world record of 15.74m.
"The 16-metre mark is my big goal," she said afterwards "Every day, I am trying to add one more centimetre to get closer to it."
Could that come in Oregon? In London in 2017 she leapt 14.91m to gain her first global outdoor gold and in Doha two years later she soared 15.37m to retain her title. Then, at the Olympics in Tokyo last August, Rojas achieved the farthest ever outdoor leap with 15.67m – an outright world record until she flew 15.74m in Belgrade.
Since then, she has competed just twice – once in the long jump, leaping 6.93m, and once in the triple jump, recording a world-leading 14.83m. After withdrawing from the World Athletics Continental Tour Silver meeting in Madrid to recover in order to be 100% for Oregon, she will look to return to familiar 15-metre territory at Hayward Field, having surpassed that mark in 20 competitions throughout her career so far.
It's some of those performances that see her comfortably top the world rankings ahead of Jamaica's Shanieka Ricketts and Portugal's Patricia Mamona. Ricketts – who was the last athlete to jump farther than Rojas in a competition with 14.93m to win the 2019 Diamond League title – secured world silver behind the Venezuelan in Doha three years ago, while Mamona soared to a medal of the same colour at the Olympics in Tokyo, surpassing 15 metres for the first time. Ricketts has won eight of her nine competitions so far this season, including at the Doha Diamond League and Continental Tour Gold meetings in Bermuda and Turku, and has a wind legal best of 14.52m this season. At the Diamond League in Rabat she was second to Dominica's Thea LaFond who sits fifth – one place above Ricketts – on this season's top list with 14.53m.
Ricketts has come close to 15 metres, her PB of 14.98m set last year, while Mamona is the other athlete in the field to have surpassed the barrier, her 15.01m Portuguese record securing her silver in Tokyo. LaFond is also a strong contender as she seeks to become Dominica's first ever women's world medallist following her fourth-place finish at the World Indoor Championships.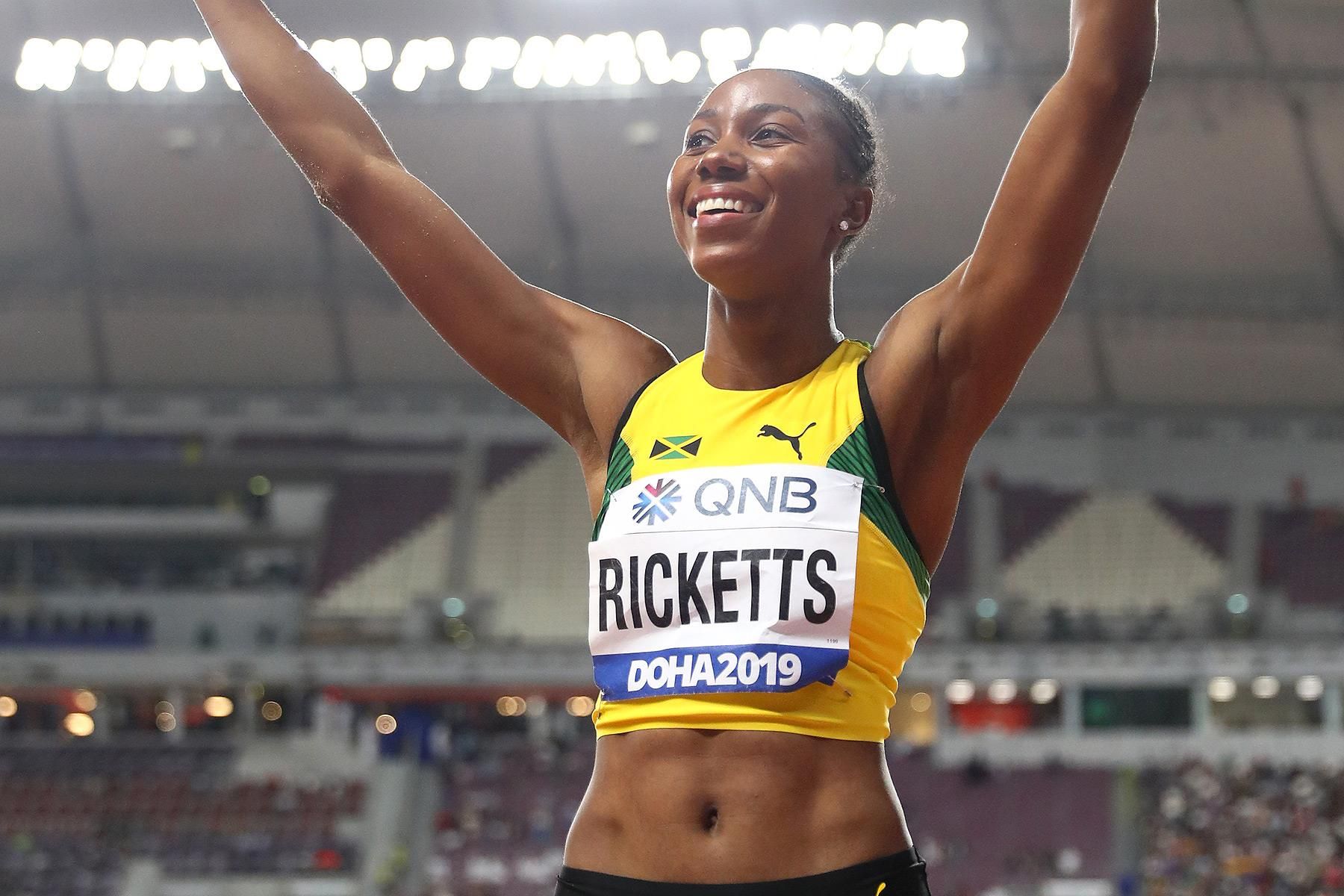 Shanieka Ricketts at the IAAF World Athletics Championships Doha 2019 (© Getty Images)

Another reigning global medallist in action is Ukraine's Maryna Bekh-Romanchuk. The world long jump silver medallist achieved a world indoor medal of the same colour in Belgrade, in what was only her second triple jump competition since 2013, and later explained how she wasn't sure if she would continue with the discipline or stick to long jump. In Oregon she is again entered for both.
The bronze in Belgrade was claimed by Jamaica's two-time Commonwealth champion Kimberly Williams, who added another world indoor medal to her 2018 silver and 2014 bronze. With a PB of 14.69m set last year, she finished third at the Jamaican Championships behind Ricketts and 20-year-old Ackelia Smith.
When it comes to this season's performances, US record-holder Keturah Orji is just four centimetres behind Rojas thanks to the 14.79m leap she recorded to claim her latest national title at Hayward Field last month. The second-best performance of her career, it's just 13 centimetres off the US record she set last year. And the Oregon venue is one the 26-year-old is clearly happy competing in as she has claimed three of her six national titles and five NCAA wins there. She will also have the benefit of passionate home crowd support.
As will her teammates Tori Franklin and Jasmine Moore. Franklin jumped 14.59m to finish second behind Orji at the US Championships, while 21-year-old Moore completed an NCAA double double – winning the triple jump and long jump both indoors and out. She then finished second in the long jump and third in the triple jump at the US Championships and is entered for both events in Oregon, with a PB of 14.57m set indoors in March in the latter.
Another rising star is Cuba's Leyanis Perez Hernandez, the 20-year-old Pan American Junior Games champion who has leapt a PB of 14.58m this year. She is joined in the Cuban team by Olympic fifth-place finisher Liadagmis Povea.


Men's triple jump
Timetable | world rankings | 2022 world list | world all-time list | how it works
In a clash of reigning global champions, the Olympic gold medallist takes on the world indoor winner and defending champion in what looks set to be a competitive men's triple jump at the World Athletics Championships Oregon22.
Portugal's Pedro Pichardo gained his first major global gold in Tokyo, building on his two world silver medal wins for Cuba in 2013 and 2015. Leaping a Portuguese record of 17.98m in Japan, he threatened the 18-metre mark – a barrier he has surpassed twice in his career, jumping 18.06m in Doha in May 2015 and improving to 18.08m later that month.
The 29-year-old tops the world rankings and has jumped a best of 17.49m from his two competitions so far this season. That performance came at the Wanda Diamond League meeting in Paris, a competition won by world leader Jordan Alejandro Diaz Fortun. The 21-year-old is a rising talent who has leapt 17.87m this season, but he won't be competing in Oregon as he switches his allegiance from Cuba to Spain.
Cuba still has a strong gold medal contender in Lazaro Martinez, who won the world indoor title in Belgrade with a PB of 17.64m. In his first indoor season, the 24-year-old added to his collection of world titles by becoming a senior champion after his 2013 world U18 win and two world U20 victories – the first being achieved at the same Hayward Field venue in 2014. It came after years of injury struggles, too, with Martinez coming close to quitting the sport until his coach Yoelbi Quesada, the 1997 world champion, convinced him otherwise.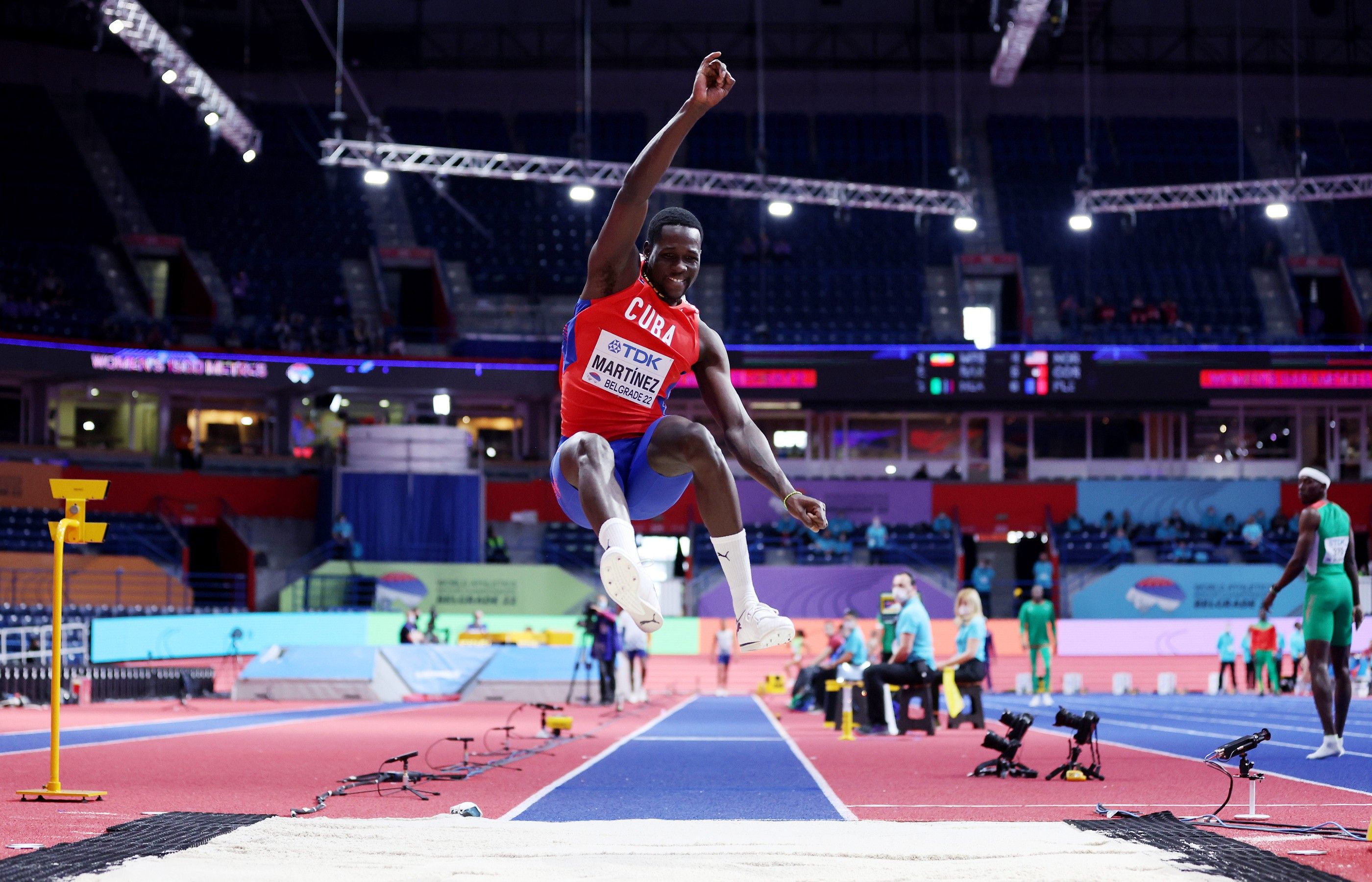 Cuba's Lazaro Martinez competes in the triple jump final at the World Athletics Indoor Championships Belgrade 22 (© Getty Images)

"I want to keep on working, getting ready for Oregon," he said in Belgrade. "It is going to be a very competitive field."
And his preparations for the World Championships have not only been within the sport. "I enjoy learning and I especially enjoy learning English, because I like the English language," he explained. "I am going to read book after book so when I get to Oregon, I can speak fluent English!"
Another athlete who has had more than his fair share of injury struggles is USA's four-time defending world champion Christian Taylor, who ruptured his achilles in May 2021, which ruled him out of a bid for a third consecutive Olympic title in Tokyo. Continuing his comeback with a best of 16.54m this season and with a wildcard entry as a defending champion, he is joined on the US team by national champion and world indoor bronze medallist Donald Scott, two-time world indoor champion Will Claye and Chris Benard. For Clay, it is an opportunity to make the most of the home support in pursuit of his first outdoor global gold medal after the combined seven silver or bronze world and Olympic medals he has claimed over the past 11 years.
But they are not the only contenders. World indoor record-holder Hugues Fabrice Zango of Burkina Faso was the world bronze medallist behind Taylor and Claye in Doha three years ago and then became his country's first ever Olympic medallist by also finishing third in Tokyo. The 29-year-old's 2019 bronze was Burkina Faso's first world medal and he will be looking to emulate that with gold or silver, now he has a PB of 18.07m to his name. His season's best is the 17.25m he jumped to finish fourth in Paris last month in a competition won by Diaz Fortun ahead of Cuba's Andy Diaz Hernandez and Pichardo.
Diaz Hernandez will also be looking to make a mark as he goes into the competition with the top result of all the entrants this season – 17.68m from Rieti in June – as he aims to go at least one better than his fourth-place finish at the 2014 World U20 Championships in Oregon and claim a medal.
That Rieti competition was the Italian Championships, where Diaz Hernandez was competing as a guest. There, the Italian title was won by Andrea Dallavalle and the European U23 champion will also be hopeful of making an impact in a season where he has been just seven centimetres off his 17.35m PB set last year.
China's Olympic silver medallist Zhu Yaming is among the entries and has jumped 17.22m this year, while Algeria's Yasser Triki, who jumped a 17.43m national record when finishing fifth at the Tokyo Olympics, plus Germany's European champion Max Hess and Jean-Marc Pontvianne of France are also worth keeping an eye on. As is Zimbabwe's Chengetayi Mapaya, who improved to 17.26m to win his second NCAA title at Hayward Field last month.
Abdulla Aboobacker and Praveen Chithravel moved to second and third respectively on the Indian all-time list with their 17.19m and 17.18m leaps in May and June.
Jess Whittington for World Athletics