Christin Hussong and Anderson Peters (© Getty Images)
Women's javelin
Timetable | world rankings | 2022 world list | world all-time list | how it works
The door would appear to be ajar for a new global javelin champion to emerge on the in-field at Hayward Field.
Of the throwers who made the medal podium at the Olympic Games in Tokyo a year ago, none feature in the world top 20 in 2022.
Olympic champion Liu Shiying is in the Chinese squad but has not registered a mark this year. Silver medallist Maria Andrejczyk of Poland, who led the world order in 2021 with a mighty 71.40m, is down in 65th place with a season's best of 57.53. Bronze medallist Kelsey-Lee Barber is 24th with 61.40m.
The Australian Barber is, of course, the defending world champion. Liu took the silver behind her in Doha three years ago and compatriot Lyu Huihiu the bronze.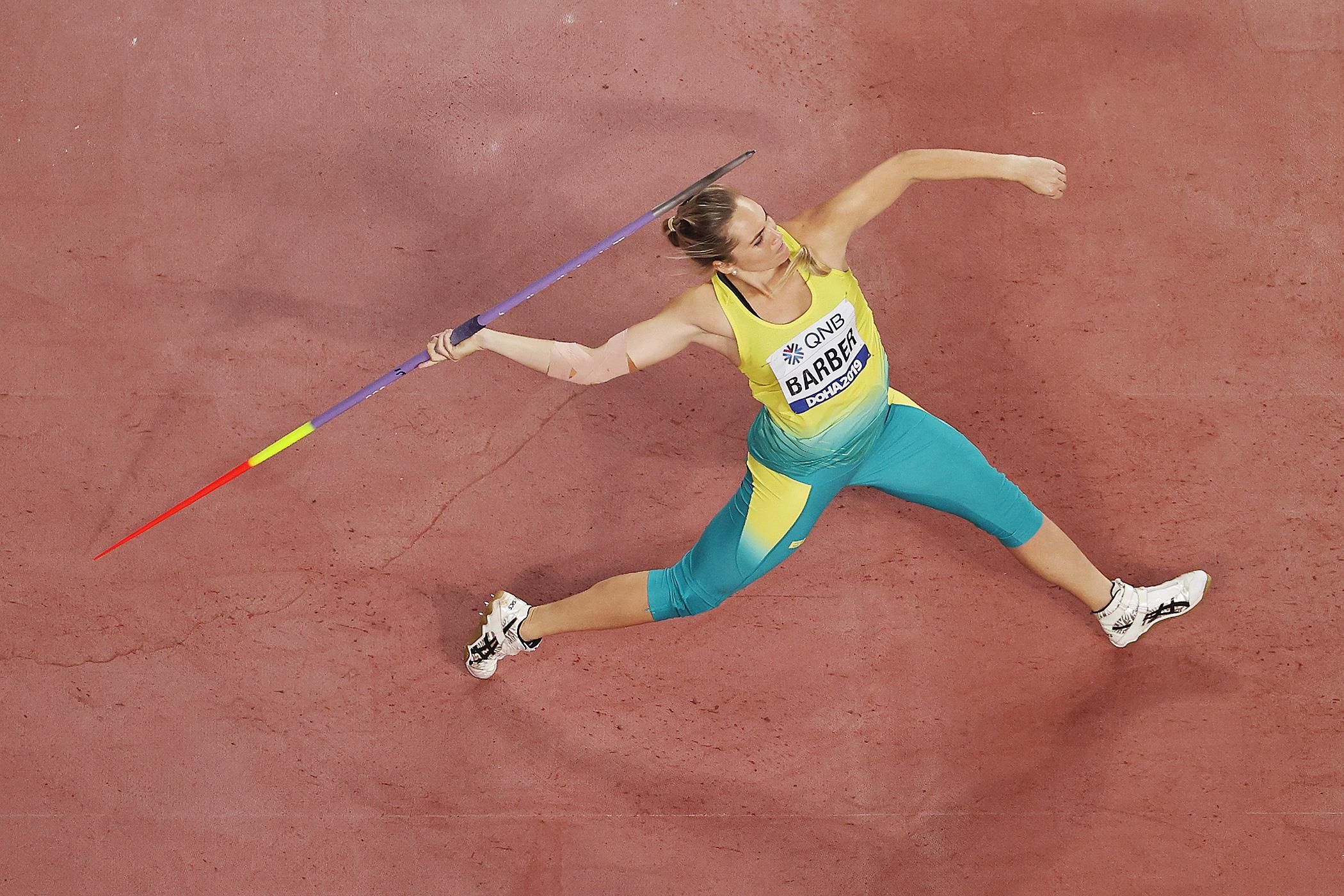 Kelsey-Lee Barber in the javelin at the IAAF World Athletics Championships Doha 2019 (© Getty Images)

Lyu has made the podium at the past three World Championships, having taken silver in Beijing in 2015 and bronze in London in 2017. But the 33-year-old's season's best, 57.43m, good enough for 67th on the world list, doesn't suggest she is on course to mount a challenge for a medal.
Of the established older order, Germany's Christin Hussong has the best form. Fourth at the 2019 World Championships and ninth at the Olympics in Tokyo, the 28-year-old European champion stands fourth on the 2022 world list with 64.87m. In 2021 she had seven of the top 13 throws and won nine of her 13 competitions.
The longest throw of 2022 belongs to Maggie Malone. The two-time US champion threw 65.73m at the Harry Jerome International Track Classic in Burnaby, Canada, on 14 June. In her other two competitions, the 28-year-old from Texas failed to register a valid mark – at the USATF Throws Fest in Tucson on 21 May and, notably, at the US Championships in Eugene on 25 June.
Malone has only made it into the US team because just two of her compatriots meet the World Championship qualifying criteria: Kara Winger, who took the national title with 64.26m, the fifth best throw on the world list, and Pan American Games bronze medallist Ariana Ince, who took second place with 60.43m.
Malone finished 10th in last year's Olympic final but will be making her World Championships debut in Eugene. She has the chance to become the first US thrower to make the podium.
So, for that matter, does Winger, the nine-time US champion and Pan American Games title-holder.
At 36, the Seattle native is a veteran of five World Championships, with a highest placing of fifth in Doha in 2019. Her lifetime best, 66.67m, dates back to 2010.
All of the field in Eugene, though, will be wary of the threat posed by the burgeoning Greek teenager Elina Tzengko.
Last year the 19-year-old took three medals: silver at the World U20 Championships in Nairobi and golds at the European U20 and Balkan Championships. This year she has continued her upward trajectory, throwing a national U23 record of 65.70m to win at the Golden Spike Meeting in Ostrava on 31 May.
Of the throwers on the entry list for the World Championships, only Malone boasts a superior mark in 2022. And only one Greek woman in history has thrown farther.
Mirela Manjani threw 67.51m for Olympic silver in Sydney in September 2000 – two years, to the month, before Tzengko was born.
Other potential challengers who have thrown beyond 63 metres this season are Japan's 2013 world U18 champion Haruka Kitaguchi (63.93m), Asian silver medallist Annu Rani of India (63.82m), Canada's 2015 Pan American Games champion Liz Gleadale (63.33m) and Australian Mackenzie Little, who placed eighth in last year's Olympic final.
Men's javelin
Timetable | world rankings | 2022 world list | world all-time list | how it works
With the world lead in his possession, a prodigious 93.07m, and four of the top five throws in all, Anderson Peters heads to the World Athletics Championships Oregon22 as the stand-out contender for gold.
The 24-year-old Grenadian has shown his sheer class and instinctive competitiveness in a variety of conditions, meeting and eclipsing the challenges thrown down by his many rivals.
Returning to the scene of his 2019 world title success, in the first Wanda Diamond League meeting of the season amid strong winds in Doha on 13 May he opened with an 88.96m national record, then responded to Olympic silver medallist Jakub Vadlejch's 90.88m with a monster 93.07m to go fifth on the world all-time list with a North and Central American and Caribbean record.
In the driving rain, sweeping winds and bitter cold of Hengelo on 6 June, Peters' hands were so frozen he couldn't feel them when he took his opening throw. Metaphorically, though, he more than warmed to the competition.
After Germany's Julian Weber (84.91m) and Trinidad and Tobago's 2012 Olympic champion Keshorn Walcott (88.70m) threw meeting records, Weber nailing another with 88.29m, Peters trumped them both with a mighty 90.75m in round four.
The same competitive spirit pulled Peters through an injury-troubled period on Finnish soil – in which his form dipped to third-placed finishes in Turku and Kuortane and then ninth in Orimattila, where he threw a season's low 71.94m – to another thriller of a triumph in the Wanda Diamond League meeting in Stockholm on 30 June.
India's Neeraj Chopra, who beat Peters in Turku and Kuortane, opened in the Swedish capital with an 89.94m national and meeting record. This time Peters uncorked a 90.31m throw in round four to take ownership of another meeting record – and, more importantly, return to winning form with a bang on the eve of the World Championships.
"I'm not really in a great shape," Peters revealed afterwards. "I have suffered a back injury. It is still getting better but I hope to be back in a really good shape soon.
"Getting the 90m throw here was really good. I was very much motivated by Neeraj to get a 90m throw because he started the competition so well, with a national and meeting record.
"I am thinking about what I can do when I don't have this minor injury. When I my body is 100% ready – when I am able to get the technique and get the rhythm – I want to see what the result will be."
If the result is a winning one in Eugene, the former Mississippi State University student will become the first male javelin thrower to win back-to-back world titles since the greatest of them all – Czech soldier Jan Zelezny – who achieved the feat in 1993-95.
Not that Peters will be blind to the threat posed by Chopra, who started his season deliberately late, having been feted for so long in his homeland after becoming India's first track and field Olympic gold medallist that he did not resume training until December.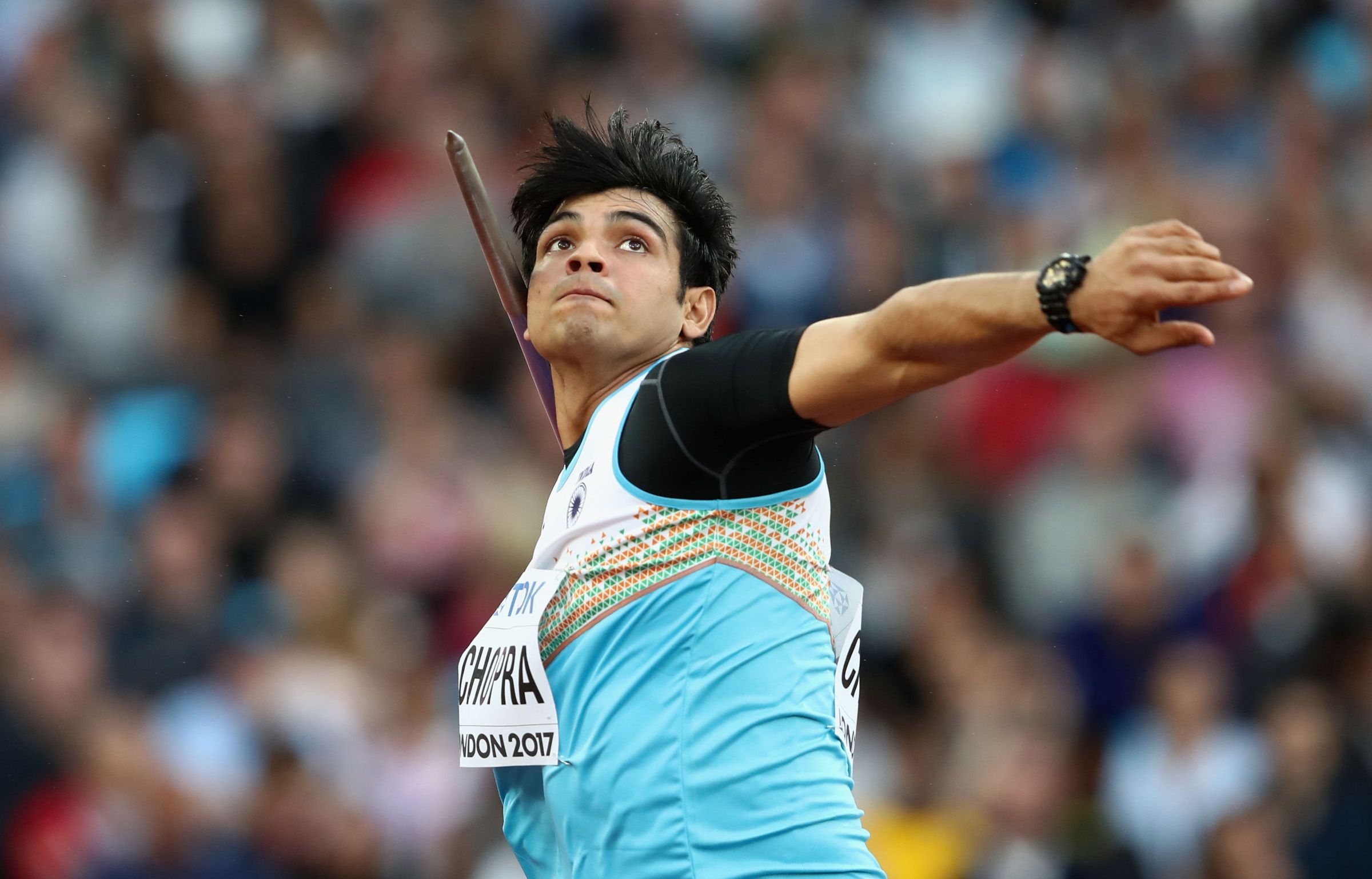 Neeraj Chopra in action at the World Championships London 2017 (© Getty Images)

The 24-year-old launched his campaign at the World Athletics Continental Tour Gold meet in Turku on 14 June, setting a national record 89.30m as runner up to Finn Oliver Helander's 89.83m lifetime best, then won in Kourtane with 86.89m before improving his national record again in Stockholm.
"I am close to 90 metres," he said. "I know I can throw it this year. A lot of guys now are capable of throwing over 90 metres. I think it will take 89 metres plus to win in Eugene."
If Chopra wins, he will become the first male javelin thrower to follow Olympic success with World Championship gold since Norway's Andreas Thorkildsen in 2008-09 and, before that, Zelezny in 2000-01 and 1992-93.
Helander's form might have dipped to fifth spot in Stockholm with 85.40m but the 25-year-old – who has battled back from a career-threatening shoulder injury, and who is coached by 2007 world champion Tero Pitkamaki – might like to know that the only two global men's javelin finals contested on US soil were won by Finns: Matti Jarvinen at the 1932 Olympics in Los Angeles and Arto Harkonen at the 1984 Olympics in LA.
The competition will be missing 2017 world champion and 2019 bronze medallist Johannes Vetter. The 29-year-old German, second on the all-time list with 97.76m, is out with a shoulder injury.
Still, as Peters puts it: "In Eugene, it could be anybody's game."
Simon Turnbull for World Athletics