Brooke Andersen and Wojciech Nowicki (© Getty Images)
Men's hammer
Timetable | world rankings | 2022 world list | world all-time list | how it works
Which Pole will it be this time?
For much of the past decade, the men's hammer has been dominated by Poland's Wojciech Nowicki and Pawel Fajdek. They have faced off 113 times over their career with Fajdek finishing ahead of Nowicki in 88 of the competitions.
Fajdek has saved his greatest performances for the World Athletics Championships as he is the winner of the past four editions. Nowicki has earned bronze at the past three World Championships, but he got the better of Fajdek on the sport's grandest stage last year when winning the Olympic title in Tokyo.
In 2022, Nowicki holds the world-leading throw of 81.58m, which he produced in Chorzow on 5 June. Fajdek is not far behind with his winning throw of 80.56m at the Bislett Games in Oslo.
Fajdek enters the event looking for his fifth world title. He'll need to channel one of those past performances that he's produced at the past World Championships to take down Nowicki.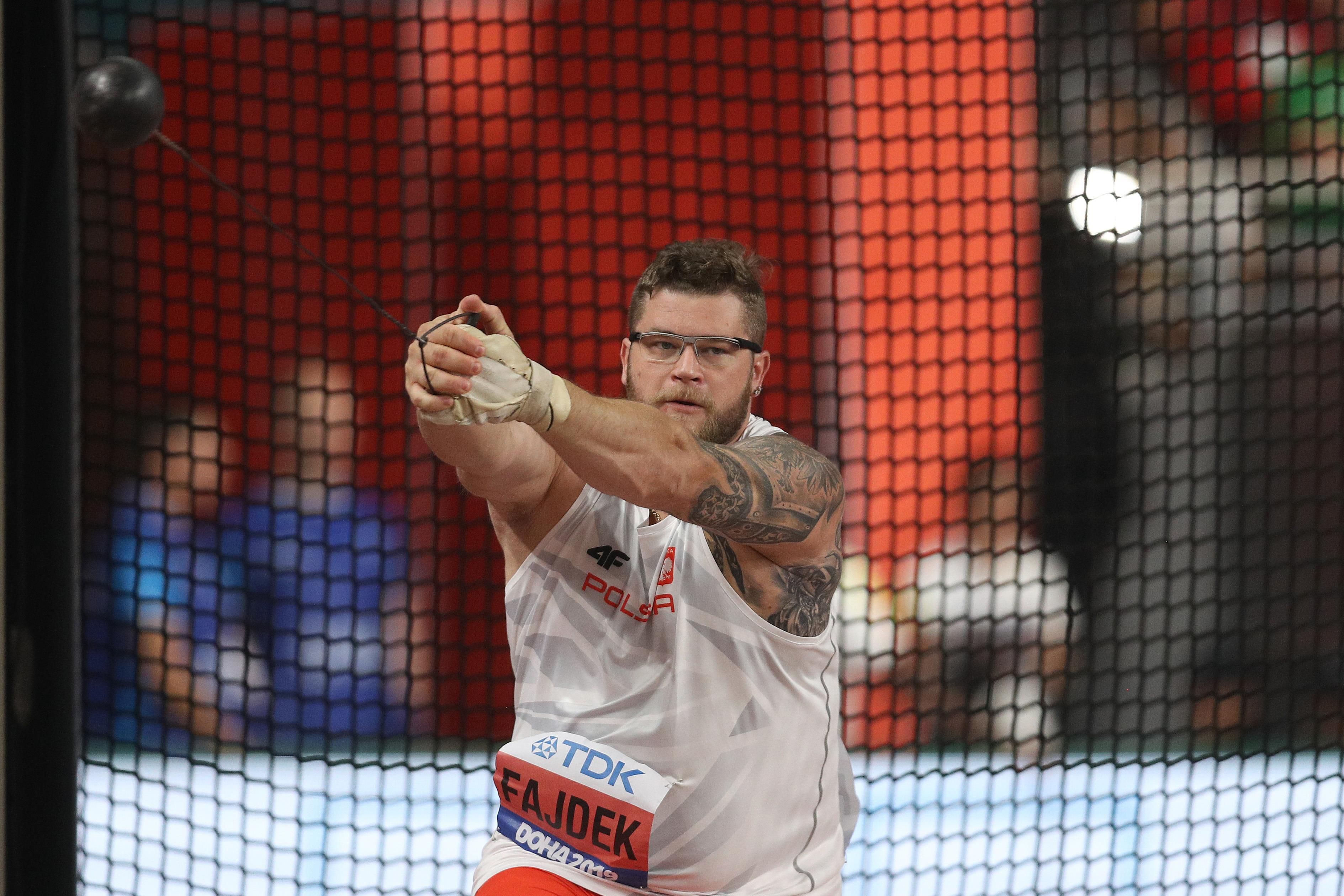 Pawel Fajdek spins to his fourth world title in Doha (© Getty Images)

Apart from the Poles, Ukraine's Mykhaylo Kokhan, Norway's Eivind Henriksen and France's Quentin Bigot are at the top of the field.
Kokhan, 21, finished fourth at the Tokyo Olympics, having previously beaten Fajdek and Nowicki in July 2021 in Szekesfehervar, where he threw a PB of 80.78m. He has yet to produce a throw over 80 meters this season, but he has a proven track record at championships and could be timing his peak for Oregon.
Henriksen earned Olympic silver ahead of Fajdek last year silver, adding more than three metres to his PB in the process. He has had an up-and-down season in 2022, but recently threw 80.17m – the second-best mark of his career. Like Kokhan, Henriksen has a knack for turning it up at the biggest meets and could do it again at the World Championships.
Bigot earned silver at the 2019 World Championships and has stayed consistent since then. He joined the 80-metre club this year, setting PBs of 80.14m in May and 80.55m in June. The latter came in Chorzow where, as was the case at the 2019 World Championships, he was sandwiched between Fajdek and Nowicki, only this time with the Poles in reverse order.
Hungary's Bence Halasz and US duo Daniel Haugh and Rudy Winkler round out the field. Halasz earned bronze at the 2019 World Championships. Haugh and Winkler finished first and second respectively at the US Championships in June with Haugh setting a PB of 80.18m.
Women's hammer
Timetable | world rankings | 2022 world list | world all-time list | how it works
Anita Wlodarczyk has been atop the women's hammer for the past 13 years, winning four world titles and three Olympic gold medals. But she won't be competing at World Athletics Championships Oregon22 after sustaining a muscle injury while apprehending a thief who had broken into her car.
And DeAnna Price, winner of the hammer at the 2019 World Championships, won't defend her title in Oregon after recently contracting covid, severely hampering her training at a crucial time of the year.
It means the women's hammer in Eugene will be up for grabs and a new name will emerge as a global champion.
Although Price won't be competing, it appears as though the world title could still remain in US possession as the host nation fields the top two throwers in the world this year: Brooke Andersen and Janee' Kassanavoid.
"Our goal for the season was to make the World Championships team and win a medal," said Olympic finalist Andersen after becoming the US champion with 77.96m. "So, I'm closer to that goal."
Anderson has won five of her six competitions this year, topped by her world-leading throw of 79.02m – a mark which elevated her to fourth on the world all-time list. She has thrown beyond 77 metres in all but one competition and will be keen to do better than her 10th-place finish from the Tokyo Olympics.
Kassanavoid has been on Andersen's heels during the 2022 season and is the only woman to beat the world leader this year, producing a PB of 78.00m in Tucson in May. She went on to finish second at the US Championships with 76.04m.
"I struggled with some technical cues and some tension feeling the hammer," Kassanavoid said. "But I'm in a good place of strength and I was able to get it together for one throw."
Canada's Camryn Rogers strengthens the North American challenge. She has fond recent memories of competing at Hayward Field, having won the NCAA title there last month with a collegiate and national record of 77.67m.
"I just focus on finding my rhythm, finding the power for that one throw," Rogers said after breaking the record. "To get it out there when it counted, it means the absolute most."
Despite Wlodarczyk's absence, Poland will still be well represented by Malwina Kopron, who earned silver at last year's Olympics and at the 2017 World Championships and holds a season's best of 75.08m.
Italy's Sara Fantini just squeaked through to the Olympic final last year, but she has been regularly throwing well beyond 70 metres this year, topped by a national record of 75.77m, which suggests she'll be a contender in Eugene.
China has a strong record in the women's hammer at global championships and their challenge will be led by Luo Na, who has a best this year of 74.47m.
Krista Tervo and Katrine Koch Jacobsen, the national record-holders for Finland and Denmark respectively, have shown great improvement over the past 12 months and are also ones to watch.
Aaron Heisen for World Athletics