Ryan Crouser and Chase Ealey (© Getty Images)
Men's shot put
Timetable | world rankings | 2022 world list | world all-time list | how it works
Ryan Crouser pulled a hand-written note out of his bag in Tokyo last summer after bagging his second straight Olympic gold medal in the shot put.
The note read, "Grandpa, We did it. 2020 Olympic champion!" It was his final message to Larry Crouser, who passed away at age 86 just before his grandson left for Japan.
But while Crouser has two Olympic gold medals, owns the outdoor and indoor world records and has claimed eight US titles, there is one honour that has eluded him: world champion.
Crouser hopes to check that box at the World Athletics Championships Oregon22, held just two hours south of his hometown of Boring, Oregon. It's also another chance to pay tribute to his grandfather, the patriarch of the family of throwers. Crouser's father Mitch was an alternate on the 1984 US Olympic team in the discus, uncle Brian qualified for two Olympic teams in the javelin, uncle Dean was a shot putter and discus thrower and cousins Sam, a 2016 Olympian, and Haley threw the javelin.
Crouser has come very close to his goal twice: in Doha in 2019, he lost to long-time rival Joe Kovacs by the narrowest of margins – one centimetre – as all three medallists posted PBs. Kovacs, world champion in 2015 and silver medallist in 2017 (when Crouser placed sixth), threw a monstrous 22.91m on his final attempt to move from fourth to first. Crouser answered with a heave of 22.90m to earn the silver on countback over New Zealand's Tom Walsh, who launched his 22.90m in the first round.
Then in March at the World Athletics Indoor Championships in Belgrade, Darlan Romani of Brazil produced the seventh-best indoor throw in history to defeat Crouser by nine centimetres. The loss was Crouser's first since Doha two and a half years earlier.
Kovacs, who has won his two Olympic silver medals behind Crouser; Romani, who was fourth in Doha, and Walsh, the world champion in 2017, will be in Eugene.
But while the World Championships shot put is shaping up to be another epic competition, Crouser, 29, will be extremely tough to beat. He is undefeated this season and unleashed a world-leading throw of 23.12m, just 25 centimetres off his 2021 world record, at the US Championships last month.
Kovacs, 33, is going for a record-tying third gold medal as well as his fourth straight medal at the World Championships. He is second on the world list at 22.87m, followed by Walsh, the 2018 world indoor champion, at 22.31m.


Joe Kovacs after unleashing his winning throw at the IAAF World Athletics Championships Doha 2019 (© Getty Images)

Nick Ponzio of Italy has a best of 21.83m and will compete without compatriot Zane Weir, the fifth-place finisher from Tokyo who is out with a finger injury.
The US has won 20 medals in the men's shot put at the World Championships, including nine golds. No other country has won more than three golds or seven medals in total.
Crouser is also vying to become only the second male shot putter, after compatriot Adam Nelson (2004 and 2005), to win the Olympics and the World Championships.
While this will be the first World Championships on home soil for all US athletes, Crouser has practically grown up at Hayward Field, where he began competing in high school. He has the five longest throws at the facility.
This season, Crouser gave a hint of his potential at the Prefontaine Classic, where he threw a world-leading 23.02m despite using a static start. Crouser said he wasn't ready to commit to a full wind-up, but he committed four weeks later in the same ring at the US Championships. Crouser was the first thrower to break the 23-metre barrier more than once in a series – accomplishing the feat three times and missing by two centimetres on his final attempt.
Kovacs was actually in the lead through the first two throws, with back-to-back attempts of 22.87m, until Crouser moved ahead in the third round.
The affable rivals have competed against each other since 2012.
"Every time Joe steps in the ring, he's one of the most dangerous throwers in the world," Crouser said, "and so it pushes me to be better and consistently execute, both in competition and in training."
At first, Kovacs had the upper hand in the rivalry. However, beginning with the 2016 US Olympic Trials, Crouser has bested Kovacs in 32 of 34 head-to-head outdoor meetings and all three of their indoor showdowns. The only times Kovacs has prevailed? The two World Championships finals.
Women's shot put
Timetable | world rankings | 2022 world list | world all-time list | how it works
With Valerie Adams retiring earlier this year after an illustrious career, Gong Lijiao is the iron woman of the shot put. The 33-year-old Olympic gold medallist from China is entered in her eighth straight World Athletics Championships and will be vying for an unprecedented seventh medal in Oregon. She already holds the record at six.
However, Gong, the two-time defending world champion, has competed only once this season, winning a domestic competition in early May with 18.40m.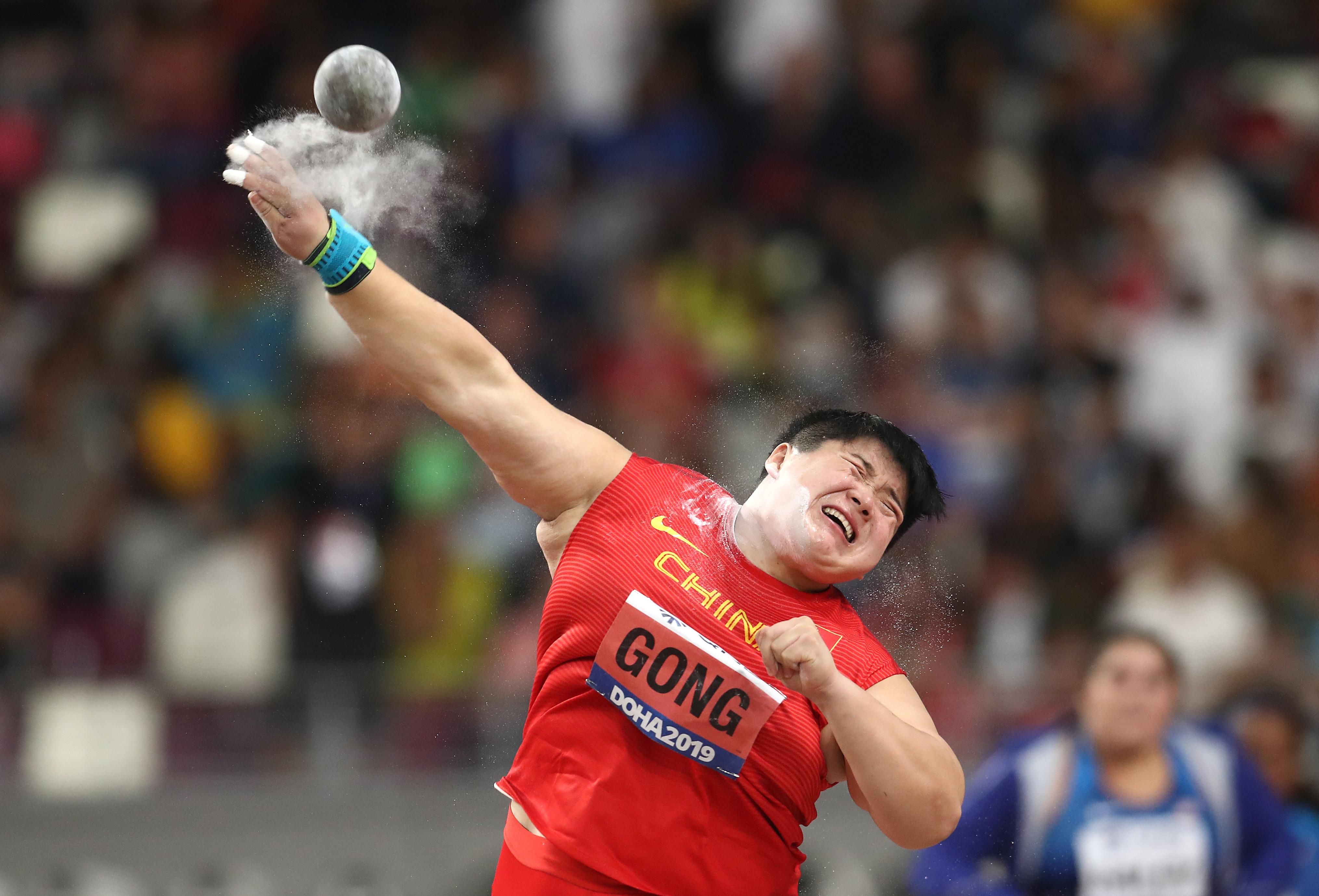 Gong Lijiao successfully defends her shot put title at the IAAF World Athletics Championships Doha 2019 (© Getty Images)

In her absence, much of the event's publicity has spun around 27-year-old Chase Ealey. The world-leader with a PB toss of 20.51m, Ealey is trying to win the first World Championships gold medal in the women's shot put for the US. She is the world indoor silver medallist and is undefeated in seven outdoor meetings, including three Diamond League victories.
Eleven years ago, when Gong was already an Olympic and world medallist, Ealey was a New Mexico state champion who divided her time between the sprints and the throws. She clocked a 100m PB of 12.27 as a 15-year-old in 2010, and won five state titles in 2011: the 100m, shot put, javelin, 4x100m and 4x200m.
Ealey had heptathlon written all over her, but opted not to do the combined events. Instead, Ealey, who has "Breathe" tattooed on her wrist to remind her what to do when she gets nervous, concentrated on the shot put. It was an event she didn't especially like at first, but one in which she excelled.
Ealey's breakout year was 2019, when she won her first US indoor and outdoor titles. In her Diamond League debut in Shanghai, Ealey threw 19.58m to defeat Gong and world indoor champion Anita Marton. She then recorded a PB of 19.68m for a second-place finish in Zurich. Ealey went on to make the final in Doha at the World Championships and finish seventh.
Her career stalled, however, during the pandemic. Although Ealey was again US indoor champion in 2020, she threw only twice outdoors.
After the disappointment of placing fifth at the US Olympic Trials last summer, Ealey had a stellar indoor campaign in 2022. She placed first or second in all six of her meetings. At the World Athletics Indoor Championships, Ealey threw 20.21m to finish second behind Auriol Dongmo of Portugal, who threw 20.43m.
Outdoors, Ealey has been unstoppable. She launched the second-farthest throw in US history at the national championships, improving her PB from 10 days earlier by 38 centimetres. Ealey concluded a dominant series with a toss of 20.19m.
"Since my breakout year it's been a while since I've finally been on my feet again and I feel like I have it now," she said.
Ealey added that she was nervous leading into this meet. "I hadn't been nervous all year, but I used the nerves really well," she said, "and was able to push past the nerves and really go for it."
And, presumably, Ealey reminded herself to "Breathe."
She leads a strong US team that includes Adelaide Aquilla, who is sixth on the world list at 19.64m, Jessica Woodard at 19.40m and Maggie Ewen, the reigning Diamond League champion at 19.32m.
Second place on the world list belongs to an athlete from China, but it is not Gong. Song Jiayuan, fifth at the Tokyo Olympic Games, did not qualify for the World Championships final in Doha. The 24-year-old has competed only three times this season, but is undefeated and produced a PB throw of 20.38m in Shanghai on 16 June.
Sarah Mitton, who threw a PB and national record of 20.33m at the Canadian Championships, is the only other competitor surpassing 20 metres outdoors this season. Dongmo and Jessica Schilder of the Netherlands each posted marks of 19.68m while Danniel Thomas-Dodd of Jamaica, the world silver medallist, has thrown 19.53m.
Gong, who is 22nd on the world list this year, will be trying to tie Astrid Kumbernuss of Germany, who won three consecutive golds from 1995 to 1999, and pass compatriot Huang Zhihong, world champion in 1991 and 1993.
Gong wept in Tokyo after becoming the first Chinese athlete to win an Olympic field event with a PB of 20.58m and told Chinese media that the shot put is not a glamorous event in their country. "I use my passion and devotion to the sport to draw people's attention to it," she said. "It's the Gong Lijiao era."
Karen Rosen for World Athletics