Derartu Tulu and Elana Meyer (© Christel Saneh)
On 7 August 1992, at the Barcelona Olympic Games, two women lined up for the 10,000m not knowing that their spontaneous post-race display of fair play and celebration would have an impact on Africa and the world.
Derartu Tulu, a black woman from Ethiopia, and Elana Meyer, a white South African, weren't the favourites in the presence of world champion Liz McColgan of Great Britain. Not only did Tulu and Meyer go on to occupy the top two places on the podium, their joint celebration on the victory lap symbolised hope for a new Africa.


Meyer: The dream had to wait
Meyer, an elite South African athlete, grew up during apartheid. The country was banned from Olympic participation since 1964 for their discriminatory politics against their black people. The white minorities dominated the political scene and it took revolutions, international boycotts and a leader like Nelson Mandela to stand against this racial segregation policy. And, just like many generations of South African athletes had done, every four years Meyer would wait to see if her country would take part in the Olympic Games.
Growing up, Meyer would often compete against a track and field legend from her home country, Zola Budd.
"Zola used to beat me by big margins and I was just trying to improve, until 1984 when Zola got the chance to compete for the UK in Los Angeles," Meyer told the International Olympic Committee in an interview.
Meyer also achieved the qualifying standard for the 1984 Games, but she was unable to compete while the ban on South Africa remained in place. But after watching Budd compete in Los Angeles representing a different country, Meyer was even more determined to achieve her dream of representing South Africa at the Olympics.
Four years later, however, Meyer missed out on the 1988 Seoul Games. Nonetheless, she persevered.
On 11 February 1990, Mandela was released from prison. The news brought hope to Meyer who thought that a real change might happen and it would alter the participation of South African athletes in international sports.
A year later, Meyer ran a world-leading 8:32.00 for 3000m and hoped to compete for the first time outside of her country and maybe represent South Africa at the World Championships in Tokyo. But instead, she had to watch it from the stands.
"That really made me realise for the first time that I should be there, on the track competing against the best athletes," she said. "That last year, I was getting a bit frustrated."
In 1992, a new South African government saw the light and athletes were finally given the green light to compete at the Olympic Games after a 32-year-ban. Throughout her international competitions leading up to the Barcelona Olympic Games, the media bombarded Meyer with political questions but she refused to be used as a pawn.
"I knew people were not only interested in South African runners; they were also interested in the history of the country and the impact that apartheid had on athletes and individuals," she said. "I knew it was not only about athletics, but also human rights."
When Meyer arrived in Barcelona for the Games, she was in disbelief that the wait was over at long last. After missing two Olympic Games, Meyer was finally at the Olympic Stadium and ready to race the best athletes in the world.
"I remember when I walked on the track and when I saw the Olympic flame burning on one side, that's when you know 'ok it is reality, we're actually here, I'm taking part in the Olympic Games'," Meyer said.


Tulu: Ethiopia's rising star
Tulu grew up in the village of Bekoji, the southeast region of the Ethiopian capital, in the highlands that has since become synonymous with distance running legend Kenenisa Bekele.
In her teens, Tulu's teacher encouraged her to compete over 800m and 1500m. At 16, Tulu finished third at the national cross country championships held in Addis Ababa. During that same decade, Ethiopia had boycotted the 1984 and 1988 Olympic Games.
In 1988, Tulu moved to the Ethiopian capital to join the police and focus solely on running. The move paid off and she went on to win the 10,000m at the 1990 World U20 Championships, then set a world U20 record over the same distance in 1991.
Tulu and Meyer weren't expected to feature on the podium at the 1992 Barcelona Olympic Games. Tulu had finished eighth at the World Championship in Tokyo in 1991 and Meyer had spent so many years away from international competition that she wasn't on the radar of many observers.
Before lining up for the 10,000m final at their first Olympics, Meyer and Tulu exchanged a few words and smiles, unaware of the impact their post-race actions would have.


The historic celebration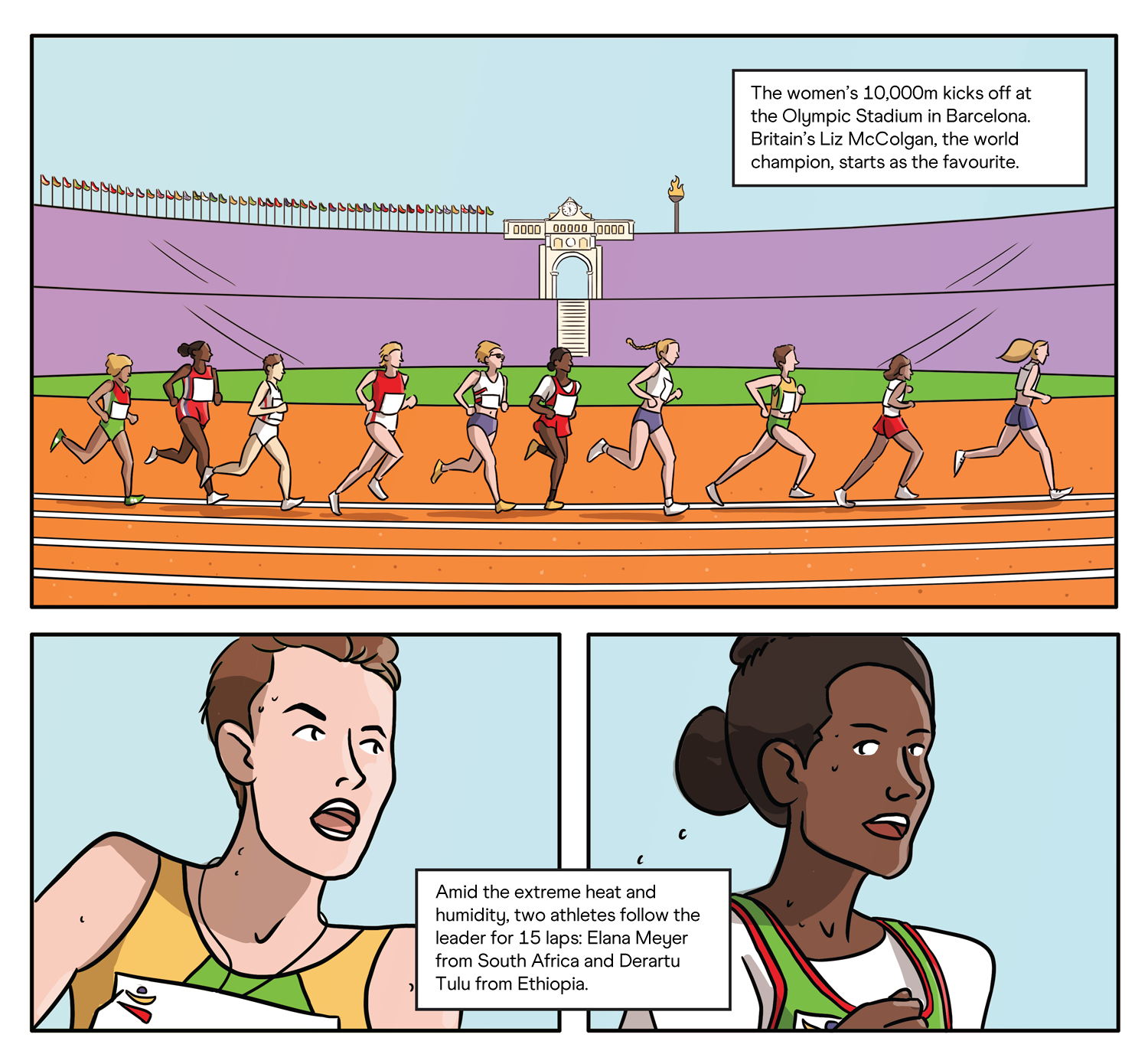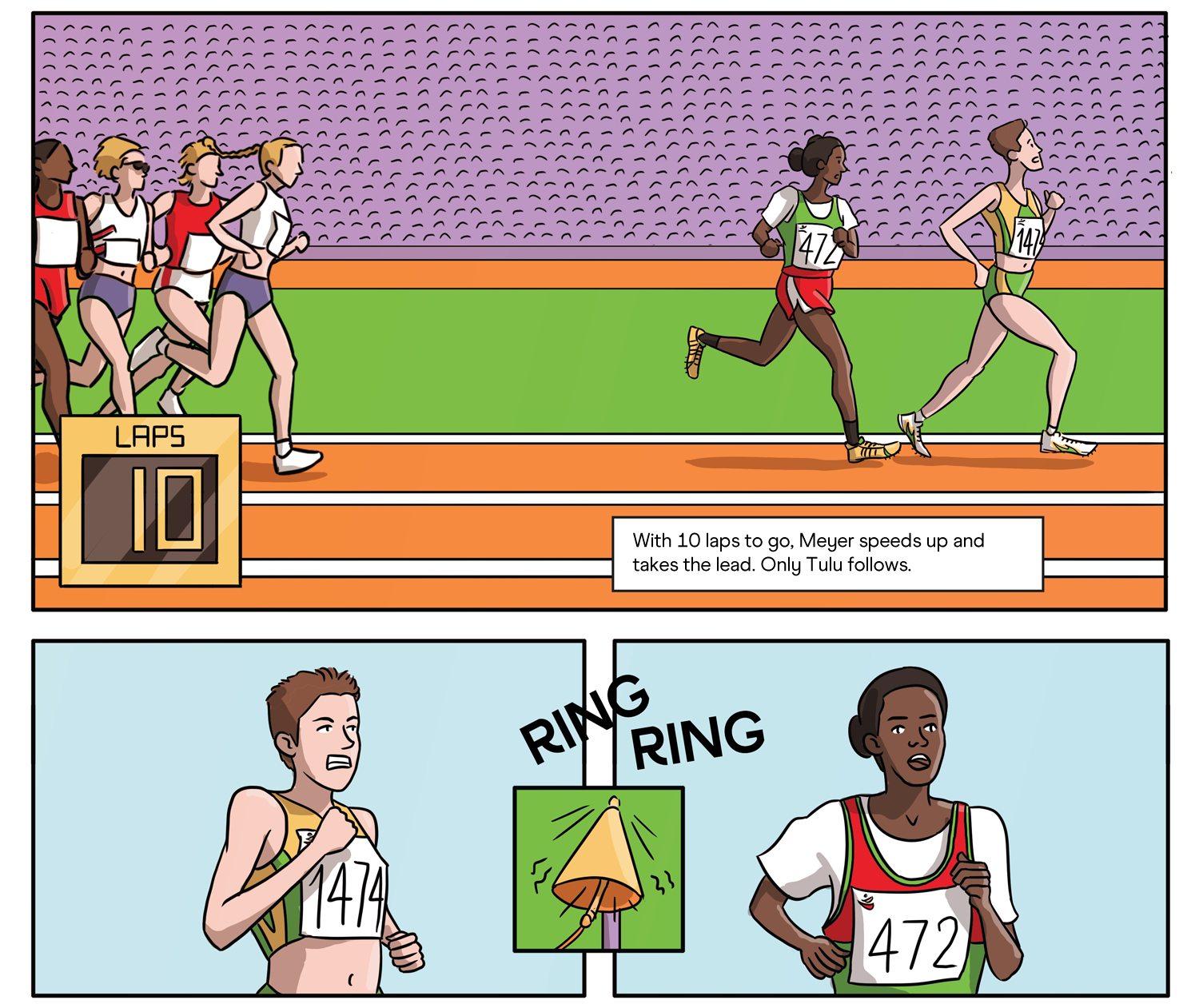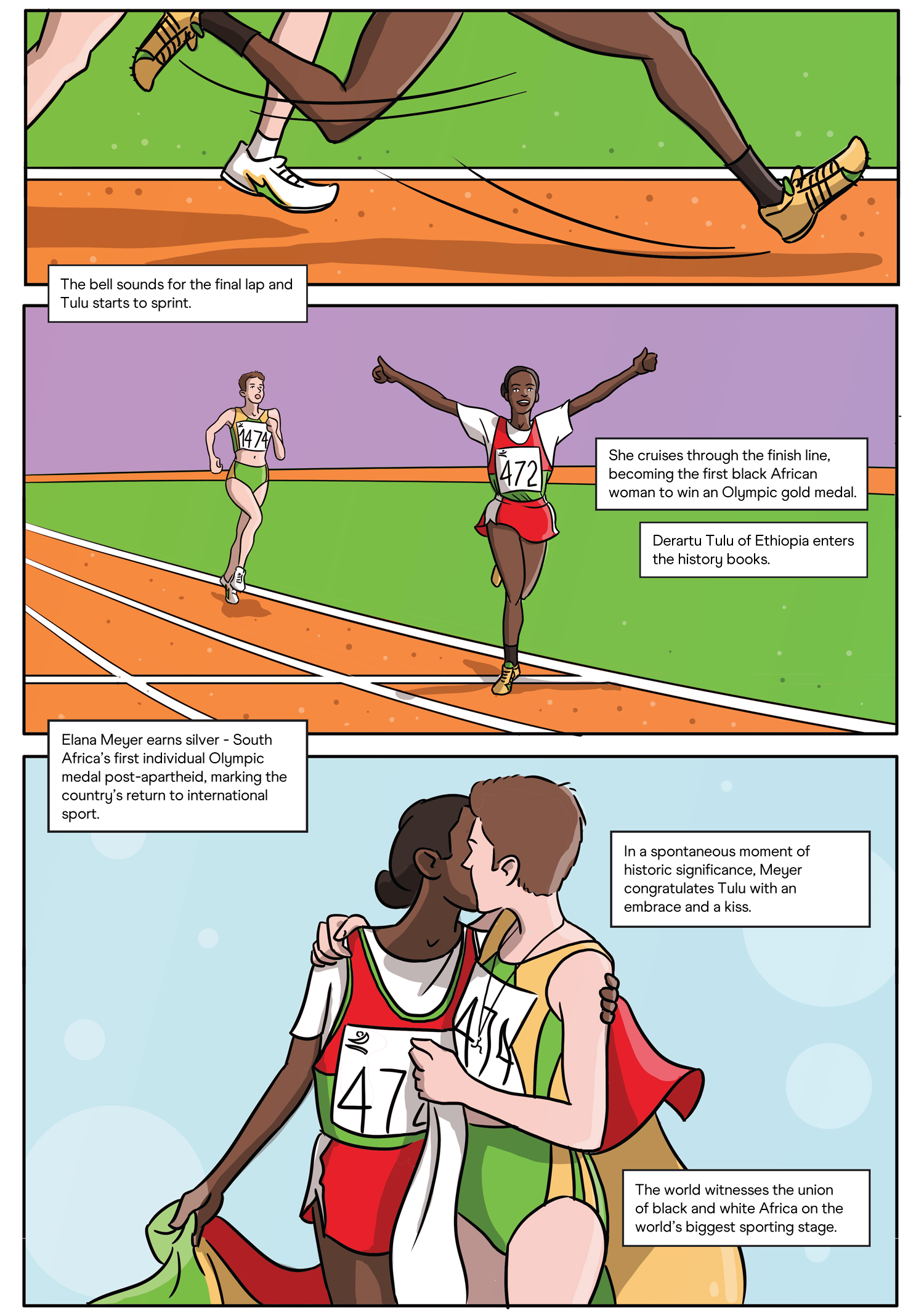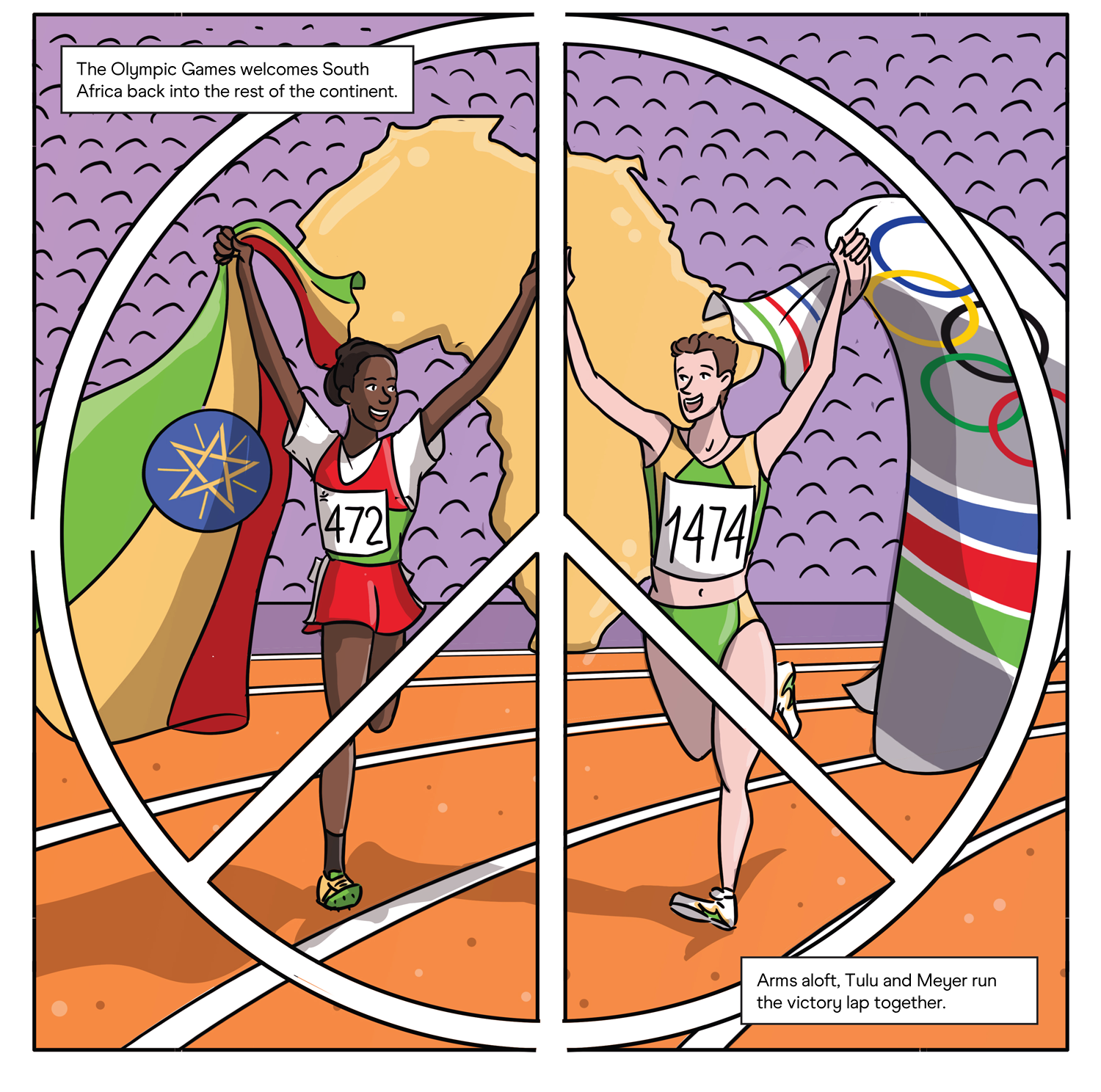 "Running around the track with Derartu Tulu was something that happened spontaneously," said Meyer. "It was the celebration of being back at the Games, winning a medal for myself and for South Africa, for a lot of South Africans who missed for many years a celebration of us white and black to have the opportunity to compete at the highest level."
"Imagine a black, young African girl in the ocean of humidity and heat and an atmosphere beyond imagination snatching the gold," said Tulu. "It was an unforgettable situation.
"As for Elana, I had never met her before, but she acted as though we were acquainted and we were former friends. That was a very big surprise for me. Amazingly, we had the best-ever hug. We never forgot we were both from Africa."
Meyer emerged as the image of the post-apartheid era in South Africa. In 1994 she became the first African woman to win a world half marathon title and she went on to set a world record for the distance in 1999.
Later that year, she received a surprise call from Mandela, who congratulated Meyer on her achievement.
Tulu went on to win the Olympic 10,000m title in Sydney in 2000 and earned a bronze in Athens in 2004, before shifting her focus to the roads, just as her friend Meyer had done.
"The 10,000m at the Barcelona Games was of extraordinary nature – having two Africans competing for gold was wonderful to see," said Dr Sam Ramsamy, who was the Chef de Mission for South Africa at that time and the chair of the South African Non-Racial Olympic Committee and later the South African Olympic Committee until 2005. "Derartu Tulu and Elana Meyer were an exhibition of African unity. I remember watching them in the Olympic Stadium and it felt that no one else was to be seen except these two athletes.
"It was South Africa's first participation as a non-racial team, and this win indicated to the world that South Africa was back on the sporting scene with a non-racial policy," he added. "Coming back with two silver medals, one in 10,000m and one in tennis, equipped our athletes with motivation towards Atlanta 1996 where we had two white and two black south African medallists."
Part of what makes the Olympic Games so special is that it brings together people and nations, but the 10,000m final in 1992 was a particularly historic moment as it symbolised the unity between black and white Africans. This moment, which continues to be told around the world decades later, was initiated by simple sporting gestures.
As Nelson Mandela once said: "Sport has the power to change the world. It has the power to inspire. It has the power to unite people in a way that little else does."
Christel Saneh for World Athletics