Nawal El Moutawakel celebrates her 1984 Olympic 400m hurdles win (© Christel Saneh)
It took Nawal El Moutawakel 54 seconds, 10 hurdles and 400 metres to win Morocco's first Olympic gold medal in the first ever women's 400m hurdles at the Olympic Games.
In 54 seconds, she became the first African and Muslim woman to win an Olympic gold and paved the way for many Arab women to not only take part in sporting activities, but also compete at the highest level.
Early days
El Moutawakel was born in Casablanca, Morocco, into a family passionate about sports. Her father was a judoka, her mother a volleyball player, and her siblings also used to do athletics. She started running at the age of 14 and her father used to watch her train.
Like most of the athletes, she started with cross country races before switching to sprints and later the 400m hurdles, an event which was inaugurated at the World Championships in 1980 and was finally added to the Olympic programme in 1984 at the Los Angeles Games.
It was perfect timing for El Moutawakel as she received a scholarship in 1983 to attend the Iowa State University in the USA to pursue her physical education and physiotherapy studies.
A year earlier, she won her first African title and continued her quest for medals the following year, winning gold at the Mediterranean Games in her hometown and making the semifinals at the World Athletics Championships in Helsinki.
Her father, who was her No.1 supporter, had some hard times accepting that his daughter was leaving for a faraway country, but knew that it was the best decision for her future. Before she left, he told her: "You've won everything, you still have to win this Olympic gold." A week later, three months prior to her Olympic race, he passed away.
El Moutawakel, who was in top form, received the news a month later. Despite the huge sadness she felt, the 21-year-old wanted to win this medal for him.
"I used this as a force, saying to myself in the mirror, 'you should win for your father because he let you leave, because he believed in you'," she said.
Olympic success
Once in the United States, El Moutawakel was able to refine her technique and improve on different levels. She won her first NCAA title in California, a great sign that her preparation for the Olympics was going to plan.
"It's not joy all the time, when you are very far away from your family, when your father was no longer there … when you're young and you need to deal with all this, you try to get stronger internally. And you say: 'yes, I can do this, because this is my time, this is my story, this is my day and I have to make it today, here and now'," said El Moutawakel.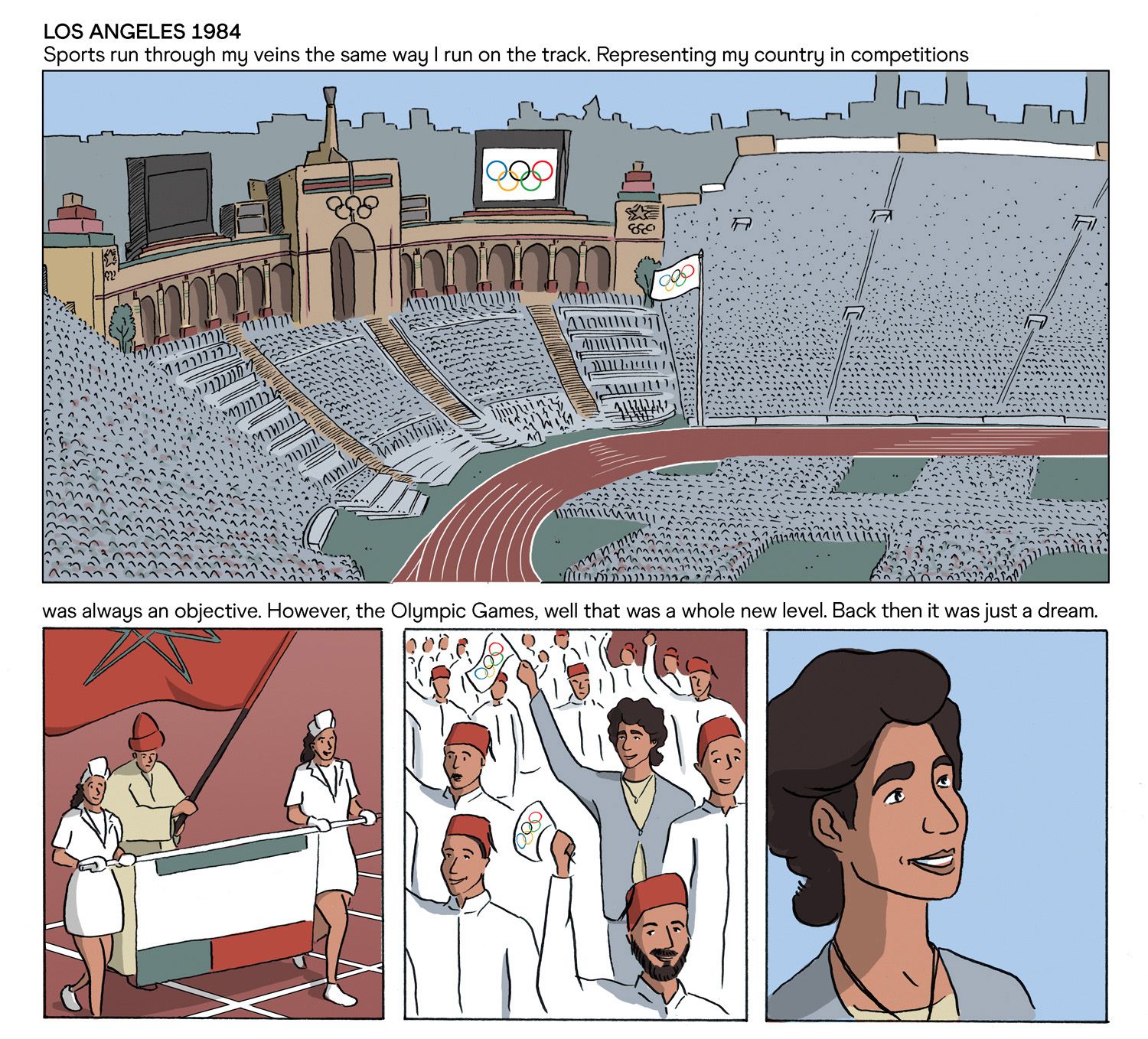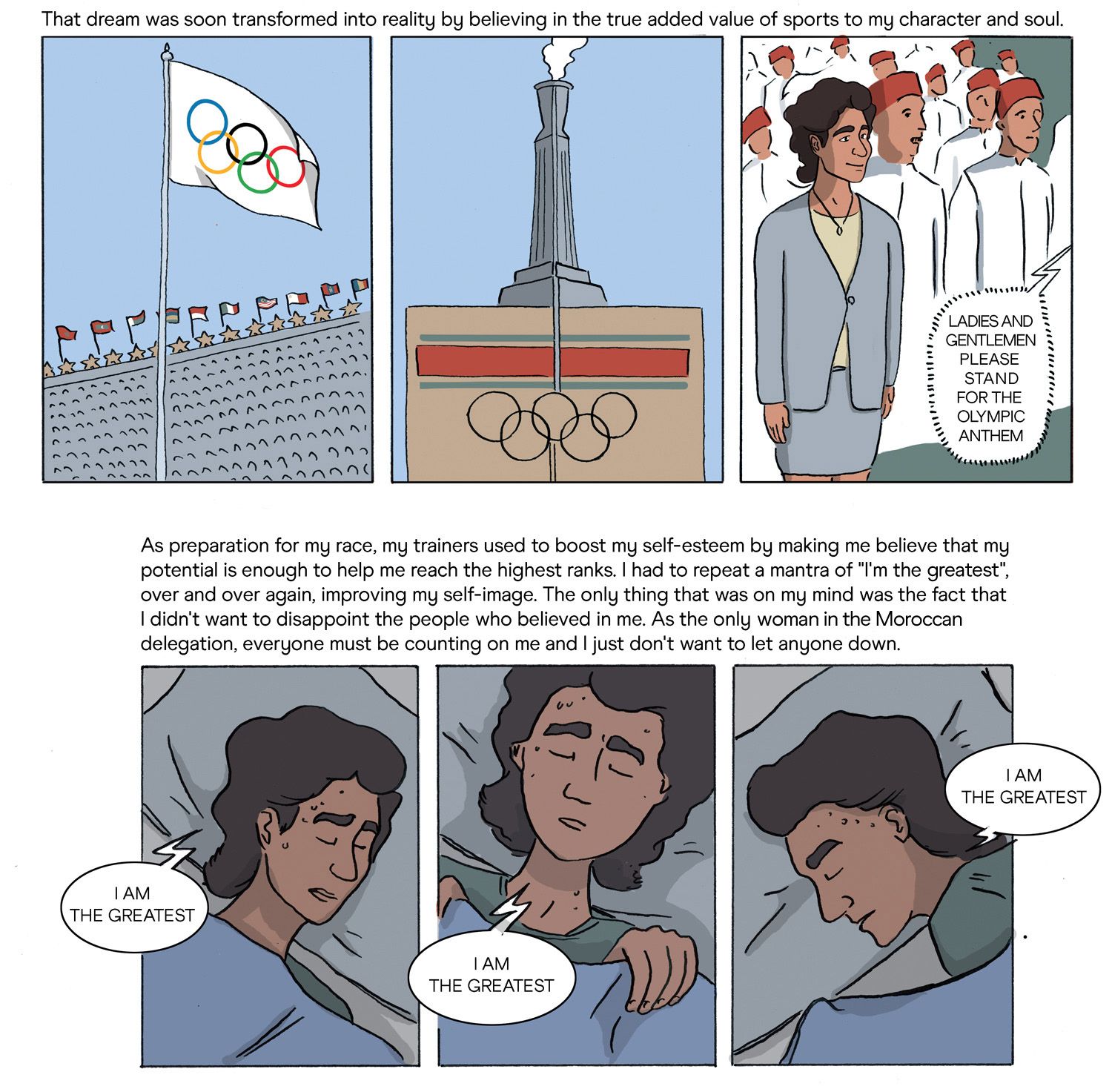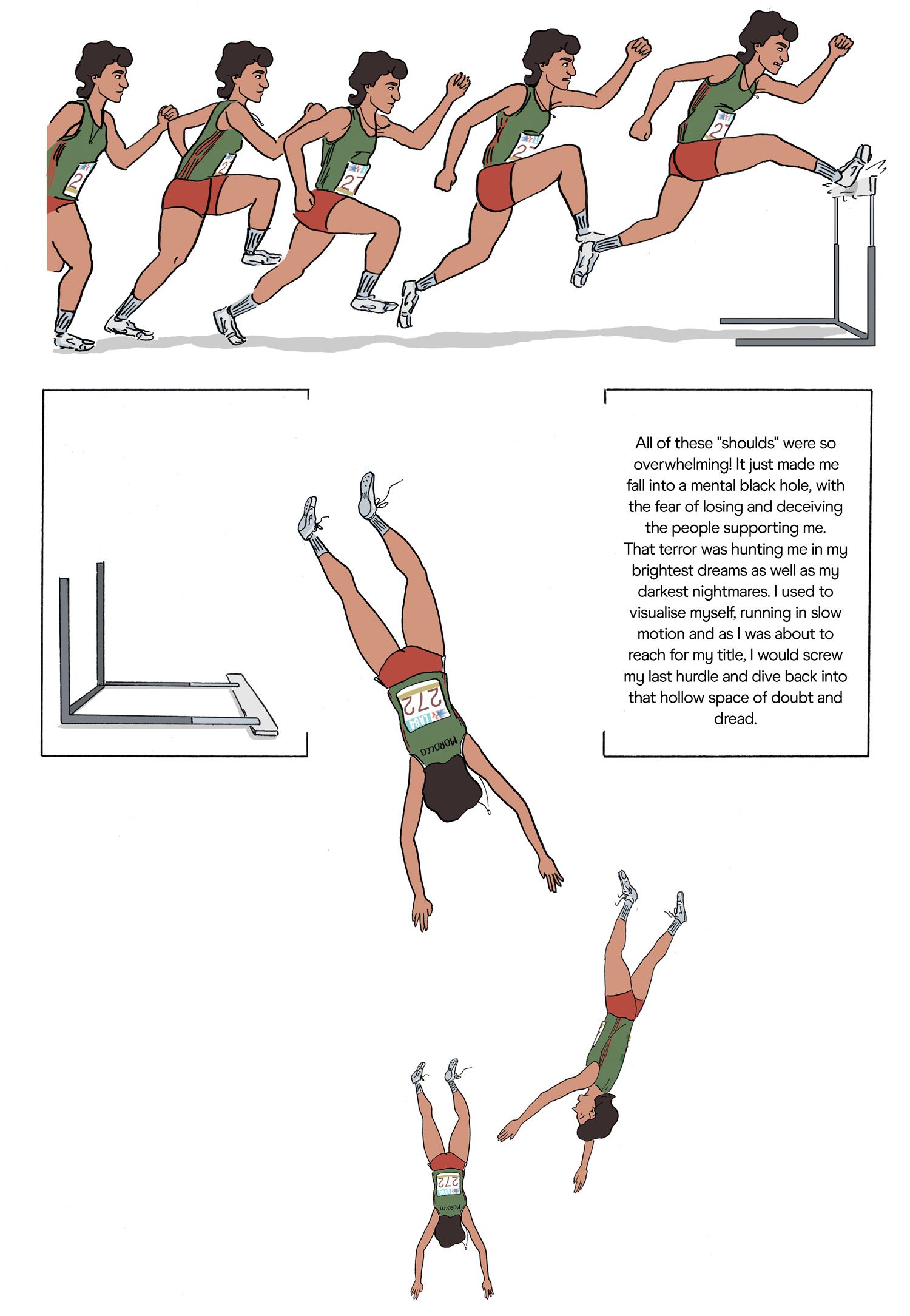 "This is your time, this is the city, this is the hour, you cannot miss it. You have to leave from this country, from this city with something," recalled El Moutawakel in an interview with the International Olympic Committee.
"Reaching the Olympic level was a dream, but I never thought that one day it will become a reality. I thought that I was meant for this sport and vice versa, and it was something that was in my DNA," she added.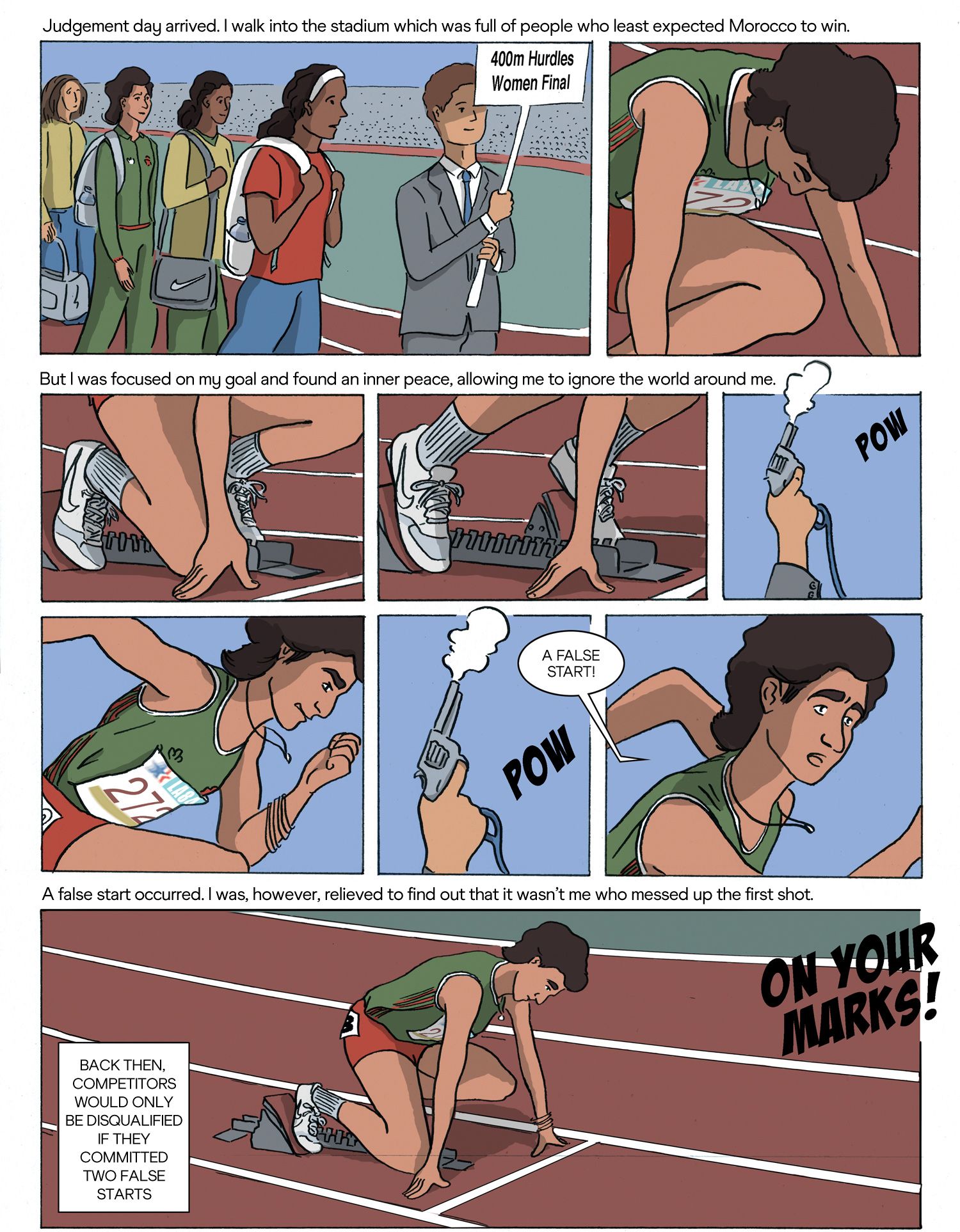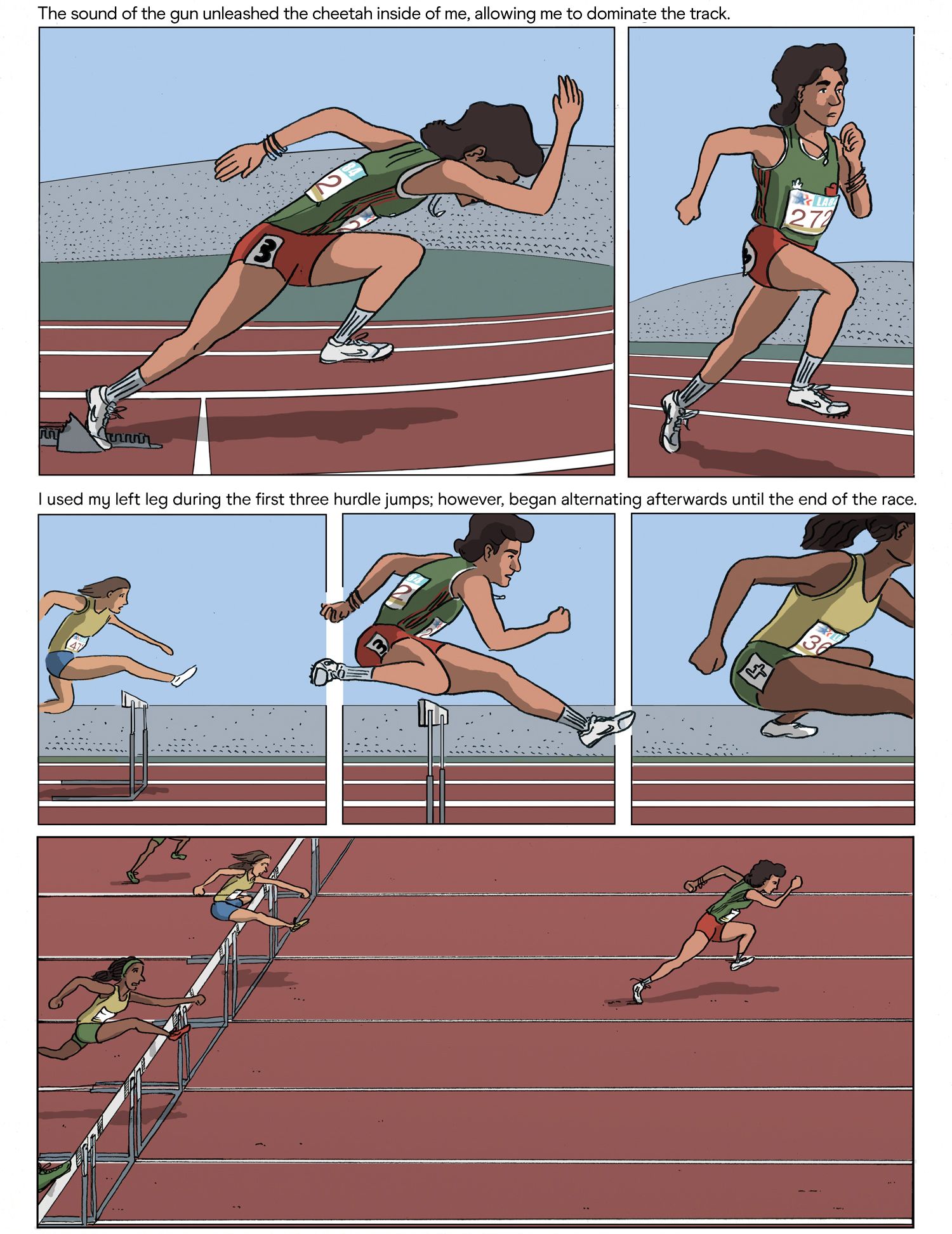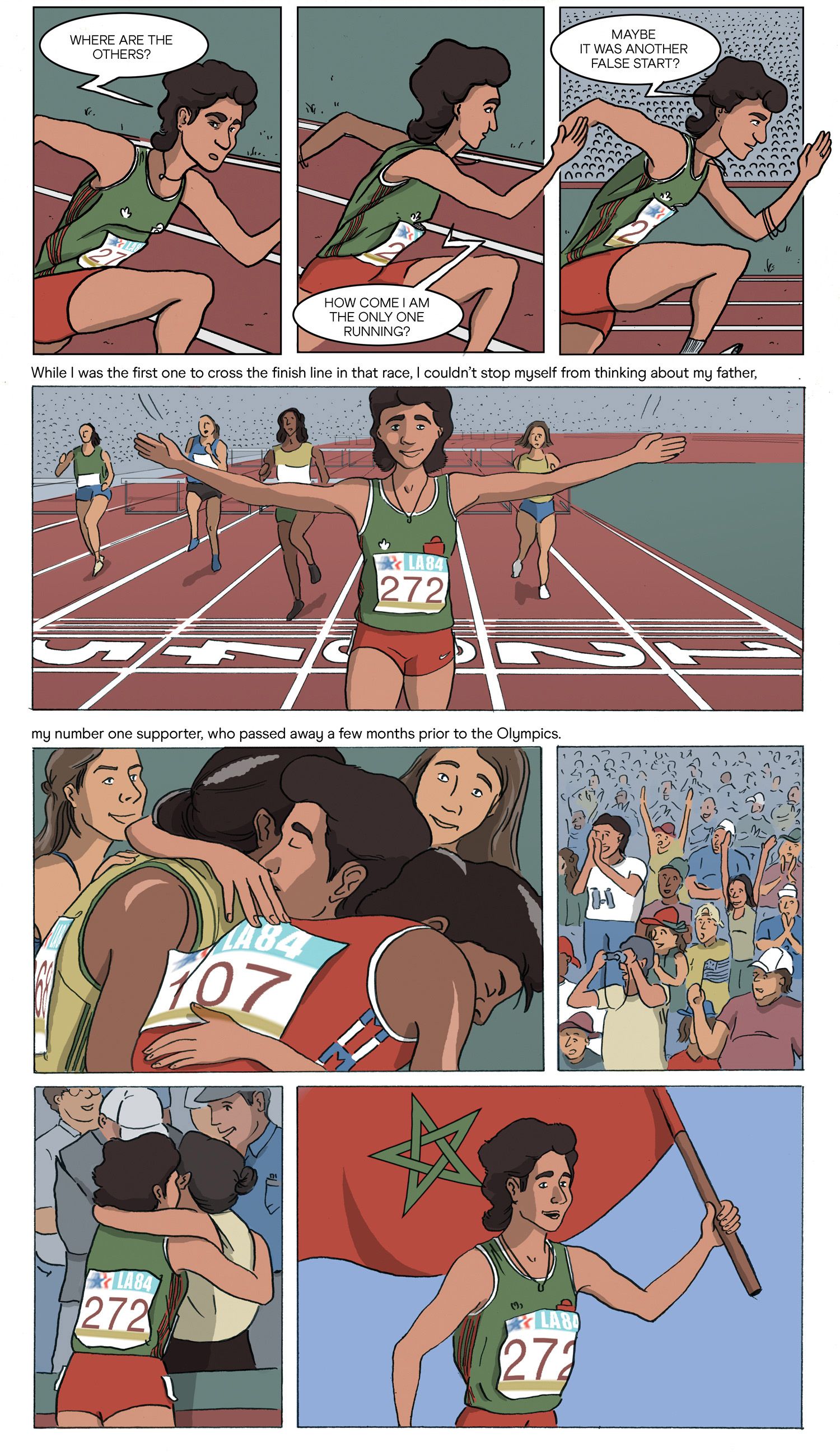 On this day, Nawal El Moutawakel became the first Arab, African and Muslim woman to win gold at the Olympic Games. She paved the way for Arab female athletes such as Nezha Bidouane, Zahra Ouaziz, Hasna Benhassi, Ghada Shouaa, Habiba Ghribi and many more.
"It is a historical moment that will forever stay in my mind and in my heart. I still have my bib number 272 in my office," she said.
"From there, a wide door opened up to many young girls from Morocco and many Arab and African countries to allow women to compete. Since then we saw a lot of Moroccan girls, and the same from Arab countries whom women never attended the Olympic Games, weren't attending to attend, but attending to win," El Moutawakel said.
Her story still inspires young female athletes from the region today, as they identify with athletes coming from the same background, the same traditions and conditions, and who are able to shine on the international scene.
El Moutawakel's achievement was instantly recognised by the King of Morocco who declared that all girls born on the day of her victory were to be named in her honour.
"I was wondering whether the Moroccans were following my race because of the time difference, but I could feel it when I returned home," she said. "It was a huge celebration from the airport to the highway all the way through my city Casablanca. Arriving in my home was something unique, the crowd was so huge, from every corner of the country people came to greet me including my countryman Said Aouita."
The next chapter
El Moutawakel, who was only 22 when she won her Olympic gold medal, retired at just 25 years of age. This was mainly due to knee surgery and lower back pain, but also from two tragedies – the loss of her father before her Olympic success and her university teammates in a plane crash on the night of 25 November 1985, a year after her gold in LA. Before her retirement, she won at the World University Games and Mediterranean Games for the second time in 1987.
Her career pivoted towards contributing to sport, especially women in sport, by taking decision-making roles in her country. She was minister of sports in Morocco and joined World Athletics and the International Olympic Committee (IOC) as the first Arab woman to enter high-ranked managerial positions in sports.
Her highest was her election as vice president of the IOC. She is an active member in various IOC Commissions and has been a World Athletics Council Member since 1995.
On 8 August 1984, Nawal El Moutawakel's life changed in 54 seconds. She showed the world that women could not only overcome 10 hurdles in 400 metres, but also the hurdles of life.
"For me the 400m hurdles was always a school of life, it teaches you how to start and finish in a strong way, and to overcome every barrier. This is what gave me energy to continue what I am doing today," she said.
"I have prepared forever for this day, 8 August 1984. It's one day, one event, that impacted me forever. I will never forget the 54 seconds that changed my life forever. I would not be the same person since then, if I couldn't win. I wouldn't be able to support the next generation. Today, when I see women from all countries compete in sports, I feel immense satisfaction."
El Moutawakel won her Olympic title by more than half a second, crossing the finish line in 54.61. The spikes she wore during that race in Los Angeles in 1984 have recently been dipped in silver and are now on display in the Museum of World Athletics™ – the world's first 3D virtual sports museum.
Christel Saneh for World Athletics
This piece is an extract from Christel Saneh's digital flipbook, Competing for a Change.