Irena Szewinska (© Christel Saneh)
Only one athlete in history has set world records at 100m, 200m and 400m: Irena Szewinska – the brightest star of Polish athletics.
The first lady of Polish sport, as she was called by Poland's president Andrzej Duda, is a five-time Olympian and seven-time Olympic medallist, with her achievements including three gold, two silver and two bronze medals.


Her Olympic journey
Szewinska was born in Leningrad in 1947 to a Ukrainian mother and Polish father. She moved with her parents to Warsaw when she was still a child.
At the age of 14 she started athletics at her school in Warsaw, where she was coached by Jan Kopyto, a former javelin thrower who competed at the Melbourne 1956 Olympic Games.
"I ran so fast in the school trials that the teacher requested a re-run because she thought she'd made a mistake in measuring the time," Szewinska said in an interview with the Polish Press Agency.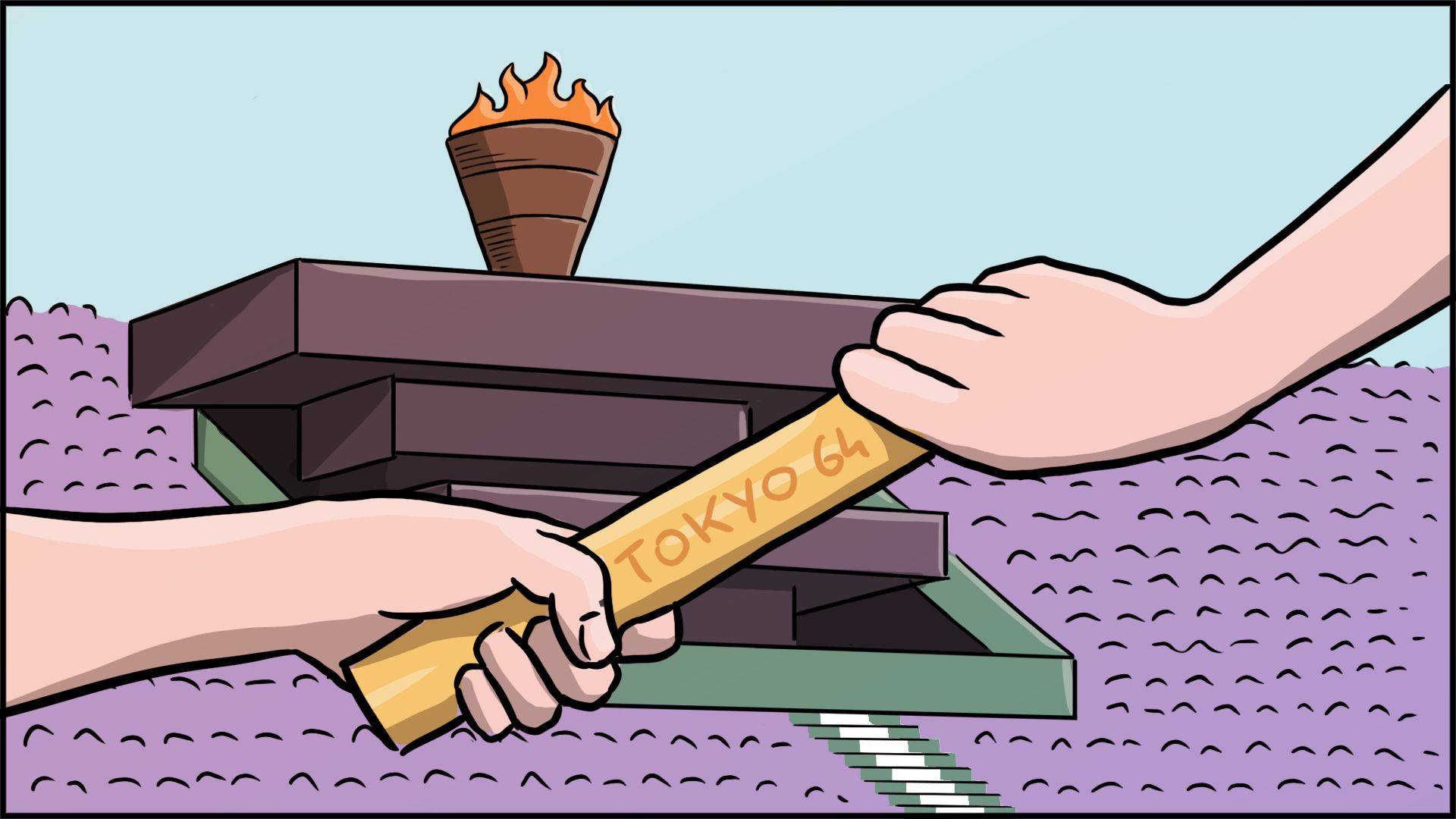 The Polish sprinter made her Olympic debut at the Tokyo 1964 Olympic Games at only 18 years of age. Competing under her maiden name of Kirszenstein, she won silver medals in the long jump (6.60m) and the 200m (23.1).
She went on to win her first Olympic gold medal in the 4x100m – Poland's second Olympic medal in that event after their bronze in Rome in 1960 and their first ever relay gold medal at the Games.
In 1965, she snatched the 100m world record (11.1) from USA's Wyomia Tyus, who remained one of her strongest competitors over this distance for the next three years. That same season, Szewinska broke the 200m world record for the first time, running 22.7 in the Polish capital.
After earning a degree in economics from the University of Warsaw, Szewinska's second Olympic appearance was in Mexico City in 1968.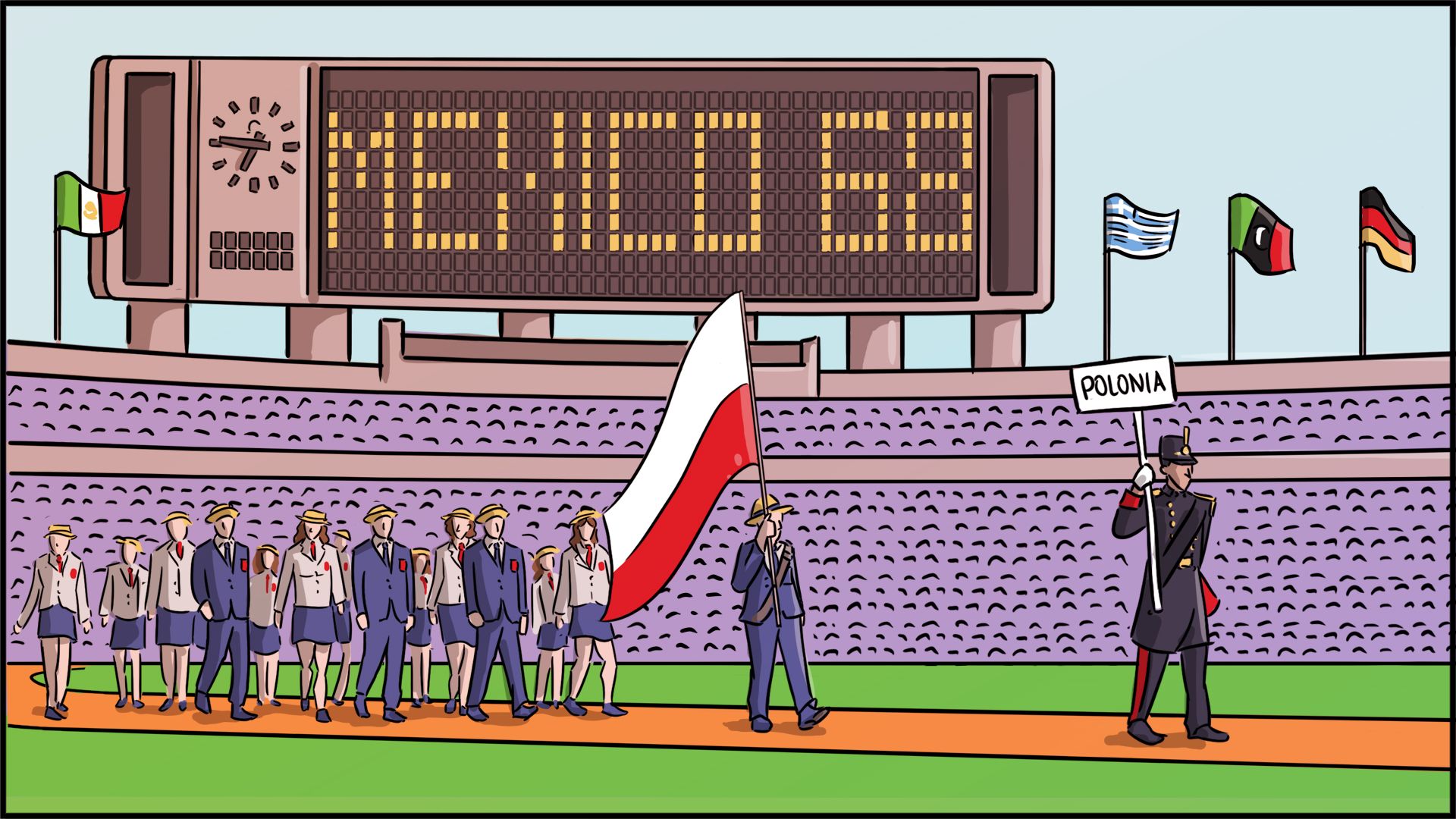 "Things started badly for me in Mexico City," she said. "I didn't qualify for the long jump final, and my second event was the 100m which wasn't my favorite event. Because of my height, I always start poorly, and by the time I was in full stride the race was over."
She finished third in the 100m (11.18) behind the US one-two of Tyus and Barbara Ferrell. Szewinska then qualified for the 200m final after finishing third in her semifinal and lined up against a strong field.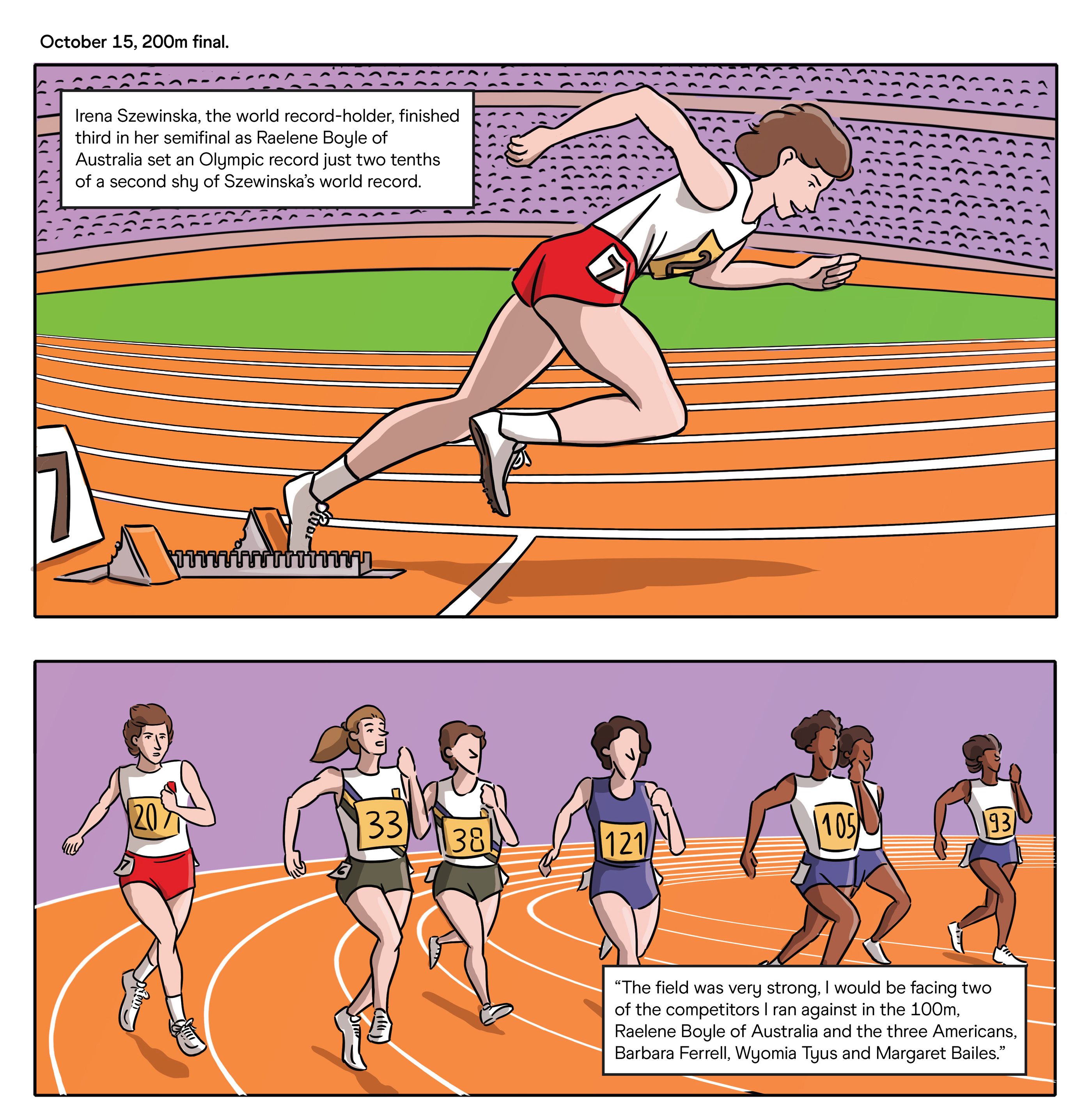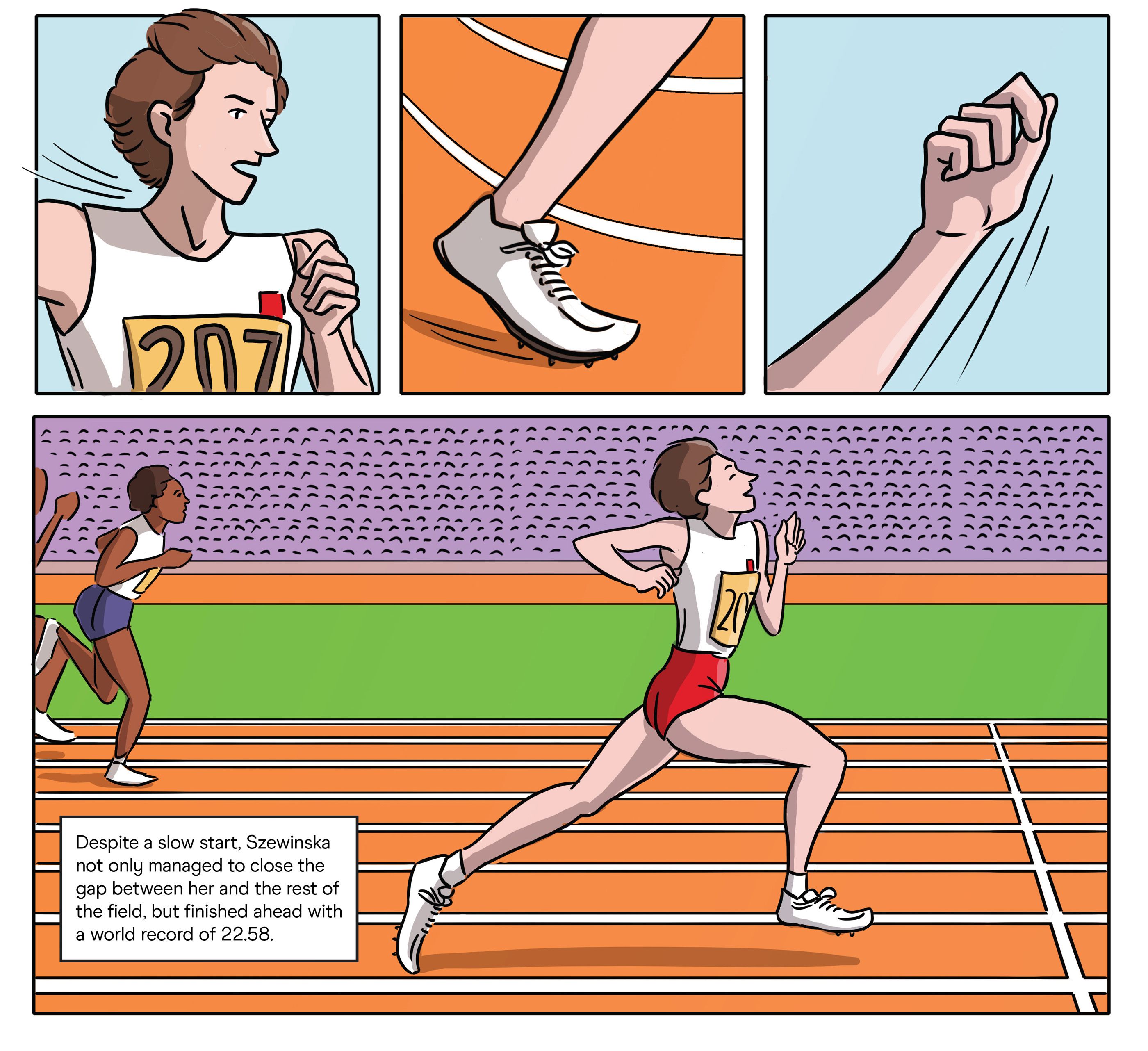 Everything was going well for the Polish team, but the Olympics ended with disappointment as a dropped baton in the 4x100m relay saw the team finish last in their heat.


The 400m switch
In 1967 Szewinska married Janusz Szewinski, a hurdler and coach who later became a sports photographer. After giving birth to the first of her two sons, and recovering from an ankle injury, Szewinska made it to her third Olympics in Munich in 1972, where she won bronze in the 200m.
Janusz and Irena agreed that she would switch to the 400m.
"Through the many years of training, Irena could build a tremendous amount of endurance as she got older," said Szewinski. "Her speed in the 200m was increasing and not decreasing, therefore it was logical that her natural speed, combined with the endurance, would make the 400m the ideal distance for her."
In 1974, only two years after her first attempt at the 400m, Szewinska became the first woman to break 50 seconds with a hand-timed performance of 49.9 in Warsaw. The 400m women's world records were recognised from 1957 but from 1975 onwards they had to be electronically timed.
The first electronically timed world record was set by Finland's Riitta Salin, who ran 50.14. The first woman to run a sub-50-second electronic time was Christina Brehmer from East Germany who ran 49.77 in May 1976. This record only stood a month before Szewinska ran 49.75 on home soil.
The mark was a solid performance ahead of her fourth Olympic appearance in Montreal in 1976.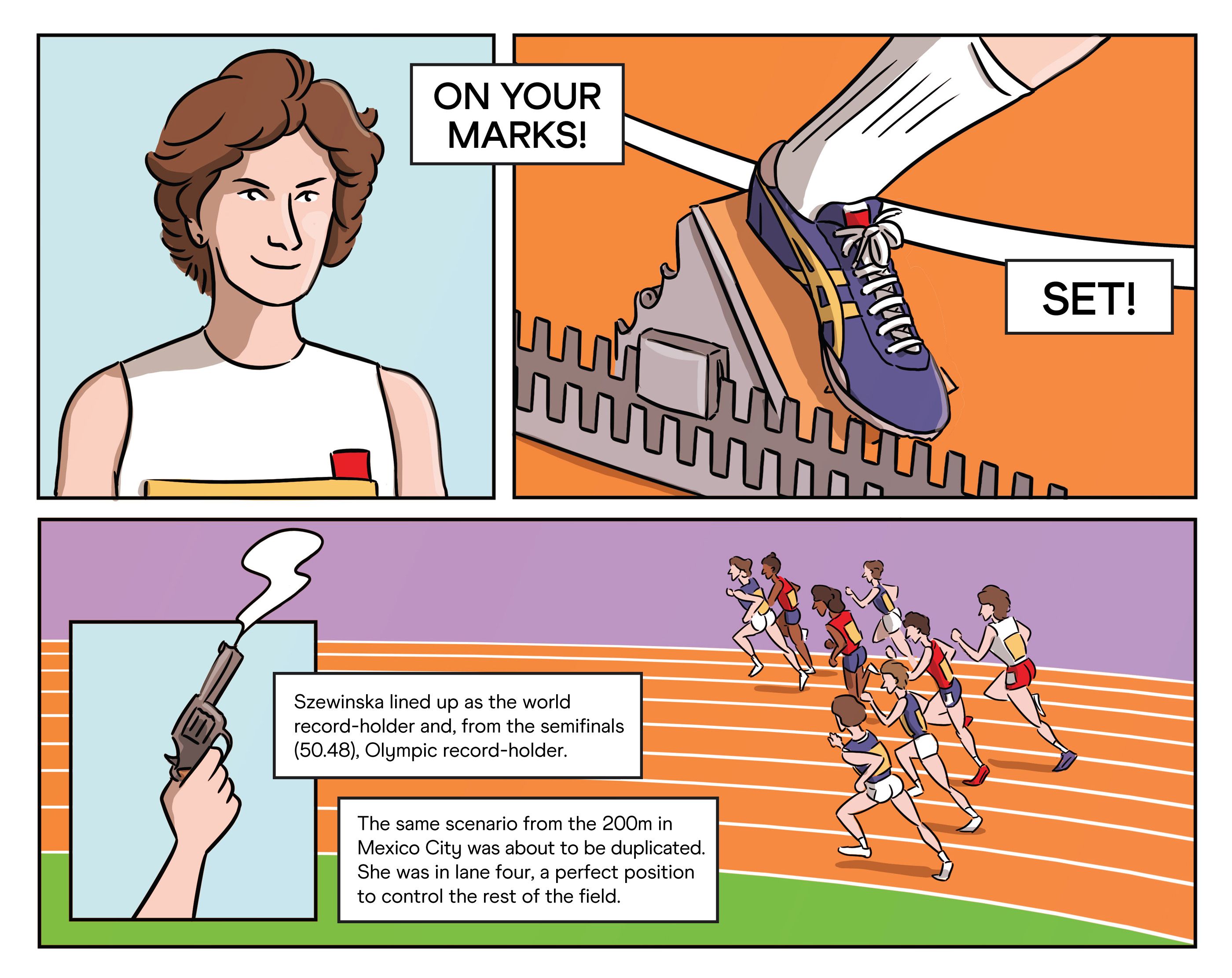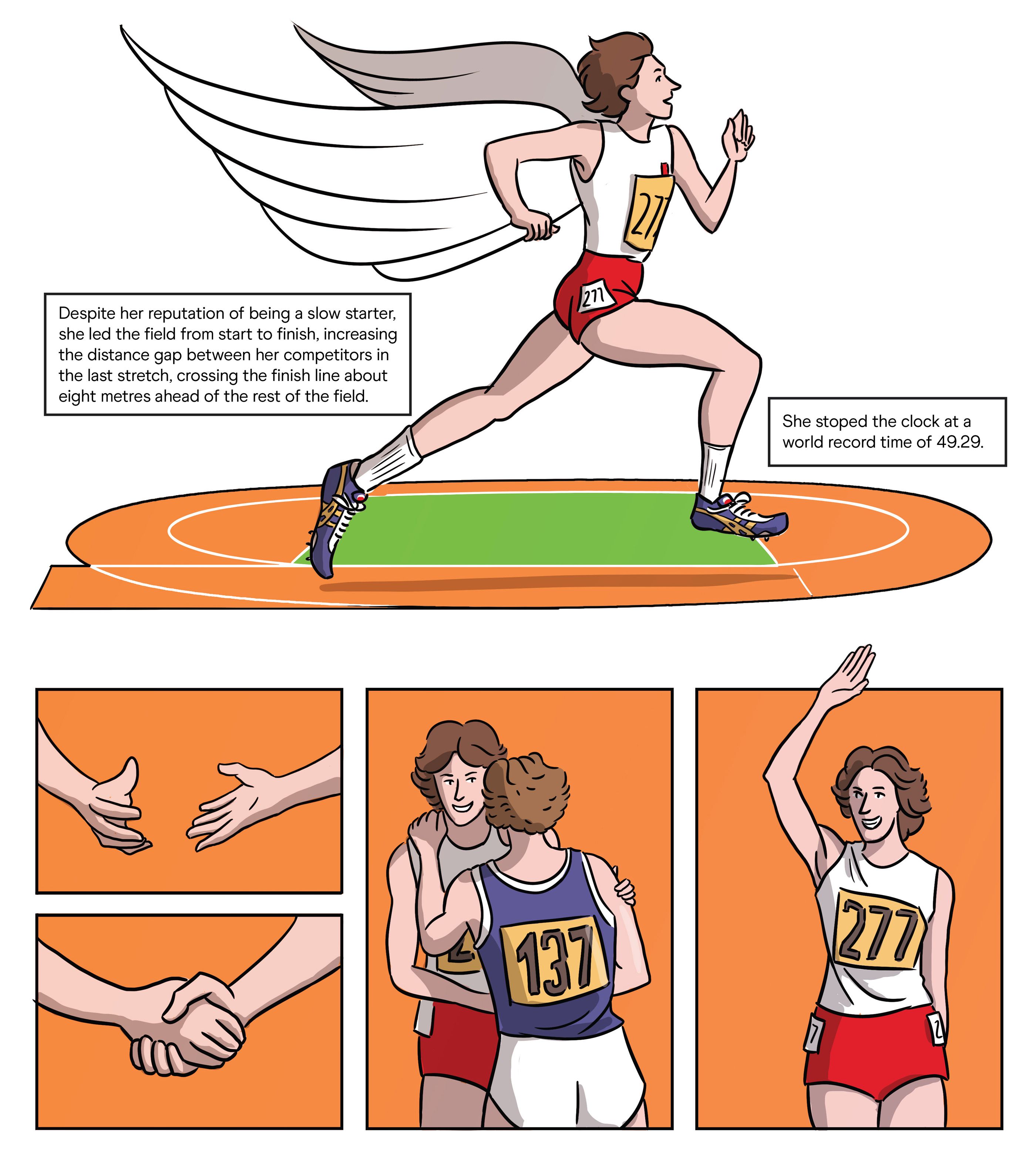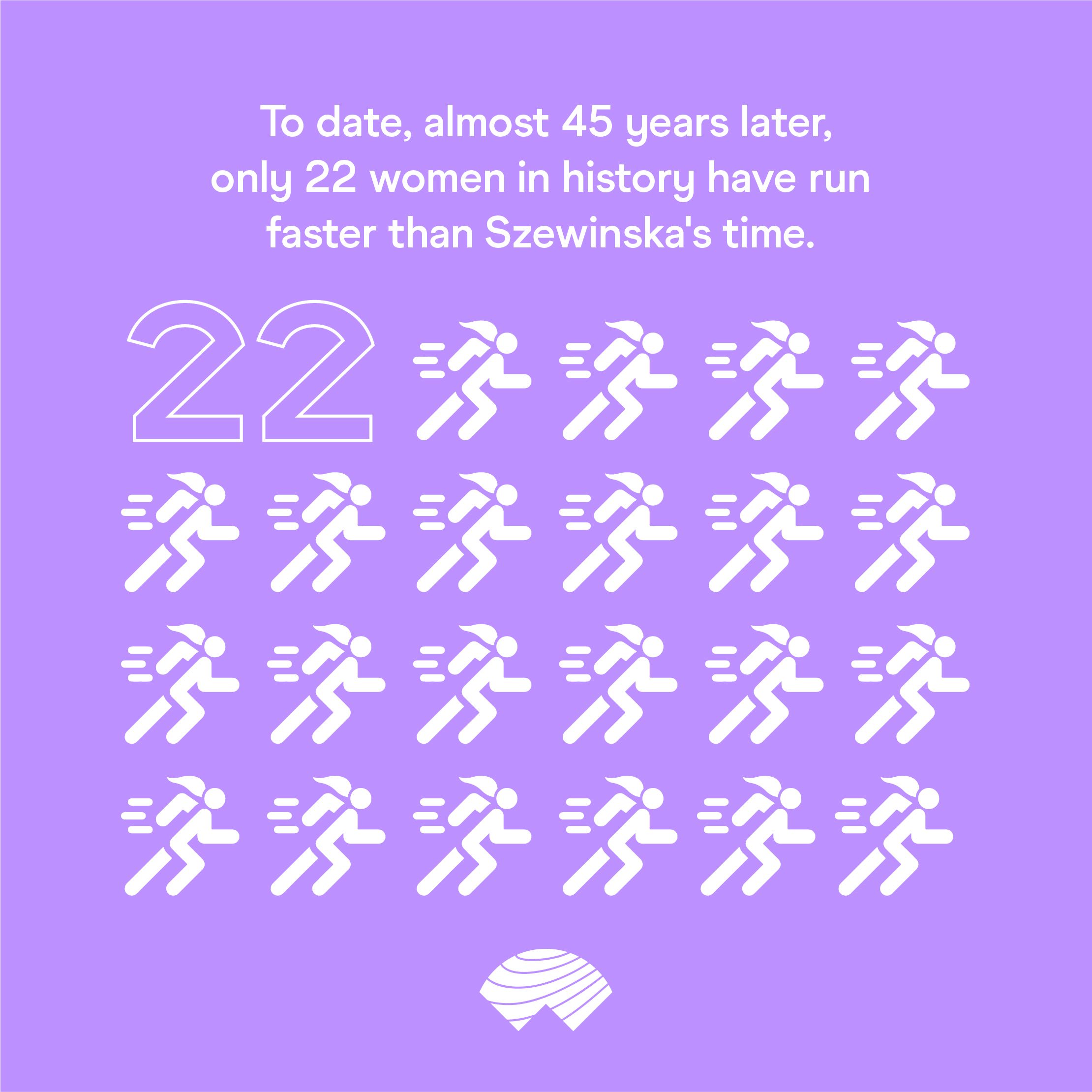 Her Olympic and world record performance in the 400m remains the Polish record. She added a third Olympic gold medal to her collection, equalling Australian Shirley Strickland's record at that time of the most Olympic athletics medals won by a woman.
The spikes that she wore at the 1976 Games are now on display in the Museum of World Athletics™ – the world's first 3D virtual sports museum.
In 1977, at 31 years of age, Szewinska was up for another challenge: lining up against Marita Koch at the inaugural IAAF World Cup in Dusseldorf.
Koch dominated the race but Szewinska, a renowned strong finisher, fought to the end to overtake Koch in the last 30 metres, winning in 49.52, her second best ever time.
Szewinska's long athletics career ended after her fifth Olympic participation in Moscow in 1980. She pulled a muscle during the semifinals of the 400m which forced her to put an end to her Olympic journey. She retired from the sport soon after and gave birth to her second son in 1981.

Career transition
After a 16-year career in athletics, Poland's most decorated Olympian transitioned to become a respected administrator in sports, giving back to the sport that she loved since her school days.
In 2012, she was inducted into the IAAF Hall of Fame. Four years later, she received the Order of the White Eagle, Poland's highest award.
"Sport was a great adventure of my life, when I was an athlete and my fate was that I am still connected with sport. I am passionate about it, this is my hobby," she said.

On Friday 29 June 2018, Szewinska lost her long battle with cancer aged 72.


In the words of her husband, Janusz Szewinski:
"I first met Irena when she was 16 years old. She was very calm, nice, always kind to others. We became closer and sympathised with each other during a training camp in Kluczbork in 1962. We were married for 57 years. Despite becoming a sporting star, Irena remained herself. Her calmness was astonishing, even after coming victorious from a race, she remained calm and kept her happiness inside.
"She really enjoyed training even if it was raining or snowing. She improved very quickly and started to break records, which gave her even more motivation to work hard. Even long after the end of her career, she liked to go for walks in the woods with her dogs.
"Acting was her passion. She attended acting classes at the Palace of Culture and Science. At the same time, Daniel Olbrychski (a famous Polish actor), who dreamed of becoming a great athlete, attended sports classes there. Over the years their roles have changed - Irena became an outstanding sportswoman, and he became a great actor.
"Before the start, she remained calm, did not have any special rituals, and was not superstitious. In those days, there was no special diet - she ate milk soup for breakfast, and pork chops for lunch. She felt good both in an ordinary hostel and a five-star hotel. She also reconciled being a great athlete with being a mother of two sons. She devoted as much time and attention to the children as she could.
"After her career ended, she was granted the honorable function of an IOC member. She treated it as a great honor, she liked and knew how to make contacts, she was also liked and popular, especially in Japan. She was looking forward to the Olympic Games in Tokyo with joy and excitement. She started her adventure with the Olympics in 1964 in Tokyo, so this place was very close to her and very important to her.
"She was an ambassador of clean sport. Her result (49.29) from the Olympic Games in Montreal (1976) is still a great inspiration for female athletes running 400 metres. She did something incredible, winning medals at four Olympic Games in a row. But always, despite her sports successes and honours, the most important things for her were children and family.
"For years I was also her photographer, I have photos that I keep coming back to. Recently, I took photos of all seven of her Olympic medals and juxtaposed them with specific photos from the Games.
"I miss my Irena."
Janusz

Christel Saneh for World Athletics