Gabby Thomas at the Tokyo 2020 Olympic Games (© Getty Images)
For Gabby Thomas, studying neurobiology was a no-brainer. She had known she wanted to do it since she was a teenager. But it took Thomas' brain longer to process the information that she could become a professional athlete, and even one of the fastest women in history.
At the Tokyo Olympics, the Harvard graduate anchored the silver medal-winning USA 4x100m team, won bronze in the 200m and was also a champion for science.
"The interest in neurobiology and studying the nervous system came from my personal experiences with family and my brothers," said Thomas, who initially wanted to do research on autism, "whereas track is something that I fell into gradually and I just kept running. I always loved and enjoyed sports, but professional sports wasn't something that I aspired to."
On World Science Day for Peace and Development (10), the 24-year-old stands at the intersection of athletics and academics – and is sprinting off in both directions.
"I think it's nice to be recognised for my passions outside of track and field," she said.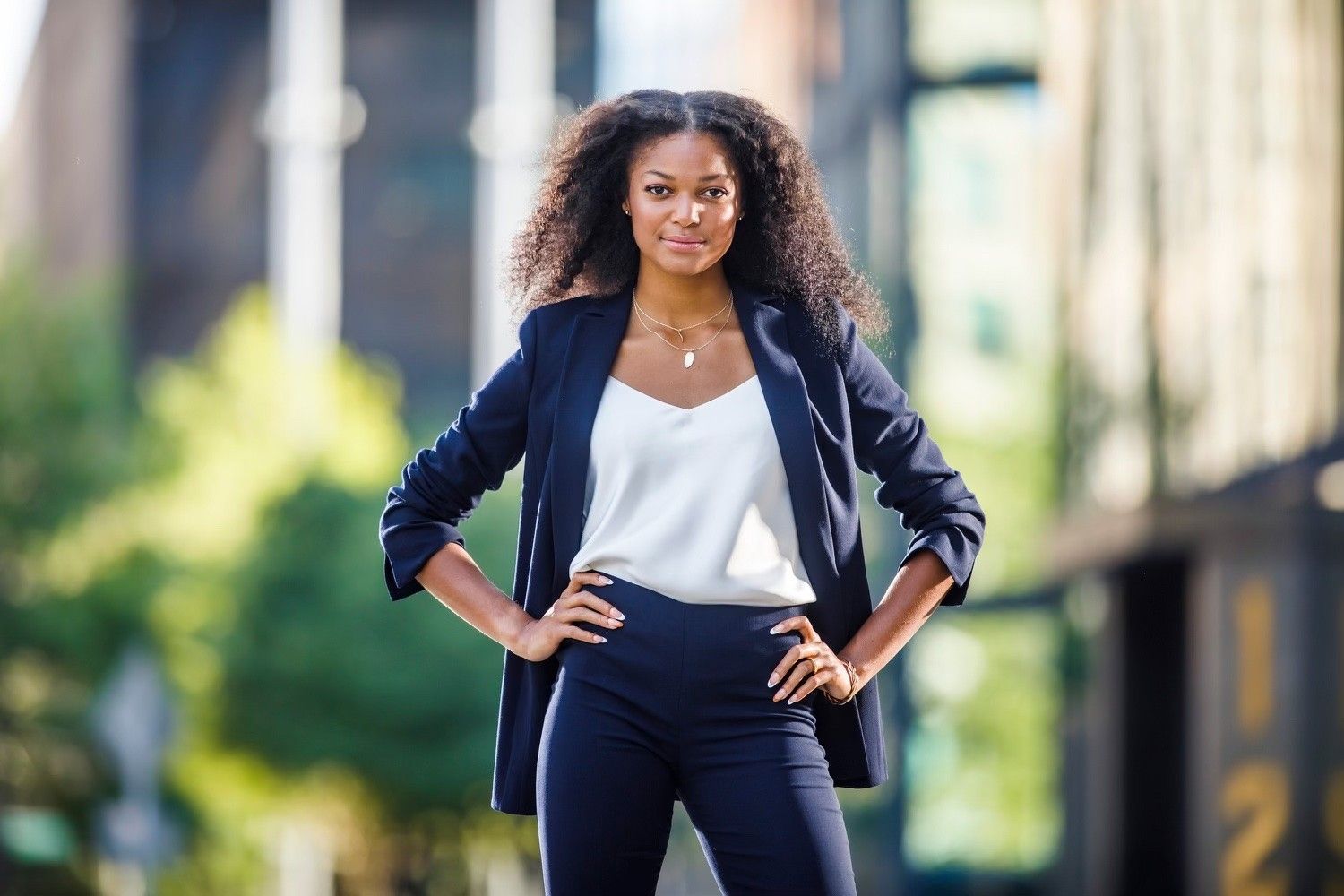 (© Zaid Hamid)

At this year's US Olympic Trials, Thomas clocked 21.61 in the 200m, a time then eclipsed only by Florence Griffith-Joyner's 21.34 from 1988. Jamaica's Elaine Thompson-Herah then ran 21.53 in Tokyo to win the gold and take over the second spot.
Thomas believes Griffith-Joyner's world record is within reach. "If you had asked me over a year ago, I probably would have said no," she said, "but I think things have changed. I ended on such a great note last season and I only see myself getting better. And I see the way Elaine's running and Shelly-Ann Fraser-Pryce, so I foresee us pushing each other and challenging each other to amazing things."
At the same time, Thomas is also pursuing a masters degree in epidemiology and health care administration at the University of Texas. She should finish this winter. Just as Thomas did before Tokyo, she will take a part-time course-load in the spring in order to prepare for the World Athletics Championships Oregon22.
Thomas' trajectory is atypical among the USA's top athletes who came through the collegiate ranks. "What makes my story unique is the fact that I don't like to be pigeonholed, or just go down one particular path," said Thomas, who was born in Atlanta and moved to Massachusetts when she was 12.
Instead of going straight from high school star to powerhouse university and choosing a fairly simple major to focus on sports, she deliberately selected a challenging major at an Ivy League school. "I like to be a representation that you can really have multiple interests," Thomas said.


Fast track to Trials
However, she almost got ahead of herself athletically when she made the 2016 Olympic trials as a Harvard freshman.
"It wasn't a goal of mine going into that season," Thomas said. She was concentrating on an internship at Boston Children's Hospital, then wound up qualifying to go to Eugene, Oregon. Suddenly, Thomas found herself in the 200m final and placed sixth. "When that happened, that definitely changed my perspective on track and field," she said. "I shifted gears a little bit and started taking it pretty seriously in college."
With the help of Harvard coach Kebba Tolbert, Thomas explored the relationships between science and athletic performance. "With track and field, everyone knows so much of it is mental, but a lot of it has to do with your brain chemistry, too," she said. "My coach focused a lot on meditation. It does change your brain chemistry over the long term, so we would do that before hard workouts and before every competition. If you can calm your nervous system down, it affects how well you can train."
Thomas said Tolbert is still sending her "tonnes of books once a month" on the subject.
Visualisation also plays a major role in Thomas' preparation and she added: "The neuroplasticity aspect really fascinated me, this idea that if you train your brain to do something, that it starts to become second nature.
"It's basically muscle memory, and just understanding how your nervous system works, the importance of your endocrine system and how your hormones are affected by certain behaviors. Ultimately, that is what affects your performance in track and field."
Academically, Thomas' career goals were evolving, too. She decided to add a minor in global health and health policy her junior year. Although Thomas subsequently signed a shoe contract and turned pro, forgoing her final season of eligibility, she remained at the Cambridge, Massachusetts, school through graduation.
Then Thomas had a major decision to make. "I wanted to be excellent at track and field," she said. "I moved to Austin, Texas, to put myself in the best position I could to make the Olympic team."


New environment
She joined the "Bailey Bunch" led by coach Tonja Buford-Bailey, the 1996 Olympic bronze medallist in the 400m hurdles, and enrolled at Texas.
Thomas knew she would run the 200m at Trials, but was conflicted about choosing the 100m or the 400m as her second event. At the last minute, she went with the 100m and crossed the finish line in fifth place.
Then, in the 200m, Thomas produced an incandescent performance. "I expected myself to run very well, but did I expect to run 21.61? No. I'm not sure my coach was surprised, but I was definitely shocked."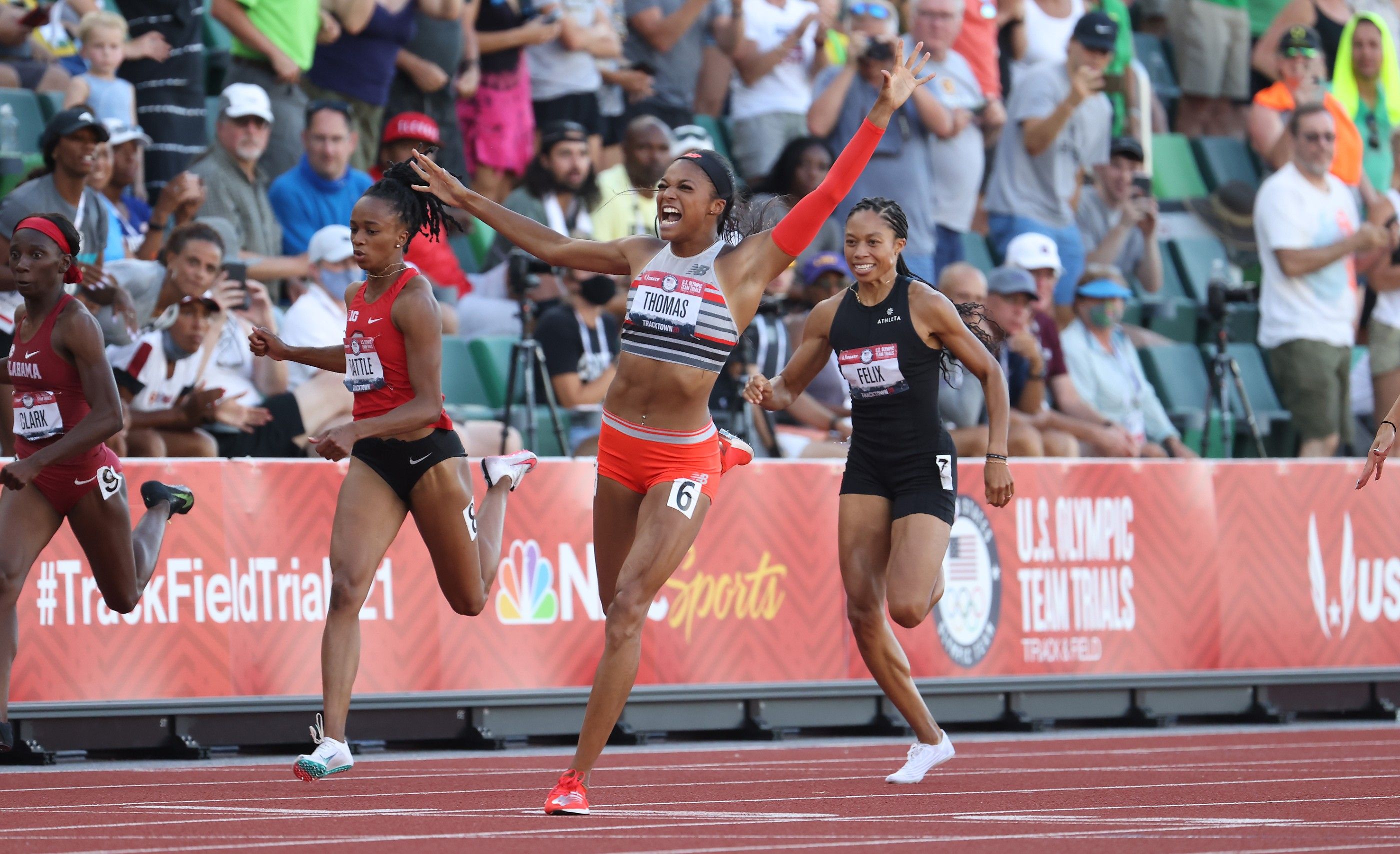 Gwen Torrence, the 1992 Olympic champion in the 200m from the USA, called Thomas "Gabby the Gazelle".
She went into Tokyo as one of the favourites for the podium. With her health administration background, Thomas looked at the Covid-19 mitigation measures adopted by Olympic organisers with an expert eye.
"I respected and understood that it was a very difficult position to be in," she said. "We did the best that we could with the situation at hand. I'm very grateful that we were able to do it."
However, jet lag was a factor with athletes allowed to arrive only five days before their first event. They were also tested daily.
"Navigating the Covid protocols was a little bit tricky," Thomas said.
That's why her bronze medal in the 200m means so much to her.
"That race was really a fight," Thomas said. "It took a lot of mental willpower to relax. I think that's where my experience and training came into play, so that felt like it was a huge win for me. The rounds were really tough for me. There was a lot of negativity."
She pronounced her first round merely "OK," and her second "poorly run," but online comments were harsh. "Everyone was tagging me saying that I needed to get it together, that the US wasn't going to get a medal in the 200m, or 'Gabby Thomas really sucks today,'" she said. "I was getting text messages asking if I'm OK. If you let it, it can really put you in a negative head space going into the final."


Positive outcome
Thomas needed to switch her mindset and calm down, and the scientist in her knew just how to get ready for the final. "And that's why I'm so proud of it," she said.
With Thompson-Herah out in front, Christine Mboma of Namibia surged into second in 21.81, while Thomas held off Fraser-Pryce, 21.87 to 21.94, to make the podium.
In the 4x100m, Jamaica won the gold with a time of 41.02 while USA ran 41.45 to secure the silver.
"The Olympics was an amazing experience," Thomas said. "It was a lot of fun. It felt like summer camp with a little more stress."


View this post on Instagram

She has embraced the attention from the media as an ambassador for the sciences. While Thomas said there is a healthy amount of interest in the field, she added: "What I would love to see is more women and girls going into the sciences. I think a lot of STEM (science, technology, engineering and mathematics) is pretty intimidating for women, just because there's a lot of gatekeeping in terms of how information is given and how women are made to feel in classroom settings.
"It's kind of seen as a men's field right now, but if more girls could just see women in STEM who are doing it well and who look confident, it would be really helpful."
Thomas is certainly doing her part.
Though her plate is already full, Thomas recently began an internship at Leidos as a healthcare innovation analyst with the research and development team. Her main focus is helping people in underserved communities and she hopes to some day run a non-profit and eventually a hospital system.
But first, she plans to "keep running until the wheels fall off."
Thomas will compete indoors, but still has to choose between the 60m and the 400m.
The longer race, she said, "is very tactical, which means you're constantly thinking. And that's painful in a 400."
Outdoors, she'll again specialise in the 200m, with either the 100m or 400m as her secondary race.
And Thomas will continue to keep a foot in both of her worlds.
Her scientific training came into play last spring when an MRI to determine if her lower back was aggravating her hamstring revealed a tumor on her liver.
"With my background in healthcare, I understood the statistics behind it and the majority of times things are absolutely fine," Thomas said. "But the more that doctors and people close to me started to get stressed out, that's when I started to get stressed out and I had talked myself into this very anxious state going into Trials."
Thomas had to "pull the Olympic athlete card" to get in to see a specialist before leaving for the meet in Eugene. "I needed the peace of mind," she said.
The tumor was benign, and Thomas said: "I should have just trusted my gut."
But looking back, maybe all of that stress actually helped her run 21.61 instead of hurting her.
"That's an interesting thought," Thomas said. "Maybe we should do a study."
Karen Rosen for World Athletics