Olympic shot put silver medallist Raven Saunders (© Getty Images)
For Raven Saunders, a text message was, quite literally, a matter of life or death.
In January 2018, less than 18 months after she had competed on the world's biggest sporting stage, the US shot putter had reached rock bottom.
To the outside world, Saunders would have seemed like someone who had every reason to be happy. She was the US champion, ranked second in the world, and was improving every year. But beneath all that success were ongoing struggles with injuries, transition to the senior ranks, and acceptance of her identity.
"From the end of 2016 to the beginning of 2018, that was a huge transition for me," recalls Saunders. "At that point I'd just come from the Olympics. No one had ever talked about that whole come down you experience after a major event, coming off that high."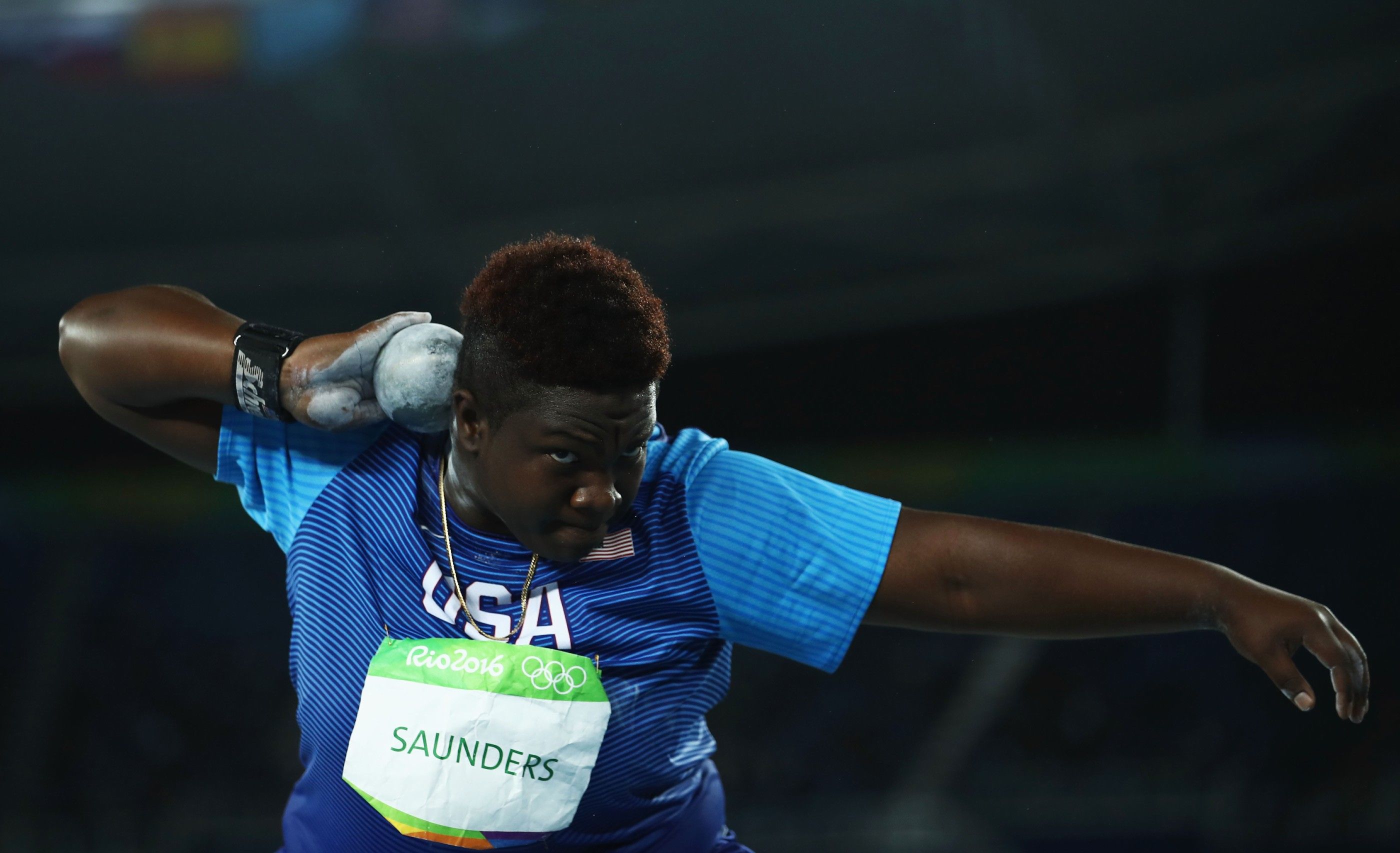 She had excelled on her Olympic debut in Rio. Aged 20 at the time – five years younger than any other finalist – Saunders produced a lifetime best of 19.35m to place fifth. Simply making it to the Games was the culmination of a dream that began in March 2015 after she won her first NCAA title indoors.
"Once that happened, I was like, 'wait, the Olympics are only a year away. If I really push myself, I really have a good chance of making that team'."
At the time she was a student at Southern Illinois University, where she was coached by Connie Price-Smith, training alongside leading US throwers DeAnna Price, Gwen Berry and Jeneva Stevens. When Price-Smith landed a head coach role at the University of Mississippi, Saunders was so focused on achieving her sporting goals that she followed her coach and transferred universities.
"It was Olympics or nothing," says Saunders. "I didn't care about anything else except for making that Olympic team and it worked out."
Or at least it did temporarily. Her rapid rise meant she was thrust into a whole new world with little guidance as to how the elite end of the sport operates. Having to deal with injury issues in 2017 at the worst possible time was another crushing blow.
"I was in fantastic shape going into the World Championships in London and I felt as though I could have won a medal, but in the prelims I tweaked my hamstring," recalls Saunders. "In between every throw, I was rolling out my hamstring and trying to stretch it out. I made it through qualifying but we had the finals that evening and I didn't make it into the top eight.
"That, to me, was devastating. When I got back it was difficult because I felt as though everybody wanted something from me, and I hadn't held up my end of the deal."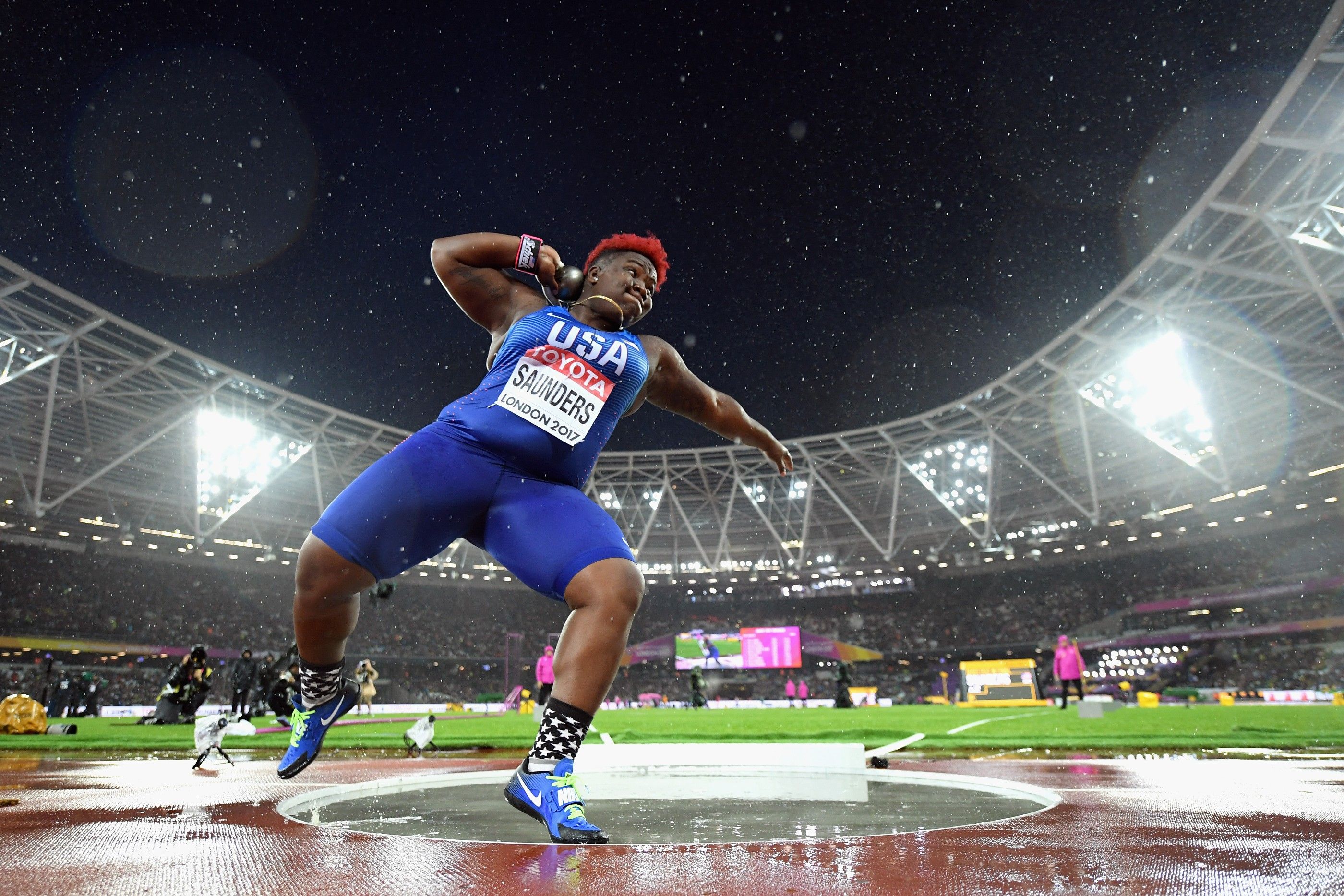 Before she had started to make a name for herself in the sport, Saunders rarely felt accepted for who she was. "I'm black, I'm gay, I'm in Mississippi," she says, not needing to add any more. But in track and field, she had found and earned an identity she didn't have to feel ashamed of. World U20 medallist, US U20 record-holder, NCAA champion, national champion, even her 'Hulk' nickname – Saunders wore them all with pride.
So when injury threatened her ability to perform and to live up to her promise as 'Raven Saunders, the leading US shot putter', she felt as though she was right back at square one, wrestling with her identity.
"At that point, track and field was all that I had," she says. "It was what I related my self-worth to. I was a national champion and an Olympian; I was supposed to be a championship medallist, according to the progression that I envisaged, but it didn't pan out that way.
"As a young kid, you're working to get to school, you're trying to get university paid for. And then you get to university and you're trying to win these championships. And then you're making senior teams. I was the only person on my team that was doing all of these things, and without any summer break in between. I had a lot of pressures from school administration and it was just a lot. Occasionally I tried to explain to people what I was going through, but it would get overlooked because to them it seemed as though I had everything I could ever need. Like, what do I really have to complain about?
"It made that period from 2017 going into 2018 feel like hell. Off season is always the worst anyway, but I wasn't in a happy place. It was hard and it became too much. I started lashing out and I got to a point where I just gave up because I felt like no one else cared."
So one Sunday morning in late January 2018, Saunders got into her car with every intention of ending her life. Driving down a highway in Mississippi, she had an overwhelming urge to veer off a steep drop at the side of the road.
Thankfully, a little voice in her head convinced her not to.
"I ended up texting my therapist and she messaged me back," says Saunders, who was then sent to hospital before spending time in two different mental health institutions.
"That really was the turning point of my life."


Silver lining
Saunders skipped the entire 2018 indoor season and returned to action when she felt ready – mentally and physically – to do so.
"I had stopped loving the sport, but eventually I reached a point where I was constantly putting my mental health first," she says. "Realising where I found the separation of self and sport is what restored my balance. Having that understanding and that level of balance is what gave me so much peace when I came back to the sport. It brought me so much more happiness and really helped me to fall back in love with it."
But despite a solid outdoor campaign in 2018, she continued to battle injuries, namely a tear of her hamstring on the left side of her hip, so in 2019 she underwent surgery in a bid to be fit for the Tokyo Olympics. The postponement of the Games gave Saunders extra time to recover, which was a huge blessing.
When she returned to action in 2021, she set an indoor PB of 19.57m in just her third competition of the year. Outdoors, she set an outright lifetime best of 19.96m at the US Olympic Trials to book her place on the team for Tokyo, then she earned silver in the Japanese capital with 19.79m, finishing in between shot putting legends Gong Lijiao and Valerie Adams.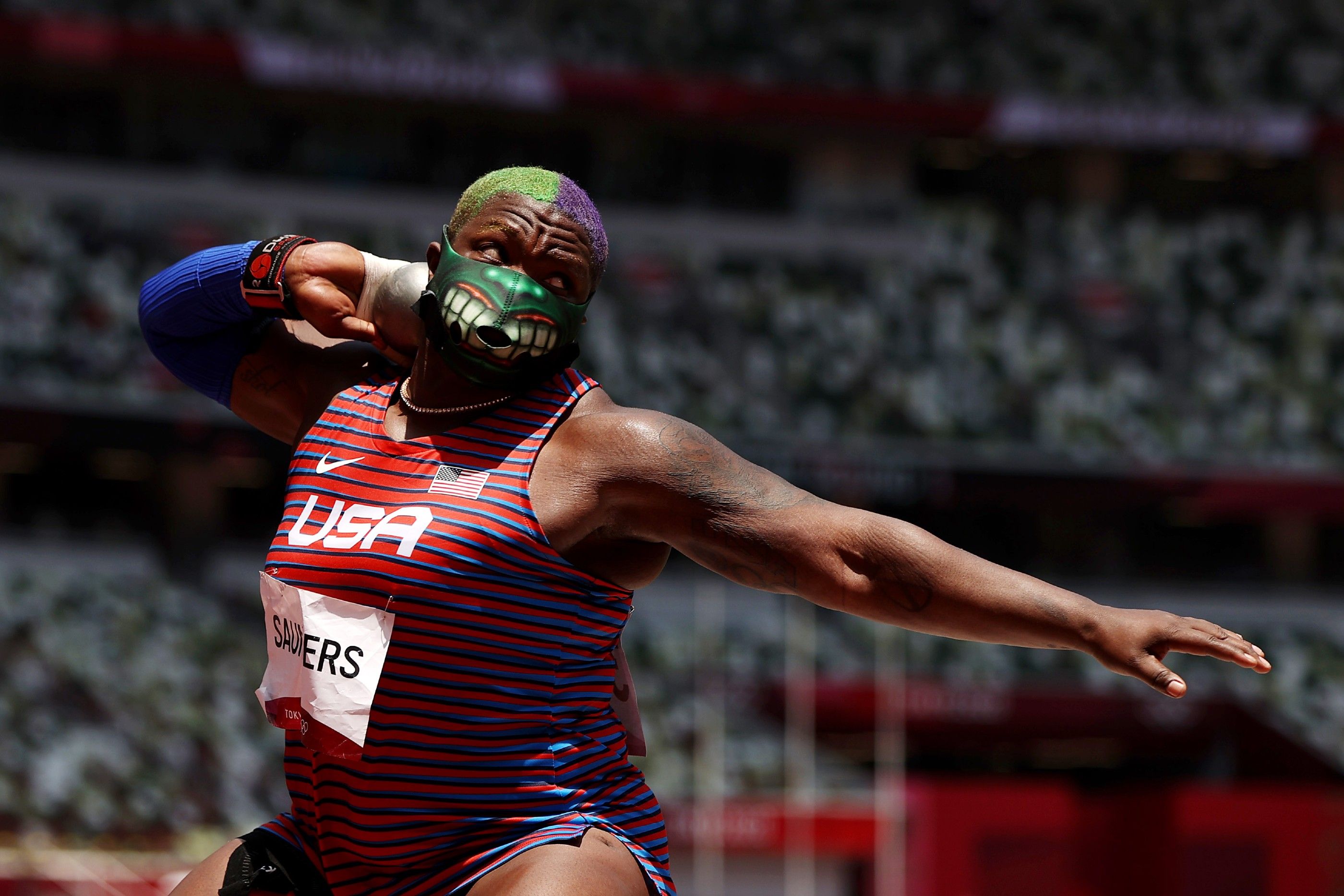 "It was honestly a fairy tale," she says of the past year. "This season definitely panned out. It took a lot of work, but it was worth it."
But just days after winning an Olympic medal, Saunders received the devastating news that her mother had died suddenly and unexpectedly.
"The process of losing my mom and still doing interviews about it was tough, especially in the beginning," says Saunders. "But it was something that I had to do for my grieving process because I want to continue to share her memory and her light.
"I'm just so thankful that my mom got a chance to share that moment. The day after the Olympic final, I was on the phone to her for about an hour and a half. I was getting hundreds of calls and messages from other people, but I was like, 'whatever, I'm talking to my mom'. I'm just so thankful that I got the chance to have that moment. Granted, it wasn't in person, and I would have loved to have had a big hug from her, but knowing that you've made your parent as happy as they could be in their last moments, what more could you ask for?
"Especially with everything that's going on right now, I feel like you have to find beauty in the madness in some way, shape or form," adds Saunders. "That's the only way you can mentally get through."


For all of you that can. Could you hug your mother's a little tighter the next time you see her. The only thing that's getting to me is that I didn't get this hug when getting home. pic.twitter.com/UpNLZ7TAOv

— Raven HULK Saunders (@GiveMe1Shot) August 9, 2021

In the aftermath of the Olympics, Saunders was inundated with messages of support, from people offering their condolences following her mother's death, to new fans who had been gripped by Saunders' eye-catching face mask and dyed hair during the competition, and others who could relate to Saunders from having been oppressed in some way.
"The reaction I've had since Tokyo is more than I could ever dream of," says Saunders. "I always said that if I could help save just one person, then I'd feel like my job is done, because somebody helped to save me. Through messages and posts on social media, people have really expressed their gratitude for what I've done. It's just mind-blowing.
"I've always been willing to sacrifice myself for the greater good of others, especially if it could help advance something later on in the future," she adds. "Just seeing these beautiful people embracing the fact that they have to love themselves is the best thing about throwing this little four-kilogram ball that I could ever ask for."


Self help
Had she been able to travel back in time and speak to her younger self, Saunders would have offered three pieces of advice.
"One, learn to love yourself," she says. "Two, take your mental serious. And three, always believe in yourself, even when other people stop believing in you."
A staunch advocate for mental health, Saunders believes everyone should pay as much attention to their mental wellbeing as they do their physical condition.
"We, as people – whoever you are and wherever you are in the world – don't take mental health as seriously as we should," she says. "For me, especially how I grew up as a young black person in America, mental health was something that was never talked about, so I never thought about it and I never was forced to face it until I was forced to.
"But from going through therapy and dealing with childhood traumas, I've learned about my triggers and the different signs of what my depression looks like and the things to look out for when things are getting bad. I've also learned strategies like: call your people, check in on yourself, make sure you're meditating, do yoga, make sure you're making time for yourself, make sure you're eating right and getting enough sleep.
"These are all things that go into making sure that I'm mentally well rounded. As an elite level athlete, being in top physical shape is always top priority. I have to be lifting, running, throwing and jumping to the best of my ability. But a lot of us don't take our mental health as seriously as we do our bodies, and this is where we're falling short."


Thank you guys. Stay tuned.

PHASE 21 😤😤😤#grind #TrackandField pic.twitter.com/FsSLdmI4bw

— Raven HULK Saunders (@GiveMe1Shot) August 14, 2021

She was particularly devastated when the sport lost Cameron Burrell earlier this year.
"For me it was painful to see what he went through," says Saunders. "I wonder if he was in that same place that I was in, where you're used to being in a light and then you're not there and things are going on but no one sees exactly what it is you're going through. And it hurt that while I was on this crusade of trying to talk about mental health, we lost a peer."
But if anything, it has made Saunders more determined to help the next generation of stars.
"Seeing so many great young track and field athletes now in this sport, I can't wait to see what they go on to do," she says. "And I want to be able to help guide them mentally, especially in terms of being able to know what to expect from that transition."


Back where it all began
Saunders may be in the midst of post-surgery rehab (the labrum on the right side of her hip was recently operated on), but she's already excited for what next year has in store, in particular the World Athletics Championships Oregon22.



"It's exciting, Eugene is my baby – that place has been good to me," says Saunders, whose achievements at Eugene's Hayward Field include her world U20 silver in 2014, her US U20 record of 18.35m, two NCAA titles and her lifetime best of 19.96m. "Tracktown is a place where track and field athletes feel like celebrities. And I cannot wait for everyone in the world to get a chance to see the new facility.
"It would mean the world to win a medal there," she adds. "Making the transition from a World U20 Championships medal to a World Championships medal as a senior, and being able to see how far I've come and how much I've grown on that journey, it's crazy to think about but it's a nice target and it's my main goal right now. It's certainly helping me to push through this rehab; I can see it, I can feel it, I can touch it, I can taste it. Man, I'm ready for it."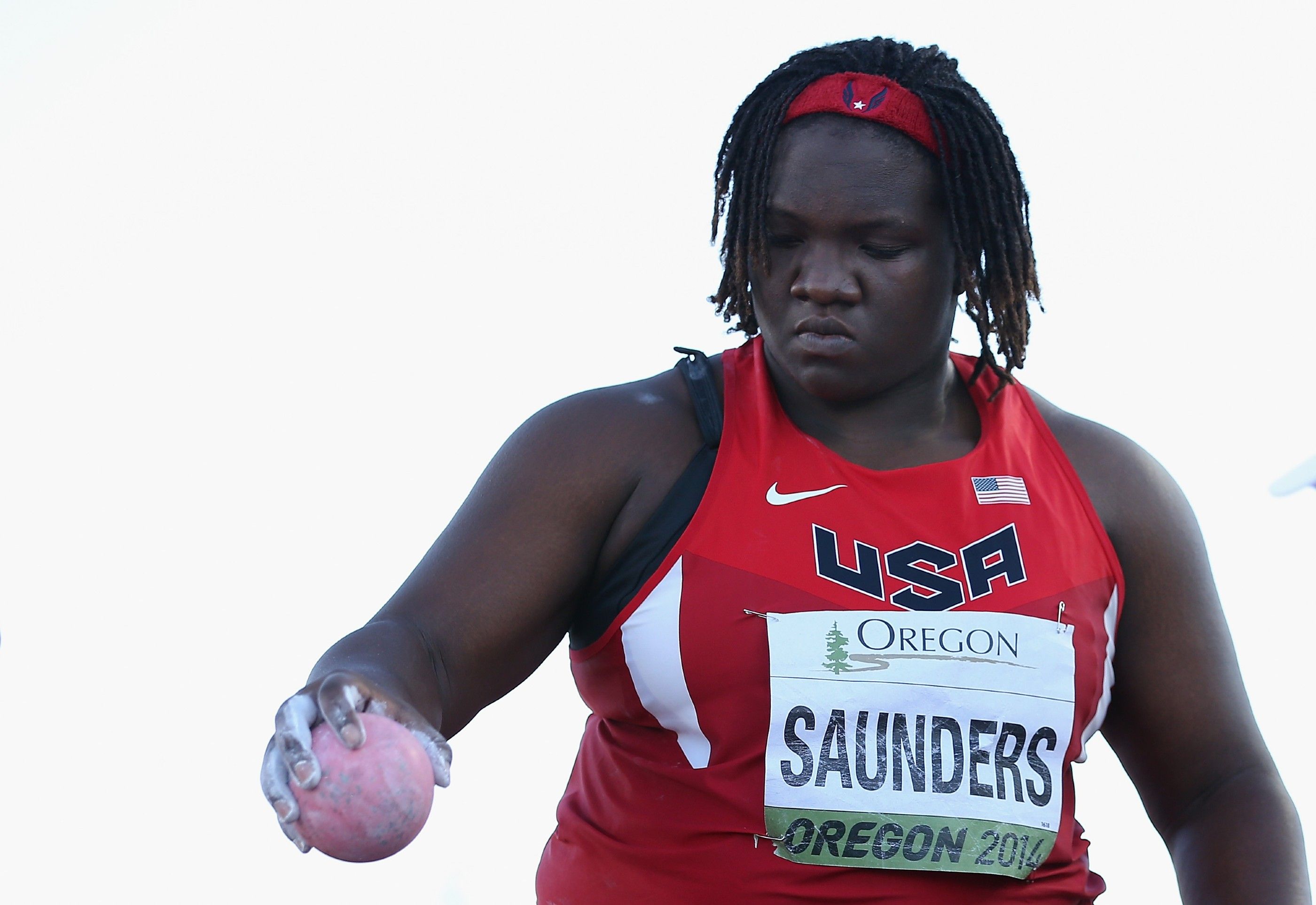 Having come so close in 2021, Saunders would love to join the 20-metre club. But she's also in no rush; as far as she's concerned, she's in it for the long haul.
"I fouled 20 metres too many times this year, but I know it's there," she says. "I have some pretty big goals and I'm really excited for where I'm going. I feel like if I get a good season, the world will be shocked by the distances I'm able to hit.
"I've already done the math and I believe I could be in the sport for another 11 to 15 years," she adds. "Shot putting is one of those events where, as long as you don't have any freak accidents, you can be in it for a while. I'm just 25, but your prime as a shot putter is in that 32 to 36 range. And man, I can't wait to turn 32 (in 2028, the same year that Los Angeles will host the Olympic Games).
"I love the sport and I'd like to do many great things."
Jon Mulkeen for World Athletics