US 400m hurdler Shamier Little (© Getty Images)
If there's one thing Shamier Little knows how to do, it's how to bounce back.
Ever since her early days in the sport, she has had an innate ability to use a disappointing performance as motivation for an exceptional one. In fact, it's how she became a 400m hurdler in the first place.
Back in 2011 when she was aged 16, Little contested the 100m hurdles and 400m flat at USA's trials for the World U18 Championships. She narrowly missed making the team in both events, finishing sixth in the 100m hurdles and fourth in the 400m. Soon after, she decided to combine her hurdling ability with her natural one-lap sprinting talent to see what she could do in the 400m hurdles.
"Just a few weeks after I got smacked at the World U18 Trials, I became national age-group champion in the 400m hurdles and ran a world-leading time for youths (57.83)," recalls Little. "So then I was like, 'ok, this is my event now'. From then on, it was exciting."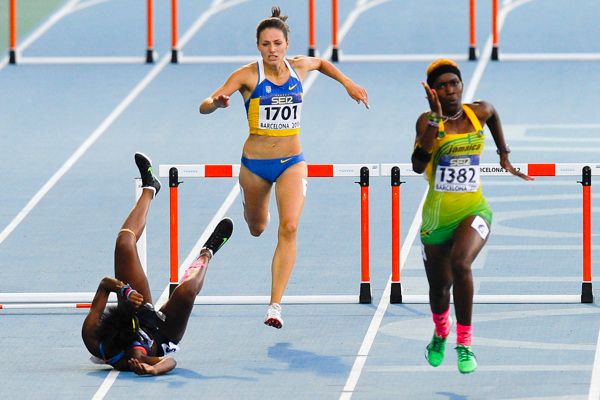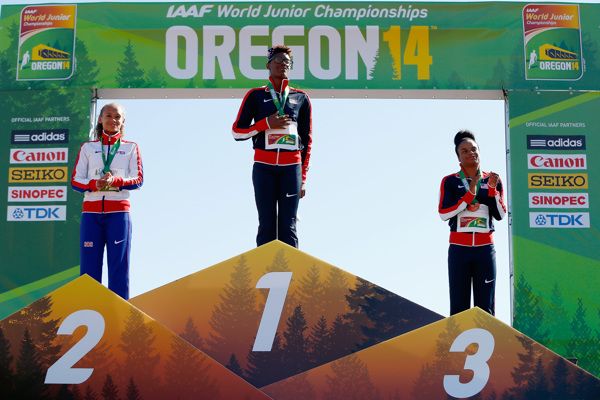 In 2012, her first full year of training for the event, she became US U20 champion, booking her spot on the team for the World U20 Championships in Barcelona. Despite being the youngest in the field by a long way, she looked to be on her way to gold and a huge PB in the final, but she hit the last hurdle and crashed to the ground.
Fortunately, Little was young enough to be eligible for the next edition of the World U20 Championships, which were on home soil in Eugene, so she channelled all of her energy into a moment of redemption in 2014.
Eugene's Hayward Field played host to her three biggest races that year, and Little was victorious in all of them. She won the NCAA title in a lifetime best of 55.07, secured the national U20 title in 55.43, and then won gold at the World U20 Championships in 55.66.



From there, Little transitioned seamlessly to the senior ranks and in 2015, aged 20, she retained her NCAA crown, won the US title, earned Pan-American Games gold and took silver at the World Championships in Beijing.
After winning her third consecutive NCAA title in 2016 with a world-leading 53.51, Little was tipped to be a medal contender at the Olympic Games later that year. But she didn't advance beyond the semifinals at the US Trials, bringing a premature end to her Olympic dreams.
Once again, though, Little turned things around and ended her season on a high by winning at the Diamond League meeting in Zurich, beating Olympic silver medallist Sara Slott Petersen.
But in 2021, within the space of one week, Little experienced the crushing disappointment of missing out on another Olympic team and the sheer elation of producing one of the fastest times in history in the 400m hurdles.
Having opened her season with 53.65 and 53.12, Little headed to the US Olympic Trials in the form of her life. She comfortably won her heat (55.22) and semifinal (53.71), but, up against the likes of world champion Dalilah Muhammad and future Olympic champion and world record-holder Sydney McLaughlin, Little finished an agonising fourth in the final behind Anna Cockrell, missing out on an Olympic berth by just 0.15.
"I feel like I've been learning every hard lesson there is to learn about this race, probably more than anyone else," says Little.
"After the Trials I spent a few days crying and watching the video, trying to figure out what went wrong. It's never a case of me questioning my coaching or whether I'm strong enough or fit enough. I'm more than capable; I just needed to figure out what went wrong.
"Coming back on the Diamond League, I was like, 'this is my Olympics now'. I kind of had the same goals, I was just missing a little piece of the puzzle. It was all about showcasing what I've been working on. Unfortunately we didn't get to see that at the Trials on that specific day. You want every day to come together, and some days it does, but some days it doesn't.
"In Stockholm, I wasn't thinking about redemption necessarily. I just thought, 'ok, this is a race and you can get to apply it'. So I applied it in that race."
In one of the most thrilling duels of the Wanda Diamond League season, Little finished just a whisker behind Femke Bol in Stockholm, clocking 52.39 to the Dutch runner's 52.37. It elevated Little to fifth on the world all-time list and was within half a second of the 51.90 world record McLaughlin ran at the US Trials.



"When I crossed the line and finished second, it felt like there was so much more left in me, so it didn't even hit me at first," says Little. "But then I saw that I ran 52.3 and I was like, '****ing right, 52.3!'
"It was there all along.
"I was questioning the type of athlete I am, but I was determined to figure it out," added Little. "And I figured it out."


Full circle to Oregon's oval
As rewarding as the race in Stockholm was, Little knows her real shot at redemption will come next year when Eugene hosts the World Athletics Championships Oregon22.
Despite what happened at this year's Olympic Trials, Eugene has provided the setting for many of Little's biggest successes. Her three NCAA crowns, her world U20 victory, and her 2015 US title were all achieved at Hayward Field. And next year it will host the USA's first ever senior World Athletics Championships.
"It's huge," says Little. "Girl, make this team, PLEASE! Oh my goodness, make this team.
"If I wasn't locked in enough this year, I'll definitely be locked in even more so next year. I want to feel that moment of redemption. I'm looking forward to back-to-back years, I don't want to feel like I'm sitting twiddling my thumbs. I'm definitely looking forward to being on home soil, no 10-hour flights overseas. It's just a two-hour flight up the street, I'm here, let's go."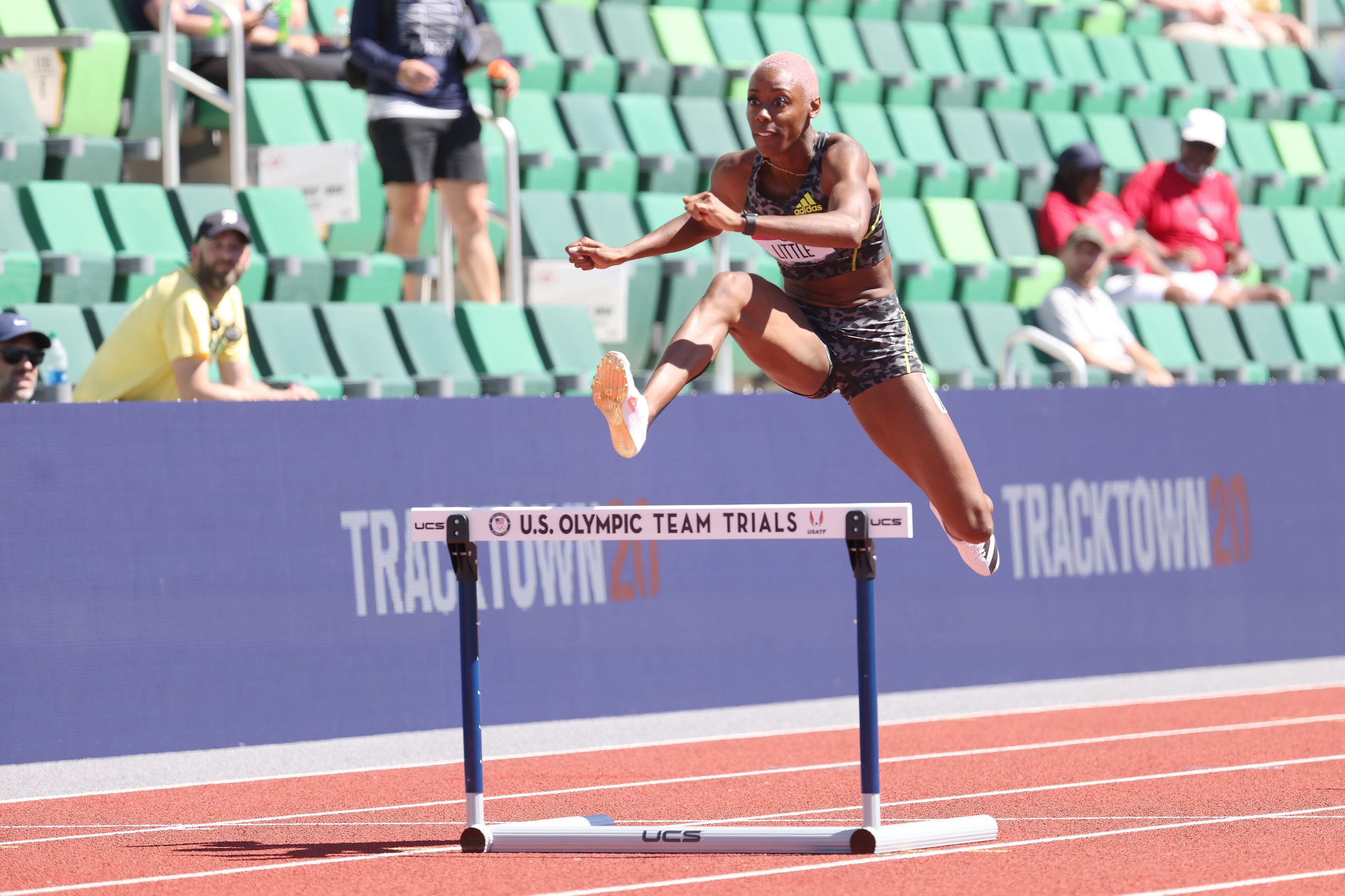 Having support from fans and teammates also helped Little after the US Trials.
"I searched my name on social media and I saw there was so much love for me," she says. "I was like, 'argh, I'm sorry guys! I'm gonna go get this for y'all, I'm gonna get this for me'.
"A lot of people spoke to me or sent me messages, but I only responded to a few, and Keni (Harrison) was one of those. She set the tone for bouncebacks when she went and broke the world record in 2016. That year we were both world leaders going into the Trials but neither of us made the Olympic team. After that, she was just fed up, she was like, 'I'm getting to the finish line'. And that's how I feel now.
"Life is short and anything can happen – I wanted it now! But good things come to those who wait, and this is teaching me a lot of patience. And this is kind of the age where you get it together.
"In 2016 I didn't make it out of the semis. But I can look at myself and see that I've grown. This time I'm older and wiser."


New person
Around about the time when Little started training for the 2021 season, she wrote a note on her bathroom mirror.
It read: "I am the best. 52.0"
At the time, the world record stood to Muhammad with the 52.16 time she ran to win the world title in Doha. Little's lifetime best was 52.75, but she knew she was capable of more.
"I never used to set goals for myself because I wanted to surprise myself on the track," says Little. "But I really needed to recognise my true potential, so I wrote that message on my mirror so that I was able to see it every morning. Then last Christmas my mom bought me a light box and she put those words on there. My friend then persuaded me to include that board in a photoshoot. I was scared at first – it felt like a lot of pressure because everyone would then know I was chasing a 52.


View this post on Instagram

"This is my first year of doing affirmations. In fact, this is year one of being a professional for me; I don't know what I've been doing these past few years but this year I've been working so hard."
Ditching her glasses and bow – which had been something of a trademark for Little up until recent years – was almost something of a symbolic move, marking a new chapter in her career. But the biggest changes occurred in the off season and through lockdown.
"Track is an absolute sport; what you put in is what you get out," said Little. "So this year I made a vow to myself that I was going to put more into it. I wanted to go into each meeting knowing I'd done everything I could possibly do.
"Training during quarantine really brought our group closer together," added Little, who didn't have access to a track between March and July in 2020. "Me, Taliyah (Brooks, her training partner) and coach (Chris) Johnson thugged it out through those six months. We were running in the streets, in the parks and in the fields. We did weights early in the morning together, we did meal prep together, trained together and motivated each other. We adapted and made the best out of a situation.
"It really helped. It locked me in and there were no distractions. Then when we came out of that, I was so strong."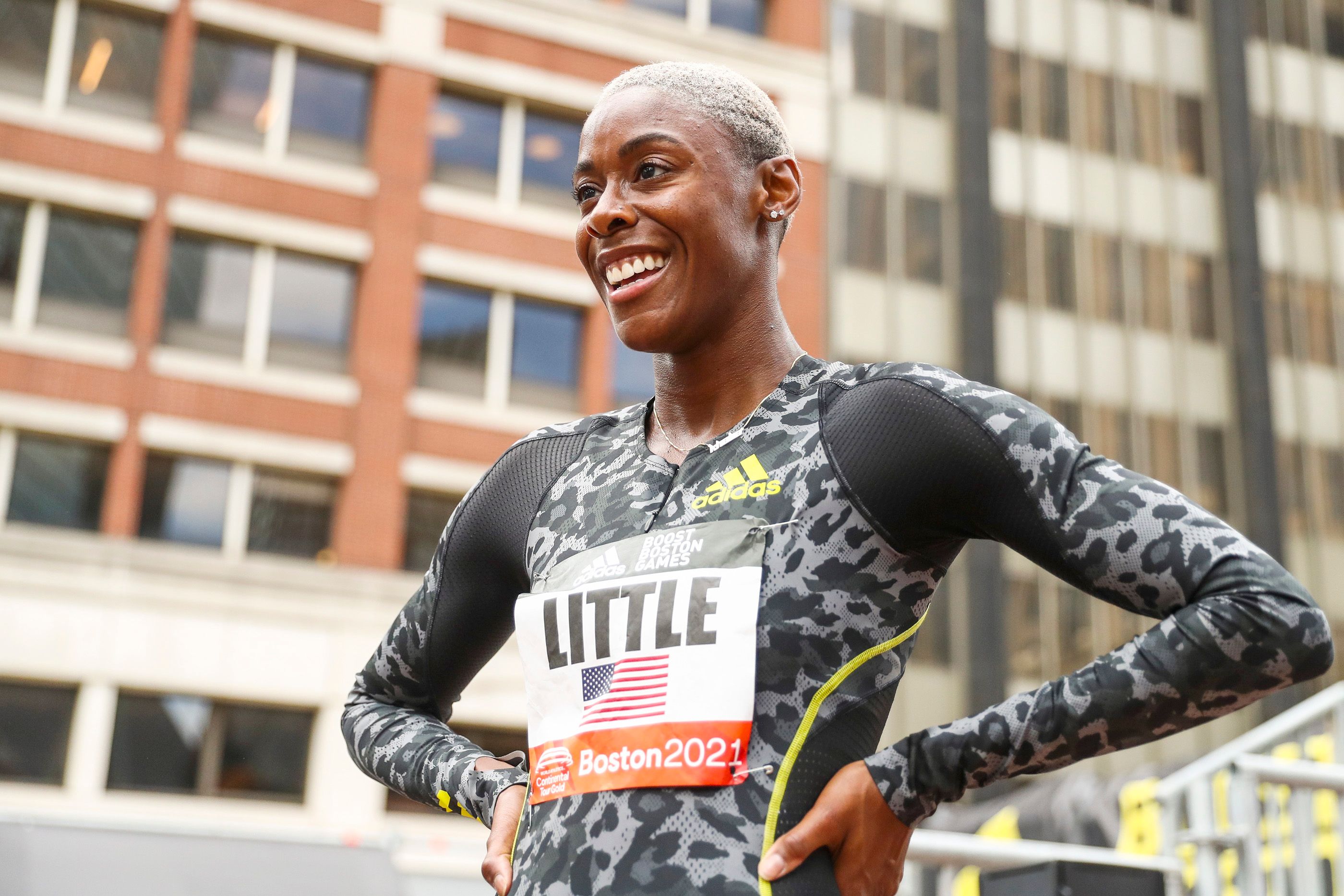 Little's first competitive outing of the year – a 52.63 clocking for 400m indoors – didn't seem particularly notable, but it was a scrappy race and she knew it wasn't a true reflection of her fitness. After that, she won her next four 400m flat races – two indoors (51.33 and 50.57) and two outdoors (50.19 and 49.91) – and set PBs in all of them.
"I've simply been training to the level of athlete that I am. My approach was to simply get it done; no complaining, no harping on. Now when I'm told what my training sessions are, I'll just be like, 'okay' and get through it with no questions asked.
"I remember I used to be so nervous about going to practice. But now I'm there 30 minutes before, rolling out. I'm eating things so that I'm well fuelled for each session.
"It's a whole different mind-set, a whole different person."


A piece of the action
Three of the four women ahead of Little on the world all-time list are the athletes who took the medals at this year's Olympic Games: McLaughlin (51.46), Muhammad (51.58) and Bol (52.03).
In almost any other era, Little would easily be the world No.1. But she welcomes the unprecedented depth in the 400m hurdles.
"It's crazy," says Little, who this year became the only woman in history to break 50 seconds for 400m and 53 seconds in the 400m hurdles in the same season. "Ever since 2016 when Dalilah came along, you basically need to run in the 52s just to win the US Trials or to win a medal (at major championships).
"I love the spotlight the event is getting and I love the love that we're all getting. When you compete alongside so many amazing talented athletes, you can't even get mad when you finish behind them in a race. You're just like, 'good job, girl!' We're all still pretty young too, so this is going to be going on for a while. It's crazy, I love it."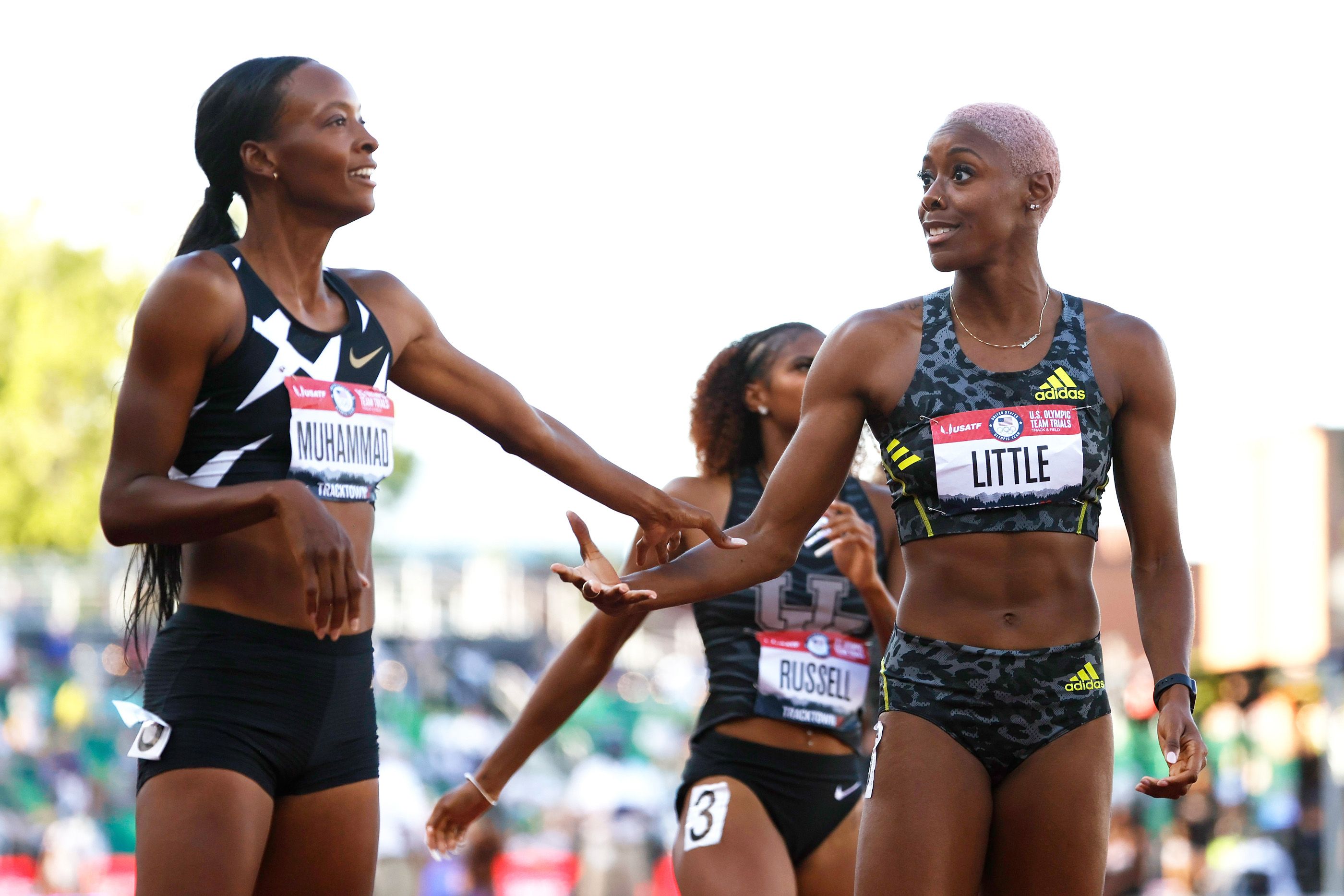 While Little had several enthralling duels with Bol on the international circuit this year, her races against the likes of Muhammad and McLaughlin tend to be restricted to just the bigger occasions.
"We've all beaten each other in the past and we're all so competitive," she says. "And the more competitive it becomes, the more we're saving ourselves for each other. Imagine the four of us in a race every single week. But when we do line up against each other, it's a whole different atmosphere."
Little would, however, love to one day team up with McLaughlin and Muhammad in a 4x400m.
"The 400m hurdlers have been holding their own in that event in recent years," she says. "I'd love to see a US relay team made up entirely of hurdlers. We could get our own medal.
"I run a great first leg," added Little, who ran a 50.83 first-leg split at the 2015 Pan-American Games, the fastest split of the team. "I've not done a relay on the world stage, but I do want to do that. I'm acting like I don't, but I do. I really do."


View this post on Instagram

Given her sub-50 speed, Little could even be a contender in the 400m flat. Her main focus, though, remains the 400m hurdles and achieving the goal that continues to glow on her light box at home.
"Until I accomplish what I'm trying to accomplish in the hurdles, I'm dedicated to this event," she says. "This year was just the beginning, getting my feet in the water. I'm a 400m hurdler; I want what I want in this event.
"I want to live up to my full potential, I want to run as fast as I possibly can, I want to have the perfect race. I'm going to say it: I want to break the world record too. I want in on the action.
"It's a battle, but it's so rewarding. And I'm getting so much closer."
Jon Mulkeen for World Athletics