Damian Warner in the decathlon 110m hurdles at the Tokyo Olympic Games (© AFP / Getty Images)
Roughly one year before the Tokyo Games, Damian Warner feared his Olympic dream was over.
Having finished fifth on his Olympic debut in 2012 and third in 2016, everything had pointed towards a career peak in 2020. The Canadian decathlete had reached the podium at three of the past four World Championships, and had been one of the most consistent combined events athletes in the world for the best part of a decade, yet was still missing a global title from his medal collection.
But with all the uncertainty brought on by the pandemic, Warner's golden ambitions started to fade.
"When Covid hit, things were shut down for a little while and we didn't really have a place to go," says the 31-year-old. "Luckily enough for me, the community of London, Ontario, came together and built a makeshift facility that was serviceable. But even then, I didn't fully buy into it. There were a couple of times when I nearly broke down in tears because it felt like my dreams were walking away from me and I couldn't do anything about it.
"I told Gar (Leyshon, his coach), 'I don't think this is conducive to an Olympic gold medal. I don't see my competitors training this way, we're not able to go to training camps. I just don't see it working'.
"Luckily Gar and Dennis (Nielsen, assistant coach) are stubborn and persistent," adds Warner. "They wouldn't let me give up and they made sure I was at practice, doing what was required. I eventually thought, 'I want to be an Olympic gold medallist; if this is the only thing I can do, then I'm going to do it'."


View this post on Instagram

From that moment, Warner became more focused than ever on his Olympic goal. The facilities – a 66-year-old unheated ice hockey arena – and circumstances may not have been ideal, but he did his best to make it work, aware that most of his competitors had to endure similar challenges.
When he lined up to compete at the prestigious Hypo Meeting in Götzis in May 2021 – his first decathlon in almost 20 months – Warner was raring to go. He started with a 10.14 clocking in the 100m, just 0.02 shy of his own world decathlon best, but then entered the record books in the second discipline, sailing out to a world decathlon best of 8.28m in the long jump, breaking the long-standing Canadian record in the process.
Day two started in similar fashion as he sped to 13.36 in the 110m hurdles, another world decathlon best, and – in relative terms to the individual world records – the highest quality performance in decathlon history. After safely navigating his way through the pole vault, it was clear Warner was on for a huge score, but a slightly below-par 59.46m throw in the javelin dented his chances of breaking the exclusive 9000-point barrier.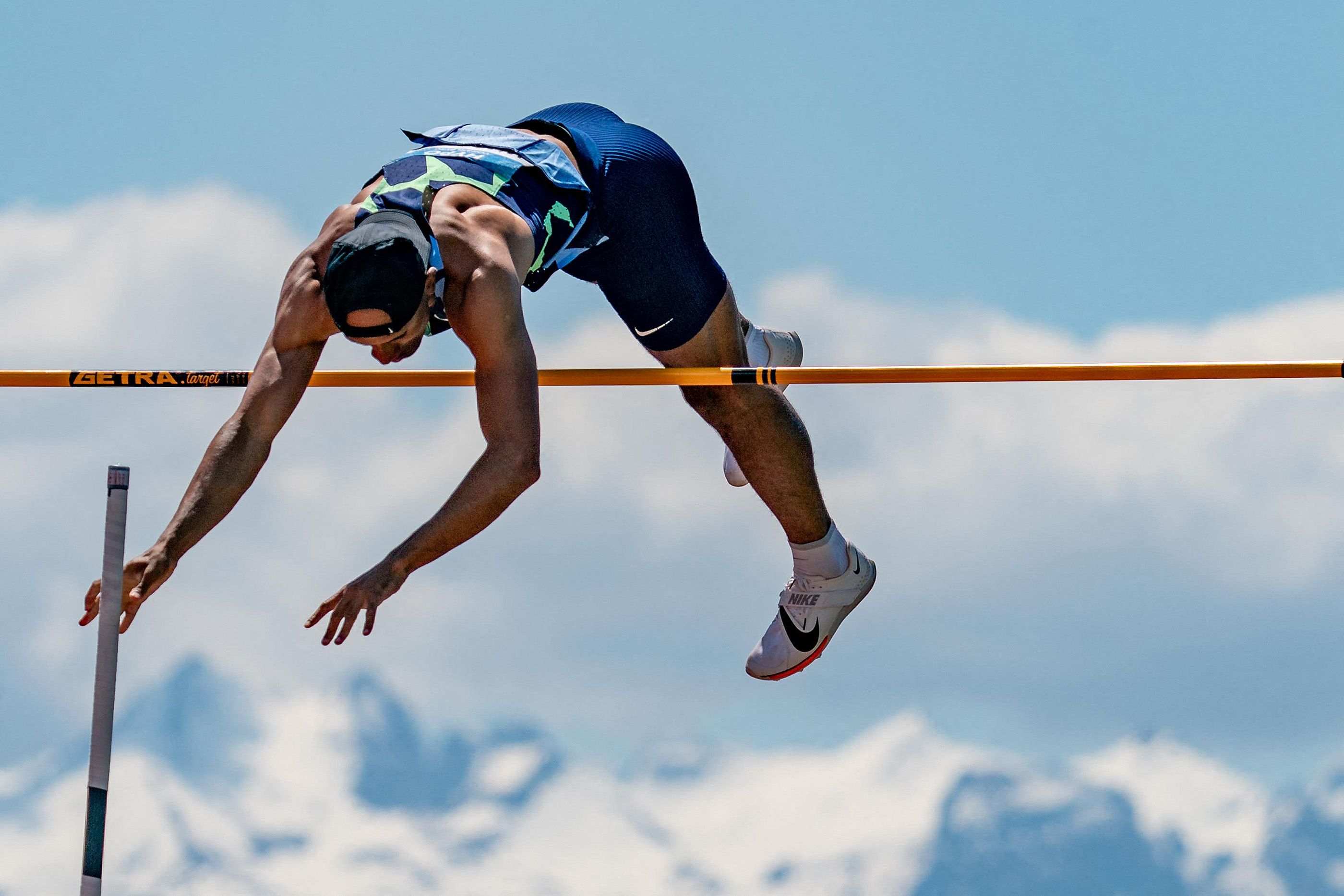 Damian Warner in the decathlon pole vault at the Hypo Meeting in Gotzis (© AFP / Getty Images)
He tried to make up the deficit in the 1500m, producing the third-fastest clocking of his career (4:25.19) but eventually came up just short of his target, winning with 8995.
"I always felt capable of scoring 9000 points," says Warner. "I was happy with my score in Götzis this year because that's a mark that not too many people have been able to achieve. But I did worry that I may not ever get the opportunity again (to produce a big score). There was a thought in the back of my head, telling me, 'that's it; you only get one shot at this – there's a reason why only three people are in that situation'."
But, not content to simply do what was required to win in Tokyo, Warner went into the Olympic Games with the same drive and ambition he'd shown since that turning point in 2020.
He was once again strong in his three best events, equalling his own world decathlon best in the 100m (10.12) and then setting Olympic decathlon bests in the long jump (8.24m – better than the bronze medal-winning mark in the individual event) and 110m hurdles (13.46).
His shot put (14.80m), 400m (47.48), discus (48.67m), pole vault (4.90m) and javelin (63.44m) performances were all up on his marks from Götzis, putting him on pace for a 9000-point score. With one event to go, he had already amassed 8280 points – a score that, incredibly, would have ultimately been sufficient for a top-10 finish.
But to hit his target – rarefied decathlon air that had been reached by just three other men in history – Warner needed to run 4:33.8 in the 1500m; no mean feat for an athlete who had just completed nine disciplines of intense competition on the biggest sporting stage.
In the moments before the 1500m in Tokyo, Warner cast his mind back to his last Olympic outing.
"In Rio in 2016 I believed that I could be the Olympic gold medallist," says Warner. "Obviously it wasn't on the cards then but I remember sitting on the ground after the 1500m there and being so disappointed. I had the bronze medal but it wasn't what I wanted; I wasn't proud to be an Olympic bronze medallist.
"We worked really hard since then to get to this point. I knew that when I went out there (for the 1500m in Tokyo), I was going to give it my all. Gar and I had a plan. I knew that I wasn't going to run as fast as I did in Götzis, but I knew that if I could go through 1200m in 3:39, then I could just kick it and get the time I needed. But I went through 1200m in 3:43 and was like, 'what are you doing?!' So I kicked and I fought and I had nothing left at the end, but I got it by just a little bit. It was an awesome experience."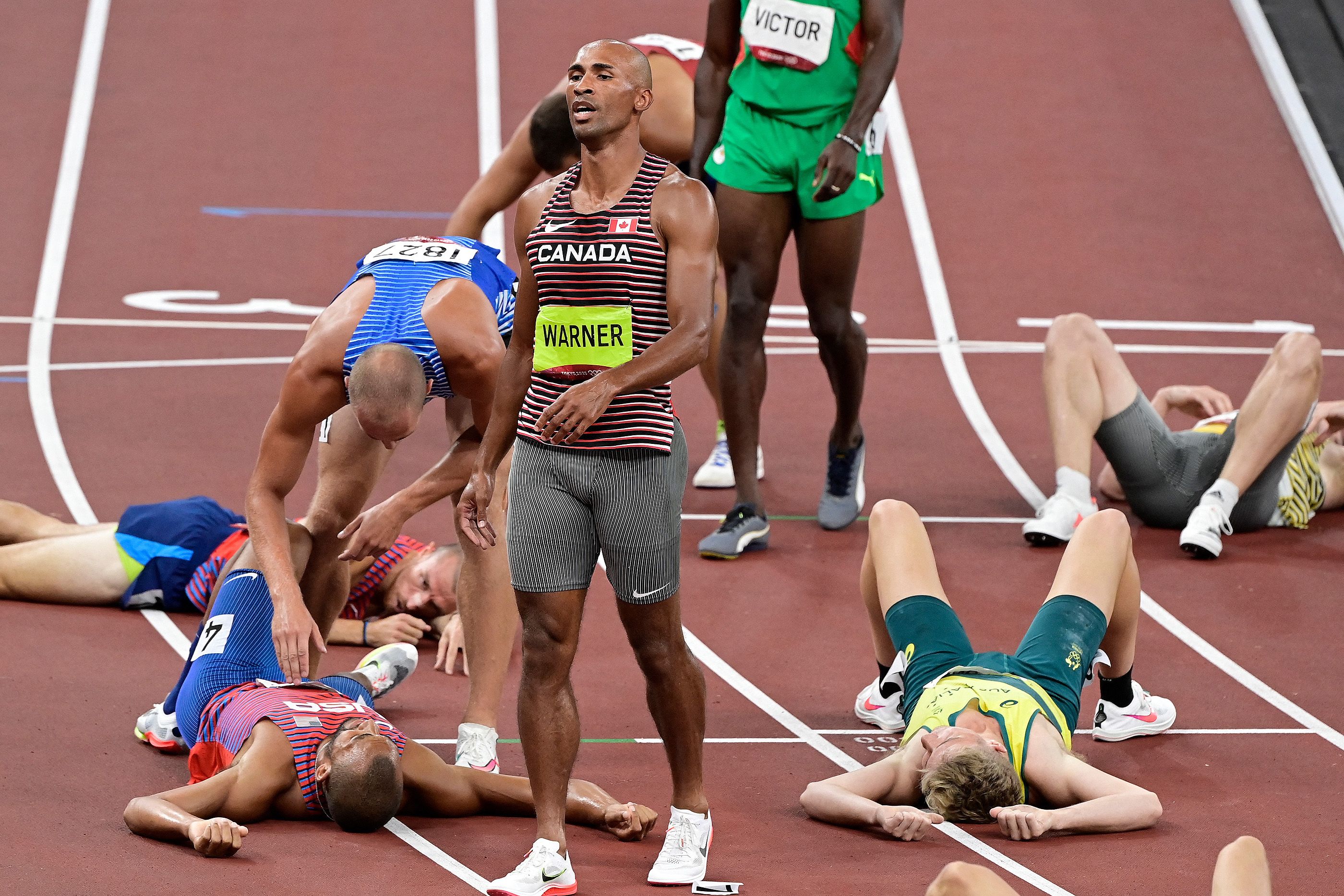 Damian Warner at the end of the decathlon at the Tokyo Olympic Games (© AFP / Getty Images)
His 4:31.08 run brought his winning tally to 9018, smashing the Olympic record and consolidating his position at No.4 on the world all-time list behind Kevin Mayer (9126), Ashton Eaton (9045) and Roman Sebrle (9026).
"All the dreams I had as a kid finally came true," says Warner. "I don't really know how to react to it; it's not something that I've ever experienced before. It's just special."
From school projects to project 9000
What made Warner's Olympic victory so special is that he'd been coached to it by two of his high school teachers.
"I don't know the stories of all the other Olympians, but there probably aren't many who are being coached by their English teachers or their school gym teachers," says Warner. "It's an incredible story and an incredible moment."
Gar Leyshon had started out as Warner's English teacher at Montcalm Secondary School in London, Ontario. Dennis Nielsen was the PE teacher there and started the school's track and field team, which Leyshon got involved with. Warner was encouraged by the pair to pursue the sport and they have been coaching him ever since, a relationship that has now spanned 15 years.
To begin with, neither Leyshon nor Warner knew much about the decathlon. "We had a lot of optimism and a lot of goals, but we didn't really know how to do it," recalls Warner. So they turned to YouTube and would watch videos of all the past greats.
By the time he reached the upper end of the U20 age group, Warner had established himself as one of the top sprinter-jumpers in the country. A couple of years later, in 2010, Warner made his decathlon debut at the Canadian Championships on a windy, rainy pair of days at York University in Toronto. He emerged with the silver medal and a respectable score of 7449, finishing behind Canadian international Jamie Adjetey-Nelson, who'd go on to win Commonwealth gold later that year.
The competition lit a spark within Warner.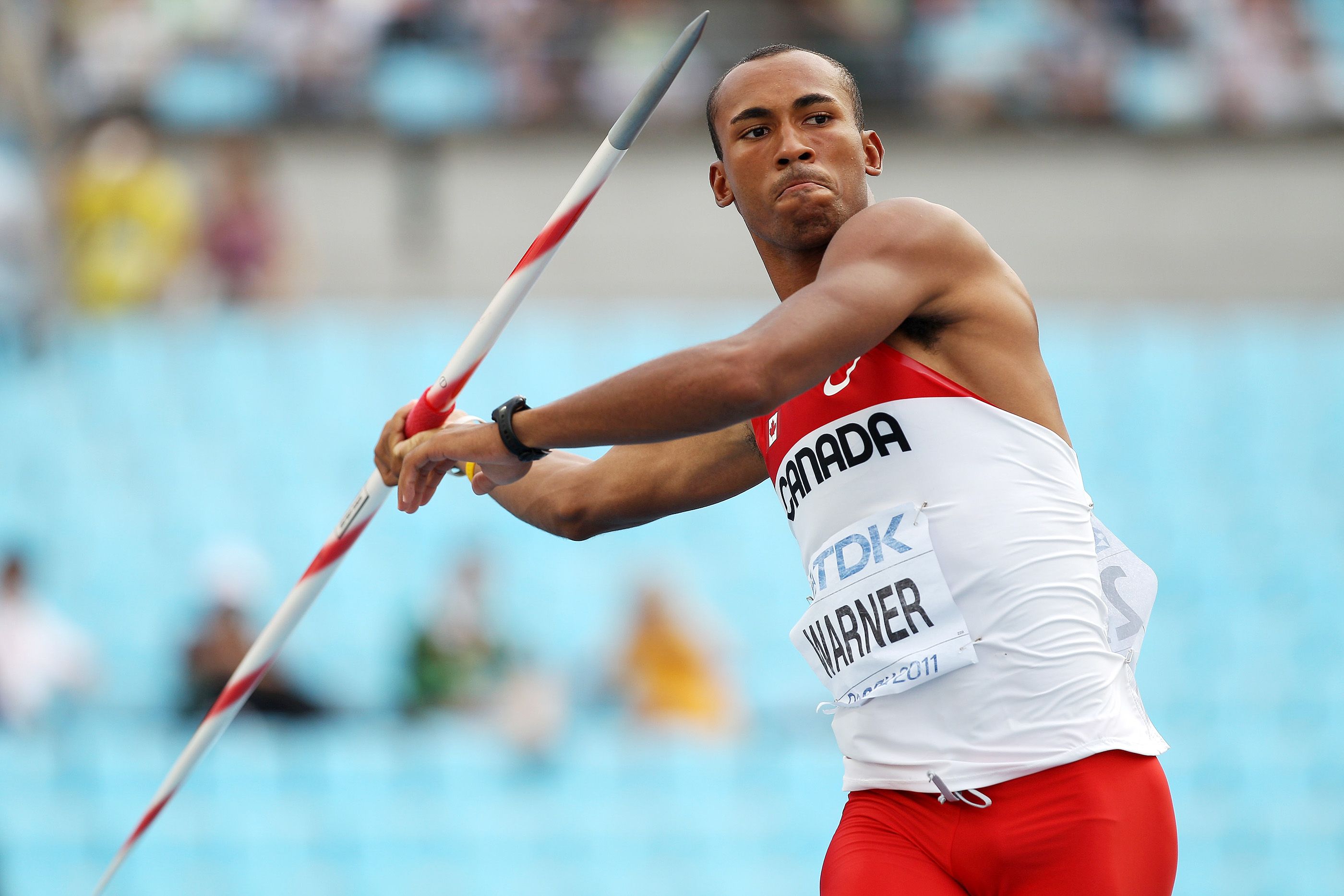 Damian Warner makes his global championships debut in Daegu in 2011 (© Getty Images)
"Gar and I are pretty ambitious and optimistic," says Warner. "That first year we started training for the decathlon, Gar was like, 'we're going to be an Olympic gold medallist, we're going to score 9000 points, we're going to break the world record'."
Just one year later, Warner won the national title with his first 8000-point score, took silver at the NACAC Championships and represented Canada at the World Championships in Daegu. His Olympic debut followed 12 months later, then in 2013 he won world bronze, kick-starting a steady stream of championship medals that culminated with his Olympic gold in Tokyo.
"Find someone that believes in you more than you believe in yourself," says Warner. "Ride their coat tails and trust them and follow their plan. Anything is possible."
The world's greatest?
Each time an Olympic decathlon champion is crowned, it reignites the debate as to whether the gold medallist instantly earns the honour of becoming the world's greatest athlete. But, in his typical self-deprecating style, Warner argues that he's not even the best at his own event.
"I don't know if you can call the Olympic decathlon champion the best athlete in the world, just because you have guys like Kevin (Mayer) who has scored 9126," says Warner. "I just scored 9000 points for the first time, and just barely, but this guy has scored 100 points more than that. There are incredible athletes like him and like Ashton (Eaton) who came before him.
"It's almost a shame that me, Kevin and Ashton weren't at our best at the same time," adds Warner. "I think that we could have really propelled each other. Look at the men's and women's 400m hurdles – when you have a group of people like that, all at their peak, then great things can happen.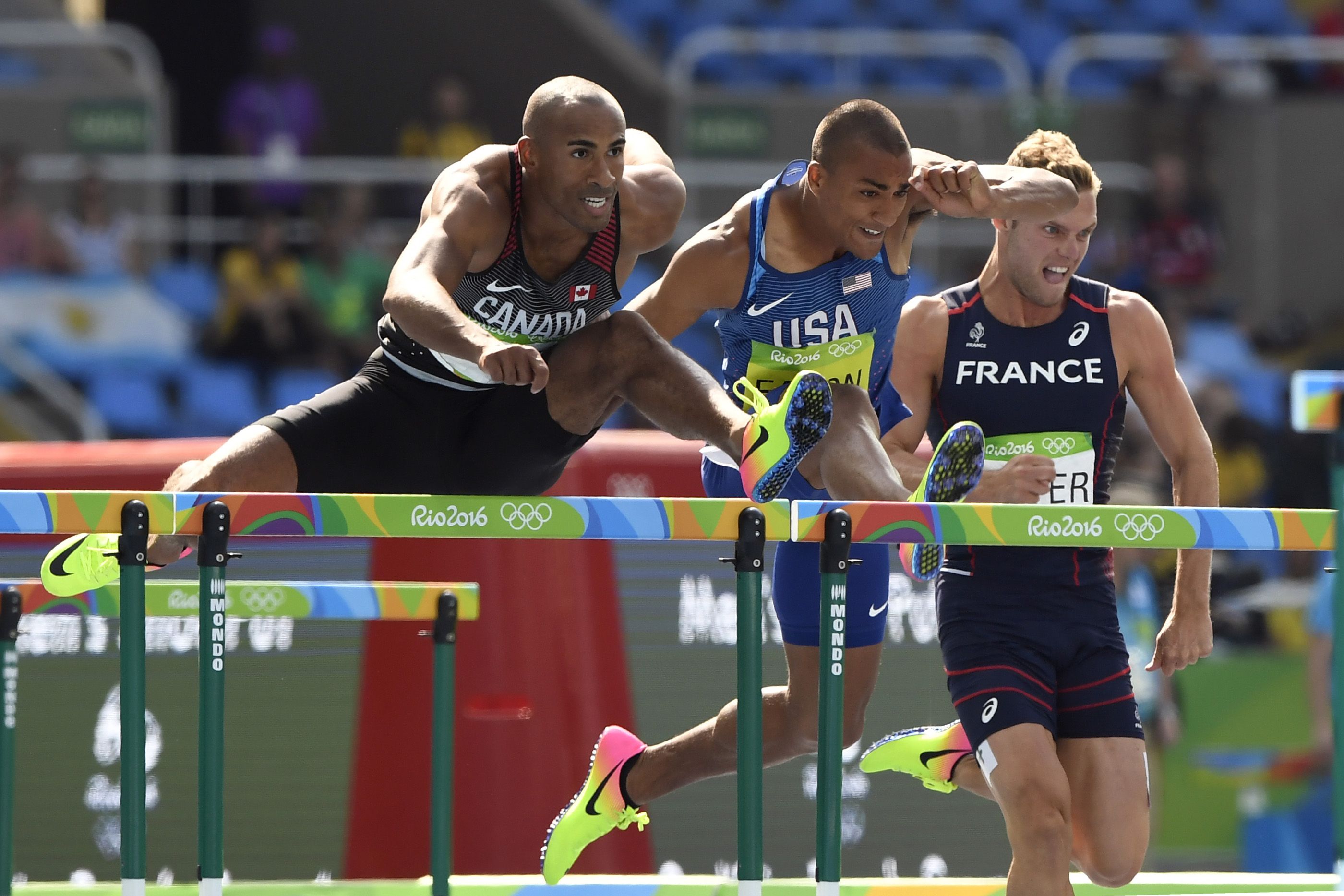 The Rio 2016 Olympic Games: the last time Damian Warner, Ashton Eaton and Kevin Mayer competed against one another (© AFP / Getty Images)
"It's almost like we (Mayer and Warner) let Ashton down in a way because we excelled later on. I think that he was able to score much higher than he did, I think that Kevin is also able to score much higher than he has, and I think I am too. But maybe the athletics media can write a bunch of articles and convince Ashton to make a comeback."
Eaton in particular has been one of Warner's idols throughout his career. He, along with the likes of Trey Hardee, Bryan Clay, Daley Thompson and Dan O'Brien, was one of the athletes Warner would study during his YouTube binges.
"We'd try to take as much as we could from those guys," says Warner. "Over the years you just piece together who you are as an athlete, but it's all those guys that created me. It's time that I started to create myself to hopefully inspire the next group of people and be an inspiration for guys like Pierce (LePage) and Ashley (Moloney)."
One big team
Leyshon and Nielsen are just two of the key players in Warner's huge support team.
Vickie Croley leads Warner's running and jumping programme, while Dave Collins guides him in the pole vault and Maria Mountain is his strength coach. Beyond the coaching set-up, there are also doctors and physios. And then there's the additional support provided by his family.
"It's crazy to me to think that I'm just one individual yet I've had so many people throughout my whole life and whole career who'd do whatever they can to make dreams like this come true," says Warner. "I'm so privileged and so lucky to have so many people support me; I promise that I won't take it for granted."
Although he was disappointed his whole support cast were unable to be in Tokyo, he drew strength from the knowledge that they were watching and supporting back at home.
"When I was getting the 'crowd' involved, it may have seemed like there weren't many people out there in the stadium, but there were," says Warner. "They weren't in the stadium, but they were at home. So when I was out there in the long jump and pole vault and high jump, or any time I'd ask for a clap, 100 people back home were clapping for me.
"There was never a moment in that decathlon where I felt like I was doing it by myself. I felt like they were in the stands with me. Those guys were the ones who made this possible."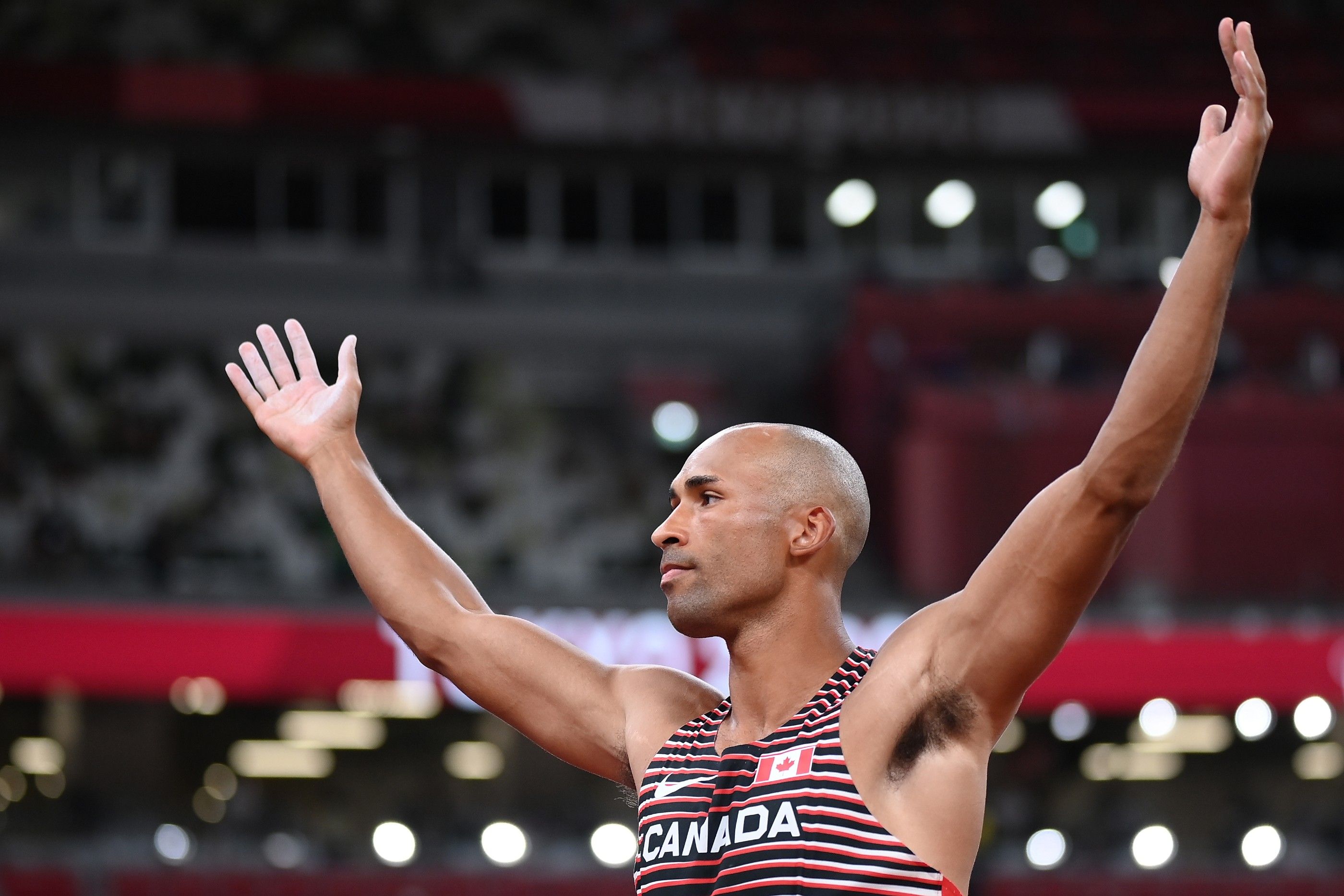 Warner is also keen to acknowledge the support he had on site.
"These were the hardest Olympics of all time and the two days of competition were crazy to manage," he says. "Every time I picked up my pole during the pole vault, it was burning. Or if I'd kneel on the ground to move my marker, it would burn my knee. Even the shade was hot. But Gar, Dave and the staff at Athletics Canada made sure we had ice vests and electrolytes, they were lugging the luggage around and made sure we stuck to the bus schedules.
"I was out there competing in 10 different events, but those guys were working really, really hard behind the scenes. I think Gar walked about 25,000-30,000 steps on the second day of competition. I imagine Dave probably walked 60,000 steps."
There was also encouragement from Warner's competitors.
"We all have a lot of respect for each other and we all know what each other is capable of," Warner says of the camaraderie within the combined events. "Before the 1500m, Kevin (Mayer) came up to me and said, 'this is for you; I'm so proud of you'. And it's moments like that that are so special and just shows the class that these guys have. This whole combined events family is an amazing thing, and it's something you have to be a part of to fully appreciate."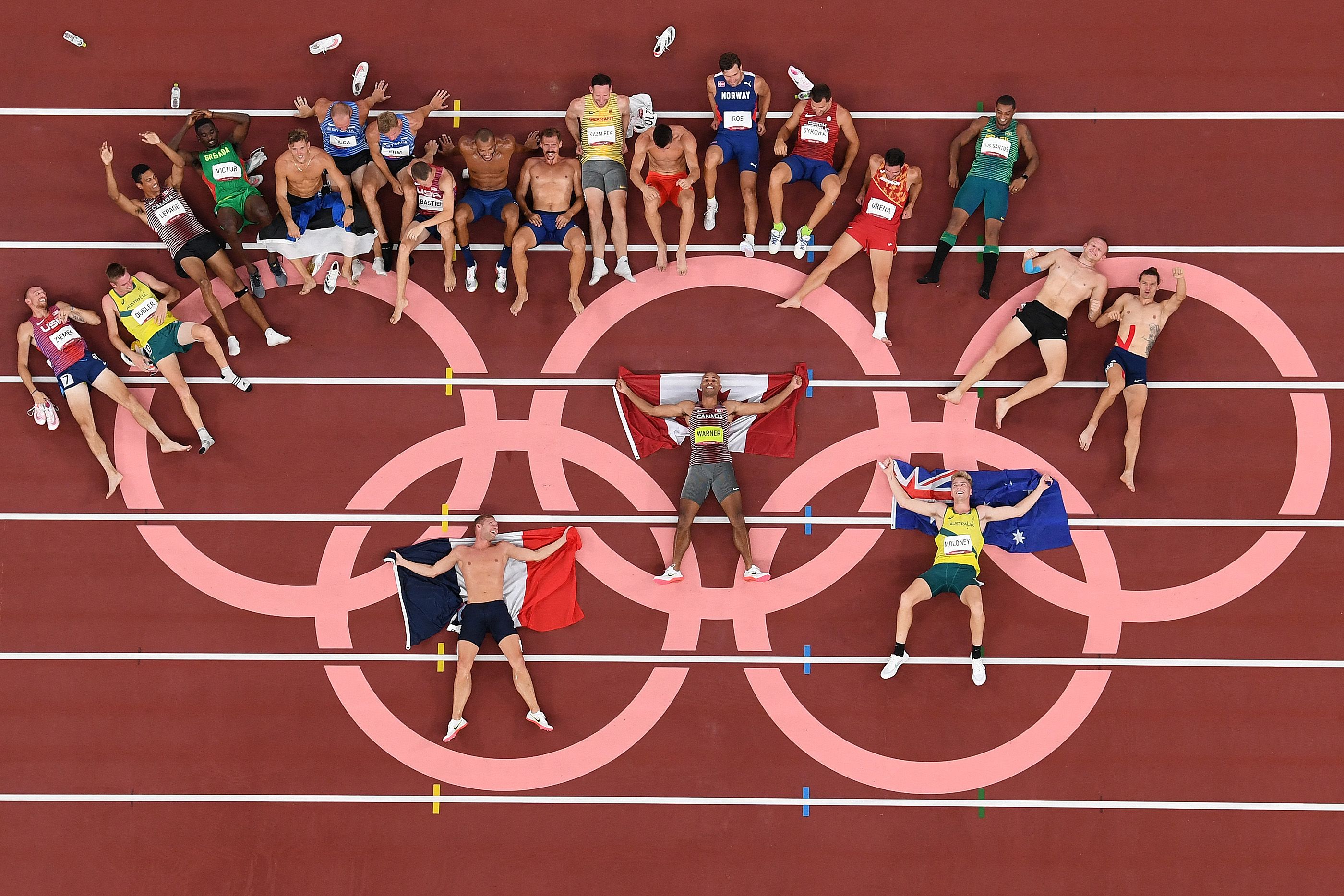 Despite excelling in the sprints, hurdles and long jump, Warner says he isn't tempted to leave the decathlon fraternity to focus on just one event.
"When I'd watch videos of people like Bryan Clay, there'd sometimes be comments underneath describing decathletes as a jack of all trades but master of none," recalls Warner. "Then Ashton came along, who was world-class in individual events, running 45.00 in the 400m, clocking crazy times in the 100m, and competing with world-class hurdlers. Guys like him showed that we do the decathlon because we want to do this event and we're good at it. I take a lot of pride to go out there and perform close to the 100m specialists and the hurdlers and long jumpers.
"The 110m hurdles is my favourite event; I just love it," he adds. "It encompasses all sorts of athleticism: speed, flexibility, agility. Over the years I've learned to love all of the decathlon events – apart from the 1500m. I don't think I'll ever find love for that event."
Warner says that being good at so many events can be a double-edged sword.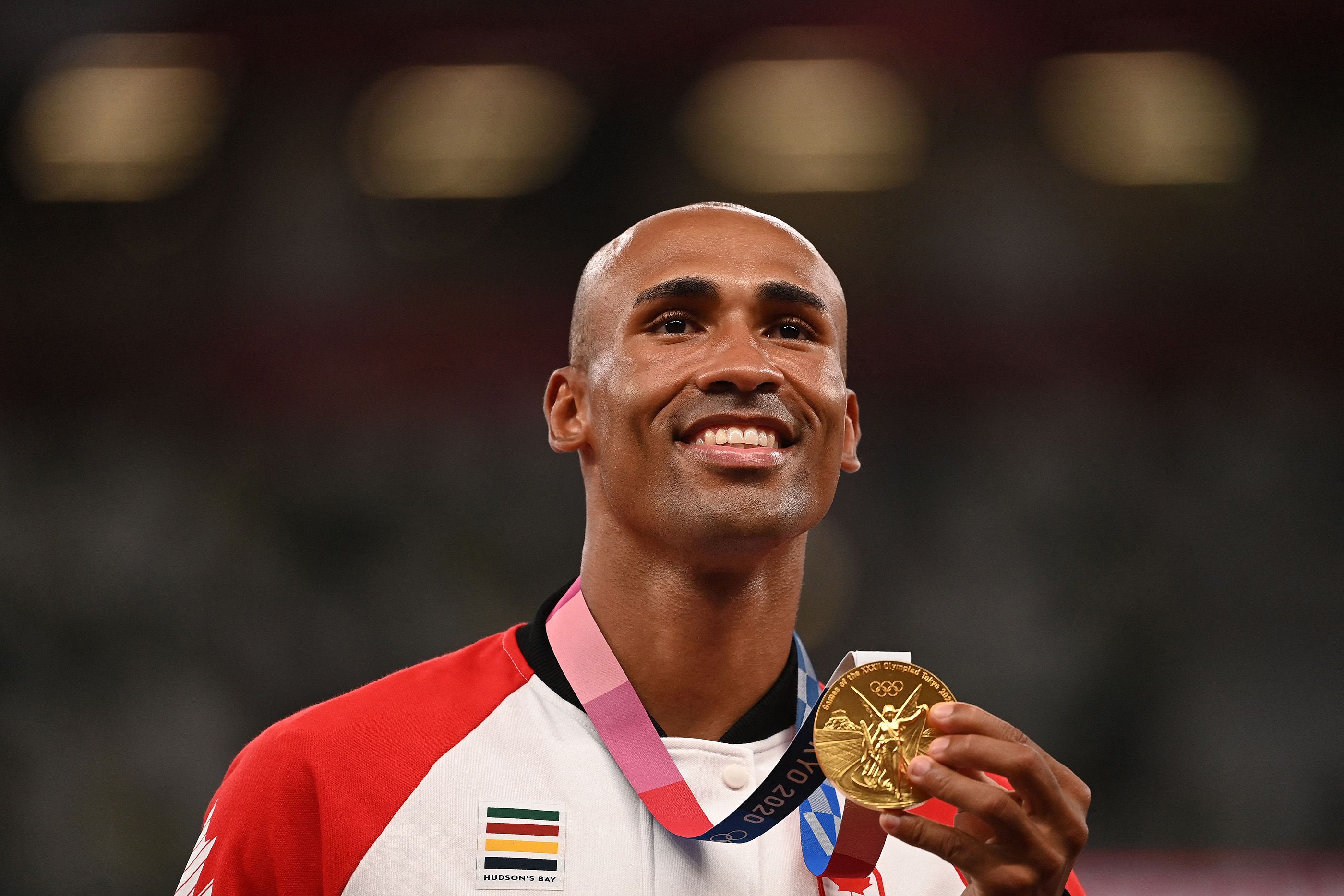 "We have the unfortunate luck to be good at something like the decathlon," he says. "There are times when I feel like it would be nice to do just one race. As you go through a decathlon and get near the end, you're like 'why do I do this?!' And then you finish and you're like, 'I can't wait to do the next one'. It's a weird thing.
"The points calculator is also like a curse," he adds. "It's so addictive; you just keep putting these dumb numbers into this calculator, thinking, 'what if I do this, would this be possible?'
"But other times we're simply thinking, 'I can't wait to get back to the village and have some cake'."
Jon Mulkeen for World Athletics