Massimo Stano wins the Olympic 20km race walk title (© Getty Images)
When Massimo Stano crossed the finish line of the 20km race walk at the Olympic Games, he knew exactly what he ought to do.
He turned around and bowed to the next two athletes across the finish line.
Koki Ikeda and Toshikazu Yamanishi, the silver and bronze medallists respectively, are both from Japan and earned the host nation's only track and field medals at the Olympics. For Stano, who has immersed himself in Japanese culture for most of his adult life, it felt only natural to show such respect to his opponents.
"Japanese people have taught me all about having respect for rivals, so it felt normal for me to bow to them," explains the Italian race walker. "And winning against two Japanese race walkers adds extra value to the medal."
Stano, who had never before won a race outside of Italy, produced one of the biggest surprises of the Games to land his gold medal. And the fact he did it in one of his favourite countries made it all the more special.
"I love Japan, Japanese people and the culture," explains Stano, who, over the past two years, has learned the language. "My passion for the country started many years ago after I watched some Japanese films. Since then, I've grown fond of Japanese comics and manga. I visited Japan for a training camp a couple of years ago in preparation for the Olympic Games, and it strengthened my passion for the country. I now consider it my second home."
View this post on Instagram
No wonder, then, he looked so at home on the streets of Sapporo when he bided his time until the closing stages before surging ahead of his two remaining rivals, Ikeda and world champion Yamanishi, to cross the line in 1:21:05.
Three months later, it's still sinking in.
"It feels like a dream, it's unbelievable," he says. "It's the best achievement in my life. The Olympic gold medal is the recognition for all the efforts and sacrifices I made in training over the years.
"It was a very hard race. It was hot and humid, but I like these conditions. I would have preferred to compete in the rain because I perform better than other race walkers in wet weather. But in the two months leading up to the Games, I repeated in my head that I was the strongest athlete in the field.
"The biggest joy was hearing the Italian anthem on the podium," adds Stano, who dedicated his victory to his wife Fatima and daughter Sophie, who was born in February 2021. "It's a feeling I can't describe; I wish everyone could experience it at least once in their lifetime."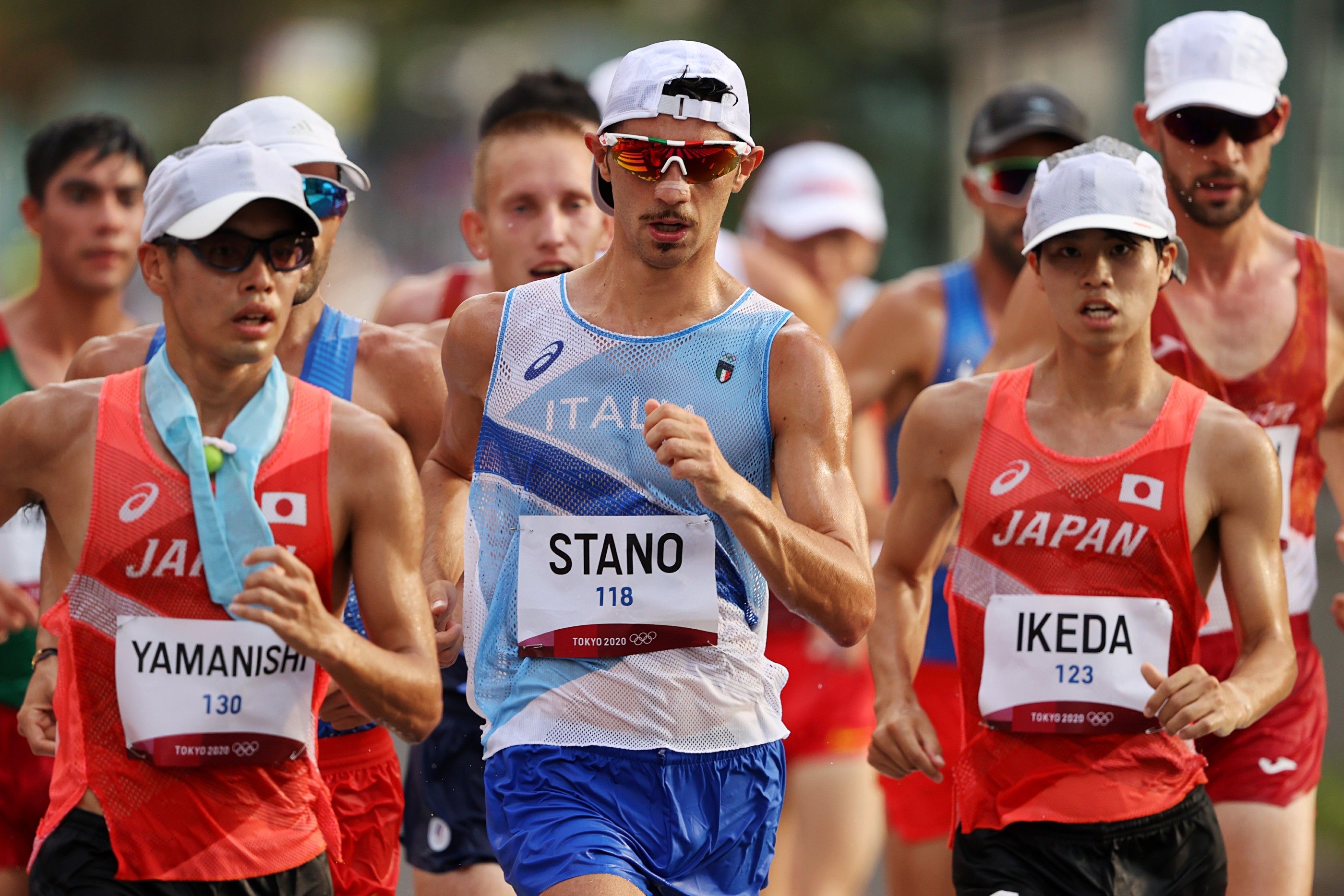 From Tampere to Taicang
Stano, who grew up in Palo del Colle in the Southern Italian region of Apulia, started out in athletics as a middle-distance runner at the age of 11 and would win every race. At one local competition, however, his club needed someone to enter the race walk, so Stano stepped up.
It ignited within him a new passion, and it soon became his main event. By the time he was 17, he had reached an international level and represented Italy at the 2009 World U18 Championships on home soil in Bressanone.
He turned professional in 2011, becoming a police officer as a member of the Fiamme Oro Padova Athletics team, and then enjoyed a major breakthrough in 2013 when he earned silver at the European U23 Championships in Tampere.
After suffering a series of injuries, including the fracture of his right and left tibia, he moved to Castelporziano near Rome in 2016 to join Patrick Parcesepe's group, which also includes fellow Olympic 20km race walk champion Antonella Palmisano.
Surrounding himself with such people, explains Stano, was key to his success as an athlete.
"A great athlete needs a good team, and I believe Parcesepe is the best coach in the world because he continually updates his training methods," explains Stano. "He's able to understand his athletes and help them meet their needs. I wouldn't have been able to achieve what I did at the Olympics had it not been for him.
View this post on Instagram
"I get along well with all of my training partners, which is very important to me, and I'd say Antonella is the leader of our group," adds Stano. "We both come from the same region, Apulia, and have competed in the same events since we were in the U15 age category, so we've known each other for many years. Before our races, I told her that it could be our year. I repeated it to her after my win, so I was so happy when she went on to win in Sapporo."
Just two years after joining Parcesepe's group, Stano achieved his first podium finish at a senior championship event, placing third at the 2018 World Race Walking Team Championships in Taicang. He finished 20 seconds behind Ikeda and 20 seconds in front of Yamanishi – the two with whom he shared a podium at the Olympic Games in 2021.
"The World Race Walking Team Championships is more difficult than the Olympic Games because every team can field five athletes, so I didn't expect to win a medal," says Stano. "But I achieved two podium finishes: individually and as a team.
"I started race walking because I wanted to discover my limits, and that performance made me realise that I could be competitive with the best athletes in the world."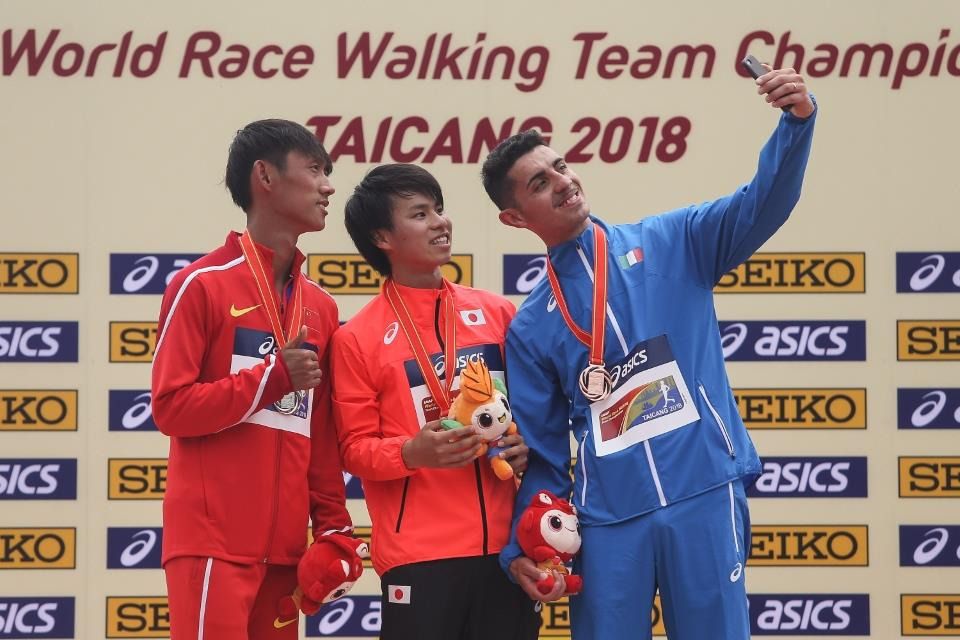 Doha disappointment fuels Tokyo turnaround
Stano's progress continued in 2019 and he made a big leap up in class at the Race Walking Challenge meeting in La Coruna, where he broke the Italian 20km record with 1:17:45. Off the back of that performance, he was considered a medal contender going into the World Athletics Championships Doha 2019, but he was given a time penalty during the race, which effectively ended his medal ambitions and he finished in 14th place.
But, had it not been for that race, Stano wouldn't have made the changes that led to his success in Sapporo two years later.
"Doha was a big disappointment, but I learned a lot from this bad experience," he says. "Without this negative result, I would not have worked so hard on my technique."
The postponement of the Olympic Games also worked in Stano's favour, as he was sidelined for most of 2020 by a medial tibial stress fracture. He returned to action at a low-key 10,000m race in April this year, then one month later he competed at the European Race Walking Team Championships in Podebrady.
Although he finished outside of the medals, he took huge encouragement from his 1:20:30 clocking – the second-fastest of his career – and his eighth-place finish. With two-and-a-half more months' training, Stano knew he had the potential to finish much higher at the Olympic Games.
Nevertheless, of the five gold medals won by Italian athletes in Tokyo, Stano's was perhaps the most surprising of them all.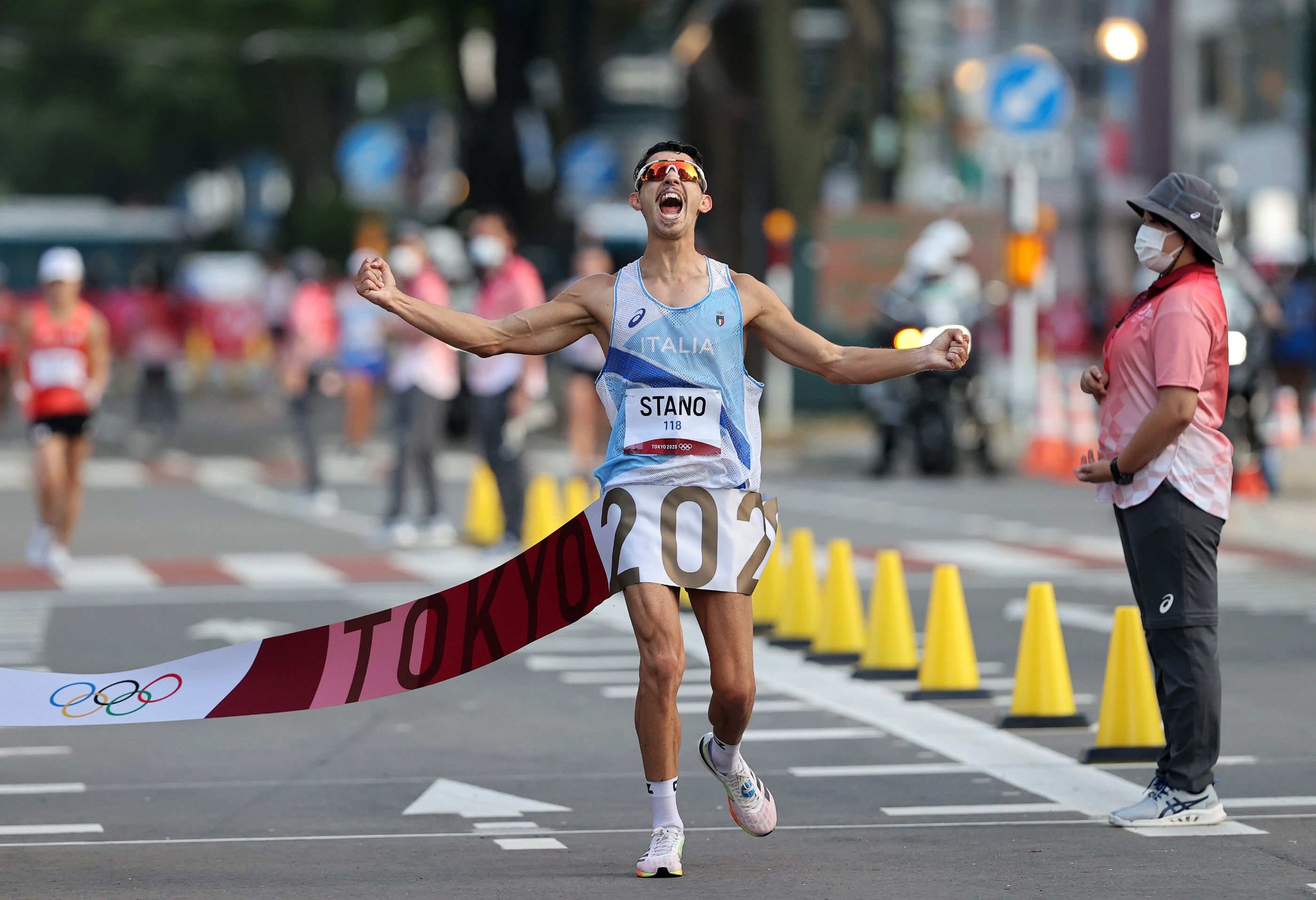 "It's the first time in recent years that Italian athletics has done so well," says Stano, who became the third Italian race walker to win the men's 20km Olympic title after Maurizio Damilano (1980) and Ivano Brugnetti (2004). "It was a special year, not only for Italian athletics but also for sport in general. First the Italian team won the European Football Championships, then Marcell Jacobs and Gianmarco Tamberi won their Olympic gold medals on the same day. Tamberi and Jacobs are my teammates for Fiamme Oro and I know them very well. Their gold medals helped me because they gave me the extra motivation to achieve the same result."
Stano now hopes that Italy's success in Tokyo will inspire the next generation of athletes in his country.
"Sport has given me the opportunity to travel around the world and visit the world and I want to send this positive message to children," he says. "I hope that we will be an inspiration for the future generations, helping children believe in sport and in their own dreams."
Diego Sampaolo for World Athletics