Boston Marathon contenders
Kenya's Edna Kiplagat and Ethiopia's Lelisa Desisa are among the former champions returning to race the Boston Marathon on Monday (11), as the World Athletics Elite Platinum Label road race makes a comeback after 910 days.
Following cancellation and postponement due to the pandemic, this year's race – the 125th edition – will be the first held outside of its traditional Patriots' Day date in April.
Deep fields have been announced, with 13 women boasting sub-2:23 PBs and 12 men with personal bests under 2:07 on the start lists. Leading those lists are two-time world champion Kiplagat with her 2012 PB of 2:19:50 and Ethiopia's Asefa Mengstu, who ran 2:04:06 in Dubai in 2018.
Kiplagat's Boston victory came in 2017 and the 41-year-old was runner-up to Worknesh Degefa two years later. She went on to finish fourth in that year's World Athletics Championships in Doha, which was her last marathon, and her results so far this year include a 32:20 10km in June.
With a PB just two seconds slower is Ethiopia's Mare Dibaba, the 2015 world champion who clocked 2:19:52 in Dubai in 2012 and finished second in her last marathon, in Berlin in 2019. Kenya's Angela Tanui, meanwhile, has more recent marathon results to her name having raced, and won, twice over 26.2 miles in 2021, with her PB of 2:20:08 set in Siena in April.
Joining Kiplagat in returning to the race as a former champion are the USA's 2018 winner Desiree Linden, who drops back down in distance after breaking the world 50km best with 2:59:54 in Oregon in April, plus Kenya's 2015 winner Caroline Rotich and Ethiopia's 2016 champion Atsede Baysa.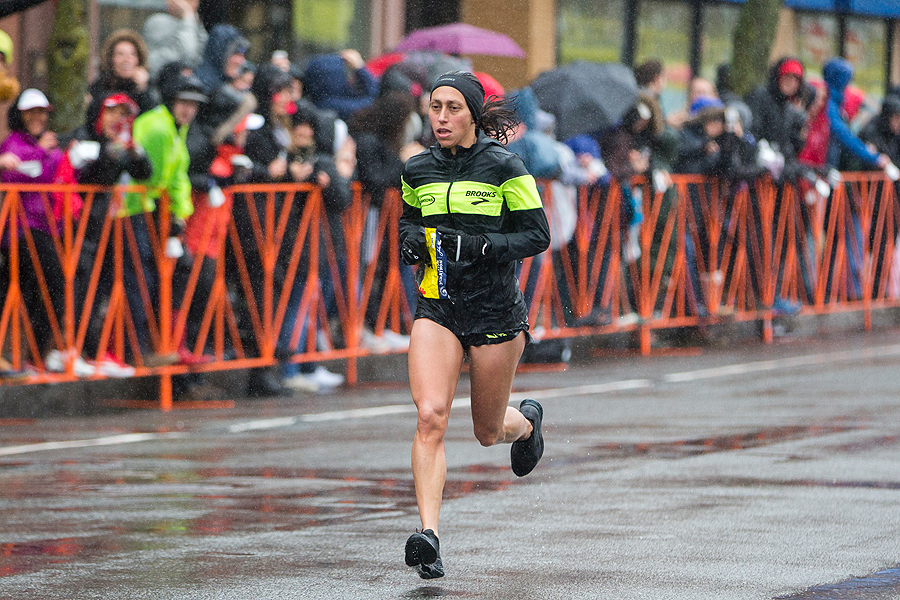 Like Kiplagat, Dibaba and Tanui, Ethiopia's Workenesh Edesa and Sutume Kebede, plus the USA's Jordan Hasay – twice a third place finisher in Boston – have PBs under 2:21, while Ethiopia's Netsanet Gudeta will also be looking to make an impact. The last time Gudeta completed a marathon was 2017, when she ran her PB of 2:29:15, but since then she has won the 2018 world half marathon title – clocking a then women-only world record of 1:06:11, and she improved her PB for that distance to 1:05:45 in Ras Al Khaimah the following year.
Former world 5km record-holder Caroline Chepkoech, who has a half-marathon PB of 1:05:07 from 2018, makes her marathon debut.
In the men's race, world champion Desisa will be going for a hat-trick in Boston after his wins in 2013 and 2015. He returns to the race for the seventh time, having also claimed two runner-up finishes, in 2016 and 2019.
"Boston has become my second home and I truly cherish my time when I am there," said Desisa, who ran his PB of 2:04:45 in 2013 and raced at the Olympic Games in Tokyo in August but did not finish. "I return to compete still chasing my third victory in the Boston Marathon. I look forward to putting on a good show for you on Marathon Monday!"
Mengstu, meanwhile, makes his Boston debut and will be looking to build on the third-place finish he claimed at the Chicago Marathon in 2019. He went on to place seventh in Tokyo in 2020 but did not finish his most recent marathon, in Milan in May.
The third sub-2:05 runner in the field is their fellow Ethiopian Lemi Berhanu, the 2016 Boston champion who clocked his 2:04:33 PB in 2016 and makes a comeback after two DNF results from his two 2020 marathons, in Tokyo and Valencia.
Desisa and Berhanu are not the only former Boston winners in the men's field, with Kenya's Geoffrey Kirui – who won world and Boston titles in 2017– among the entries and he is also returning after a DNF at the 2020 Valencia Marathon.
He is joined by fellow Kenyans Benson Kipruto and Filex Kiprotich, who ran their respective PBs of 2:05:13 and 2:05:33 in 2019, plus Wilson Chebet, who has achieved four top five finishes in Boston, including a runner-up finish from 2014. The other sub-2:06 runners in the field are Ethiopia's Dejene Debela, the 2019 Chicago Marathon runner-up, and 2020 Houston Marathon champion Kelkile Gezahegn.
Five-time Olympian Abdi Abdirahman and Scott Fauble lead the US men's entries, while Ethiopian half marathon record-holder Jemal Yimer – who ran 58:33 for the distance in 2018 – will look to complete his first marathon after being unable to finish on his debut in Valencia last year. His most recent result is a half marathon win in Larne, where he clocked 1:00:30 in August. Another debutant is Kenya's Leonard Barsoton, the 2017 world cross country silver medallist who has a half marathon PB of 59:09 from 2019 and ran 59:59 in Istanbul in April.
Jess Whittington for World Athletics

Elite fields
Women
Edna Kiplagat (KEN) 2:19:50
Mare Dibaba (ETH) 2:19:52
Angela Tanui (KEN) 2:20:08
Workenesh Edesa (ETH) 2:20:24
Sutume Kebede (ETH) 2:20:30
Jordan Hasay (USA) 2:20:57
Helah Kiprop (KEN) 2:21:27
Atsede Baysa (ETH) 2:22:03
Diana Chemtai Kipyogei (KEN) 2:22:06
Desiree Linden (USA) 2:22:38
Biruktayit Eshetu (ETH) 2:22:40
Tigist Abayechew (ETH) 2:22:45
Purity Changwony (KEN) 2:22:46
Caroline Rotich (KEN) 2:23:22
Mary Ngugi (KEN) 2:27:36
Nell Rojas (USA) 2:28:09
Paige Stoner (USA) 2:28:43
Shiho Kaneshige (JPN) 2:28:51
Dakotah Lindwurm (USA) 2:29:04
Netsanet Gudeta (ETH) 2:29:15
Kellys Arias (COL) 2:29:36
Julia Griffey (USA) 2:29:58
Bethany Sachtleben (USA) 2:31:20
Dot McMahan (USA) 2:31:48
Sydney Devore (USA) 2:32:39
Hilary Dionne (USA) 2:33:03
Brittany Charboneau (USA) 2:33:14
Susanna Sullivan (USA) 2:33:27
Heather Lieberg (USA) 2:34:07
Caitlin Phillips (USA) 2:34:43
Laurie Knowles (USA) 2:36:01
Courtney Olson (USA) 2:36:21
Brittany Moran (CAN) 2:36:22
Emma Spencer (USA) 2:37:05
Rachel Hyland (USA) 2:37:22
Andrea Pomaranski (USA) 2:37:39
AnnMarie Kirkpatrick (USA) 2:37:49
Gina Rouse (USA) 2:38:41
Nina Zarina (USA) 2:38:50
Jordan O'Dea (USA) 2:38:57
Christina Murphy (USA) 2:39:15
Hilary Corno (USA) 2:42:14
Caroline Chepkoech (KEN) debut
Monicah Wanjuhi (KEN) debut
Elaina Tabb (USA) debut

Men
Asefa Mengstu (ETH) 2:04:06
Lemi Berhanu (ETH) 2:04:33
Lelisa Desisa (ETH) 2:04:45
Benson Kipruto (KEN) 2:05:13
Wilson Chebet (KEN) 2:05:27
Filex Kiprotich (KEN) 2:05:33
Dejene Debela (ETH) 2:05:46
Kelkile Gezahegn (ETH) 2:05:56
Thomas Kiplagat (KEN) 2:06:00
Felix Kandie (KEN) 2:06:03
Tsedat Ayana (ETH) 2:06:18
Geoffrey Kirui (KEN) 2:06:27
Jake Robertson (NZL) 2:08:26
Bayelign Teshager (ETH) 2:08:28
Abdi Abdirahman (USA) 2:08:56
Scott Fauble (USA) 2:09:09
Colin Bennie (USA) 2:09:38
Stephen Scullion (IRL) 2:09:49
Augustus Maiyo (USA) 2:10:47
Dylan Wykes (CAN) 2:10:47
Parker Stinson (USA) 2:10:53
Matthew McDonald (USA) 2:11:10
CJ Albertson (USA) 2:11:18
Reid Buchanan (USA) 2:11:38
Jonas Hampton (USA) 2:12:10
Rory Linkletter (CAN) 2:12:54
Jarrett Leblanc (USA) 2:13:51
Carlos Trujillo (GUA) 2:14:21
Luke Humphrey (USA) 2:14:39
Nitendra Rawat Singh (IND) 2:15:18
Daniel Ortiz Perez (MEX) 2:15:41
Luis Carlos Rivero (GUA) 2:15:43
Thomas Toth (CAN) 2:16:28
Pardon Ndhlovu (ZIM) 2:16:47
Brian Harvey (USA) 2:17:05
Alex Taylor (USA) 2:17:08
Peter Bromka (USA) 2:19:04
Chip O'Hara (USA) 2:21:20
Eric Blake (USA) 2:22:49
Blue Bendum (USA) 2:23:43
Jemal Yimer (ETH) debut
Leonard Barsoton (KEN) debut
Nicholas Kosimbei (KEN) debut
Harvey Nelson (USA) debut
Girma Mecheso (USA) debut
Paul Hogan (USA) debut