Gotytom Gebreslase wins the Berlin Marathon (© Getty Images)
It may have been her marathon debut, but Gotytom Gebreslase looked anything but inexperienced on her way to winning the BMW Berlin Marathon, crossing the finish line of the World Athletics Elite Platinum Label road race in 2:20:09 on Sunday (26).
Just moments earlier, fellow Ethiopian Guye Adola won an enthralling tactical men's race in 2:05:45, seeing off a late-race challenge from Kenya's Bethwel Yegon after dropping Ethiopian legend Kenenisa Bekele a few kilometres prior.
The 47th edition of the race, which is part of the Abbott World Marathon Majors Series, took place under strict hygiene regulations. With 24,796 runners from 139 nations, the race was the biggest marathon in the world since the start of the coronavirus pandemic.
The men had been operating at world record pace for the first half, while the leading women were close to course record pace. With temperatures above 20C during the final part of the race, the pace dropped in the closing stages of both contests, but Gebreslase and Adola both had just enough in reserve to hold on to victory.
Gebreslase was part of a large lead pack that went through 5km in 16:30 and 10km in 33:03. Six women were in the group, including Ethiopia's Hiwot Gebrekidan who was looking to improve on her world-leading 2:19:35 run from Milan earlier in the year.
By the time the pack reached half way in 1:09:19, just four women remained in contention: Gebrekidan, Gebreslase, fellow Ethiopian Helen Tola and Kenya's Fancy Chemutai. Their split suggested a finishing time inside 2:19, but the conditions soon started to get tougher.
Within the space of a few kilometres, Chemutai and Tola had been dropped, reducing the race to a two-woman Ethiopian battle between Gebrekidan and Gebreslase. The latter, feeling surprisingly good on her debut marathon, started to test the water and edged ahead of her compatriot over the next few kilometres, opening up a 13-second gap by 35km, reached in 1:54:54.
Her split at that point still pointed towards a sub-2:19 finish, but Gebreslase's pace dropped significantly over the next five kilometres, which she covered in 17:40. Lucky for her, Gebrekidan was struggling even more, widening the gap between the pair. And Tola was now more than two minutes adrift of Gebrekidan in third.
Gebreslase continued to pull away in the final few kilometres, winning comfortably in 2:20:09, the eighth fastest winning time recorded in Berlin. Gebrekidan held on to second place in 2:21:23 and Tola completed the Ethiopian podium sweep in 2:23:05.
The men's race may not have resulted in a world record as had been hyped in the days leading up to the event, but it eventually became an enthralling three-way contest between Bekele, Adola and Yegon.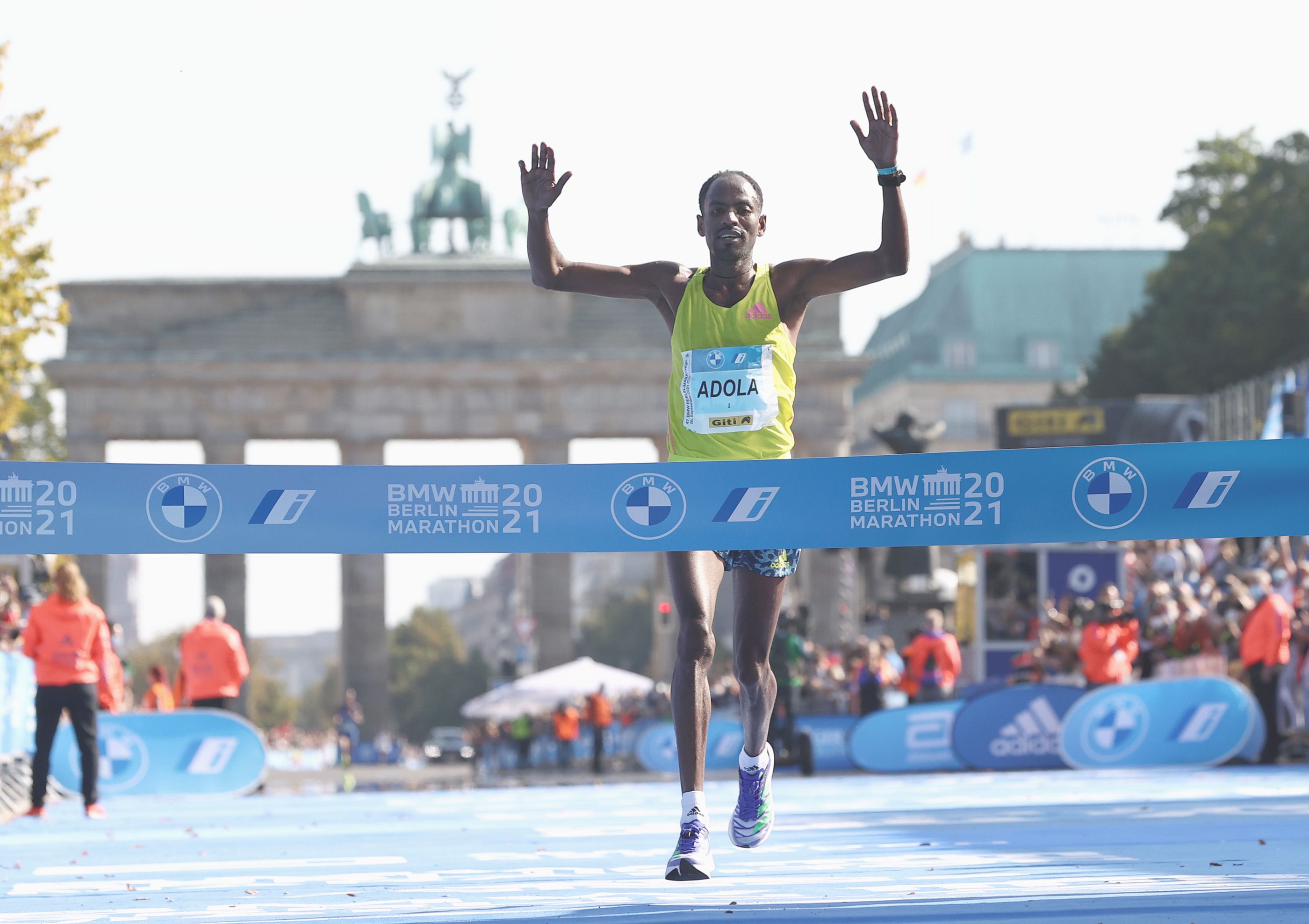 The opening pace was swift as the six-man lead pack breezed through 5km in 14:22 and 10km in 28:47. Bekele and Adola formed one third of that group, while Yegon bided his time further down the field, passing through 10km in 29:40 as part of the larger chase pack.
Shortly after passing through 15km in 43:12 – still well inside world record pace – Bekele started to lose contact with the rest of the lead group, who went on to reach the half-way point in 1:00:48. Bekele, meanwhile, covered the first half in 1:01:00, which was the pre-determined target for the pacemakers.
Over the course of the next five kilometres, though, Bekele worked his way back to the front. The 30km split of 1:27:48 (2:03:30 pace) essentially confirmed that the world record would live to see another day, but the race was shaping up to be a three-way battle between Bekele, Adola and Kenya's Philemon Kacheran.
Kacheran didn't last too much longer in that trio, however, and Bekele started to struggle again as Adola was gritting his teeth out in front. Further behind, however, Yegon continued to make his way through the field. Having been seventh at 20km and sixth at 25km, the Kenyan moved into fourth place at 35km, just 17 seconds behind Adola.
One mile later, Yegon passed Bekele to move into second place. Another kilometre after, he joined Adola at the front. But with the temperature now above 20C, Yegon was unable to maintain that momentum. A final surge from Adola at 40km was enough to see off Yegon's challenge, allowing the Ethiopian to open up a decisive gap.
Adola, the runner-up in 2017, went on to win in 2:05:45 with Yegon following 29 seconds later to take the runner-up spot in a PB of 2:06:14. Bekele was third in 2:06:47.
"I thought before the race that I could beat Kenenisa," said Adola, who finished second in Eliud Kipchoge in the German capital four years ago. "It was so hot, my feet were burning."
Bekele, meanwhile, appeared slightly disappointed but confirmed there's still more to come from the three-time Olympic gold medallist. "The big problem for me was the lack of training because of the pandemic," he said. "I just couldn't do as well as I hoped. That does not mean my career is over."
Jon Mulkeen for World Athletics

Leading results
Women
1 Gotytom Gebreslase (ETH) 2:20:09
2 Hiwot Gebrekidan (ETH) 2:21:23
3 Helen Tola (ETH) 2:23:05
4 Edith Chelimo (KEN) 2:24:33
5 Shure Demise (ETH) 2:24:43
6 Fancy Chemutai (KEN) 2:24:58
7 Izabela Paszkiewicz (POL) 2:27:41
8 Ruth Chebitok (KEN) 2:28:18
9 Rabea Schoneborn (GER) 2:28:49
10 Martina Strahl (SUI) 2:30:37
Men
1 Guye Adola (ETH) 2:05:45
2 Bethwel Yegon (KEN) 2:06:14
3 Kenenisa Bekele (ETH) 2:06:47
4 Tadu Abate (ETH) 2:08:24
5 Cosmas Muteti (KEN) 2:08:45
6 Philemon Kacheran (KEN) 2:09:19
7 Okbay Tsegay (ERI) 2:10:37
8 Bernard Kimeli (KEN) 2:10:50
9 Hidekazu Hijikata (JPN) 2:11:47
10 Hosea Kipkemboi (KEN) 2:12:25