Joyciline Jepkosgei on her way to winning the London Marathon (© Virgin Money London Marathon)
You lose some and you win some. Just hours after Joyciline Jepkosgei lost her 10km world record, the highly talented Kenyan blew away a stellar women's field to win the Virgin Money London Marathon on Sunday (30) on her debut in the World Athletics Elite Platinum Label race.
The 28-year-old broke clear of her rivals with four miles remaining and crossed the finish line in a lifetime best of 2:17:43 – the third fastest time ever recorded by a woman in the UK capital and a performance that elevates her to seventh on the world all-time list.
Her triumph more than made up for the loss of her world 10km mark, which was broken by Bahrain's Kalkidan Gezahegne in winning the Giants Geneva 10km in an unratified 29:38 just minutes after Jepkosgei set off in London.
Unsurprisingly, Jepkosgei was unfazed when the news of her 10km mark was revealed to her following her victory.
"It was great to break the record to show what is possible but now I'm just happy to win here," she said. "London is the best race in the world and this is my greatest achievement. I prepared very well in my training and I just kept my focus and tried to avoid any mistakes."
In the men's race, the experienced Ethiopian Sisay Lemma showed the power of perseverance by taking his first Abbot World Marathon Major title at the ninth attempt, triumphing in 2:04:01.
Not that he was allowed to savour the greatest moment in his marathon-running career. Moments after his triumph he was rushed away by race organisers for Covid protocol reasons without even being permitted to mount the victory podium.
It later emerged that he had been in close contact with fellow Ethiopian athlete Kinde Atanaw, who failed a Covid-19 test on Friday and was withdrawn from the event. Lemma tested negative before the race and was therefore cleared to run but he returned to the athletes' hotel immediately after his victory as a precautionary measure.
Jepkosgei, a former half-marathon world record-holder, announced her talent over the 26.2-mile distance when she won on her marathon debut in New York in 2019, and backed that up with a personal best of 2:18:40 in finishing runner-up in Valencia last year.
But her victory in London was on an altogether different level as she outpaced a top-class field that included compatriot Brigid Kosgei, the world record-holder and Olympic silver medallist, who was chasing her third consecutive London title.
On this occasion, Kosgei had to settle for fourth place in 2:18:40, with second place going to Degitu Azimeraw in 2:17:58 and fellow Ethiopian Ashete Bekere third in 2:18:18. To underline the sheer depth of the field, it was the first marathon in history in which five women finished in inside 2:19.
The pre-race talk had been about whether Kosgei had recovered sufficiently from her Olympic exertions just two months ago, and the answer came when she was unable to respond to Jepkosgei's surge shortly after the 35km mark.
By contrast, Jepkosgei was not part of the Kenyan team at the Olympics and made the most of her fresher legs to pull away from the field.
At the time of her attack, Jepkosgei looked as if she might even challenge the women-only world record of 2:17:01 set by fellow Kenyan Mary Keitany in London in 2017 but increasingly windy conditions in the final miles along the exposed Embankment put the mark out of range.
The men's race also maintained a brisk pace until the very final stages and proved far too hot for Shura Kitata, who won an exhilarating sprint finish to triumph in London a year ago. Kitata's title defence evaporated as early as the two-mile mark when he fell off the back of the elite group.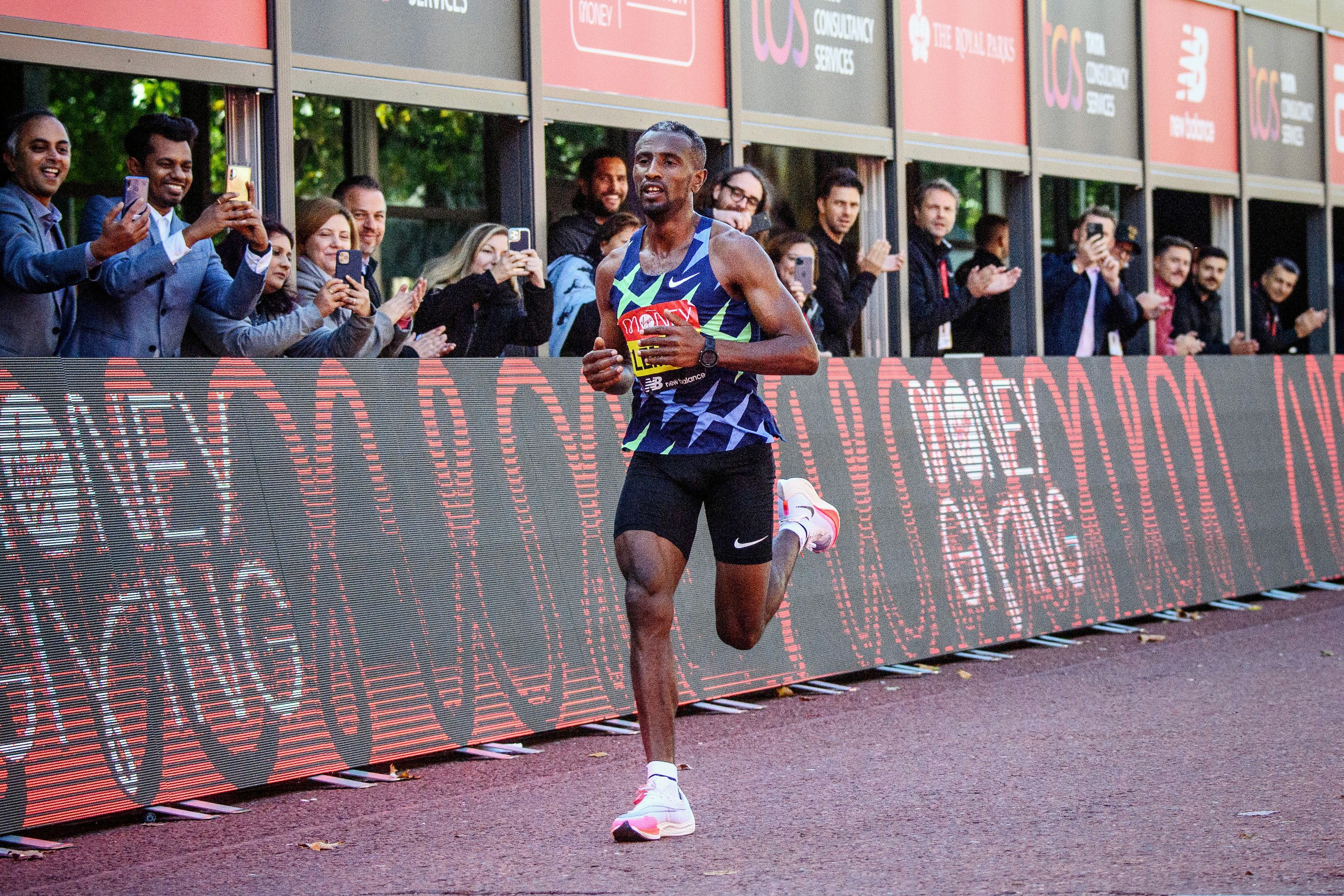 The Ethiopian admitted before the race that had suffered a hamstring injury shortly before the Olympics and, despite claiming he had since recovered, he was clearly in no physical shape to mount a challenge.
He did at least manage to complete the race, finishing sixth in 2:07:51, unlike Kenya's Titus Ekiru, who pulled up at the 17-mile mark, leaving a group of five athletes to battle it out.
Lemma's decisive move did not come until 24 miles but, when he applied the throttle, his rivals had no answer. Like Kosgei, Lemma was also in action at the Olympics but the fact he failed to finish the race in Sapporo doubtless contributed to his freshness as he extended his lead in the final mile.
His victory was the crowning moment of a long and impressive marathon career. In the 15 previous marathons that he had completed, he had recorded wins in Warsaw, Vienna, Frankfurt and Ljubljana but victory had eluded him in the World Marathon Majors series.
In last year's London race, he looked as if he might end the losing sequence when he was part of the three-way sprint finish in The Mall, only to be beaten into third place by Kitata and Kenya's Vincent Kipchumba.
Kipchumba again had to settle for second place, crossing the line 27 seconds behind Lemma in 2:04:28, while Ethiopia's Mosinet Geremew, the world silver medallist, was third in 2:04:41.
Lemma's only regret will be his decision to wave to the crowd as he approached the finish line. His premature celebrations almost certainly cost him a $25,000 time bonus by leaving him one second outside the all-important 2:04 mark.
Simon Hart for World Athletics


Leading results
Women
1 Joyciline Jepkosgei (KEN) 2:17:43
2 Degitu Azimeraw (ETH) 2:17:58
3 Ashete Bekere (ETH) 2:18:18
4 Brigid Kosgei (KEN) 2:18:40
5 Lonah Chemtai Salpeter (ISR) 2:18:54
6 Valary Jemeli (KEN) 2:20:35
7 Joan Chelimo Melly (KEN) 2:21:23
8 Zeineba Yimer (ETH) 2:21:40
9 Tigist Girma (ETH) 2:22:45
10 Charlotte Purdue (GBR) 2:23:26
Men
1 Sisay Lemma (ETH) 2:04:01
2 Vincent Kipchumba (KEN) 2:04:28
3 Mosinet Geremew (ETH) 2:04:41
4 Evans Chebet (KEN) 2:05:43
5 Birhanu Legese (ETH) 2:06:10
6 Shura Kitata (ETH) 2:07:51
7 Philip Sesemann (GBR) 2:12:58
8 Josh Griffiths (GBR) 2:13:39
9 Matt Leach (GBR) 2:15:31
10 Andrew Davies (GBR) 2:15:36