Anita Wlodarczyk wins in Bydgoszcz (© Pawel Skraba)
There was a storm brewing in the grey skies above Bydgoszcz on Wednesday evening (30). But it was within the confines of the Zdzislaw Krzyszkowiak Stadium where the real thunder and lightning was unleashed at the Irena Szewinska Memorial meeting.
With exactly one month to go until the start of the athletics competitions at Tokyo 2020, several Olympic medal contenders flexed their competitive muscles and confirmed the threat they will pose in Japan.
The thunder came from Poland's hammer legends Anita Wlodarczyk and Pawel Fajdek, who both posted impressive victories to reverberate across the world to their international rivals. After a long injury lay off, Wlodarczyk looks like she is warming to the task of defending the Olympic title she first won in London 2012 and retained at Rio 2016.
She had promised a season's best at the World Athletics Continental Tour Gold meeting and delivered in her first-round throw of 75.83m. She followed up with a booming 77.93m in the second round, her furthest throw since her European gold medal-winning mark in Berlin almost three years ago.
She then consolidated with 76.14m, 76.21m, 75.18m and 76.23m to complete an impressive series, all beyond anything else she has thrown this year. International teammate and world bronze medallist Malwina Kopron placed second with 75.41m, with another world bronze medallist Alexandra Tavernier of France third with a best of 73.87m.
Wlodarczyk's return to form could not be more timely, following DeAnna Price's gigantic 80.31m at the US Olympic Trials.
"My message is that I am back and I am ready," said the four-time world champion, revelling in her performance in front of an adoring home crowd. "I am happy that every single throw was above 75 metres. I hope that I will be ready in Tokyo and I will fight for gold."
After stating 78 metres might be her limit this year, she was also willing to entertain the possibility of a return to the 80-metre line after her confidence-boosting display.
"After seven months training, I am ready for 78 metres," she said. "I know how hard and how long I have to train to throw 80 metres, that is why I said 78, but we will see. Maybe in Tokyo? Maybe that will be the day when everything is good and I will throw 80 metres?"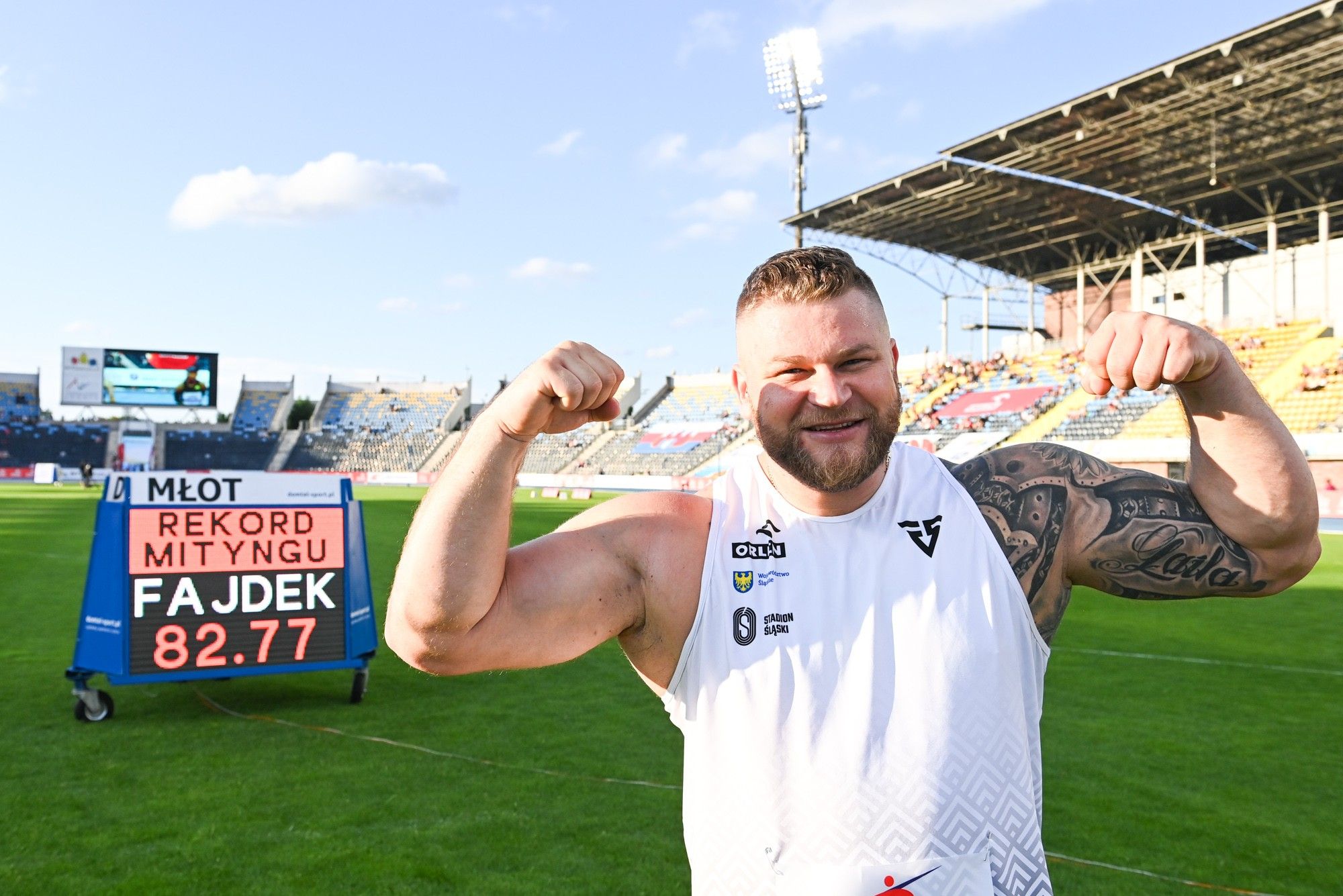 Her international teammate and four-time world champion Fajdek was equally impressive, sending out a mighty 82.77m throw in the third round to claim a meeting record and victory ahead of fellow Pole and Olympic bronze medallist Wojciech Nowicki, who landed 80.00m in the final round to edge third-placed Mykhaylo Kokhan of Ukraine by 4cm.
"It was really nice," commented the beaming Fajdek afterwards. "It's my third competition in a row where I throw over 82 metres. I feel good and feel really healthy and that's good. We have two more competitions and then we go to Tokyo, now we have to focus only on technique and health and the body feeling good and that's it."
Lightening came in the women's 400m through Namibian 18-year-old Christine Mboma, who scorched to a world-leading 48.54, which – subject to ratification – will mark a world U20 record. Taking it out from the gun, she ran down Poland's European champion Justyna Swiety-Ersetic within the first 100m and never let up. Swiety-Ersetic came home a distant second in 51.91.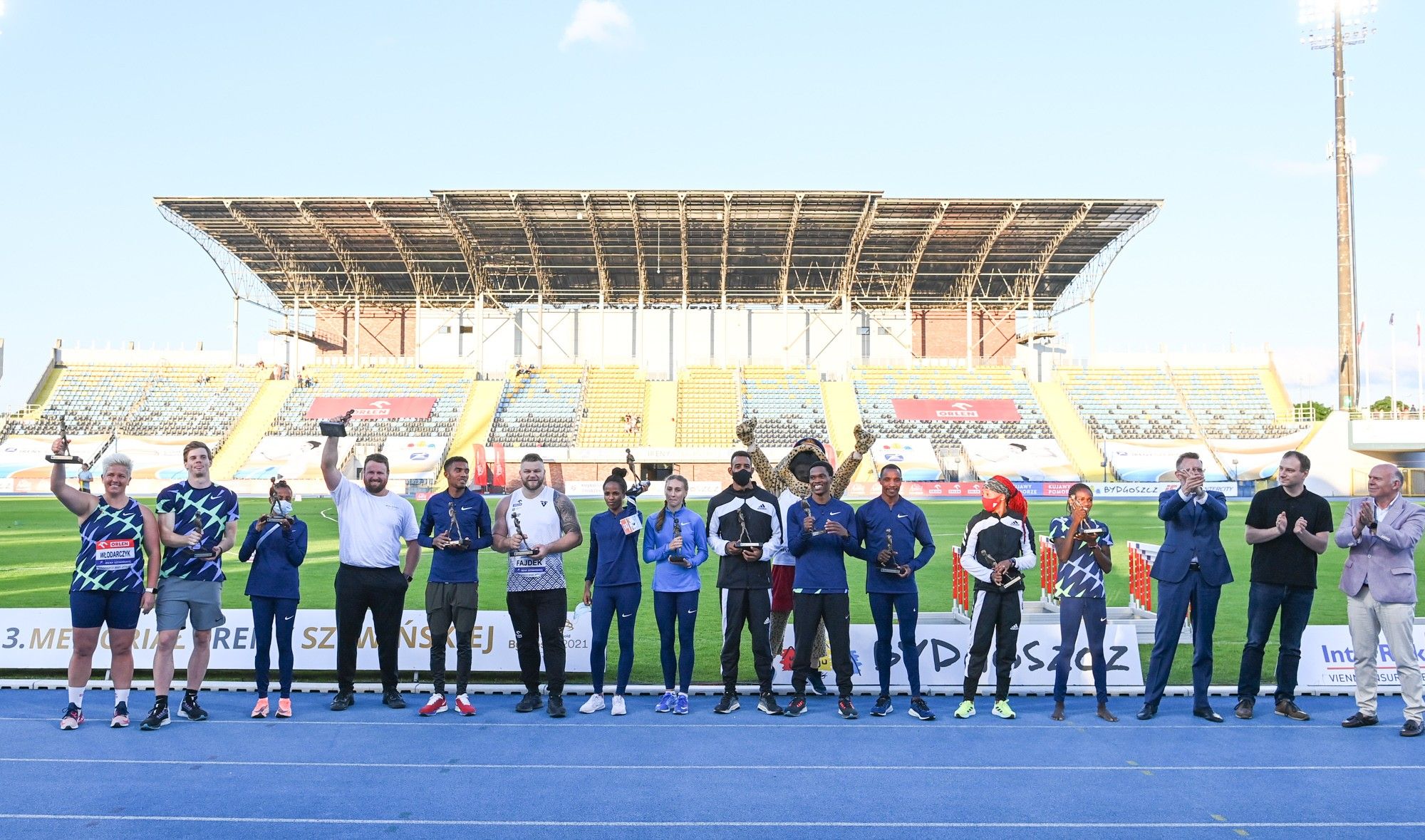 The men's pole vault electrified an appreciative audience. In a field deep in Olympic, world and European medallists, recent US Olympic Trials winner Chris Nilsen prevailed, laying to rest his disappointment of his seventh-place finish at the World Athletics U20 Championships in the same stadium five years prior. In a hard-fought competition, four men went clear at 5.82m, comprising Nilsen, Asian champion Ernest Obiena of Philippines, three-times world medallist Piotr Lisek of Poland and Olympic champion Thiago Braz of Brazil.
Only Nilsen and Obiena survived at 5.87m, the latter picking up a national record. But Nilsen's first-time clearance at 5.92m sealed the competition, a season's best and a stadium record. It was a height Obiena failed in three attempts.
Nilsen was thrilled with his performance: "I was pretty tired after travelling a couple of days ago. I wanted to keep that consistency over 5.80m and came here and got a season's best with 5.92m. It was a really competitive competition and that was the most fun about it. I think the feeling of having a crowd back to semi-normal and everyone jumping really well made it a great competition."
In the men's shot, New Zealand's 2017 world champion and 2016 Olympic bronze medallist Tom Walsh delivered a consistent series, with 21.46 enough to see off Armin Sinancevic of Serbia in second with 21.16m and Chuk Enekwechi of Nigeria in third with 21.11m.
Three Ethiopian distance runners sharpened up for the Olympics with some encouraging performances. There was a thrilling finish in the women's 800m with Worknesh Mesele and Diribe Welteji straining every sinew in the sprint to the line. It resulted in a meeting record of 1:59.39 for Mesele and a personal best for Welteji just seven-hundredths of a second adrift. In the men's 3000m steeplechase, Abrham Sime won in 8:21.41. Fellow Ethiopian Tigist Ketema won the women's 1500m in 4:03.90, just 0.04 shy of the meeting record. The men's 800m was claimed by Kenya's Cornelius Tuwei in 1:45.76.
In the short sprints, the blustery conditions were always going to make fast times challenging. But in in the hurdles, Olympic silver medallist Orlando Ortega of Spain continued his build up to Tokyo with a solid 13.33 (-1.1m/s) to win the men's race. The women's race was won by European champion Elvira Herman of Belarus in 13.15 (-1.8m/s) despite running in lane nine. The 100m races saw victories for Michelle-Lee Ahye of Trinidad and Tobago in 11.33 (-1.9m/s) and Gift Leotlela of South Africa in 10.24 (-1.8m/s).
Chris Broadbent for World Athletics