Olympic high jump champions Gianmarco Tamberi and Mutaz Barshim (© Getty Images)
Such is the significance of the moment, people remember precisely where they were and exactly how they felt when Mutaz Barshim and Gianmarco Tamberi united to share the Olympic high jump gold in Tokyo.
Nine months have passed since that distinguished display of friendship, respect and top-class competition, but the emotion has not diminished. If anything, it has intensified, as the duo turn the page to start the next chapter in their tale of tenacity and solidarity.
"I can't go anywhere without someone stopping me and telling me where they were, how they felt and what their reaction was, exactly at the time it happened," Barshim says with a smile. "Somebody said they cried, somebody said they broke the TV. I'm really glad that we could inspire so many people."
So much so that Qatar's Barshim and Italy's Tamberi were named winners of the World Athletics Inspiration Award at the end of last year, receiving recognition for that superb show of sportsmanship between two great friends and rivals.



Now, with just four days until the opening meeting of the 2022 Wanda Diamond League series, the pair are preparing to reunite on the runway for the first time since Tokyo – first in Doha on Friday (13) and then the following month in Rome as they once again welcome each other to their home countries.
"I celebrated the best moment of my life so far with Mutaz in Tokyo, but it's important to move on from that and focus on the new goals I've set myself for the World and European Championships this summer," says 2021 Wanda Diamond League champion Tamberi, who spent a spell training in Qatar in March and April.
"I've enjoyed learning more about this great country. Every time I come here it feels like home because of my friendship with Mutaz and the warm welcome I've received, so it means a lot to me to open my Diamond League campaign and summer season in Doha.
"How high will I jump? I don't know, we'll see. We will evaluate in the coming days whether to compete with a full run or with nine steps."
The Golden Gala Pietro Mennea then takes place in Rome on 9 June – just five weeks out from the World Athletics Championships Oregon 22.
"Rome is a beautiful stage to better prepare for the World Championships," Tamberi adds. "Having the Golden Gala before Eugene is essential for me."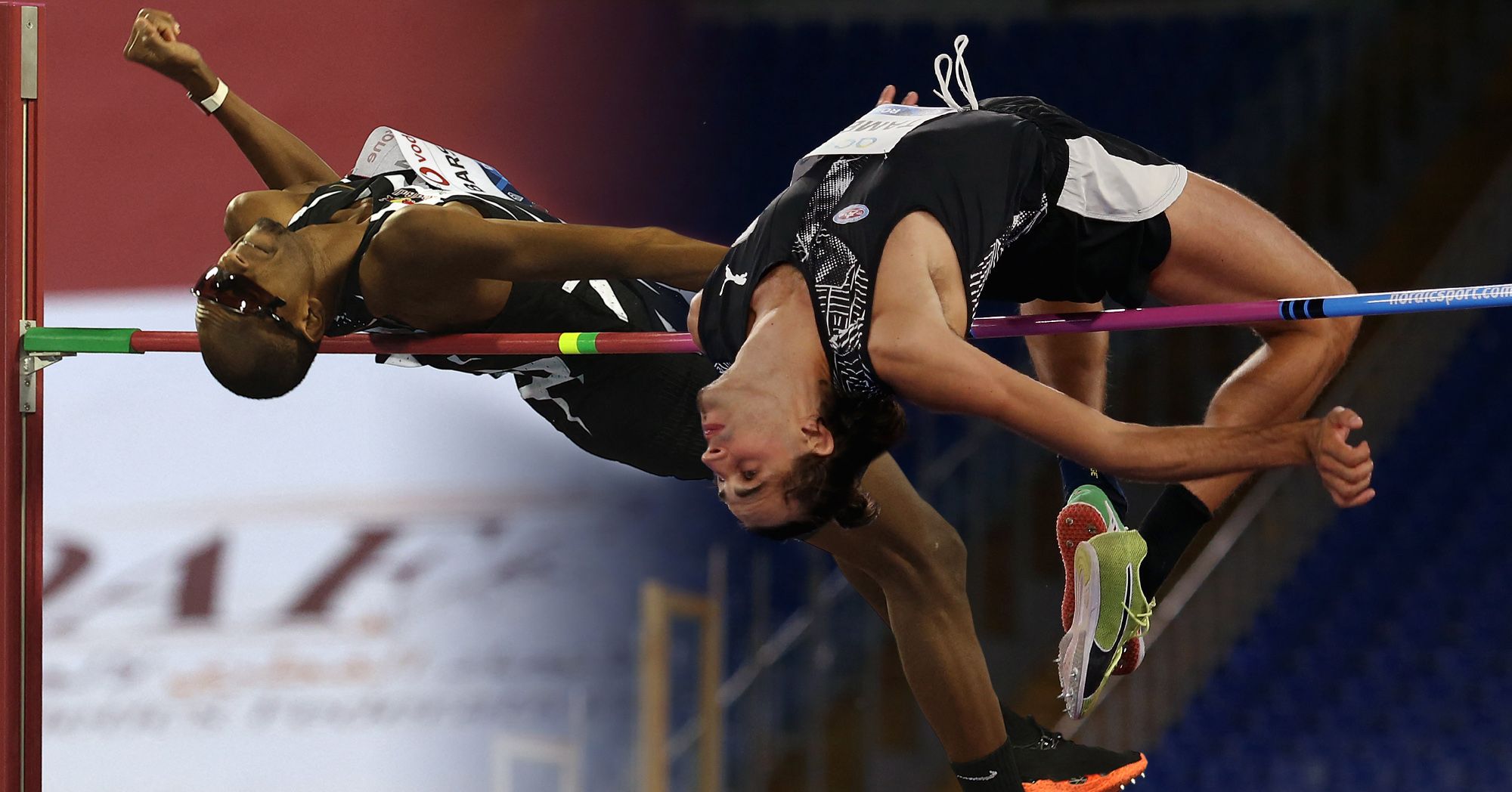 Mutaz Barshim and Gianmarco Tamberi (© Getty Images / AFP)
The outdoor head-to-head record between the two high jump stars currently stands at 10-4 in Barshim's favour, but the last time they met in Diamond League competition – at last year's Golden Gala – Tamberi had the upper hand, finishing third as Barshim was fifth.
They may not have things all their own way in Doha, either, as they will face joint world leaders Sanghyeok Woo and Hamish Kerr. Korea's Olympic fourth-place finisher Woo cleared 2.34m to win the world indoor title in Belgrade in March, while New Zealand's Kerr claimed joint bronze alongside Tamberi.


Brothers in arms
The friendship between Barshim and Tamberi began over a decade ago, when their high jump talent took them to the 2010 World U20 Championships in Moncton, Canada. Barshim won that title and has gone on to claim five senior world medals – including three golds – along with his three Olympic medals. Tamberi, meanwhile, has become a world indoor and European champion, recently adding world indoor bronze to his CV at the World Athletics Indoor Championships Belgrade 22.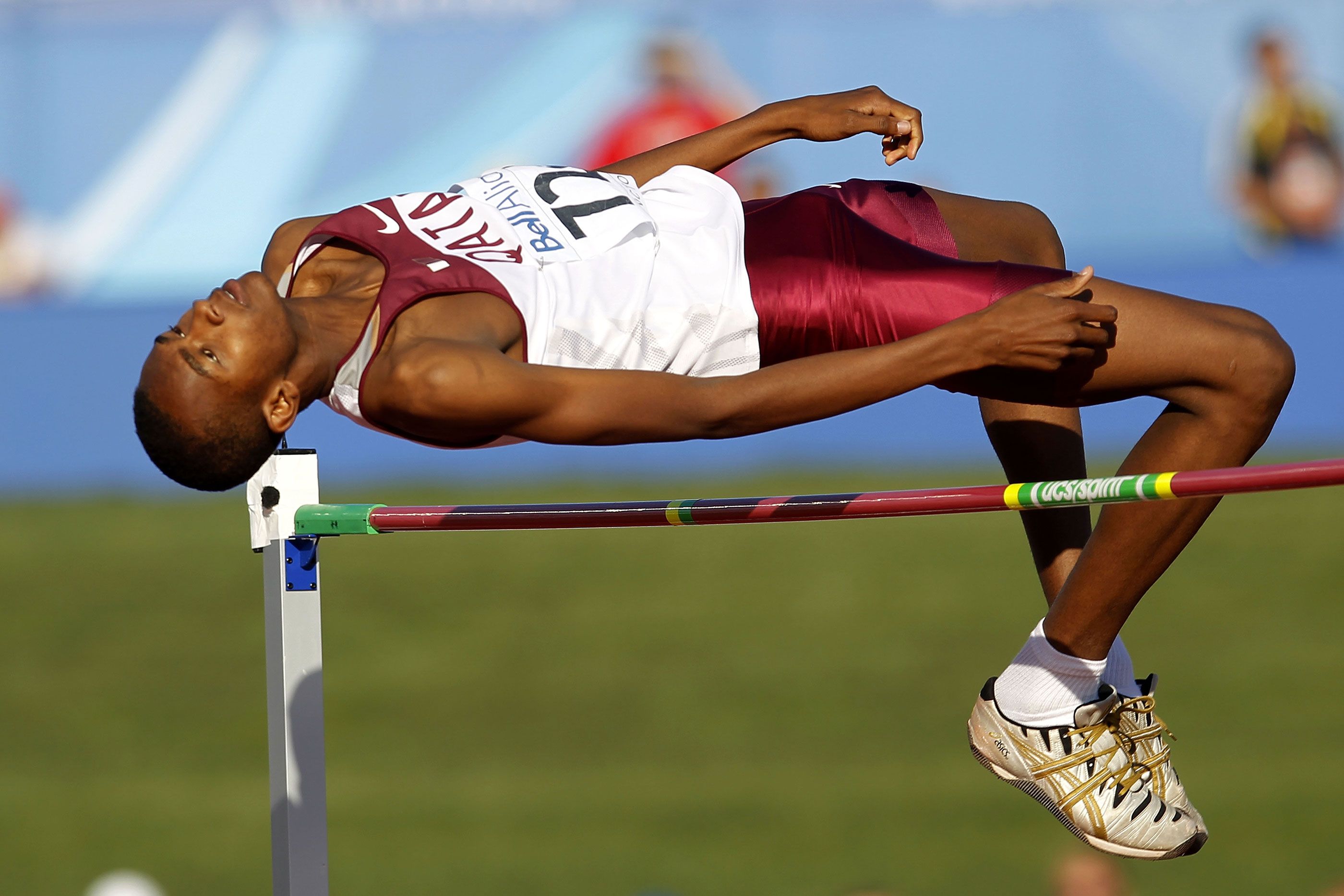 Mutaz Barshim competes at the 2010 World U20 Championships in Moncton (© Getty Images)
But it has not all been plain sailing and central to their story is the support they have shown each other during the highs and – most significantly – the lows, particularly when it comes to their shared experience of career-threatening injury.
"I think 99% of people thought it was impossible for me to achieve that gold medal in Tokyo," says Tamberi, the Italian record-holder with his best of 2.39m, who tore a ligament in his left ankle just weeks out from the Rio Olympics.
"And now, if I saw that story from the outside, I would say that I agree! But it is a wonderful story with a magical ending. I always try to say that until the last day you have one chance, one opportunity – until the last day, it is not finished."
Barshim, who suffered the same injury in 2018, feels the same. "When I got injured and I was laying in the hospital bed after surgery, you start thinking, 'am I ever going to be able to do what I love again?'" says the Qatari record-holder, whose PB of 2.43m puts him second on the world all-time list.
"Something changed in me, and you start to appreciate things more and approach things differently. In that moment, that's what came to me."
In the highest-quality men's high jump competition in Olympic history, six athletes were still active when the bar went up to 2.39m inside Tokyo's National Stadium. Both Barshim and Tamberi had flawless performances up to 2.37m, but when neither were able to go two centimetres higher, the multiple Asian champion asked the judge a five-word question that electrified a global audience of millions.
"Can we have two golds?"
They barely waited for his reply as Tamberi leapt into his friend and rival's arms to celebrate.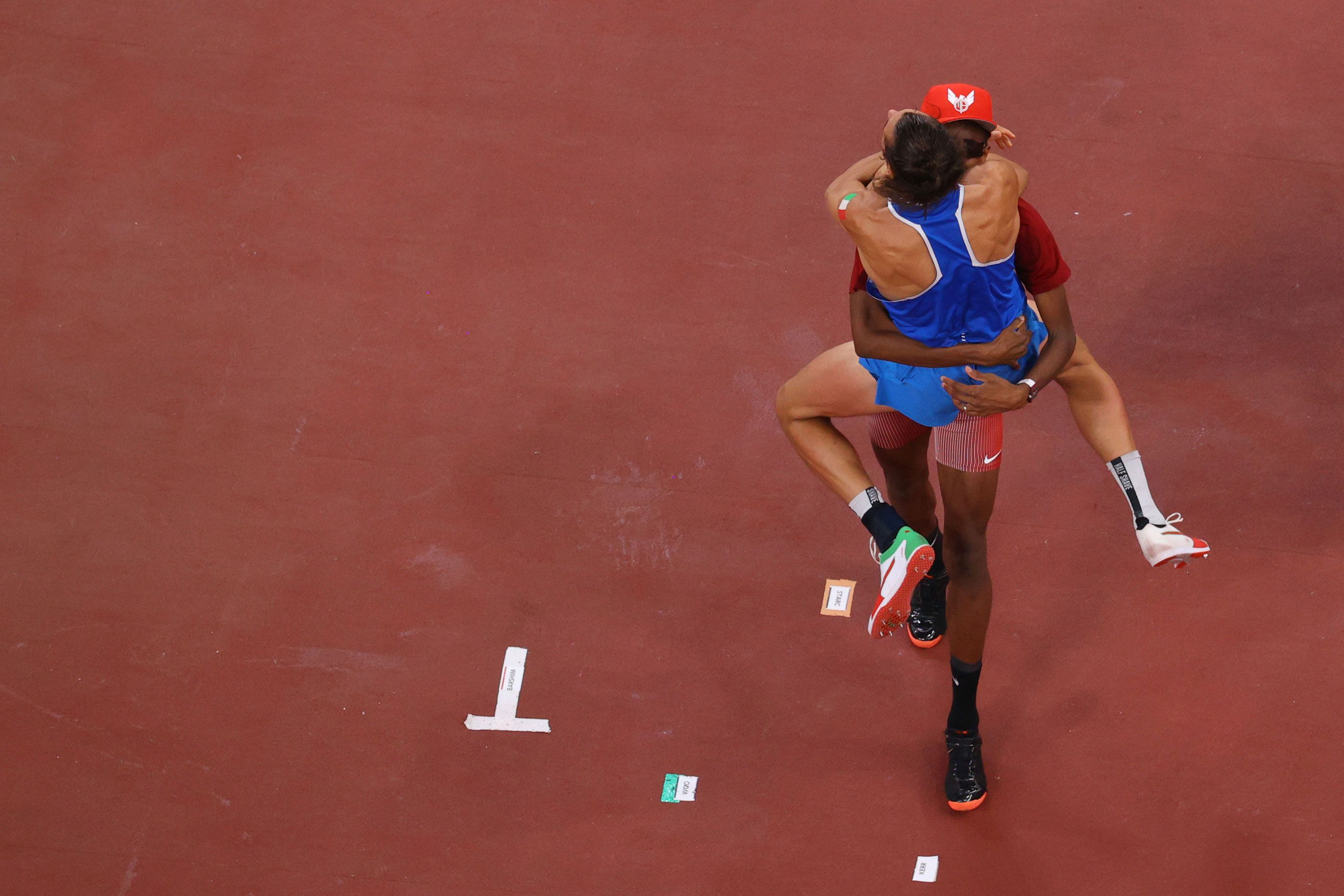 Mutaz Barshim and Gianmarco Tamberi celebrate their joint Olympic high jump gold in Tokyo (© Getty Images)
"It was such a genuine moment," explains Barshim. "People love the fact that you can be so competitive and so selfish – because you have to have some selfishness in a positive way as we both want the best – but at the same time, we didn't forget the true spirit of sport.
"That is what people really love. Winning Olympic gold, of course it is a great feeling, but that moment to share – it touched so many people's hearts."
"We just looked into each other's eyes and in one tenth of a second, we decided," remembers Tamberi. "After the Olympic Games, this big friendship became like family. He will forever be my brother."
Now the brothers in arms have a new target – the World Championships in Oregon in July.
"We made history with our Olympic gold, but my focus is now entirely on defending my world title in Eugene later this summer," says Barshim. "The men's high jump is currently at a very high standard. We must all continue to work hard if we're to push the boundaries of our sport."
The 30-year-old will be going for a third consecutive title after his wins in London in 2017 and on home soil in Doha in 2019, while Tamberi seeks the only major title missing from his collection.
But – as the Olympics in Tokyo proved – who says it has to be one or the other?
"Of course, this year the main goal is the outdoor World Championships where I want to share the gold medal with Mutaz again," says 29-year-old Tamberi.
Whether or not history repeats in Oregon, the next chapter will be equally fascinating.
Jess Whittington for World Athletics