Mutaz Barshim and Gianmarco Tamberi celebrate their shared Olympic high jump gold in Tokyo (© Getty Images)
Athletics is rarely more poetic than it was in Tokyo on Sunday night (1), when Mutaz Barshim and Gianmarco Tamberi – friends, rivals, brothers in the shared anguish of the same career-threatening injury – agreed to share the Olympic gold medal in the high jump having put in identical performances to see off all other opposition.
It's possible that neither of them would be in this position without the other.
Both of their careers have been in crisis at times during the last five years, and each time that one was down, the other was there to lift him up.
In his last competition before the Rio Olympic Games, at the Monaco Diamond League meeting, Tamberi was in career best form, clearing 2.39m and attempting to join Barshim as a 2.40m-plus jumper going into the Games. Then he tore a ligament in his left ankle, the injury so serious that it required immediate surgery and ruled him out of competing at the Olympics.
Tamberi has needed every one of those five years to get back to where he was before the injury.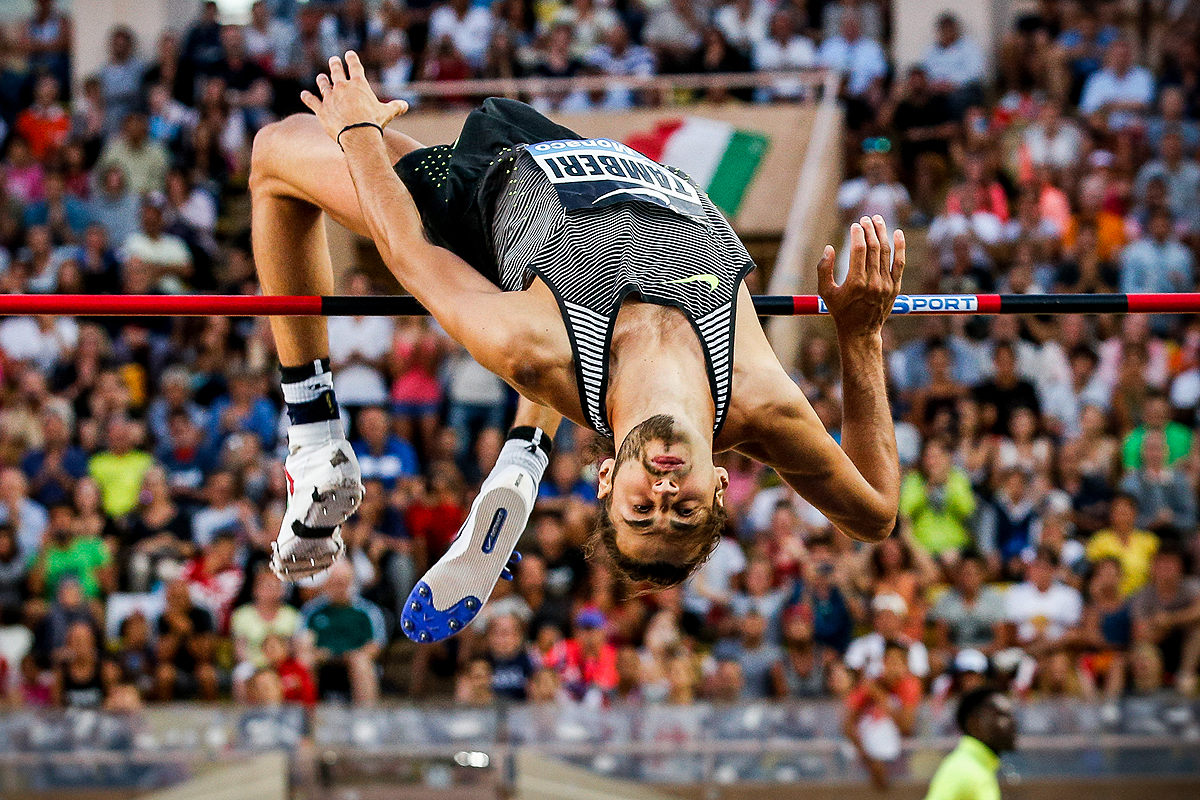 Gianmarco Tamberi competes at the Monaco Diamond League (© Philippe Fitte)

He recalled that when he started his comeback in 2017, it went badly. At his second competition, the Diamond League meeting in Paris, he no-heighted and was inconsolable, shutting himself in his hotel room and refusing to talk to anyone.
"The day after, Mutaz started knocking on my room and he wouldn't go away," Tamberi explained in an interview with Spikes magazine. "First I just wanted him to leave. He persisted and was shouting: 'Gimbo. Gimbo, please I want to talk to you.' So I gave in and let him in.
"We talked. I cried in front of him. He tried to calm me down, and told me what he had to say.
"'Don't try to rush it,' he kept telling me. 'You had a big injury, you're already back in the Diamond League. No one expected that. But now you need to take your time, don't expect too much too early from yourself. Just see what happens.'"
A year later it was Tamberi's turn to offer his shoulder when Barshim sustained the exact same injury and had to undergo surgery, little more than a year before his hometown Doha was to host the World Athletics Championships.
They supported each other through the dark days of 2018.
Tamberi was making a slower than expected recovery from his injury. His body had been repaired but his mind was shattered by the experience.
Last month, when he returned to Monaco to compete, he revealed that he was afraid to jump for two years after his injury.
"I was so close to my big dream (before the injury) and then I had to start a new career," he said.
"It would have been better if I had that injury going down the stairs, because I was really scared of doing it again (while jumping)."
His fear eroded his technique and he picked up bad habits that made it harder for him to perform at the highest level.
He kept working with his coach and father Marco, but it was Barshim's successful comeback to win the world title in Doha in 2019 that gave him much-needed hope.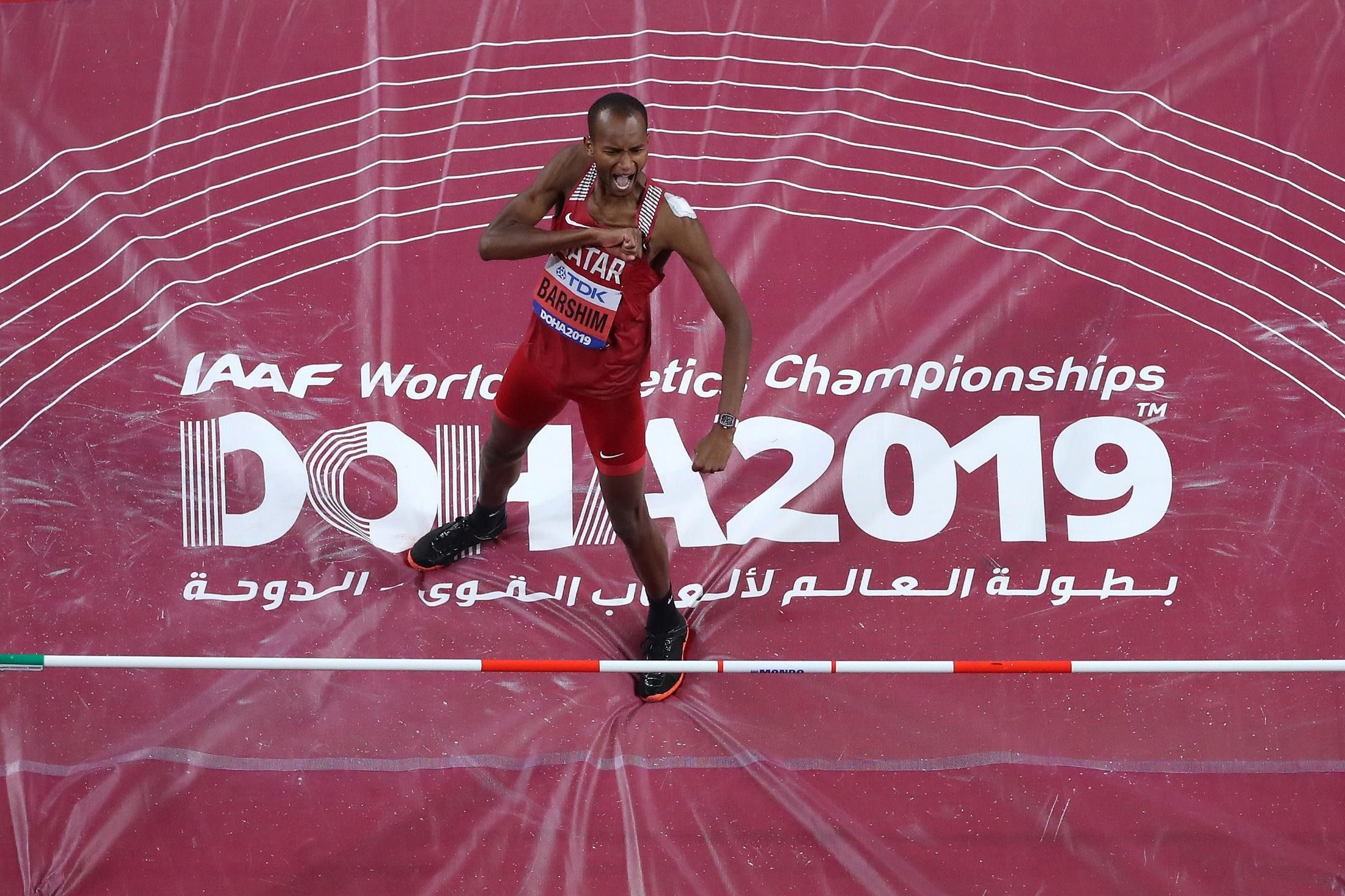 Mutaz Barshim celebrates successfully defending his world title in Doha (© Getty Images)


"I was really happy for him that he won in Doha. He did it and I didn't," Tamberi said. "After one year he won the world championship. It motivated me. (I told myself) 'you can learn from him.'"
Tamberi had much work to do to "clean up the mistakes of 2017 and 2018 that I made because I was scared" but he finally began to find his rhythm again this year.
He took the cast that stabilised his ankle after his surgery to Tokyo as a reminder of how far he had come since that devastating day, and used it to mark the start of his run up in the Olympic final.
"The cast represents every day, every single day in the last five years which has taken me here," he said. "Today it wasn't 'Half Beard', it wasn't white dyed hair who was out there, it was just me, Gimbo."
In an interesting twist on some of the myths about the nature of competition, it was through revealing their weaknesses to each other that rivals Barshim and Tamberi found their strength.
So they knew instantly what they would do when they were tied for the win at the end of the Olympic final and an official approached them to ask if they wanted to jump off for the title.
"Can we have two golds?" Barshim asked him.
"I look at him, he looks at me, and we know it. We just look at each other and we know, that is it, it is done. There is no need," Barshim said later.
Tamberi added: "Neither of us wanted to take this immense joy away from the other, we didn't even need to discuss it, an eye contact and we both knew we wanted to share this gold. In fact, many times before we've joked 'imagine if we could share an Olympic gold medal in Tokyo?'"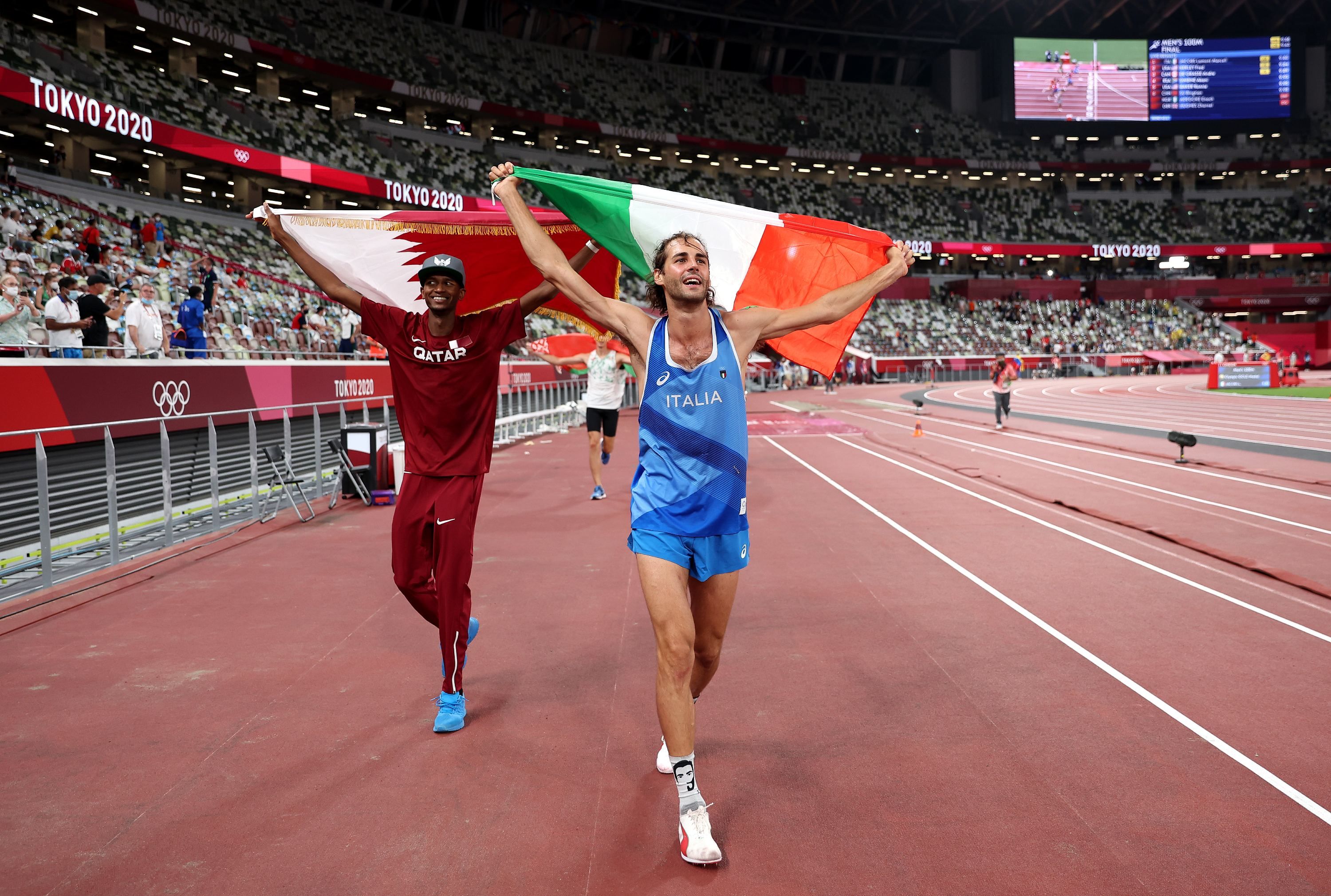 Mutaz Barshim and Gianmarco Tamberi celebrate shared gold in Tokyo (© Getty Images)

Their friendship was forged through the worst times and now they have the unique chance to celebrate the best of times together.
"He is one of my best friends, not only on the track, but outside the track," Barshim said.
"We work together. This is a dream come true. It is the true spirit, the sportsman spirit, and we are here delivering this message.
"We have been through a lot, the same injury, and we know how much it takes, physically and mentally, just to get back here. I appreciate what he has done, he appreciates what I have done. It is amazing."
There is unlikely to be a more heart-warming moment at the Tokyo Olympic Games.
Nicole Jeffery for World Athletics