Karsten Warholm breaks the world 400m hurdles record at the Wanda Diamond League meeting in Oslo (© Matthew Quine / Diamond League AG)
Just five days after being pushed down a place on the world 400m hurdles all-time list, Norwegian star Karsten Warholm responded in sensational style to smash Kevin Young's long-standing world record, clocking 46.70* at the Oslo Bislett Games, this season's fourth Wanda Diamond League meeting, on Thursday (1).
Speaking at the pre-event press conference, two-time world champion Warholm had highlighted the impact of top-class rivalries. "Your competitors are what really push you towards bigger things," he said. "If it was only me running quick times, I wouldn't need to push it any further, but with people there running fast times, I need to take a step up as well."
He certainly did that when racing in front of a home crowd of 5000 at the Bislett Stadion.
Although he didn't have huge pressure from the athletes alongside him on the track, the 46.83 run by Rai Benjamin at the US Olympic Trials just a few days before was fresh in the memory. That mark had replaced Warholm's previous best of 46.87 set in Stockholm last August as No.2 all-time behind Young's 46.78 world record run at the 1992 Olympics in Barcelona. But in Oslo, Warholm shaved 0.08 off that mark.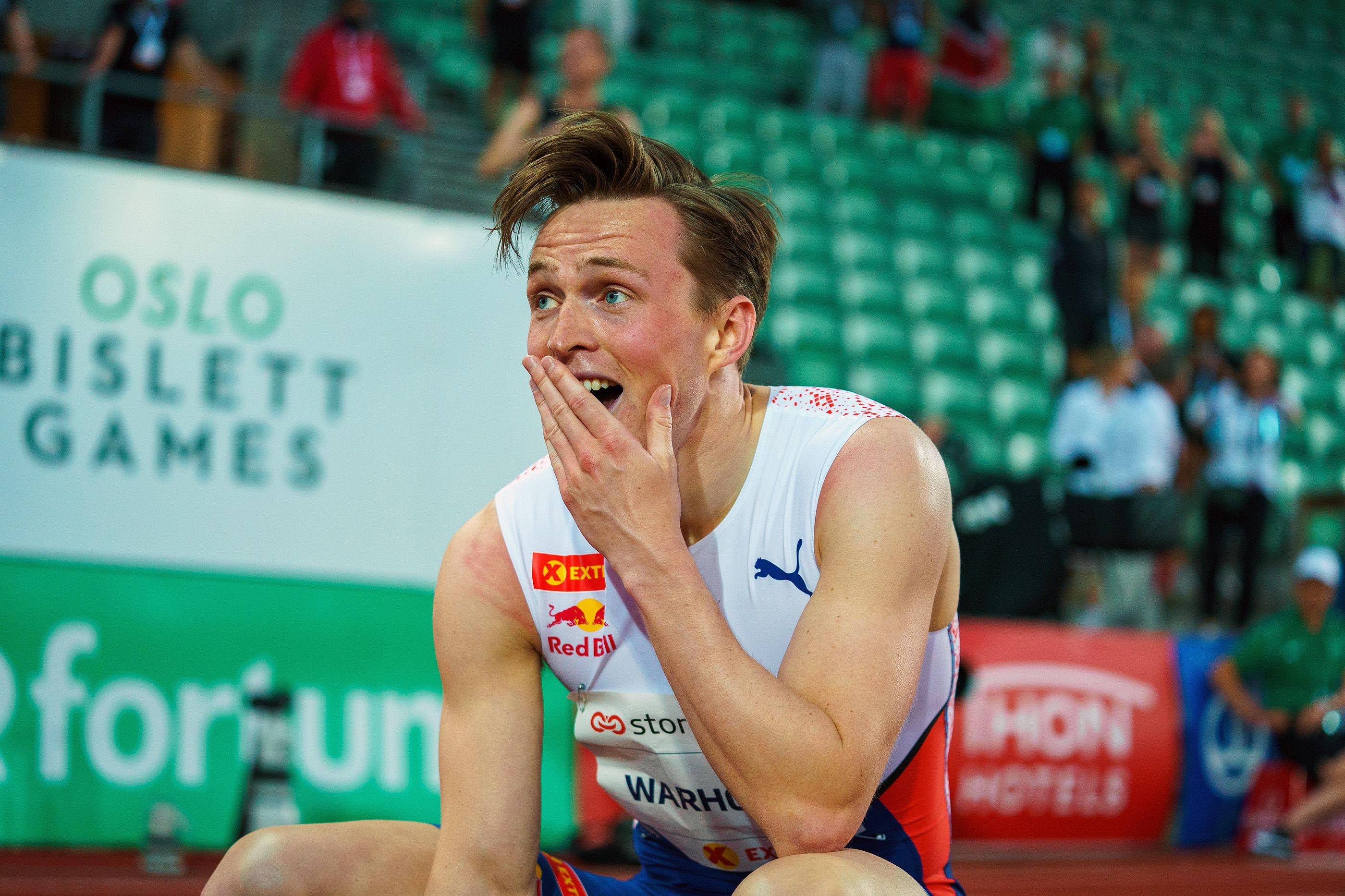 On a warm and cloudy evening, which welcomed fans for the biggest gathering of people in Norway since the start of the pandemic, Warholm was greeted with a wall of cheers and chants of 'Karsten, Karsten'. Lining up in his lucky lane seven with Brazil's Alison dos Santos to his left and France's Ludvy Vaillant on his right, Warholm blasted from the blocks. He had clearly closed the stagger by the first barrier and was well ahead going into the final bend. Clearing the final hurdle – the one which he so slightly clipped in the final stages of his 46.87 in Stockholm – there were no other barriers in his way as he roared over the finish line with his arms spread wide to a time of 46.70 on the clock.
Dos Santos was second, finishing fast to improve his South American record to 47.38, and Turkey's Yasmani Copello was third in 48.86.
"It's very special to be the first to beat Kevin Young's world record," said Warholm, who is coached by Leif Olav Alnes. "It has been really tough sitting at home and doing hard work and knowing that people are taking a shot at that world record for a long time, and seeing how Rai ran at the Trials. All respect to my competitors but it's very special and nice for me to be able to be the first to break that world record. It was important to me.
"It is very special to do it here in Bislett in front of a great crowd including my friends and family. This is my first 400m hurdles of the season, so I really think there is more in the tank."
After witnessing Warholm's performance, Young said: "The phones are ringing! What an amazing race. I enjoyed it and for now I have the Olympic record."
On Tokyo and Warholm's potential head-to-head with Benjamin, Young added: "To win, either Rai or Karsten will have to have the race of a lifetime."
Fans will not have long to wait until the next instalment in what is proving to be a top rivalry, as Warholm and Benjamin will be going head-to-head at the Wanda Diamond League meeting in Monaco on 9 July.
With Sydney McLaughlin having clocked 51.90 at the US Olympic Trials on Sunday, it means both the women's and men's world records have been broken within the same week.
Duplantis attempts 6.19m
That wasn't the only world record action of the evening as over in the pole vault Sweden's Mondo Duplantis had three attempts at improving his own global mark to 6.19m.
It wasn't to be on this occasion but a clearance of that height does not look far away and the 21-year-old achieved yet another six metre-plus performance, clearing 6.01m to break the meeting record.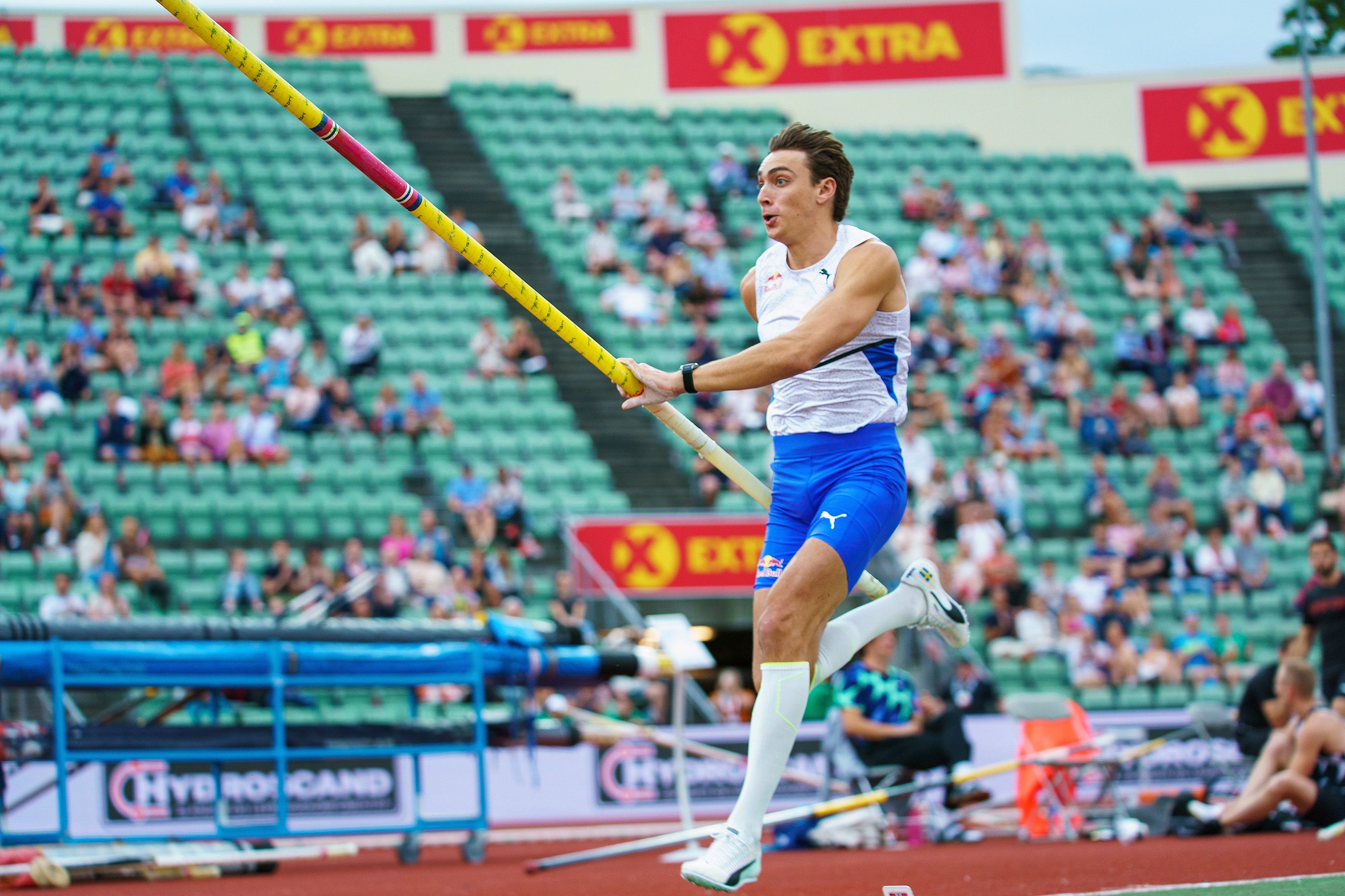 Duplantis has competed in a range of weather conditions so far this season and the world silver medallist – who cleared his 6.18m world record indoors in Glasgow in February 2020 – made the most of the warm temperatures, crowd support and world-class competition in Oslo. Meeting the USA's two-time world champion Sam Kendricks and France's former world record-holder Renaud Lavillenie in a three-way clash for the 21st time, Duplantis notched one more win on to his tally, taking it to six consecutive wins in this three-way contest.
Opening with a first-time clearance of 5.61m, Duplantis went on to clear 5.81m, 5.91m and 6.01m on his first attempts before his three tries at 6.19m.
Kendricks finished second as he soared over 5.91m on his third attempt, while Lavillenie was third with a best of 5.81m.
"I felt really good out there. We could really feel the energy in the stadium," said Duplantis. "Sometimes you just have that feeling and tonight I knew I could get six metres but of course, it is never easy.
"I really think I can get that record soon. It will come this season."


Kejelcha shows his speed
Back on the track, two-time world indoor 3000m champion Yomif Kejelcha stormed to seventh on the world all-time list for the distance outdoors, clocking 7:26.25 to also move to third on the Ethiopian all-time rankings behind only Haile Gebrselassie – whose meeting record he broke – and Kenenisa Bekele.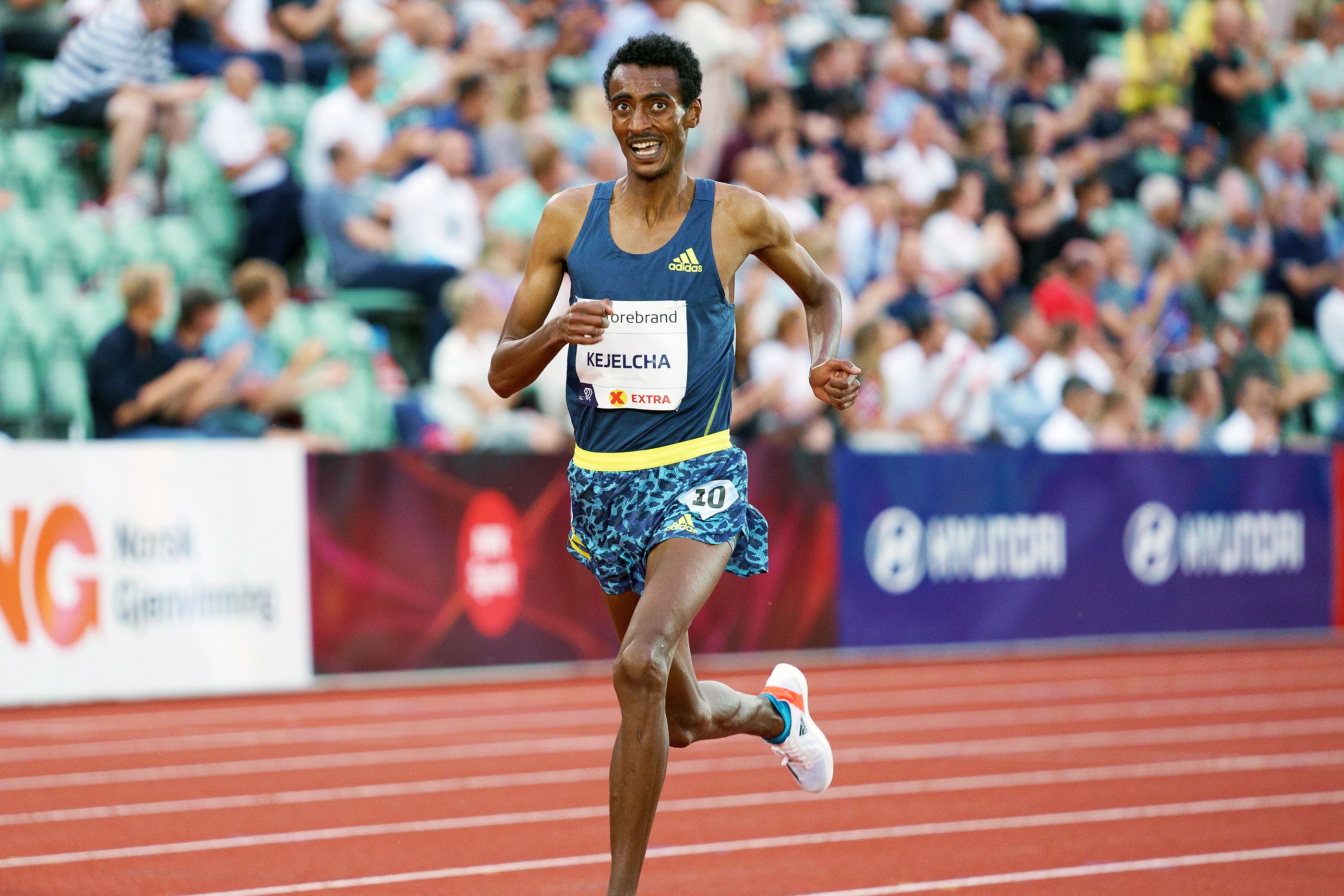 Running with Wavelight technology, Kejelcha followed the lights and pacemaker Vincent Kibet through 1000m in 2:32.04 before taking over to pass 2000m in 5:02.37. From there the pace picked up and he left the lights, as well as Kenya's Jacob Krop, behind at the bell. Striding away along the backstraight he went on to win by almost four seconds, with Krop second in 7:30.07 and Nicholas Kimeli third in 7:31.33 as the top eight all ran PBs. They included Bahrain's Birhanu Balew with 7:33.05 for fourth and home favourite Filip Ingebrigtsen who ran 7:34.00 to finish fifth.
The men's mile was titled the Svein Arne Hansen Dream Mile, in tribute to the event's long-time meeting director and president of European Athletics, who died last year. World Athletics president Sebastian Coe shared a video message in memory, as a moment of silence was held for the man who helped to make the meeting the great success it is today.
The race was run fittingly, with Australia's Stewart McSweyn breaking Craig Mottram's 3:48.98 Oceania record with a world-leading 3:48.37 as the top six all set PBs. McSweyn adds this latest mark to the Australian records he holds for 1500m (3:30.51) and 3000m (7:28.02).
Behind him in Oslo, Marcin Lewandowski finished second in a Polish record of 3:49.11 and Australia's Jye Edwards was third in 3:49.27. Norway's double European champion Jakob Ingebrigtsen had withdrawn on the eve of the race due to a sore throat.
An exciting women's 5000m saw Kenya's two-time world champion Hellen Obiri bounce back after defeats at the Kenyan Olympic Trials and the Doha Diamond League, running 14:26.38 to beat Ethiopia's Fantu Worku, who ran a PB of 14:26.80, and Kenya's Margaret Chelimo Kipkemboi with 14:28.24. Eilish McColgan broke Paula Radcliffe's 17-year-old British record, running 14:28.55 to finish fourth.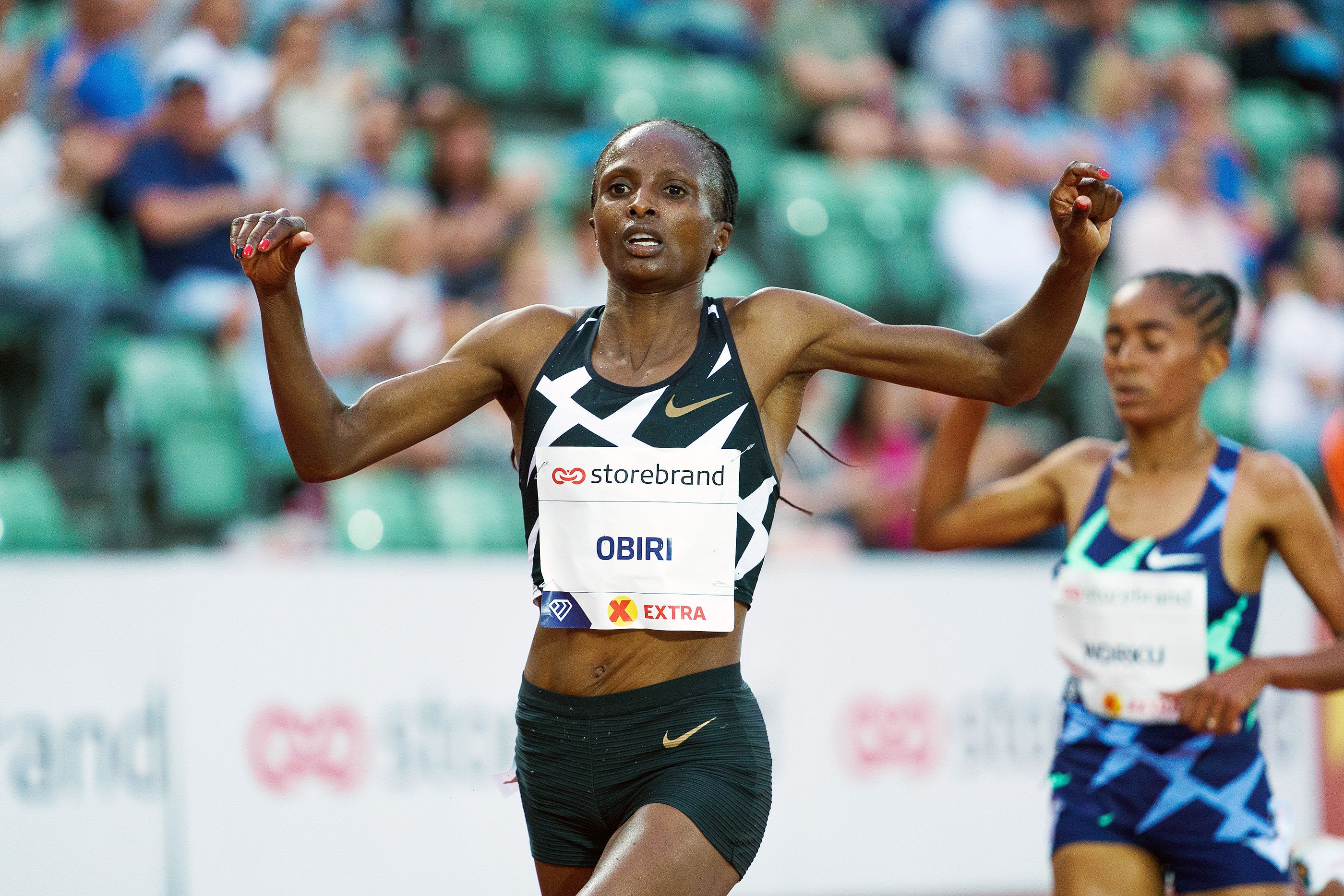 After finishing seventh in the US Olympic Trials, Kate Grace ran the 800m race of her life, clocking a big PB of 1:57.60 to beat Uganda's world champion Halimah Nakaayi, runner-up in 1:58.70, and Switzerland's Lore Hoffmann as the first five all dipped under two minutes.


Another national record for Bol
European indoor 400m champion Femke Bol achieved an impressive 11th Dutch record of the year, also breaking the European U23 record with 53.33 to secure 400m hurdles victory ahead of Ukraine's European silver medallist Anna Ryzhykova with a 54.15 PB and Viktoriya Tkachuk with 54.62.
The 21-year-old Bol has taken her 400m hurdles best from 55.32 in 2019 to 53.79 in 2020, and her time in Oslo means she has improved that mark by a further 0.46 this year.
"It's crazy!" said a delighted Bol. "Today I was really enjoying the big crowd and I thought, execute the race as best as possible and to get a new national record is really insane."
Racing into a -1.0m/s headwind, Canada's Olympic and world medallist Andre De Grasse dominated the men's 200m in 20.09 from his compatriot Aaron Brown, who ran 20.38. In the women's 100m, Ivory Coast's three-time world medallist Marie-Josee Ta Lou dipped below 11 seconds with a legal wind for the first time this season, clocking 10.91 (-0.3m/s) to pip Britain's Daryll Neita with 11.06 and Switzerland's Ajla Del Ponte with 11.16.
After a top contest at the Kuortane Games in Finland the weekend before, Daniel Stahl and Kristjan Ceh again went head-to-head in the discus but this time their final-round performances exactly matched. With the competition following the 'final three' format, both athletes achieved 65.72m in the last round, with Sweden's world champion Stahl having also thrown 68.65m in round five and Ceh recording 66.68m in round four.
Germany's world champion Malaika Mihambo leapt 6.83m (-0.3m/s) in the final round of the women's long jump to win after recording 6.86m in round two, with world indoor champion Ivana Spanovic securing second after her last leap of 6.61m. She also jumped 6.66m in the first round.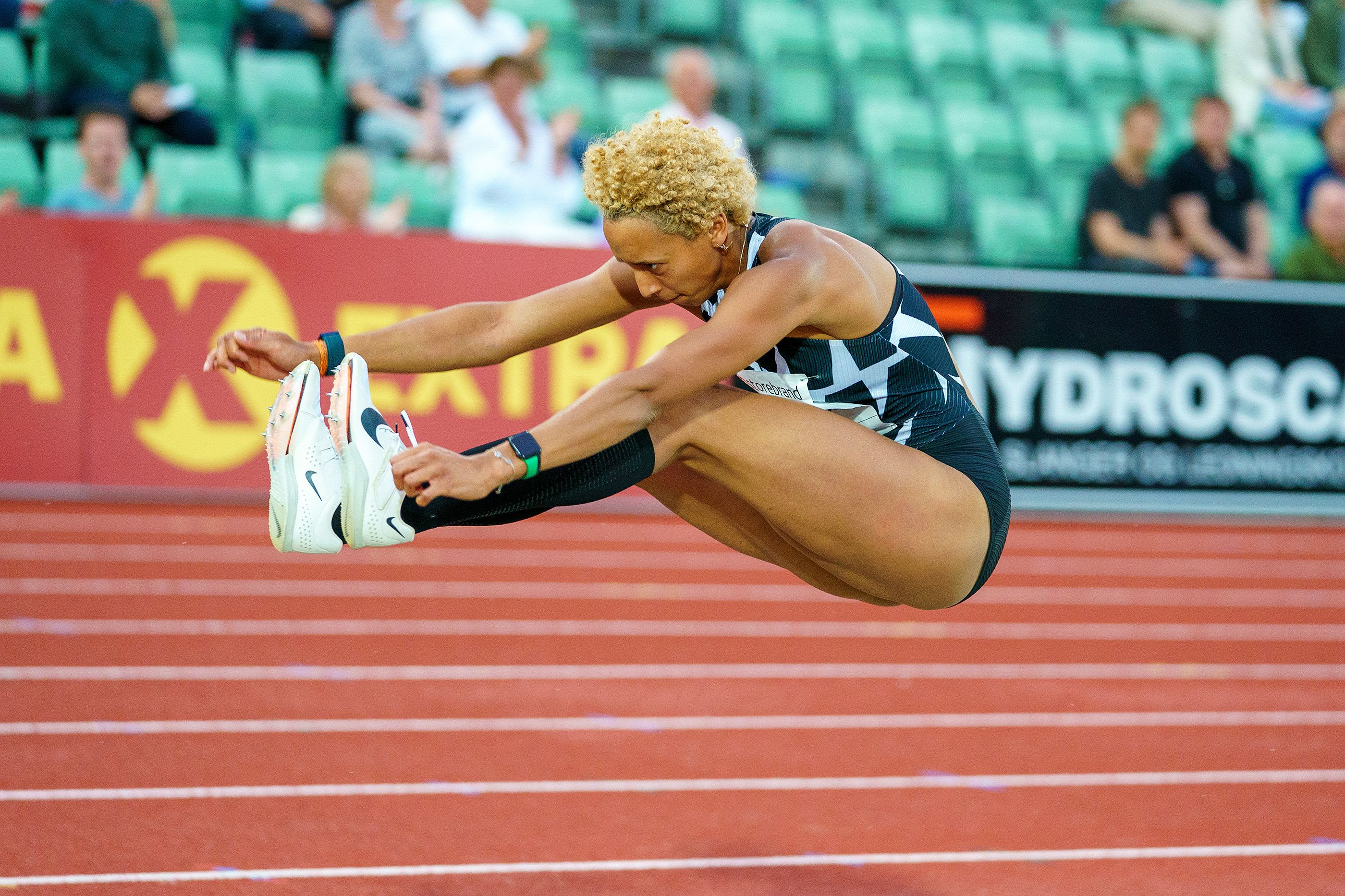 Algeria's Yasser Triki leapt 17.23m (-0.5m/s) to claim the men's triple jump win, achieving that in the 'final three' round and backing it up with 17.24m from the first round. Cuba's Andy Diaz finished second with his sole leap of 16.78m (0.3m/s) from his first attempt after he pulled up in the final round, while Portugal's Tiago Pereira fouled the final round but jumped 16.64m (-0.5m/s) on his third attempt.
Germany's European champion Christin Hussong won the women's javelin, throwing 62.62m in round three and then winning the final round with 60.95m, which beat world leader Maria Andrejczyk's 60.35m and Kelsey-Lee Barber's 59.30m. Andrejczyk had earlier thrown 62.67m and Barber 60.86m, both in the fifth round.
Jess Whittington for World Athletics
*Subject to the usual ratification procedure