Sydney McLaughlin wins the 400m hurdles at the US Olympic Trials (© Getty Images)
In a culture saturated by so many other sports, those in the USA fret about who can be the face of athletics.
Who can be featured on television news? Who can be a crossover figure like gymnast Simone Biles? Who can be a Carl Lewis or a Jackie Joyner-Kersee?
As the 10-day US Olympic Trials closed on Sunday night (27) in Eugene, Oregon, there was a deep reservoir of young candidates – none more so than Sydney McLaughlin. The 21-year-old became the first woman to break the 52-second barrier in the 400m hurdles.
Record temperatures approaching 44C delayed the programme by five hours, but there was no delaying the inevitable: McLaughlin was going to break the world record, and she did so with her time of 51.90*.
"I definitely saw it coming," said Dalilah Muhammad, the world and Olympic champion. "She looked so good in the rounds."
McLaughlin's time broke the record of 52.16 set by Muhammad at the World Athletics Championships Doha 2019. McLaughlin, second in that race in 52.23, pulled away from Muhammad over the final two hurdles in Eugene.
Even with 2020 lost to the pandemic, the world record has been broken three times in 23 months – twice by Muhammad, once by McLaughlin.
That was the highlight of another historic day of young record-breakers. The trials ended with 11 world-leading marks, five by men and six by women.
Athing Mu, 19, set a trials record in the 800m; Cole Hocker, 20, became the youngest men's 1500m champion in 110 years; JuVaughn Harrison, 22, became the first to make the US team in the high jump and long jump since Jim Thorpe in 1912; Noah Lyles, 23, ran a world-leading 200m, and Erriyon Knighton, 17, again lowered the world U20 record in the 200m.
McLaughlin has been projected as the sport's face in the United States since she made an Olympic team at age 16. After one college season at Kentucky, she turned professional.
"I was growing into my own person," she said. "My faith is the biggest change. Trusting God and knowing He will carry me through."
Her record-setting might not be over. Not only could McLaughlin lower her world record at the Tokyo Olympics, she should be named to the 4x400m relay team that could set one – though that mark (3:15.17) is arguably a much bigger ask.
McLaughlin trains in Los Angeles under Bobby Kersee, who also coached Joyner-Kersee.
"Bobby knows how to put things together when the time comes," McLaughlin said.
Muhammad, who over the past 12 months has had to contend with injuries and a bout of Covid-19, finished second in 52.42, the third-fastest time of her career. NCAA champion Anna Cockrell took the third spot in 53.70, nearly a full second faster than her previous PB, in beating Shamier Little (53.85). Olympic bronze medallist Ashley Spencer stumbled over an early hurdle and finished seventh.
Likely to join McLaughlin in that 4x400m team is Mu, considering earlier this month she set a collegiate record of 49.57 – faster than the winning mark at the USA Trials.
Mu ran a world-leading 1:56.07 to win the 800m, breaking her own North American U20 record. World silver medallist Raevyn Rogers was second in a PB of 1:57.66 and US record-holder Ajee Wilson third in 1:58.39. Not until late did Wilson overtake Michaela Meyer, who was fourth in 1:58.55.
Mu sat in the pack for the first lap, passing through 200m in 27.54 and 400m in a swift 57.53. She then made her move on the second lap, positioning herself at the front with 200 metres to go. She kicked hard as she came off the final bend and, having covered the final lap in 58.54, crossed the line almost two seconds ahead of her nearest opponent.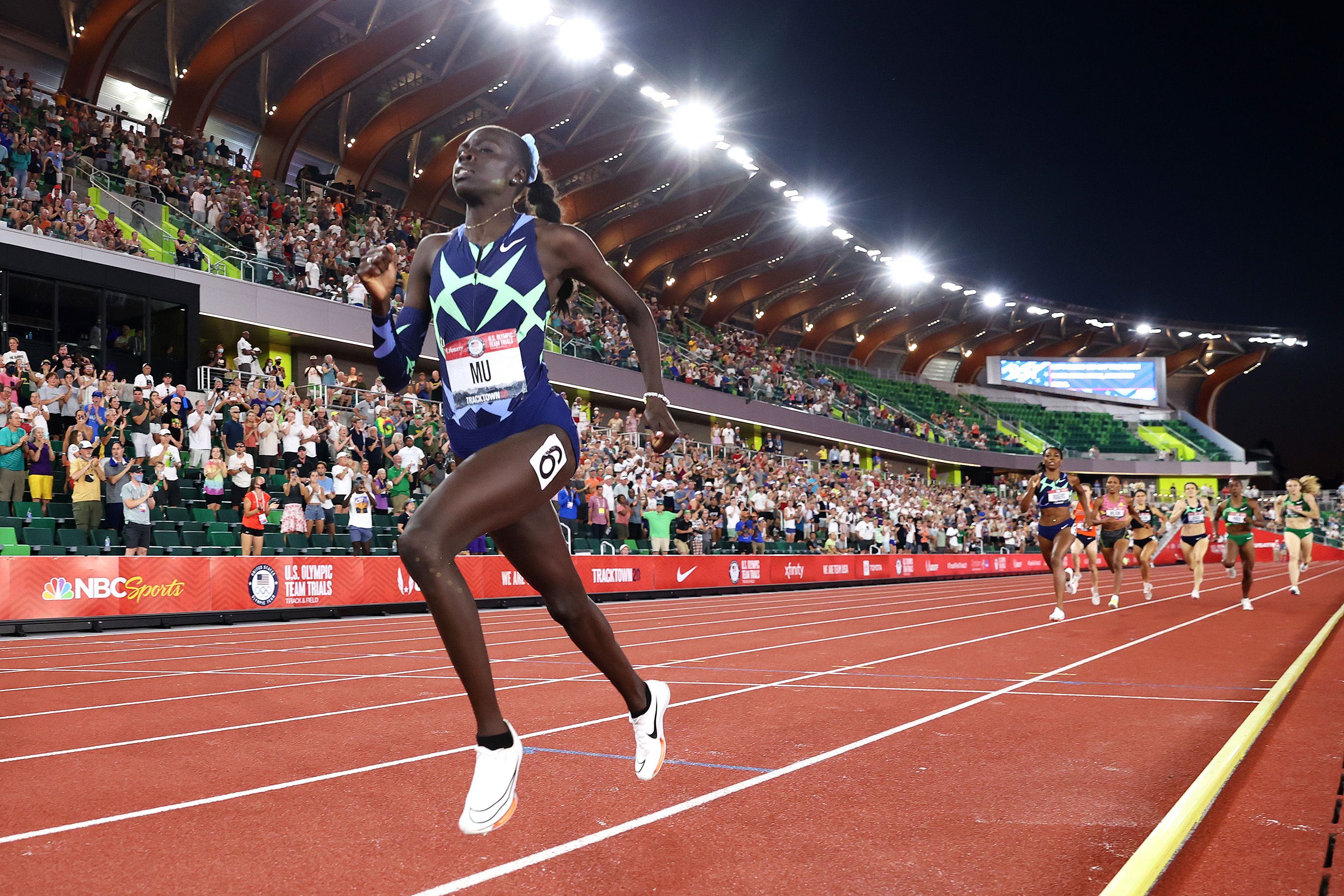 In the men's 1500m, Hocker was in sixth place with about 150 metres left but used a closing rush to overtake Olympic champion Matthew Centrowitz, 3:35.28 to 3:35.34.
Yared Nuguse, 22, was third in 3:36.19, overtaking the most recent national champion, Craig Engels, who is also this year's fastest US man (3:33.64).
Hocker put a finger to his lips past the finish as if to shush critics. An "in-the-moment thing", he said.
"Last year I wasn't at this level. I was nowhere near this level," he said. "This whole year, I felt like I was proving myself to the world, but also proving my talent to myself. There's a lot of negative talk out there, and I wanted to silence everyone."
Hocker has not met the 3:35 Olympic standard but has a world ranking that looks sufficient to secure his spot on the US team.
He is the youngest US Olympian in the men's 1500m since Marty Liquori, then 19, in 1968. And he is the youngest national champion in the men's 1500 or mile since 1911, when Abel Kiviat won a few days after turning 19.
Hocker has run 23 races since 29 January. Thirteen were PBs. Of the 10 others, eight were prelims and one an NCAA indoor title.
"I'm impressed that he's been able to do that since January and is showing no signs of letting up," said Centrowitz.
Harrison won the high jump at 2.33m, beating Darryl Sullivan on countback. Olympic medallist Erik Kynard was fourth.
The delay allowed Harrison more rest for the long jump, in which he jumped a PB of 8.47m, completing the best ever one-day jumps double.
"It just gave my legs more time to recover and gave me a chance to eat something," Harrison said. "I was ready to go earlier, even though they said it was too hot."
Marquis Dendy, the 2016 world indoor champion, was second at 8.38m and Steffin McCarter third with 8.26m. Olympic champion Jeff Henderson was sixth with 8.08m, meaning he won't defend his title in Tokyo.
In a competition that showcased newcomers, it was appropriate that the last athlete to secure an Olympic berth was Knighton. He is the youngest man on the US team since Jim Ryun in 1964.
World champion Lyles won the 200m in a world-leading 19.74, followed by Kenny Bednarek, 19.78, and Knighton, 19.84. Knighton broke his own world U20 record of 19.88 from Saturday's semifinals. He set a world U18 record of 20.04 in Friday's first round, then twice broke that.
Lyles was fourth in the 200m at the 2016 trials as an 18-year-old.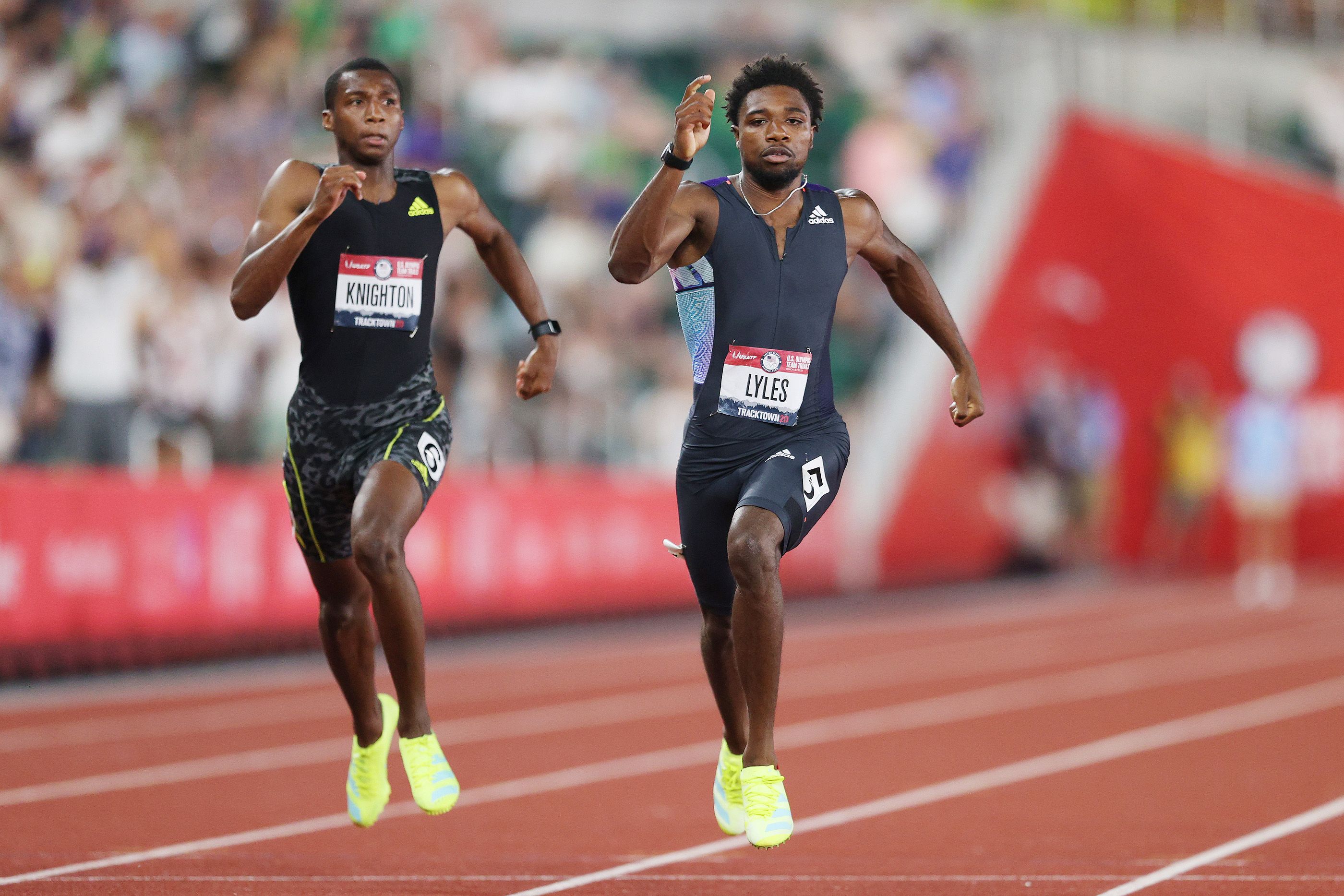 "Ever since then, the mind-set of being an Olympian has been on my mind," said Lyles. "Having the pause on 2020 has probably been my hardest yet. I don't think anyone can prepare you for the lion you have to slay at the Olympic Trials."
In the heptathlon, the year's top three scores were posted by Annie Kunz (6703), Kendall Williams (6683) and Erica Bougard (6667). Kunz, whose previous best was 6153, did not have the Olympic standard until this week.
Kunz broke or was close to her PBs in all seven disciplines. She started with a marginally wind-assisted 12.95 in the 100m hurdles and followed it with 1.81m in the high jump, an outdoor PB. She then threw 15.73m in the shot put, which moved her into the lead overall – a position she maintained after clocking a PB of 23.71 in the 200m to end the first day at the top of the leader board.
She started the second day with a huge PB of 6.50m in the long jump, but briefly relinquished her lead after the javelin (45.06m). Kendell Williams, who ended the first day in third place, was having a strong second day with marks of 6.73m in the long jump and 47.41m in the javelin. It meant Williams went into the final event with a two-point lead over Kunz.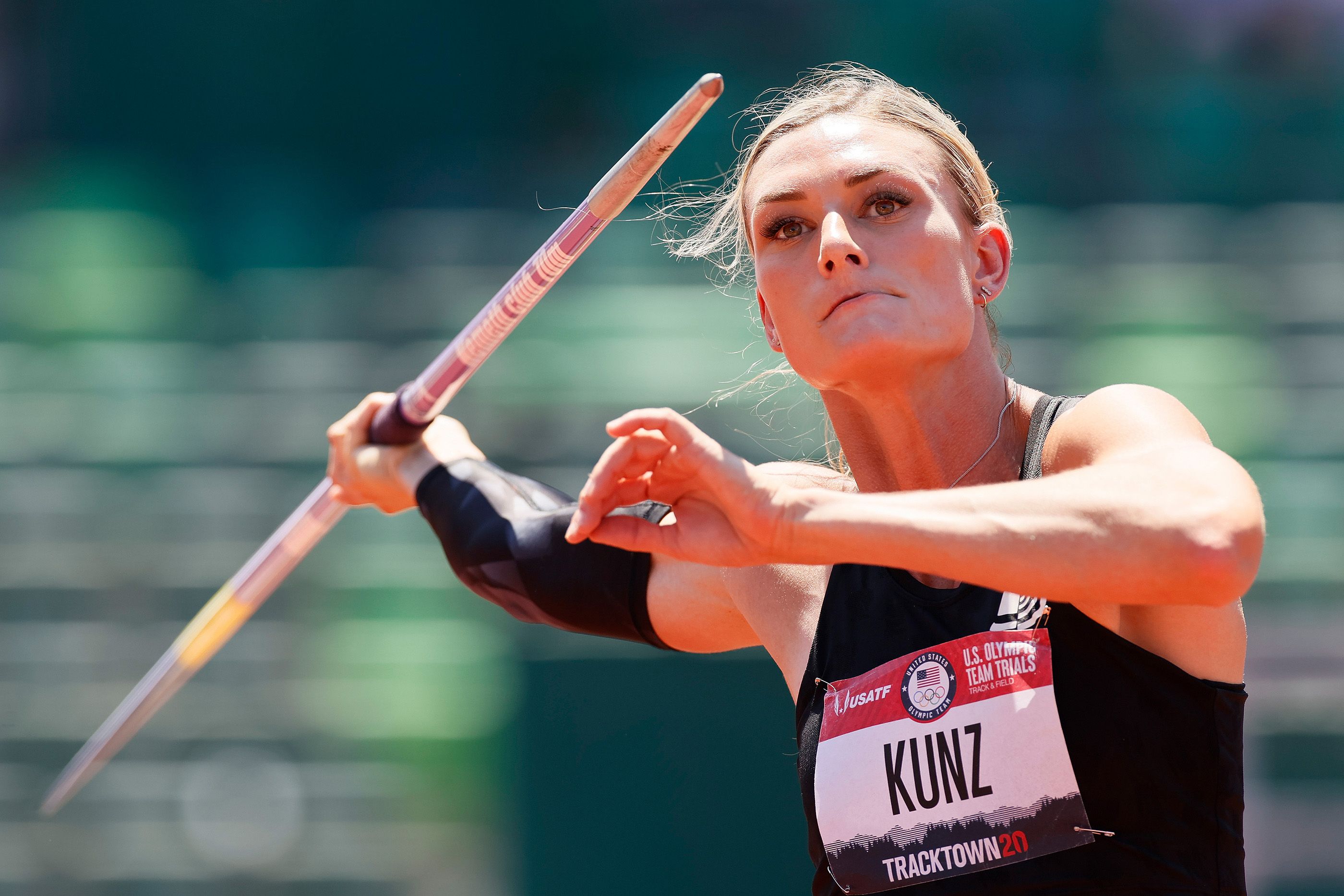 But Kunz ensured she stayed ahead of Williams in the 800m, eventually clocking 2:15.24 to retake the lead with a score of 6703, moving to fifth on the US all-time list. Williams, who finished second with a PB of 6683, is now sixth on that list.
Taliyah Brooks, in fourth place through five events, had to withdraw because of the heat.
"I have grown immensely since 2019," said Kunz, who finished 13th at the 2019 World Championships. "It feels like the sky's the limit now."
The men's 5000m, held in the morning to escape the worst of the heat, was won by Olympic silver medallist Paul Chelimo. He gradually veered from the rail to inside of lane four to force out Bowerman Track Club's Grant Fisher and Woody Kincaid.
Chelimo was first in 13:26.82, followed by Fisher (13:27.01) and Kincaid (13:27.13). Their respective closing laps were 52.83, 52.99 and 52.74. Cooper Teare was fourth in 13:28.08 off a 53.97 last lap.
Fisher and Kincaid became the first pair to finish in the top three of 5000m and 10,000m at the same US Trials. Qualifying in both had been done previously, but never two at the same trials.
Roy Jordan for World Athletics
*Subject to the usual ratification procedure