US sprinter Erriyon Knighton (© Kevin Morris)
Erriyon Knighton improved his own world U18 best as well as the US U20 record in the first round of the 200m at the US Olympic Trials on Friday (25), winning his heat in 20.04 (-0.2m/s).
Behind him with a time of 20.19 was world champion Noah Lyles, who also lost a record to Knighton as the 17-year-old's time improved the US high school mark set by Lyles at the 2016 US Championships.
Knighton first broke the world U18 best at the end of last month, when he ran 20.11 in Jacksonville to take 0.02 from the age-group mark which had been set by Usain Bolt in 2003. With the semifinals on Saturday and then the final on Sunday, the teenager will surely be looking to go quicker still in Eugene.
On Friday, 100m third-placer Fred Kerley finished third in the heat won by Knighton, clocking 20.41, as Isiah Young won heat two in 20.21 (-0.1m/s), world leader Terrance Laird led heat three in 20.44 (0.8m/s) and Andrew Hudson heat four in 20.40 (0.4m/s).
"It was a good race," said Knighton. "I came out here and did what I had to do. I had the champ (Lyles) behind me, so I couldn't let up too much.
"I saved something, most definitely," he added. "You don't want to push to your full capacity, but you want to make it through the rounds and make the top three. You can't use all your energy in one race.
"It will take 19.8/19.7 to make the team. As of right now, I'm making through the rounds to see how my body feels, and if the opportunity is there I'm going to take it."


Another world lead by Thomas
It was a case of another round and another world lead for Gabby Thomas, as the day after she broke 22 seconds for the first time with a world-leading 21.98 to win her 200m heat, she was back and running even faster in the semifinals.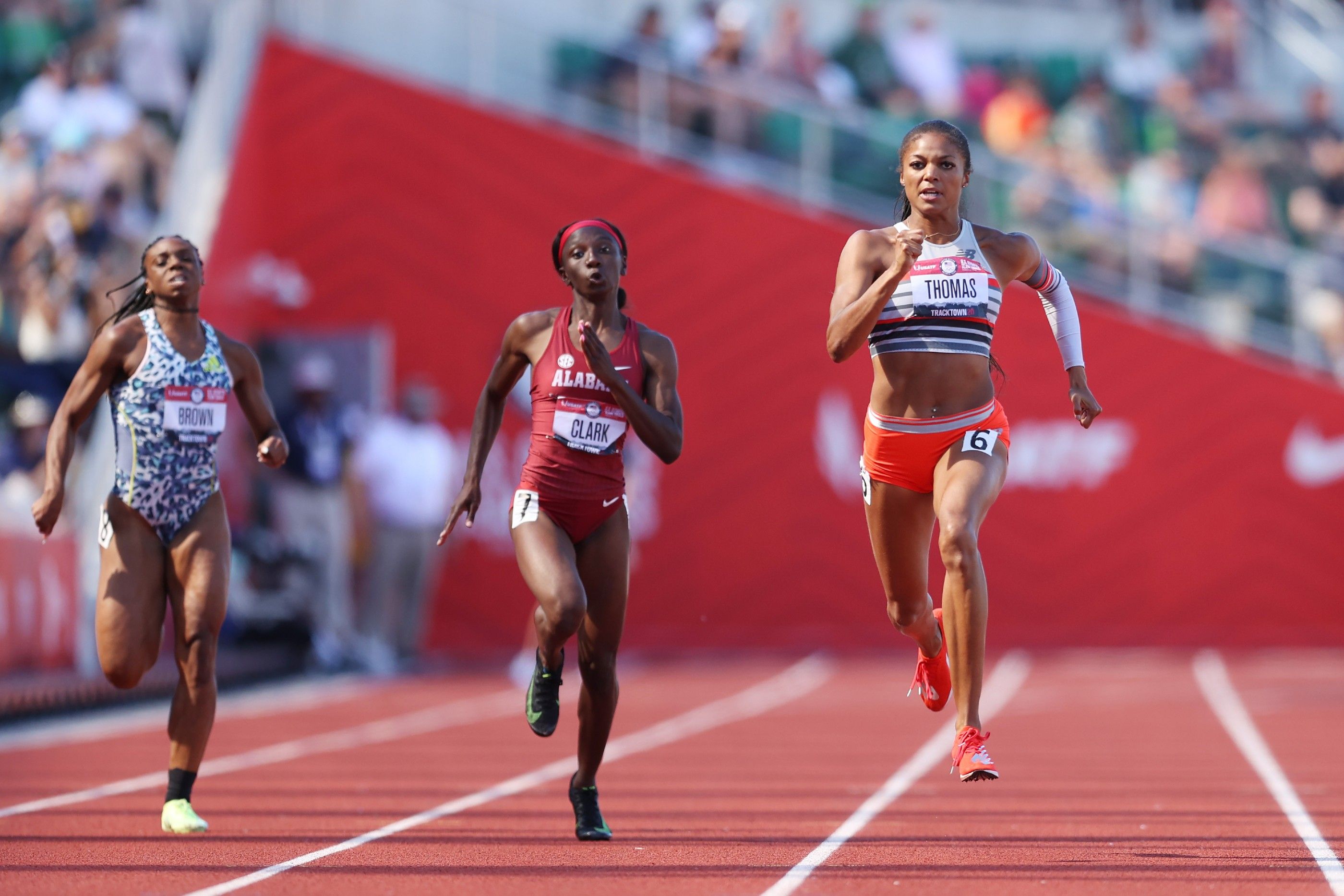 This time she clocked 21.94 (1.8m/s) to win the second semifinal, while the first was won by Jenna Prandini in another PB of 21.99 (-0.3m/s) ahead of multiple global gold medallist Allyson Felix, who had finished second in the 400m final.
On the same day that Knighton ran a world U18 best, Felix also made history as her time of 22.20 broke the US masters record.
"My expectations for myself have just gotten even higher," said Thomas. "When I get on the track, I expect to run sub-22."
Also cruising into the next round of their competition were 2019 world silver medallist Sydney McLaughlin (54.07), 2015 world runner-up Shamier Little (55.22) and world record-holder Dalilah Muhammad (55.51) as they each, along with Cassandra Tate (56.11), won their 400m hurdles heats.
Kenny Selmon went quickest in the men's 400m hurdles semifinals, winning his race in 48.51 as Rai Benjamin won the other in 48.61.


Titles for Bor and Finley
Hillary Bor and Mason Finley were among the athletes to book their Olympic Games places as they won the two finals held on day eight.
In the men's 3000m steeplechase, Bor moved away on the final lap and clocked 8:21.34 to win ahead of Benard Keter with 8:21.81. Mason Ferlic came through for third place in 8:22.05.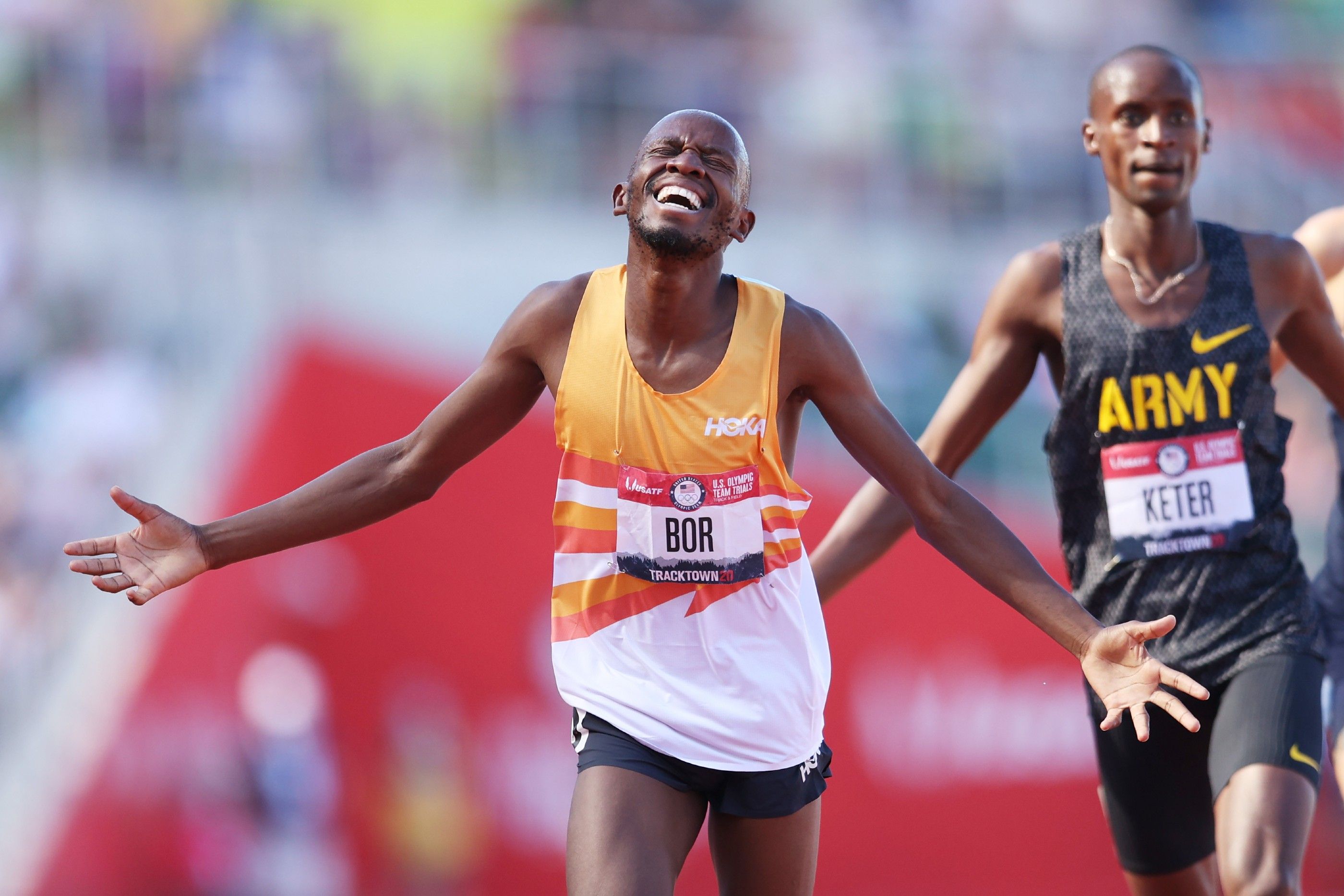 Finley's best throw in the discus final came in the fifth round as he launched the implement out 63.07m, with Reggie Jagers the runner-up thanks to a 62.61m effort and Sam Mattis placing third with a best of 62.51m from round one.
Olympic champion Jeff Henderson (8.02m) and 2017 world silver medallist Jarrion Lawson (8.12m) were among those to qualify for the long jump final, where they will be joined by double NCAA champion JuVaughn Harrison (8.06m), who also advanced to the final in the high jump after clearing 2.19m.
World champion Grant Holloway went quickest in the first round of the 110m hurdles, winning his heat in 13.11 (0.7m/s), while Athing Mu (1:59.31) and Ajee' Wilson (1:59.49) won the two women's 800m semifinals.
Jess Whittington for World Athletics