Emma Coburn wins the 3000m steeplechase at the US Olympic Trials in Eugene (© Getty Images)
Emma Coburn and Jessica Ramsey both achieved record-breaking performances in the two finals on Thursday's US Olympic Trials programme (24) to secure their spots for the Tokyo Games in style.
Action returned to Eugene's Hayward Field with a bang after two rest days as the meeting records fell in the women's 3000m steeplechase and shot put.
In the steeplechase, 2017 world champion Coburn claimed her ninth national title in the event and again led home Courtney Frerichs as the pair clocked respective times of 9:09.41 – which improved Coburn's own meeting record set in 2016 by eight seconds – and 9:11.79. Joining them on the team for Tokyo will be Val Constien, who was among the six athletes to set a PB in the race, clocking 9:18.34 to finish third.
Coburn and Frerichs had started to break away along with Leah Falland but Falland suffered a fall after hitting a barrier with less than two laps to go. She got back up and joined the battle for the third Olympic team place but couldn't hold on as a fast-finishing Constien moved away to record a seven-second PB.
"I think that US women's steeple is the deepest it's been," said Coburn. "It was knowing my strength and depth. I knew that I could push really hard the last two laps.
"Courtney started pushing and it thinned out the pack, and I tried to stay behind her. I knew I had to really grind if I was to get some real estate between her."
There was also a great battle in the women's shot put as both Ramsey and Raven Saunders improved Michelle Carter's meeting record of 19.59m set in 2016.
After opening with a PB of 19.45m, Ramsey continued to lead until the third round when Rio Olympics fifth-placer Saunders launched the shot out to a meeting record-breaking PB of 19.96m. Ramsey wasn't done, however, and responded with a throw of 20.12m in the next round, adding almost a metre to her previous best. That mark puts her second on the world rankings, with China's two-time world gold medallist Gong Lijiao the only other athlete to have thrown beyond 20 metres so far this season.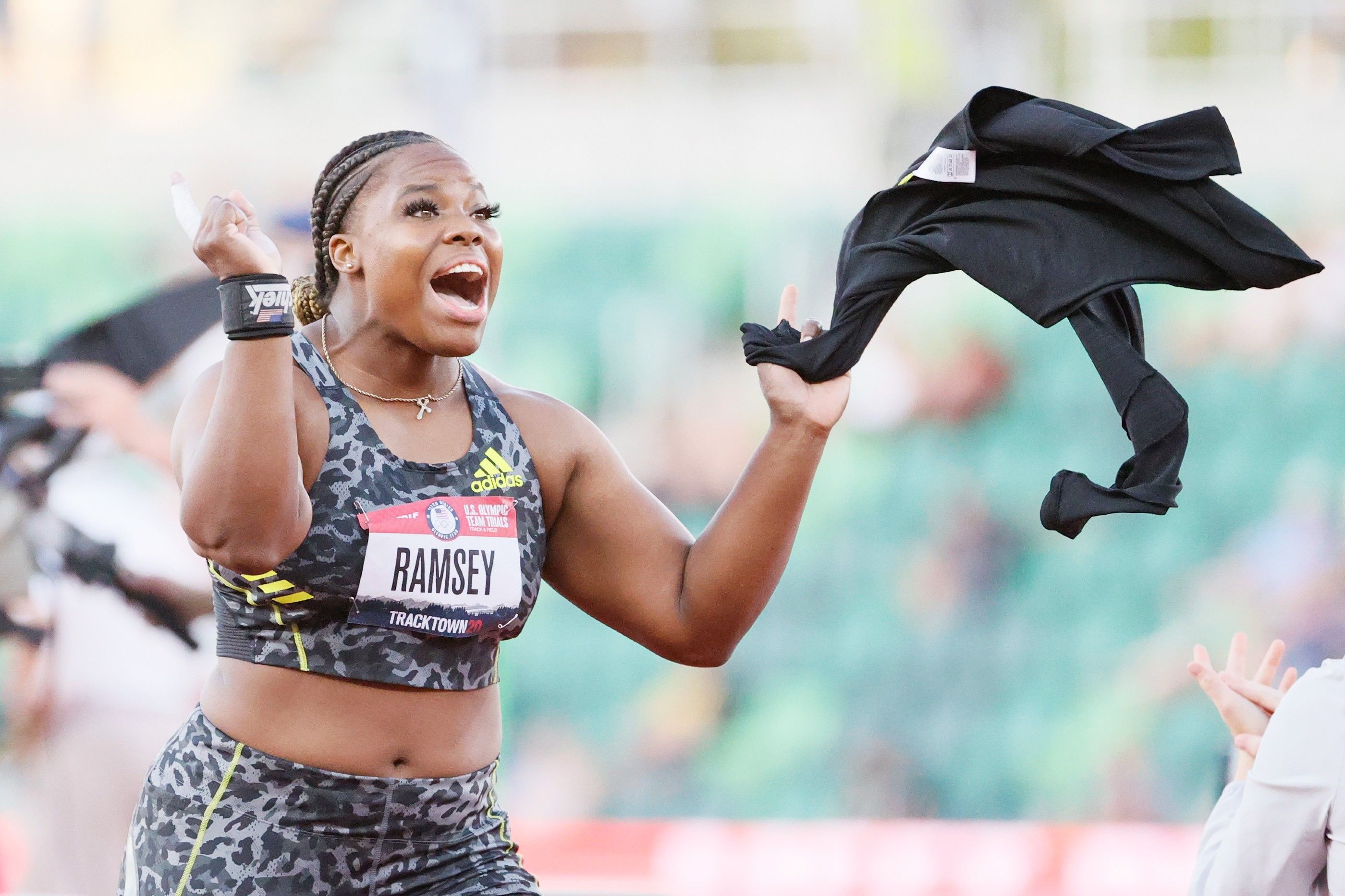 It was close for the third Olympic team place, with Adelaide Aquilla securing the spot thanks to her 18.95m throw in the first round, three centimetres further than Maggie Ewen managed from her best throw in the second round.
"They always say your best throws are the ones that feel like they aren't going far," said Ramsey. "It still hasn't hit me, but I'm happy. God is good."
On whether the men's shot put competition, in which Ryan Crouser broke the long-standing world record, had motivated her, Ramsey added: "Yes, because the men always get that spotlight. It's just like we've got to bring a little bit of that hype to the women's. We need to be loud and encourage other women."

Thomas runs 200m world lead
Gabby Thomas showed she means business in the 200m by dipping under 22 seconds for the first time with a world-leading 21.98 (0.7m/s) to win her heat.
Jenna Prandini, who finished fourth in the 100m final, and Kynnedy Flannel both also set respective PBs of 22.14 and 22.31 as the next quickest in the first round.
Athing Mu made her professional debut by winning her 800m heat in 2:00.69 as she raced over two laps for the first time since breaking the US U20 record with 1:57.73 in April. Chanelle Price went quickest overall, winning her heat in 1:59.86, as Sage Hurta ran a PB of 2:00.08 and Ajee' Wilson clocked 2:00.55.
Sam Prakel led the men's 1500m first round, clocking 3:39.02 to win the third heat from Yared Nuguse with 3:39.09 as Hobbs Kessler won the first heat in 3:45.63 and Cole Hocker the second in 3:39.72.
Earlier on in the session, world hammer champion DeAnna Price, who leads the world rankings with her US record of 78.60m from April, set a meeting record of 77.10m in qualifying.
Jess Whittington for World Athletics