Clayton Murphy wins the 800m at the US Trials (© Getty Images)
With mayhem all around on the fourth day of action at the US Olympic Trials, two-time world pole vault champion Sam Kendricks is relieved to be going to Tokyo. Two other winners of global titles – world 800m champion Donavan Brazier and 2011 world 1500m champion Jenny Simpson – will not be heading to the Games.
"A gold medal brings golden handcuffs," Kendricks said. "Wherever we go somewhere it's a world champion, and they expect a world champion's effort. People follow in your wake when you're ahead of the game."
Clayton Murphy stayed ahead on Monday night (21) in Eugene.
He ran an evenly split world lead of 1:43.17 to win the men's 800m, showing the form he had as 21-year-old to earn Olympic bronze in Rio in 2016. It was an emphatic response to those who were unsure he would ever recapture that.
That 800m – plus a historic pole vault competition won by Chris Nilsen and a front-running 1500m by Elle Purrier St Pierre – were the highlights of day four ahead of two rest days.
Shockingly, Brazier faded to last in the 800m and will miss a second successive Olympics. He was a pre-trials favourite in 2016, at age 19, coming off a 1:43.55 and NCAA victory, but he failed to get out of the first round then.
This time, NCAA champion Isaiah Jewett bolted ahead and built a lead with an opening lap of 50.60. Brazier crossed the 400m in 51.00 and attempted to reduce that gap on the final backstretch.
"I think I made a move a little too early and paid the price for it in the last 200," he said.
Murphy, fifth at the midpoint at 51.67, said afterwards that he executed a perfect plan. He caught and passed Jewett, covering the second lap in 51.50. He said he had a "pretty serious hamstring issue" a few days before the trials but overrode it with adrenaline. He also overrode pre-trials form charts leaving him out of the requisite top three.
"It is hard not to read the middle-distance preview," he said. "I kind of just accept it. As long as I handle it the right way, it is only motivation."
Jewett was second in a PB of 1:43.85 and Bryce Hoppel, fourth at the 2019 World Championships, finished third in 1:44.14. Brazier eased to the finish in 1:47.88.
USA is sending "a pretty damn good team" to Tokyo, Murphy asserted. Jewett and Hoppel now sit at fourth and seventh on the 2021 world list, respectively.
"I think this is the most special moment in our sport," said Murphy. "It is the most pure way to pick a team. This is what all those workouts pay off."
Murphy and Brazier are qualified to run in the 1500m, but both said they probably would not. Brazier did not elaborate but said he was not running at 100 percent.
Jewett said his night was not over. He had a 10-page paper due for a course at the University of Southern California because a teacher had not granted his request for an extension.
Nilsen, an 18-year-old at the 2016 trials, said his goal then was to have his photo taken with Kendricks. In 2021, his 5.90m vault was enough to beat Kendricks and KC Lightfoot, second and third at 5.85m.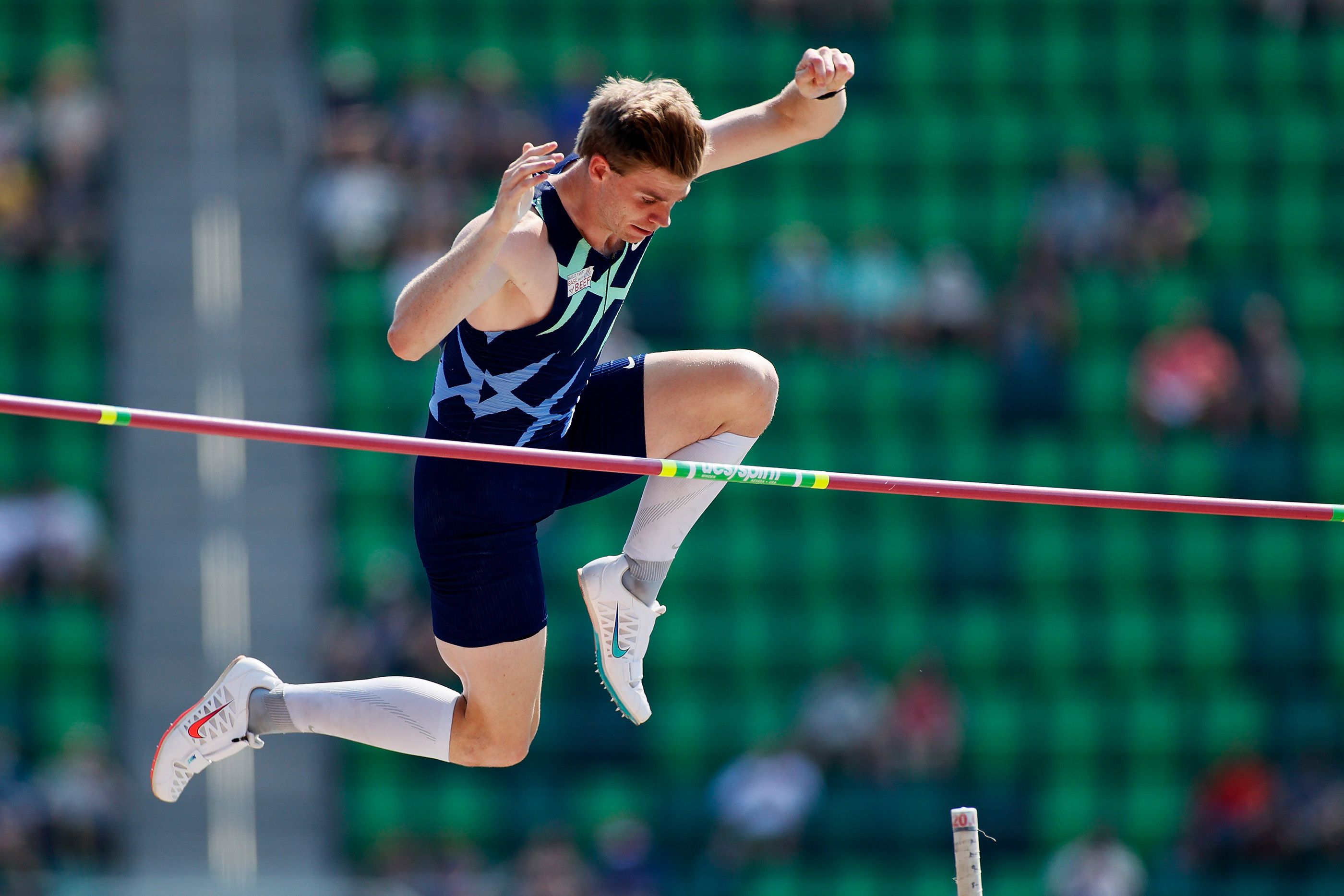 Matt Ludwig and Jacob Wooten were fourth and fifth at 5.80m, making this the first national competition ever featuring five men over 5.80m and 11 over 5.70m. It was also the first US meet ever to have three over 5.85m.
"This'll go down in history as the hardest team ever to make," Kendricks said.
The team in the women's 1500m was also hard to make. An early stumble startled Purrier St Pierre, who on the spot decided to push the pace and led all the way thereafter.
Her time of 3:58.03 broke a trials record of 3:58.92 that Mary Slaney held for 33 years. Cory McGee was second in 4:00.67 and Heather MacLean, Purrier St Pierre's training partner, was third in 4:02.09 as the top three all ran PBs. Shannon Osika was less than a tenth behind in 4:02.18.
Purrier St Pierre grew up on a dairy farm in rural Vermont and runs on dirt roads with her dog. She was shaken by the bumping to start the race.
"I couldn't believe I'd just been shoved off the track," she said. "After that, I thought I'd just go for it."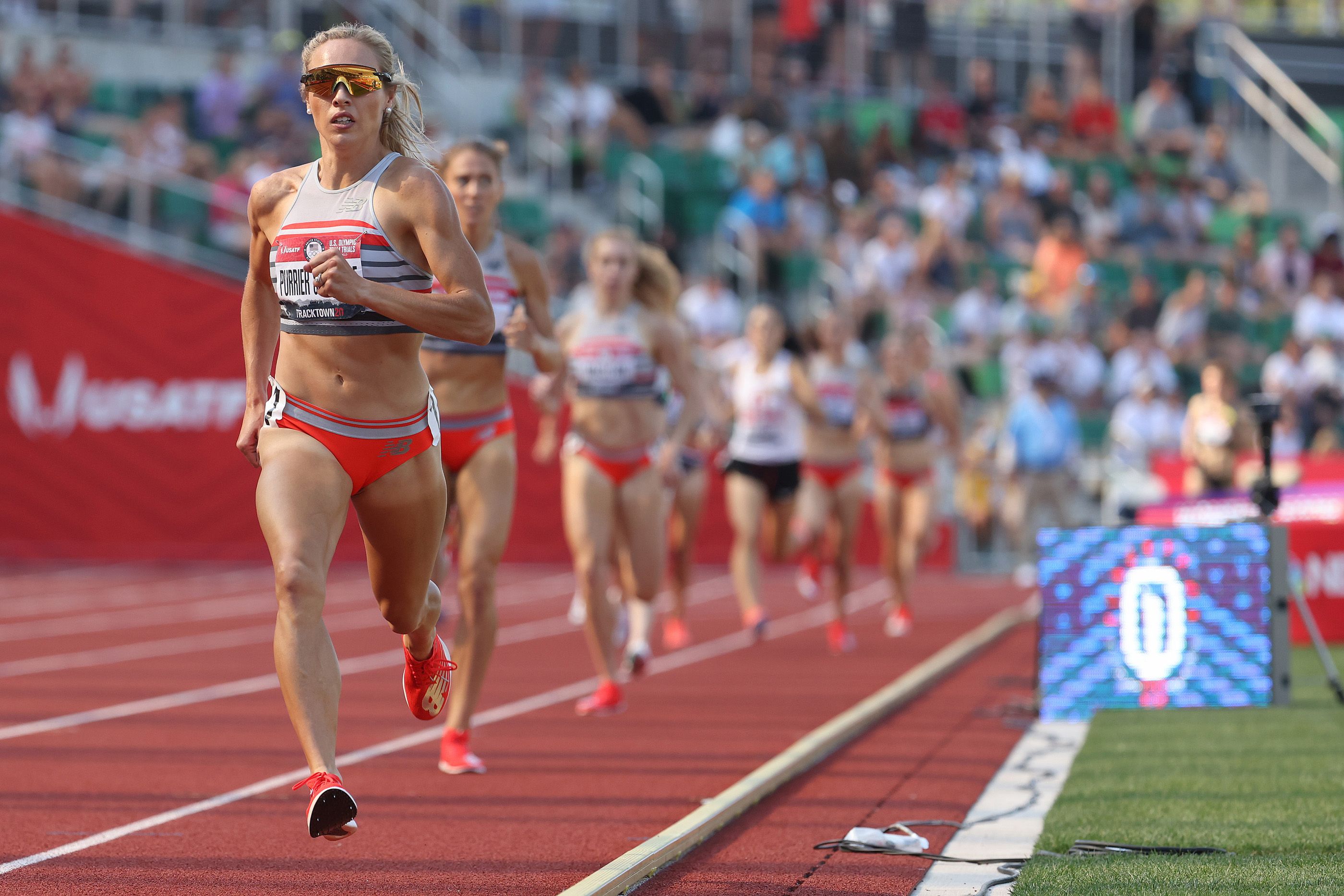 Simpson, 34, the 2016 Olympic bronze medallist, was aiming for a fourth Olympics but finished 10th in 4:07.76. Coincidentally, she was Purrier St Pierre's roommate in Doha.
Simpson conceded it was "hard to believe" she had not made the team; she had been on every Olympic or World Championships team since 2007.
"The sport goes on without you," she said. "You don't make the Games, and the Games are fine and they go on without you."
With temperatures soaring past 32C, Elise Cranny won the 5000m in 15:27.81. Karissa Schweizer was second in 15:28.11 and Rachel Schneider third in 15:29.56. Abbey Cooper, who met the Olympic standard by running 15:07.80 in the heats on Friday, was fourth in 15:31.05.
In the absence of the injured Christian Taylor, Will Claye took the triple jump with 17.21m (0.1m/s). Donald Scott was second at 17.18m and Chris Bernard third at 17.01m. "My sights have always been on the gold medal," Claye said. "I want to win whether Christian is there or not. I feel for Christian. A year ago, I was going through the same thing."
Curtis Thompson had the four longest throws of the competition and won the javelin with 82.78m.
Roy Jordan for World Athletics
• Results