Peruth Chemutai celebrates her 3000m steeplechase win at the Olympic Games in Tokyo (© Getty Images)
It will go down as one of the most surprising performances at the Tokyo 2020 Olympic Games, but in the end Peruth Chemutai's victory in the 3000m steeplechase was pretty convincing.
It shouldn't be too big a surprise that someone who finished fifth at the last World Championships – in one of the deepest races of all time – and fifth at the 2019 World Cross while still a teenager should be a medal contender in Tokyo. But much of the pre-race attention had been on the past three world champions: Beatrice Chepkoech, Emma Coburn and Hyvin Kiyeng.
Chemutai, meanwhile, had finished some way off the leaders in her two international races this year, so went largely unnoticed before arriving in Tokyo. But after clocking a season's best of 9:12.72 in her heat, she lined up for the final feeling as good as she ever had done.
She led a large pack through the first kilometre in 3:05.18, as all the big contenders looked extremely comfortable with the pace. After another lap, and with 4:30 on the clock, USA's 2017 world silver medallist Courtney Frerichs took up the pace at the front and started to stretch out the field.
Chemutai was the only one to go with Frerichs and it seemed as though the rest of the chase pack were biding their time until Frerichs came back to them.
But she never did. In fact, she extended her lead and with two laps to go the North American record-holder had a five-metre gap on Chemutai while the rest of the chasers were a further 10 metres adrift.
Frerichs went through the bell in 7:51, and while she continued to maintain a good pace, the cracks were starting to show. Chemutai was starting to close on the long-time leader and she finally seized her moment in the middle of the back straight, hitting the front with 250 metres to go.
From there, Chemutai was never headed and she flew over the final water jump – feet not even touching the barrier – and motored down the home straight to win in 9:01.45. Frerichs held on for the silver medal in a season's best of 9:04.79.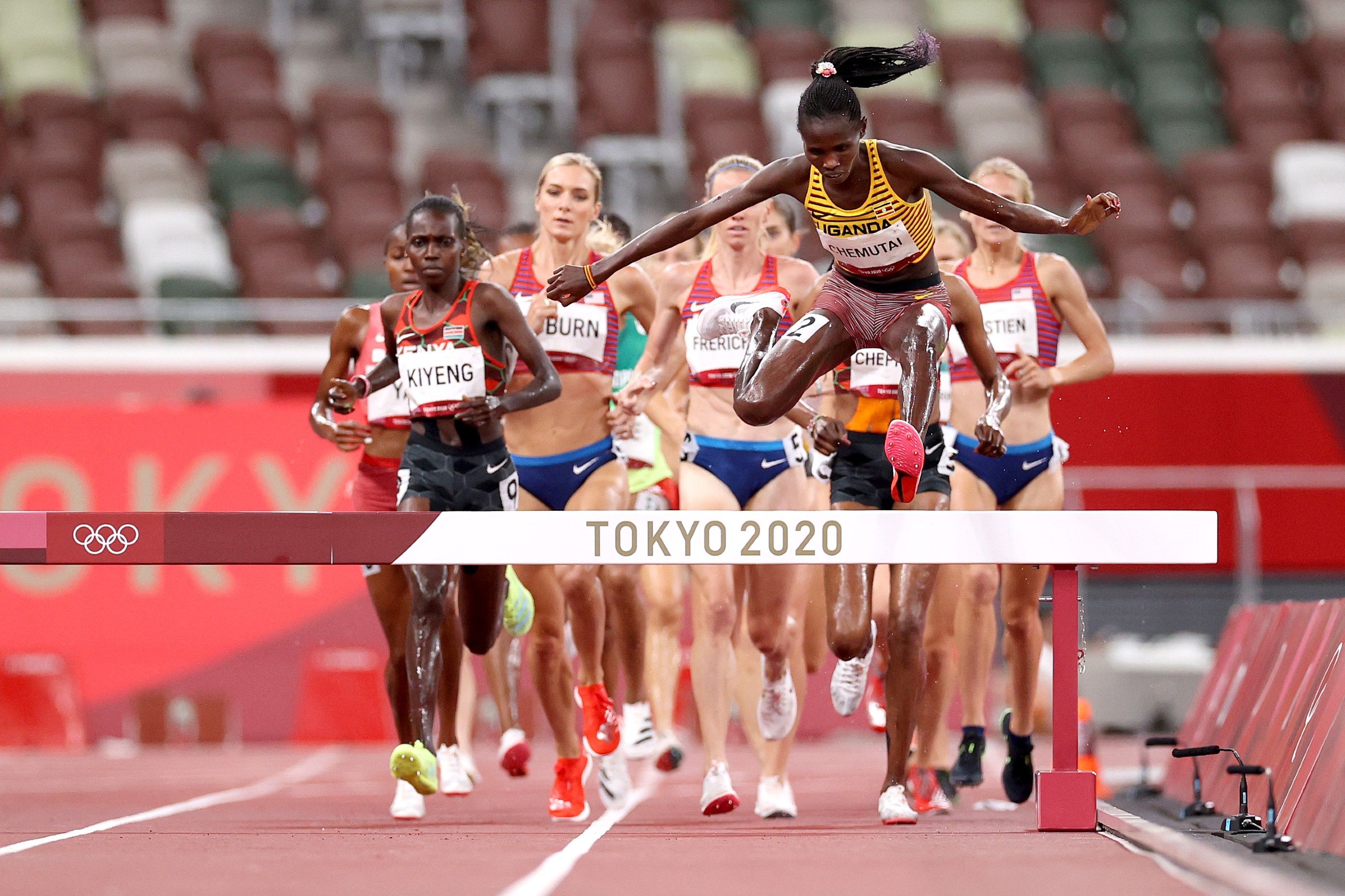 Kiyeng had managed to detach herself from the chase pack to set off in pursuit of Frerichs but had left herself with too much work to do, eventually crossing the line in third in 9:05.39 to earn her fourth career global medal.
Ethiopian record-holder Mekides Abebe closed well on the last lap but finished just outside the medals in fourth with 9:06.16. Germany's two-time world bronze medallist Gesa Felicitas Krause was fifth in 9:14.00, just ahead of Marusa Mismas-Zrimsek, who clocked a Slovenian record of 9:14.84 in sixth.
World champion Chepkoech, who hadn't looked at her best during this outdoor season, wound up seventh, just ahead of Ethiopian teenager Zerfe Wondemagegn. Lizzie Bird set a British record of 9:19.68 in ninth. Coburn, after dropping out of contention a little earlier in the race, fell with less than a lap to go and was later disqualified.
"I'm so happy, it is such a surprise," said Chemutai, who becomes the first Ugandan woman to win an Olympic medal of any colour in any sport.
She made her international debut at the 2016 World U20 Championships and then, just a few weeks after her 17th birthday, finished seventh in her heat at the Olympic Games in Rio. She went on to take world U20 silver in 2018 before achieving her fifth-place senior finishes at the 2019 World Cross and the World Championships later that year.
"I was still young in Rio and I didn't make the final," she said. "But today I'm so happy."
Jon Mulkeen for World Athletics
WOMEN'S 3000m STEEPLECHASE MEDALLISTS
🥇
Peruth Chemutai 🇺🇬 UGA
9:01.45 NR
🥈
Courtney Frerichs 🇺🇸 USA
9:04.79 SB
🥉
Hyvin Kiyeng 🇰🇪 KEN
9:05.39
Full results