Sydney McLaughlin breaks the world 400m hurdles record to get Olympic gold in Tokyo (© Getty Images)
Whatever the men can do, the women can, too.
Just 24 hours after Karsten Warholm and Rai Benjamin ran a race for the ages in the men's 400m hurdles, US rivals Sydney McLaughlin and Dalilah Muhammad did the same in the women's final at the Tokyo Olympics on Wednesday (4).
McLaughlin overtook Muhammad in the final straight to win the gold medal in 51.46, smashing the world record of 51.90 she set a few weeks earlier. Muhammad, the defending Olympic champion, also ran under the world record, clocking 51.48 to take silver.
Dutch star Femke Bol ran a European record 52.03, the fourth-fastest time ever, to claim bronze in what will go down as one of the greatest women's hurdles races in Olympic history.
"What a great race," McLaughlin said. "I'm just grateful to be out here celebrating that extraordinary race and representing my country."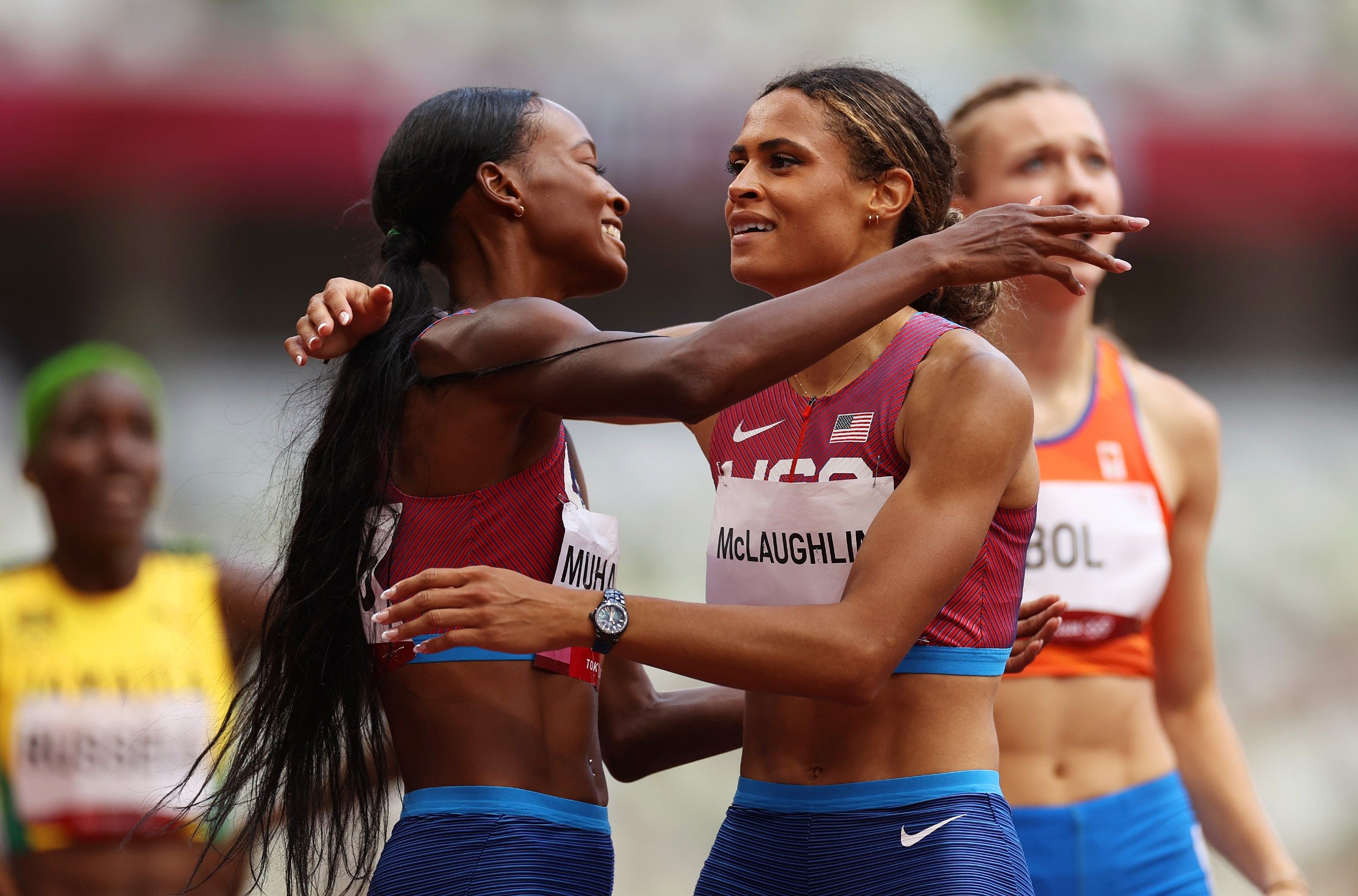 It was a tough ask to match or top Tuesday's men's final – when Norway's Warholm ran 45.94 to shatter his own world record, while his great US rival Benjamin also went under the record, clocking 46.17.
But the women's race, already one of the most highly-anticipated events of the Games, provided the same breath-taking drama and astounding performances.
McLaughlin, 21, and Muhammad, the 31-year-old reigning world champion, have been pushing each other to exceptional heights for some time already. The rivalry reached a peak at the US Olympic Trials in late June, when McLaughlin clocked 51.90 to break Muhammad's two-year-old world record of 52.16.
McLaughlin and Muhammed took their duel to a whole new level in Tokyo on another hot and steamy morning at the National Stadium.
McLaughlin was lined up in lane 3, with Bol next to hear in lane 5. Muhammad was out in lane 7.
"I was in lane seven, so I thought, why not?" Muhammad said. "Maybe I'll be able to pull off a Karsten and lead from start to finish."
Muhammad duly surged to a fast start and built up a narrow lead on the backstraight. When she rounded the final bend, she still held a close margin over McLaughlin. As the two front-running Americans charged down the final straight, each looked in position to win.
"I saw Dalilah ahead of me with one to go," McLaughlin said. "I just thought: 'Run your race'. The race doesn't really start until hurdle seven."
Muhammad said: "After the ninth hurdle, I thought: 'I'm about to win this.'"
McLaughlin drew even with Muhammad over the last hurdle and, from there, shifted into top gear and pulled away in the final sprint to the line.
When the world record time was flashed on the scoreboard, McLaughlin showed no visible emotion.
"I can't really get it straight in my head yet," she said. "I'm sure I'll process it and celebrate later."
Despite losing out on the gold, Muhammad said she was thrilled to have been part of such an extraordinary race.
"Just like the men's race, all three of our times would have won any Olympics, any other year," she said. "I'm so proud to be part of that history and even more proud of my teammate Sydney. I'm just happy it's a one-two final for USA and today I'm happy with second."
Janieve Russell's 53.08, was the fastest ever time for a fourth-place finish. Anna Ryzhykova (53.48) and Viktoriya Tkachuk (53.79) also finished inside 54 seconds, making it the deepest 400m hurdles race in major championships history.
The women's hurdles was the highlight of a morning that featured the semifinals of the men's 100m hurdles, the opening events of the decathlon and heptathlon, and qualifying in men's javelin.


Holloway all the way
Grant Holloway showed why he is the big favourite in the men's 110m hurdles. The reigning world champion, who hasn't lost a hurdles race since last August, easily advanced to the final in 13.13, the fastest time of the three semifinals.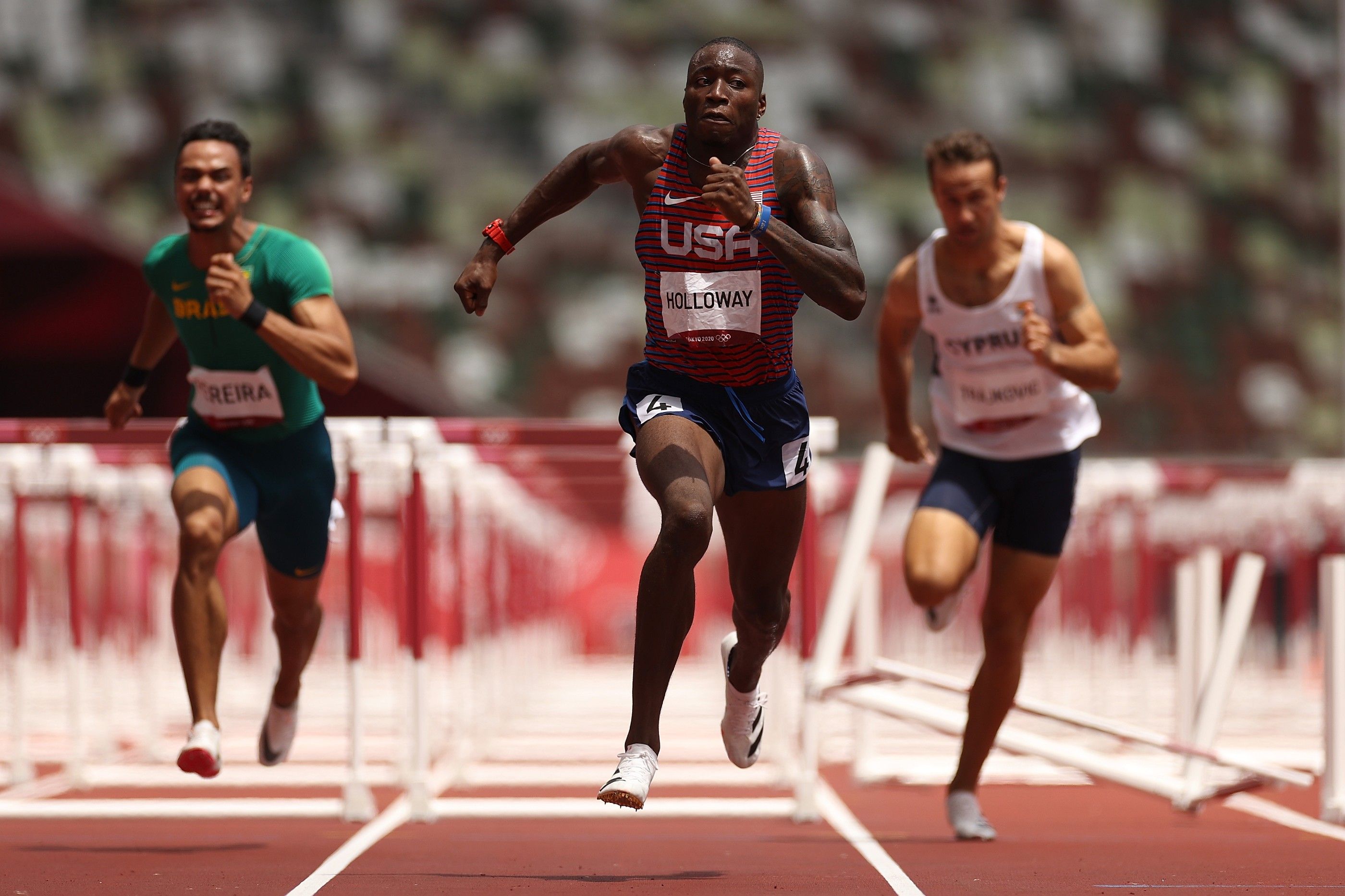 His US teammate Devon Allen posted the day's next-best time, winning his semifinal in 13.18. The other qualifiers were Jamaicans Hansle Parchment and Ronald Levy, Frenchmen Aurel Manga and Pascal Martinot-Lagarde, Spain's Asier Martinez and Andrew Pozzi of Great Britain.
Based on Holloway's form, Aries Merritt's world record of 12.80 could be under serious threat in Thursday night's final.


Canada 1-2 in decathlon
Canadians held the top two spots in the decathlon standings after the first three events.
World record-holder Damian Warner equalled his world decathlon best time of 10.12 in the 100m, then soared 8.24m in the long jump, a distance that would have earned bronze in the individual long jump. He finished with a 14.80 heave in the shot put for a total of 2996 points.
Teammate Pierce LePage threw a personal best of 15.31m in the shot and was in second place with 2773, just ahead of Australia's Ash Maloney with 2741 and world-record holder Kevin Mayer of France with 2662.


Thiam leads heptathlon
Defending champion Nafi Thiam of Belgium held first place after three events in the heptathlon. Her 1.92m clearance in the high jump gave her 2176 points, a slight edge over the USA's Erica Bougard with 2157. Britain's Katarina Johnson-Thompson, the world champion who returned to action recently after tearing her achilles last December, stood third with 2138.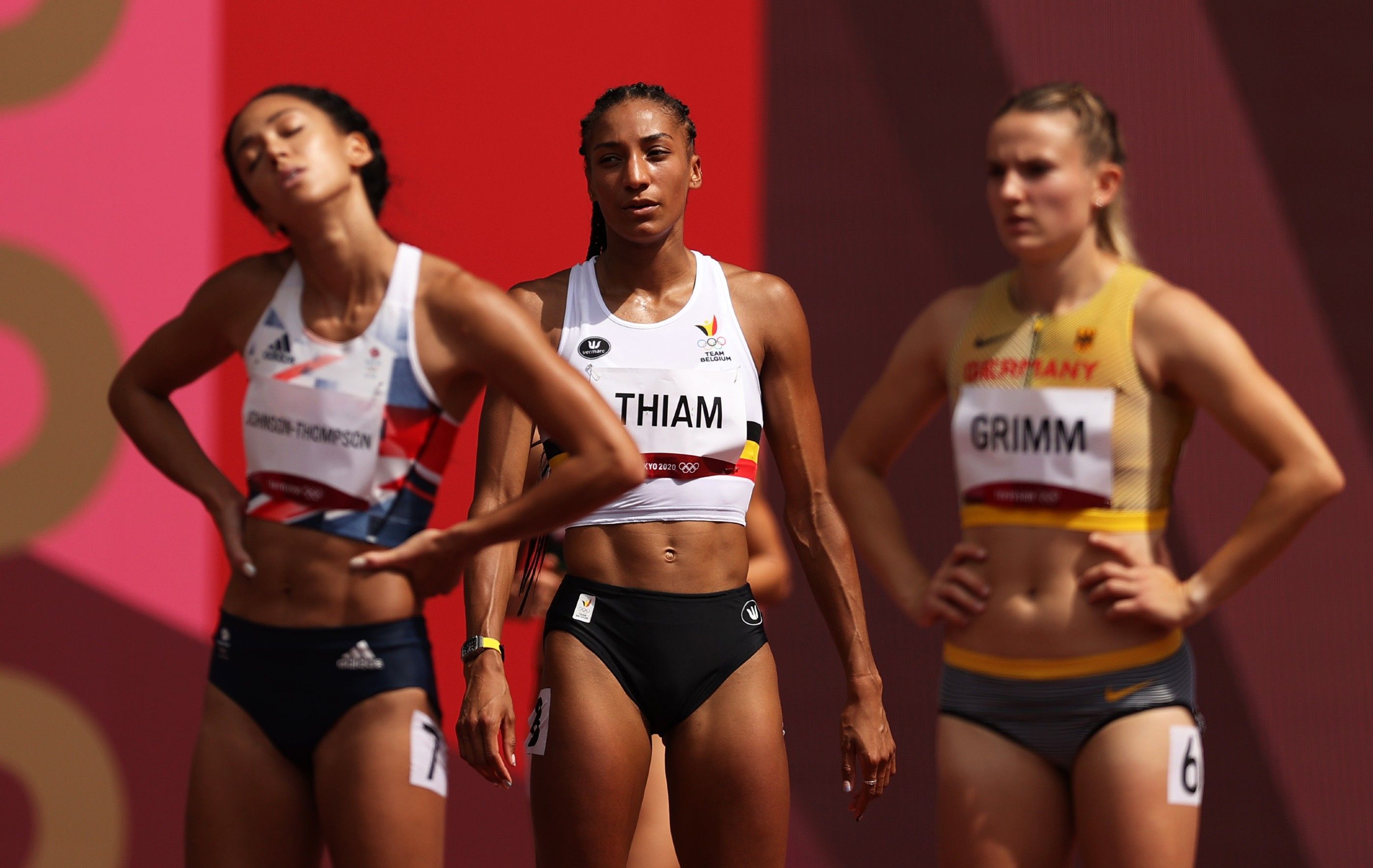 Vetter late than never
Title favourite and world-leader Johannes Vetter left it late to qualify for the men's javelin final. Sitting in sixth place in his group after two rounds, the German pulled out a throw of 85.64m on his third and last attempt to secure direct qualification.
India's Neeraj Chopra's opening throw of 86.65m stood up as the best throw of the day. Arshad Nadeem also qualified by right (85.16m) to become the first athlete from Pakistan to make an Olympic final in athletics.
World champion Anderson Peters and 2012 Olympic champion Keshorn Walcott both failed to advance, as did 2015 world champion Julius Yego and Polish record-holder Marcin Krukowski.
Steve Wilson for World Athletics