Katie Nageotte celebrates her pole vault win at the Tokyo 2020 Olympic Games (© Getty Images)
It started with an apology to her mum but ended with gold as the USA's world leader Katie Nageotte held her nerve to win the women's Olympic pole vault title on Thursday (5).
Never before has a pole vaulter – woman or man – missed twice at their opening height and then gone on to win the Olympic title. But that's exactly what the Nageotte did in Tokyo, eventually soaring clear at 4.90m to get gold ahead of reigning world champion Anzhelika Sidorova and British record-holder Holly Bradshaw, with defending Olympic champion Katerina Stefanidi just missing a medal in fourth.
"Sorry, Mom!" Nageotte said to the camera after needing all three attempts to get over that opening height of 4.50m. While she was visibly relieved, so too were her family members who were watching back in her home town in Ohio and had been sharing their reactions as part of the World Athletics second screen experience, Inside Track.


All the feels 😭@ktnago13's family reacts as she is confirmed the #Tokyo2020 Olympic pole vault champion ❤️

Watch the #Olympics with experts, families and friends on 📺 https://t.co/G8W3jF2IDw #WAInsideTrack pic.twitter.com/l6CUCXLN1R

— World Athletics (@WorldAthletics) August 5, 2021

"It was the worst warm-up I have had in a long time and I did an ugly first few jumps," Nageotte said later. "It took me a few heights to get into it, but I was just fighting and I finally found a smooth jump. It came together."
The competition, held in slightly breezy conditions, got off to a shaky start when 10 athletes from the 15-strong field failed their first attempts. Sidorova and Bradshaw, along with Ukraine's Maryna Kylypko, Finland's Wilma Murto and Slovenia's Tina Sutej, were the athletes to go clear first time. The next height – 4.70m – also proved a challenge and it split the field, taking it from 13 to four. Among those missing out was Cuba's 2015 world champion Yarisley Silva, competing at her fourth Olympic Games and nine years after securing silver in London.
With the bar at 4.80m, Nageotte and authorised neutral athlete Sidorova achieved it first try, while Bradshaw needed two attempts and Stefanidi required all three. Tactics came into play at the next height, as Stefanidi – who competed just once in 2020 due to an undiagnosed heel problem – had one try at 4.85m before moving straight to 4.90m when all three of her opponents went clear first time.
Then Nageotte, Sidorova and Bradshaw joined Stefanidi at 4.90m and all four knocked off the bar on their first go. When Stefanidi ran through her final attempt at the height, the medallists were confirmed, with the Greek 31-year-old – who also has 2017 world gold, 2019 world bronze and two world indoor medals among her achievements – unable to make the podium again this time.
Sidorova had enjoyed a perfect scorecard until that height but was also not able to clear it on her second attempt. When the same happened to Bradshaw, all eyes were on Nageotte as she took to the runway. Keeping her composure, the US champion planted the pole, launched herself into the air and as she began to fall back down to earth she let out a scream – this time one of delight at the sight of the bar resting steady on the pegs above her.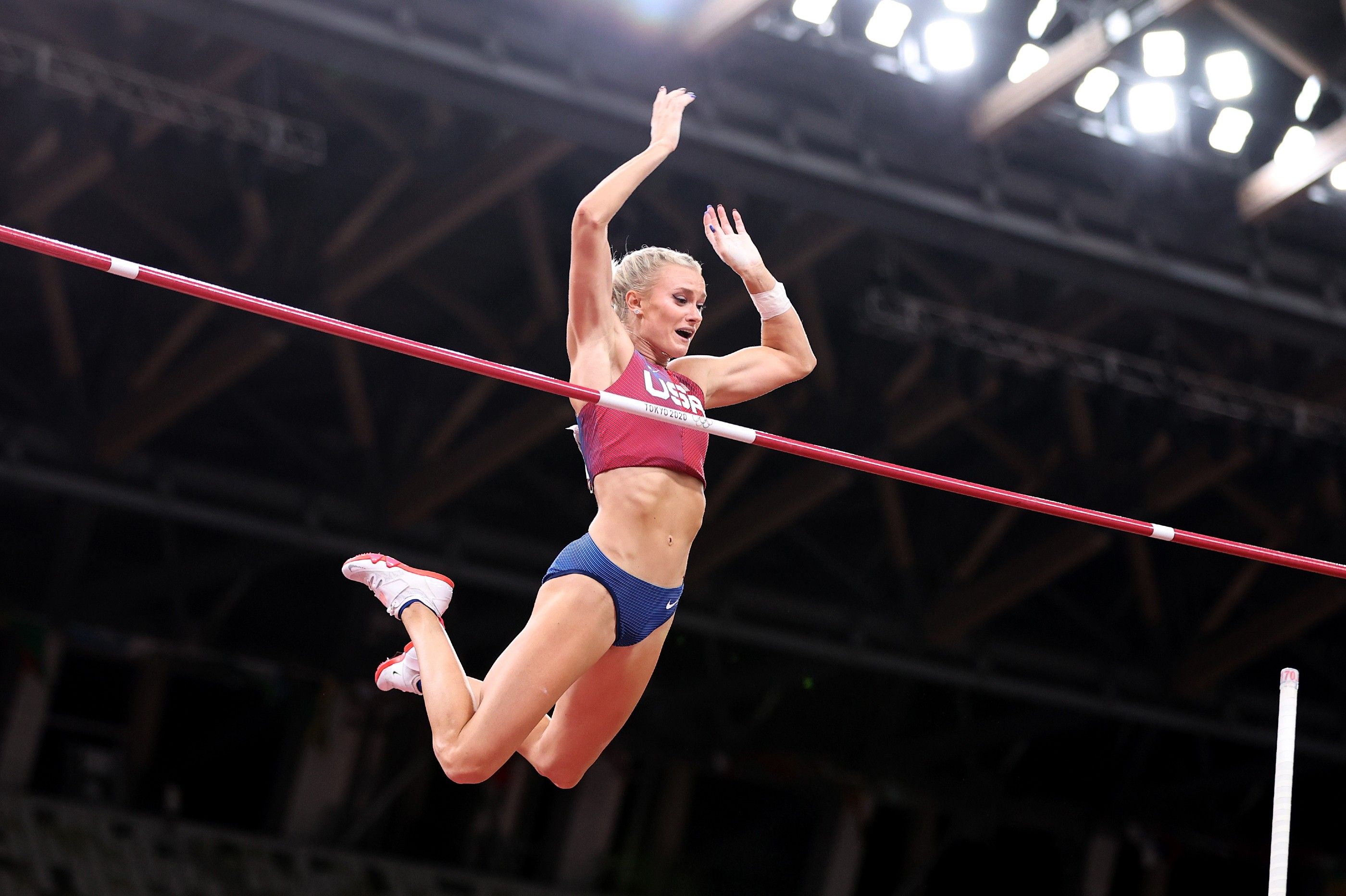 While Sidorova decided to pass for one attempt at 4.95m, Bradshaw had her final try at 4.90m. The bar fell but her excitement at becoming an Olympic medallist at her third Games was clear. With Sidorova unable to go higher, Nageotte was confirmed as the champion and had one attempt at a would-have-been PB of 5.01m before calling it a day.
Despite having less major championships experience than her rivals – she made her debut at the 2018 World Indoor Championships where she finished fifth – Nageotte has become one of the world's most consistent vaulters and the competition in Tokyo was the fifth in which she has achieved 4.90m or higher this year.
"It hasn't even begun to sink in yet," said Nageotte, whose start of the year was affected by her contracting Covid-19. "We've all been through so much with Covid and everything. This is the biggest dream I have ever had for myself, and here I am, living the dream."
For Sidorova, it was a third global silver after her world indoor medals claimed in 2014 and 2018, to go with her world gold from Doha two years ago, while Bradshaw adds this bronze to her 2012 world indoor medal of the same colour after also finishing sixth at the 2012 Olympics and fifth at the 2016 Games, as well as fourth, sixth and seventh respectively at the last three editions of the World Championships.
On this occasion fifth place was shared three ways, between Kylypko, Murto and Sutej.
While there was delight for Nageotte, her compatriot Sandi Morris – the world indoor champion, two-time world silver medallist and 2016 Olympics runner-up – had missed out on joining her in the final after her pole broke during qualifying and she injured her hip.
Jess Whittington for World Athletics
WOMEN'S POLE VAULT MEDALLISTS
🥇
Katie Nageotte 🇺🇸 USA
4.90m
🥈
Anzhelika Sidorova ANA
4.85m
🥉
Holly Bradshaw 🇬🇧 GBR
4.85m
Full results