Colombia's Laura Martinez on the way to a South American U23 4x100m record in Cali (© Oscar Munoz Badilla)
Colombia's women and Brazil's men rewrote the South American U23 4x100m records at the inaugural Pan American Junior (U23) Games, taking place in Cali's Pascual Guerrero Olympic Stadium – venue for next year's World Athletics U20 Championships Cali 22 – from 30 November to 4 December.
In a close battle with the Brazilian quartet on Thursday (2), the Colombian team of Maria Murillo, Natalia Linares, Shary Vallecilla and Laura Martinez produced a 43.59 win on home soil, going much faster than the 43.98 record set by a Brazilian team in 2007. With three athletes aged 17 or 18, the young squad looks poised to break the national senior mark of 43.03, set in 2004.
It was the third medal of the Games for Linares, a world U20 long jump finalist this past summer, as she ran to bronze in the 100m and clinched the long jump silver medal with her last attempt.
The relay win capped a glorious day for the host country. After two days waiting for their first continental title, South American U23 champion Jennifer Rodriguez brought the first gold with her high jump win. Supported by an energetic crowd, the 22-year-old equalled her personal best of 1.90m and had three good tries at 1.93m, just 1cm shy of the national record.
The Brazilian men's team was equally impressive in the sprint relay. Adrian Vieira, Lucas Vilar, 100m winner Erik Barbosa and Lucas Rodrigues remained composed throughout all the exchanges to stop the clock at 39.21, better than the 39.29 set by their teammates at the World U20 Championships in 2021.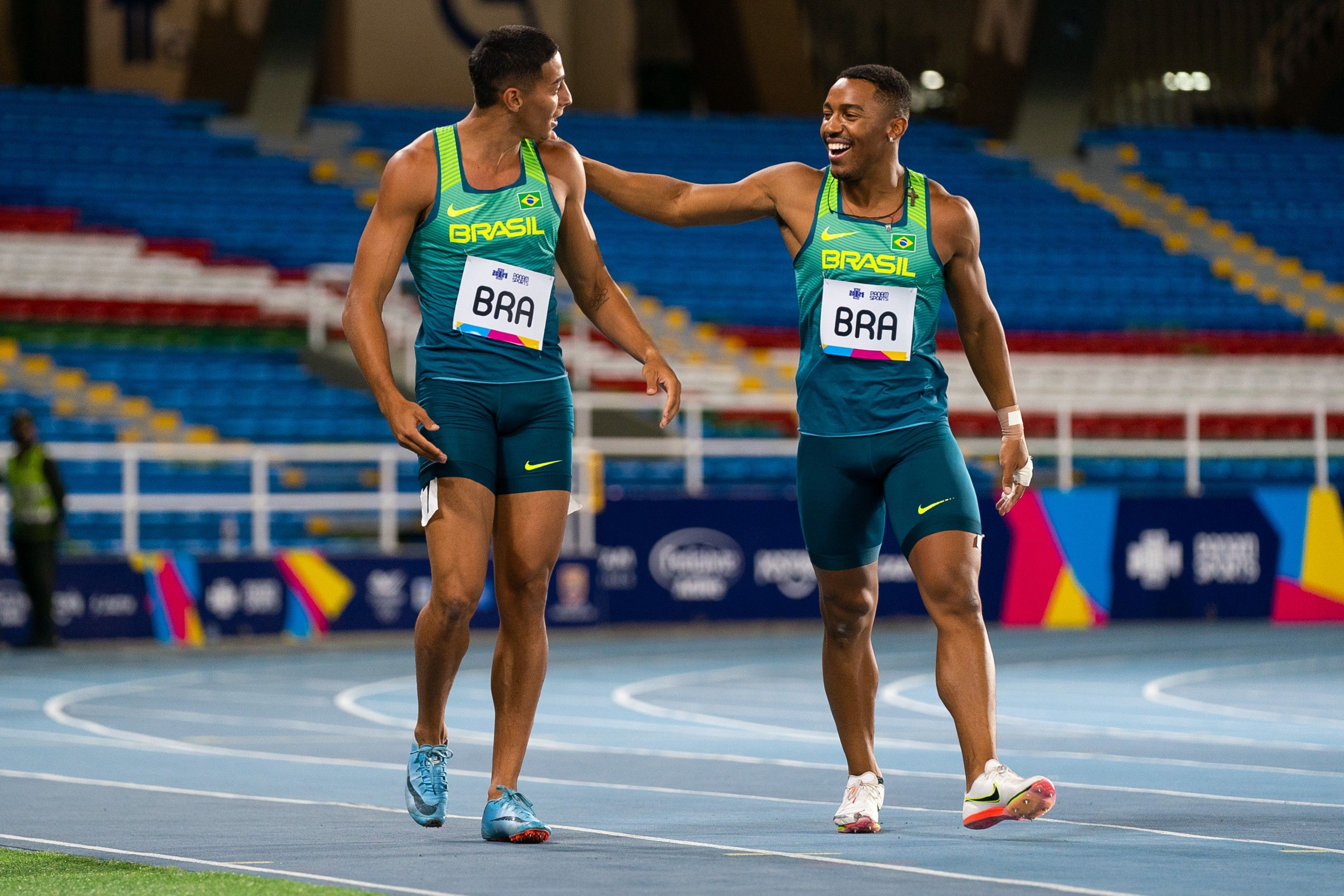 Olympic sprinter Gabriela Anahi Suarez opened the golden path for Ecuador with an impressive 100m win in 11.32, over two tenths of second faster that her closest rival. She is favourite to complete the sprint double after setting a personal best of 23.10 against a head wind in the 200m heats and she also claimed 4x100m bronze.
Fresh from his world U20 silver medal, Mexico's Luis Aviles produced another impressive display in the 400m, leading from the start to win in 45.59. Cuba's Leonardo Castillo (45.79) and Venezuela's Javier Gomez (46.13) were pushed to their limits and were rewarded with personal bests.
It was Mexico's second gold medal on the same day, as it came minutes after Anahi Alvarez dominated the women's 1500m, winning by almost 10 seconds in 4:20.68.
Another standout performance came in the women's 400m, won by Fiordaliza Cofil (52.10) just 90 minutes after she advanced to the 200m final. Her closest rival, Martina Weil, lowered her Chilean record to 52.35 in her mother's homeland. She is the daughter of 1992 Olympic 400m bronze medallist and World Athletics vice president Ximena Restrepo.
South American U23 record-holder and Olympian Chayenne da Silva dominated the 400m hurdles in 55.97 to cement Brazil's lead in the medal table (seven gold medals). While 2018 world U20 silver medallist Maikel Vidal leapt 7.97m to win long jump gold, one of Cuba's six gold medals in the first three days of the competition.
Ecuador's Olympian and 2018 world U20 silver medallist David Hurtado was equally impressive in the 20,000m race walk, winning in 1:21:55.03 .
With two days of competition remaining, 10 countries have won at least one gold medal, with another seven having at least one athlete on the podium.
Javier Clavelo Robinson for World Athletics