Soufiane El Bakkali and Lamecha Girma in the steeplechase in Rabat (© Diamond League)
The Stade Prince Moulay Abdellah was in pandemonium tonight as local hero Soufiane El Bakkali, Morocco's golden champion of the Tokyo Olympics, won the steeplechase in a meeting record and world lead of 7:58.28 at the Meeting International Mohammed VI d'Athletisme de Rabat on Sunday (5).
Earlier the large crowd, relishing the return of the Wanda Diamond League to this arena for the first time in three years, had voiced huge dismay as Norway's Olympic 400m hurdles champion and world record-holder Karsten Warholm, making his keenly anticipated 2022 debut, pulled up and held his right hamstring after clearing the first hurdle.
After that downswing, the final upswing created such excitement that El Bakkali, having once more defeated the man he beat to gold in Tokyo – Ethiopia's Lamecha Girma – was mobbed by youngsters as he attempted to leave the arena.
He had tracked Girma all the way before choosing his moment, always appearing in control of his fortunes. It was a huge marker for his prospects of adding world gold this summer to the silver and bronze he already owns.
Girma also dipped under eight minutes, clocking 7:59.24, with his compatriot Hailemariyam Tegegn, who had kept in touch with the two leaders until the final lap, third in a personal best of 8:06.29.
Behind him, the revived and recuperated 2016 Olympic champion Conseslus Kipruto took fourth place in 8:12.47, with India's Avinash Mukund Sable fifth in a national record of 8:12.48. A momentous race.
For Warholm, however, the night ended swiftly and unexpectedly.
On the eve of the meeting the Norwegian had commented: "There's always a lot of nerves when it comes to the season starter because you know you have been putting in a lot of training but you don't know what to expect." True enough.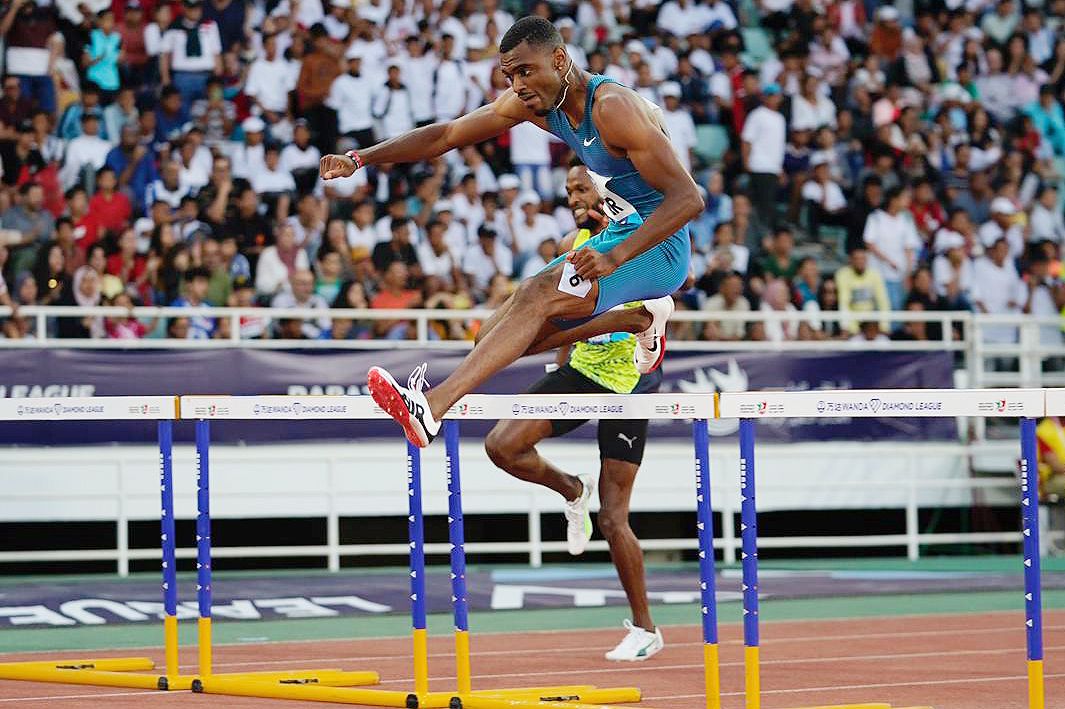 Khallifah Rosser in the 400m hurdles in Rabat (© Diamond League / Matt Quine)

At the start of a sequence he was hoping would take him smoothly on to a third world title and, perhaps, an even faster time than his monumental world record of 45.94, the amiable 26-year-old was suddenly faced with the downside of this sporting life.
"It's probably a cramp in my hamstring – my leg seized up," Warholm said. "It's not fun to stop like this. It's not something I expected, I felt very, very good. So we will just have to see what is happening."
As the world and Olympic champion was convening despondently on the first bend with his long-time coach Leif Olav Alnes, the departed field arrived at the line, with Khallifah Rosser crossing first in a meeting record of 48.25 from Estonia's Rasmus Magi, who clocked 48.73.
So Alison dos Santos, the 21-year-old Brazilian who took Olympic bronze last year, looks like he might be safe for a while yet at the top of this year's world list with the 47.23 he clocked at the Wanda Diamond League meeting in Eugene.
A third meeting record was set in the women's 100m.
Jamaica's double Olympic 100m and 200m champion Elaine Thompson-Herah, who had maintained on the eve of competition that she was "not in the best shape" nevertheless delivered a smooth performance that brought her victory in 10.83.
Marie-Josee Ta Lou of the Ivory Coast was second in 11.04, from Natasha Morrison of Jamaica, who clocked 11.22.


Elaine Thompson-Herah in the 100m in Rabat (© Diamond League / Matt Quine)
Ceh and Tentoglou maintain momentum
Kristjan Ceh retained his current hero status in the men's discus. The 22-year-old Slovenian, who retains his glasses during competition, has something of the look of Clark Kent – but he is currently throwing like Superman.
Having set a Diamond League and Slovenian record of 71.27m in Birmingham, improving on his previous PB of 68.75m and moving up to 10th on the all-time list, Ceh repeated the trick with a massive effort of 69.42m.
That took over the lead from Sweden's Olympic and world champion Daniel Stahl, who had managed 67.16m in the previous round. And after Ceh improved still further to 69.68m in the final round, Stahl could only muster 62.53m.
Australia's Matthew Denny also excelled himself on the night, taking third place with a personal best of 67.07m.
Greece's Olympic long jump gold medallist Miltiadis Tentoglou made good on his vow to "defend the long jump pride" by beating decathlete Simon Ehammer of Switzerland, who cleared a world-leading 8.45m at last weekend's combined events competition in Götzis.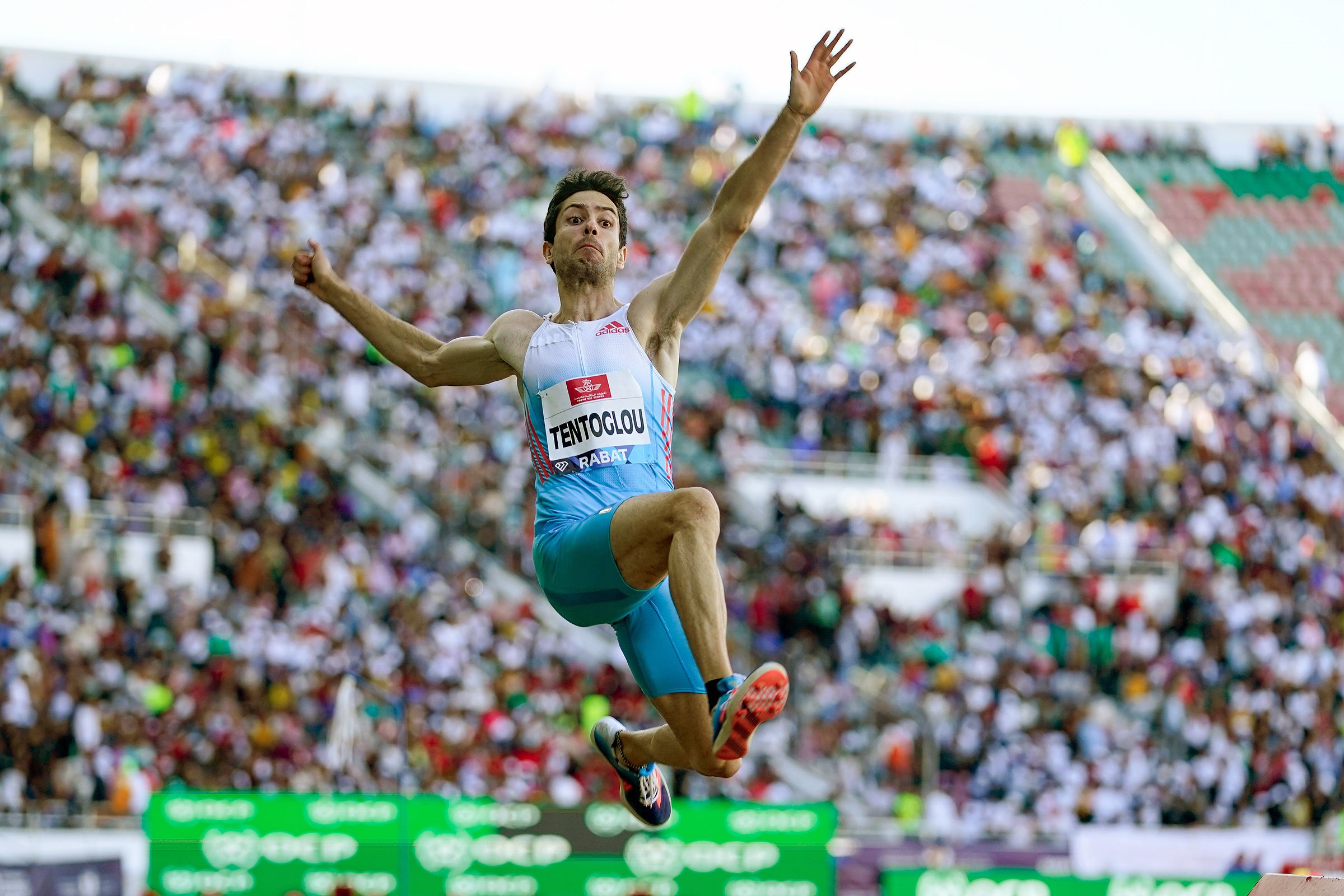 Miltiadis Tentoglou in the long jump in Rabat (© Diamond League / Matt Quine)

While Tentoglou, who added another gold to his collection in March at the World Athletics Indoor Championships in Belgrade, carried the day with his fourth-round effort of 8.27m, the Swiss still rides high.
Ehammer – reported to be contemplating doubling up at the World Athletics Championships Oregon22 – had taken the lead with his third-round distance of 8.11m.
He improved that to 8.13m in the final round after Tentoglou, who had thrown his arms up in frustration as a handsome-looking fifth attempt was ruled out, had failed to register a final distance.
Olympic bronze medallist Maykel Masso of Cuba was third with 8.08m.
Convincing 1500m wins for Meshesha and Wightman
Ethiopia dominated the women's 1500m, with Hirut Meshesha, who was five metres clear when the second of the two pacers stepped away with 500 metres remaining, held on to her lead despite the challenge around the final bend of Freweyni Hailu, who moved out into lane two to try to move past her compatriot but lacked the strength to make any further impression.
Meshesha crossed in a personal best of 3:57.30, with the 21-year-old Hailu second in 3:58.18 and Axumawit Embaye taking third place in 3:58.80 ahead of Australia's Georgia Griffith, who gamely kept in touch with the lead throughout and was rewarded with a personal best of 4:00.16.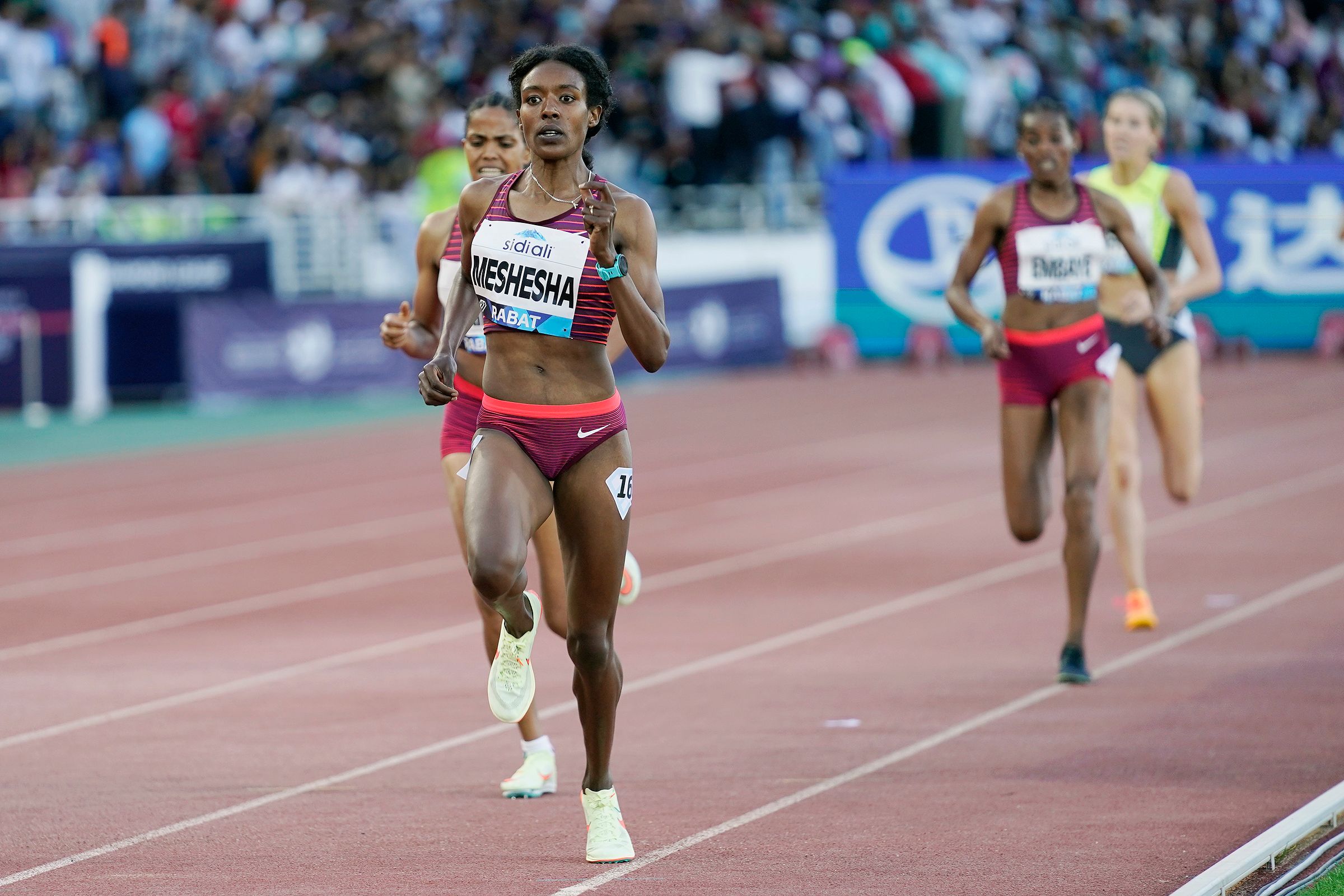 Hirut Meshesha wins the 1500m in Rabat (© Diamond League / Matt Quine)

Britain's Jake Wightman ran a perfectly judged race to win the men's 1500m in 3:32.62 ahead of his compatriot, fellow Olympic finalist and namesake Jake Heyward, who clocked 3:33.54.
Wightman made his move on the final lap, moving clear down the home straight to finish in composed fashion, with home athlete Abellatif Sadiki finishing strongly to take third place in 3:33.93 as Spain's Mohamed Katir, a front-runner until the final 100 metres, falling all the way back to seventh place.
Kenya's 17-year-old Emmanuel Wanyonyi, the world U20 800m champion, followed up his victory in Ostrava on Wednesday with another assured display that belied his age, maintaining himself within striking distance of the lead throughout and finishing strongest in 1:45.47.
Botswana's fast-finishing 2012 Olympic silver medallist Nijel Amos was second in 1:45.66 with France's Gabriel Tual striving hugely for third place in 1:45.71.
Kenya's Collins Kipruto dropped away to fourth over the final 50 metres, but his compatriots Emmanuel Korir and Ferguson Rotich, the respective Olympic gold and silver medallists, had an even less happy time in warm but blustery conditions, finishing eighth and 10th respectively in 1:46.93 and 1:47.72.
Like the men's steeplechase, the women's 3000m produced sustained competition as Kenya's Mercy Cherono and European indoor champion Amy-Eloise Markovc battled all the way down the finishing straight before the Kenyan edged home in 8:40.29, 0.03 clear.
Cherono had tracked the US-based Briton round the final bend before striking for home, but Markovc resolutely refused to let any light develop between them and was rewarded with a personal best of 8:40.32, with Ethiopian teenager Medina Eisa third in 8:41.42.
Three years after making his international debut at this meeting – where he finished fourth in 20.51 – Kenny Bednarek returned as the Olympic 200m silver medallist, and he gave a performance in keeping with that standing as he won in 20.21 from lane seven, comfortably clear of South Africa's Luxolo Adams, who clocked 20.35.
The women's 400m saw the Dominican Republic's Olympic silver medallist and world leader Marileidy Paulino finishing two metres clear in 50.10, with Sada Williams of Barbados second in 50.74 and Stephenie Ann McPherson of Jamaica third in 51.37.
Jumps victories for Morris, Mahuchikh and Lafond
Sandi Morris, set on following successive world pole vault silvers with gold in the home setting of Eugene, Oregon this summer, maintained her winning form with a confident display.
By contrast, her training partner Katie Nageotte, the Olympic champion, failed to clear her opening height of 4.30m. Morris, meanwhile, did not enter the competition until 4.55m, clearing at the second attempt, and a first-time clearance at 4.65m confirmed victory.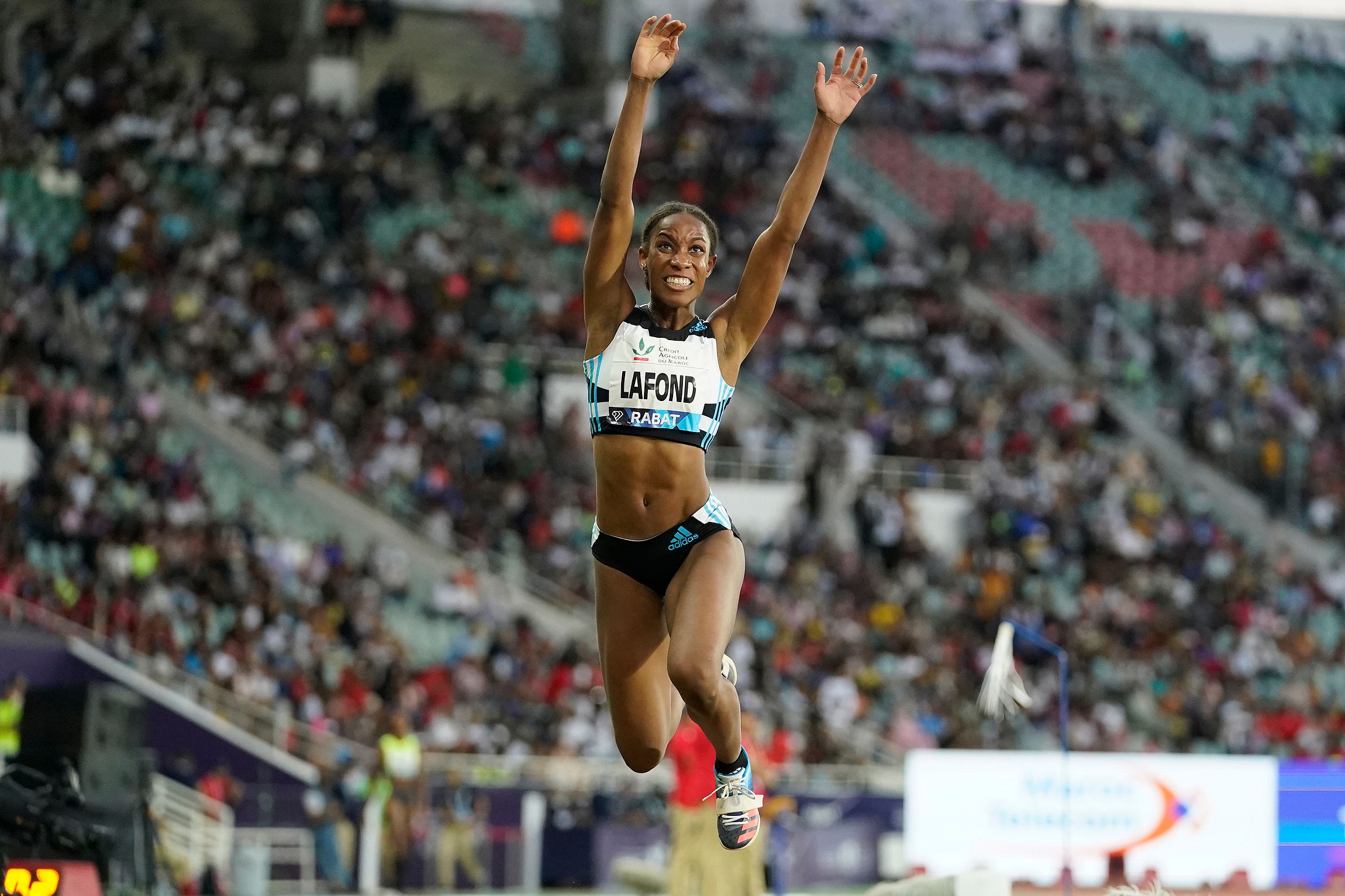 Triple jump winner Thea Lafond in Rabat (© Diamond League / Matt Quine)

Australia's Nina Kennedy was also clear first time at 4.65m, despite making 4.55m on her third attempt, but then had to retire. Greece's 2016 Olympic champion Katerina Stefanidi was third, clearing 4.55m first time but then being unable to make 4.65m.
Ukraine's Olympic bronze medallist and world silver medal-winning high jumper Yaroslava Mahuchikh, who has already earned world indoor gold this year, maintained her winning momentum with a first-time clearance at 1.96m before skipping up to take three unsuccessful attempts at 2.01m.
Like her two compatriots Iryna Gerashchenko and Yuliya Levchenko, the 20-year-old was sporting a badge pinned to her vest in support of Ukraine's resistance to the Russian invasion.
Gerashchenko cleared 1.93m and took second place on countback ahead of Australia's Olympic silver medallist Nicola Olsylagers – formerly McDermott – and Kazakhstan's Nadezhda Dubovitskaya.
Thea Lafond of Dominica won the women's triple jump with a fifth-round effort of 14.46m, with Shanieka Ricketts of Jamaica second with 14.43m and Slovenia's Neja Filipic third, a centimetre behind.
Mike Rowbottom for World Athletics