Zenebu Fikadu wins the Cross Internacional de San Sebastian (© Asociacion ADOC)
Burundi's Rodrigue Kwizera and Ethiopia's Zenebu Fikadu grabbed respective wins at the Cross Internacional de San Sebastian, a World Athletics Cross Country Tour Bronze meeting, held in cloudy conditions at the Lasarte racecourse on Sunday (7).
While Kwizera fought fiercely to the tape with Uganda's Thomas Ayeko, Fikadu prevailed easily over her fellow Ethiopian Zerfe Wondemagegn.
The men's 9600m event opened at a brisk pace set by Toni Abadia and Tokyo Olympic 1500m fifth place finisher Adel Mechaal, both Spaniards leading a group of six also including Kwizera, Ayeko, Eritrea's Yemane Hailesilassie and Spain's reigning European U23 cross country bronze medallist Abdessamad Oukhelfen.
Before the clock read five minutes, Ayeko began to dictate the pace to first leave Abadia and then Mechaal plus Haileselassie out of contention. After successive 2000m circuits covered in 5:40 and 5:42, Kwizera – a fine 11th placed at the last World Cross Country Championships in Aarhus – went to the front, closely followed by Oukhelfen and Ayeko, who travelled in third for most of the penultimate loop.
The fireworks began at the bell, when Kwizera unleashed a powerful change of rhythm which only could be held off by Ayeko, while the Spaniard ran way back, out of the fight for the win. The final lap was even more thrilling as, despite Kwizera's frantic cadence, Ayeko overtook the Burundian some 1000m from home, trying to take revenge from his loss at last Sunday's race in Soria.
The 29-year-old Ugandan even opened a five metre advantage on Kwizera, but the Burundian never gave up and bounced back strongly to regain the lead inside the closing 300m and romp home one second ahead of his fierce rival. In doing so, the 21-year-old has now completed a hat-trick of cross country wins on Spanish soil with successive victories in Castellon, Soria and San Sebastian.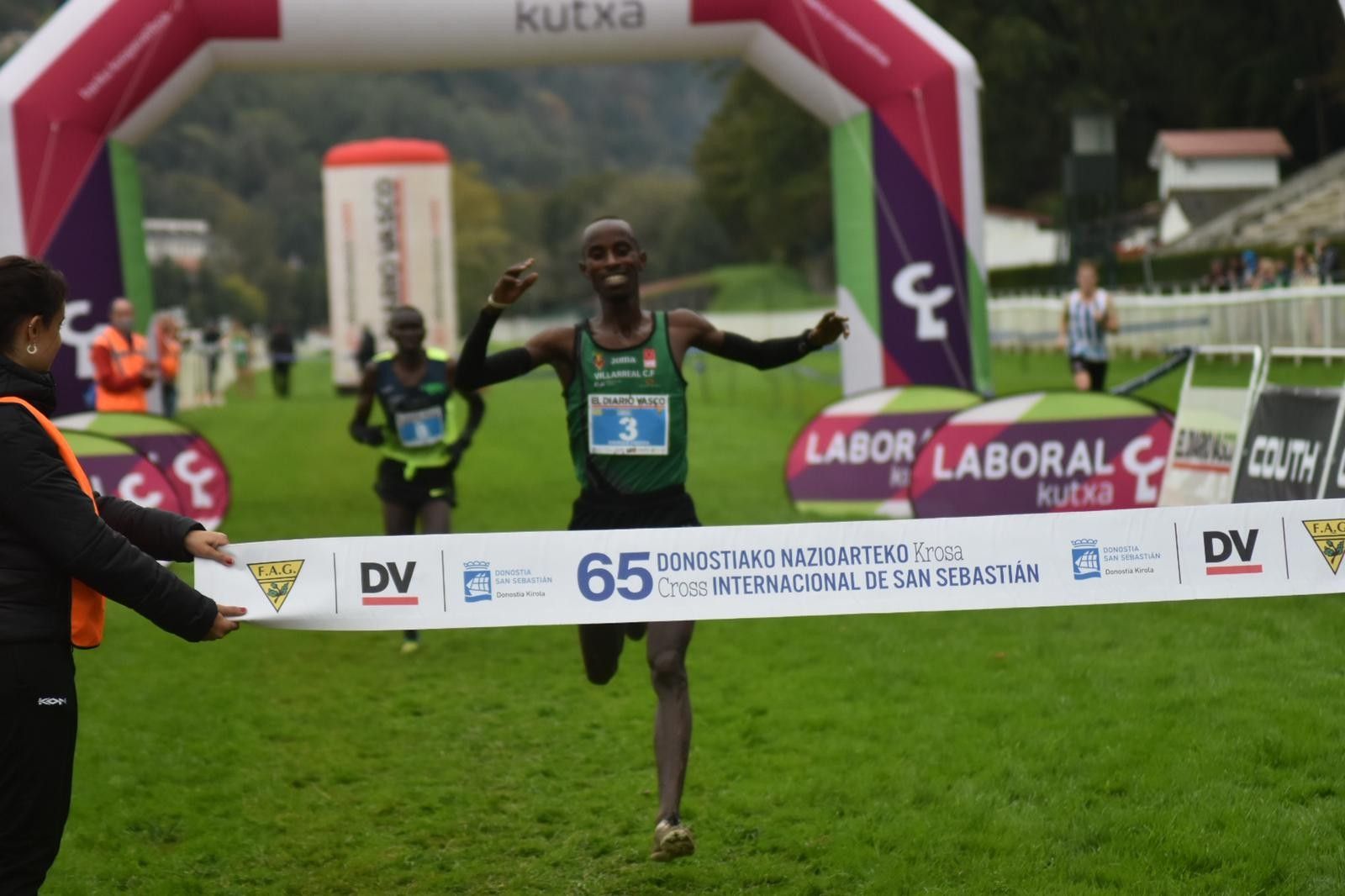 The women's 7600m event featured a top-10 athlete from the Aarhus World Cross Country Championships in the guise of Ethiopia's Fikadu. Tenth on that occasion, the 22-year-old was making her comeback to competition in San Sebastian after almost two years, when she won the Venta de Banos cross country permit in December 2019. The other marquee athlete was her compatriot Wondemagegn, who finished eighth at the Tokyo Olympics in the 3000m steeplechase in a lifetime best of 9:16.41.
From the gun, the Spanish duo of Carolina Robles and Lucia Rodriguez took charge of the early pace, while Fikadu and Wondemagegn ran conservatively in the middle of the leading pack also featuring Spaniards Marta Perez, Carla Gallardo and Maria Gonzalez. Shortly after the second kilometre the Ethiopans moved to the front and only Robles, a Tokyo Olympic 3000m steeplechase finalist, and Rodriguez, who competed over 5000m there, managed to live with the leaders' pace.
While Rodriguez soon lost contact, 29-year-old Robles held off the Ethiopian challege and even led the event briefly over the penultimate loop. At the bell, Fikadu and Wondemagegn increased the rhythm to get rid of Robles in a matter of a few seconds, always with Fikadu setting the pace. The key movement came some 1200m from home when Fikadu, the last winner here in 2019, injected a brisker speed to leave the 19-year-old Wondemagegn clearly behind.
While the leading trio had clocked 6:40 for the penultimate loop, the winner was timed at 6:22 on her final circuit. At the tape, Fikadu timed 25:27 to Wondemagegn's 25:28, while Robles completed the podium another eight seconds behind this year's world U20 3000m steeplechase silver medallist.

Earlier in the week the event organisers had received the World Athletics Heritage Plaque, which was originally awarded to the San Sebastian cross country race in late 2019, a few months before the pandemic.
Emeterio Valiente for World Athletics


Leading results
Women
1 Zenebu Fikadu (ETH) 25:27
2 Zerfe Wondemagegn (ETH) 25:38
3 Carolina Robles (ESP) 25:45
4 Lucia Rodriguez (ESP) 25:54
5 Carla Gallardo (ESP) 26:20
6 Maite Gonzalez (ESP) 26:28
7 Marta Perez (ESP) 26:45
8 Azucena Diaz (ESP) 27:15

Men
1 Rodrigue Kwizera (BUR) 26:56
2 Thomas Ayeko (UGA) 26:57
3 Abdessamad Oukhelfen (ESP) 27:23
4 Adel Mechaal (ESP) 27:42
5 Yemane Hailesilassie (ERI) 27:48
6 Carlos Mayo (ESP) 27:52
7 Ayad Lamdassem (ESP) 27:58
8 Raul Celada (ESP) 28:05


Fitwi and Van Velthoven win in Mol
Germany's Samuel Fitwi claimed victory ahead of Belgium's Michael Somers, while Julia van Velthoven of the Netherlands secured success as Belgium's Mieke Gorissen suffered a fall at the CrossCup de Mol, a World Athletics Cross Country Tour Bronze meeting, on Sunday (7).


View this post on Instagram

In the women's long course race, Van Velthoven formed part of a lead group along with Tokyo Olympic marathon runner Gorissen and the Belgium duo of Eline Dalemans and Lisa Rooms.
Rooms was unable to stick with the pace being pushed by Gorissen and Van Velthoven, leaving a trio to battle for victory, but then Gorissen fell. She got back to her feet and managed to secure the runner up spot, but victory had been secured by Van Velthoven, who clocked 22:12 to Gorissen's 22:20.
Dalemans was third, four seconds back, while authorised neutral athlete Anna Tropina came through for fourth and Rooms finished fifth.
The men's race saw Belgium's Somers, Simon Debognies and Guillaume Grimard to the fore, before Fitwi made his way to the front.
He and Somers broke away and it was the German athlete with the strongest finish over the final kilometre. Fitwi regained a title he had won in 2018, clocking 28:42 to finish seven seconds ahead of Somers.
Nicolai Sake of Belgium was third in 29:22, while Debognies was fourth and New Zealand's Hamish Carson fifth.
The women's short course race was won by Belgium's European indoor 1500m champion Elise Vanderelst, while the men's race winner was Ruben Querinjean of Luxembourg.


Leading results
Women
1 Julia van Velthoven (NED) 22:12
2 Mieke Gorissen (BEL) 22:20
3 Eline Dalemans (BEL) 22:24
4 Anna Tropina (ANA) 22:36
5 Lisa Rooms (BEL) 22:44

Men
1 Samuel Fitwi (GER) 28:42
2 Michael Somers (BEL) 28:49
3 Nicolai Sake (BEL) 29:22
4 Simon Debognies (BEL) 29:30
5 Hamish Carson (NZL) 30:02