Rodrigue Kwizera wins the Cross Internacional de Soria (© Asociacion ADOC)
Burundi's Rodrigue Kwizera and Kenya's Lucy Mawia Muli captured respective wins at the Cross Internacional de Soria – the third Gold standard meeting of this season's World Athletics Cross Country Tour – held in the altitude (1100m) of Soria, Spain, on Sunday (31).
While Kwizera beat three top 10 athletes from the 2019 World Athletics Cross Country Championships in Aarhus, Muli got the better of Ethiopia's Likina Amebaw Ayel.


Kwizera keeps momentum
Held in rainy and windy conditions, the men's 10km race opened at a quick pace set by the Ugandan duo of Thomas and Joel Ayeko, with only five athletes – Burundi's Thierry Ndikumwenayo and Kwizera, Eritrea's Yemane Hailesilassie and Spain's Juan Antonio Perez and Ibrahim Chakir – able to stay with them.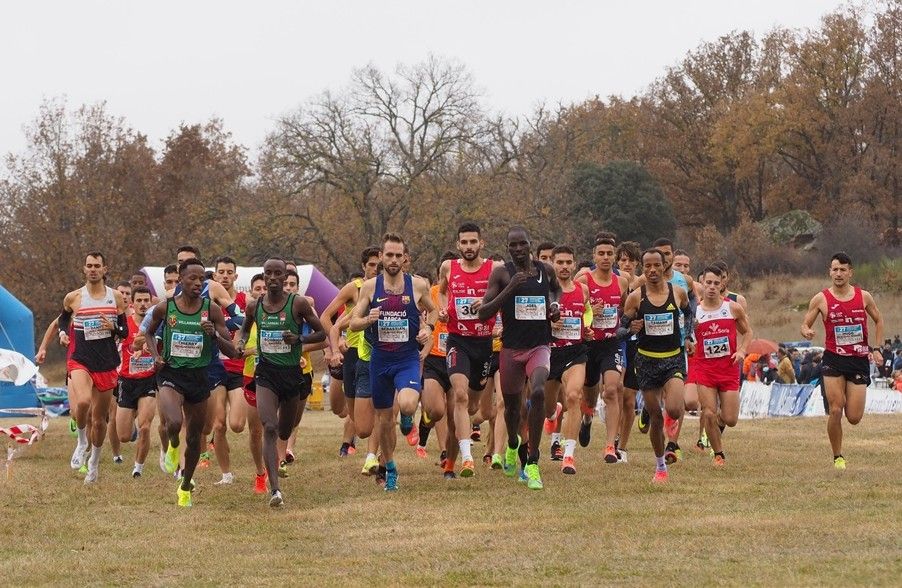 Before the fourth kilometre, the contest became a three-way battle between Thomas and Joel Ayeko and Kwizera, and some 12 minutes into the race Kwizera moved to the front for the first time. Thomas Ayeko ran comfortably on his shoulder and Joel managed to maintain contact but seemed to be in trouble.
After successive 5:43, 5:48, 5:47 and 5:45 loops, the leading trio reached the bell 40 seconds clear of Hailesilassie, himself clearly ahead of a large group of pursuers. The key move came with 1200m remaining, when the 22-year-old Kwizera found another gear and easily left his rivals behind to cross the finish line unopposed in 28:47, some seven seconds ahead of Thomas Ayeko. Joel Ayeko in third was another eight seconds adrift. Spain's Nassim Hassaous secured a surprise fourth as he overtook Hailesilassie down the home straight.
A joyful Kwizera, who runs for the Spanish team Playas de Castellon and was fresh from another victory at a low-key cross country permit in Castellon last Sunday, said: "I feel strong this season. The rain made the race tough but I'm very satisfied with my win as I beat two world-class athletes."


Muli prevails over

Amebaw

The women's 8km contest kicked off at a moderate rhythm, the large leading group reaching the opening kilometre in 3:30. Shortly afterwards, the African trio of Muli, Burundi's Francine Niyomukunzi and Amebaw broke away easily from the rest and it became clear that the crown would return to Africa after Mariana Machado of Porugal's win in the last edition.

It was the 21-year-old Portuguese athlete who headed the chasing group alongside her compatriot Lia Lemos and Spain's Cristina Ruiz, Lidia Campo and Marta Perez. At the helm, Muli took charge of the pacing duties closely followed by Niyomukunzi, while Amebaw remained conservatively in third.

By half way the leading trio had built a sizeable 18-second margin over the chasing group and some 800m later Amebaw unleashed a terrific change of speed which could only be followed by Muli, while Niyomukunzi was way back to lose any winning chances. Once Amebaw realised that Muli had stayed tucked behind her, she slowed her frantic pace as the leading duo covered the 1800m lap in 5:48 compared to a previous split of 5:55.

At the bell, Muli and Amebaw remained ahead of Niyomukunzi, who was a lone third 100m behind, while Machado, Lemos and Ruiz travelled another 80 metres adrift. Over the closing circuit, Muli ran 10 metres ahead of Amebaw but the Ethiopian never looked likely to threaten the Kenyan. Muli increased her advantage over the closing 500m to finish in style, timed at 27:22 to Amebaw's 27:29, while Niyomukunzi completed the podium as a distant third, 39 seconds back.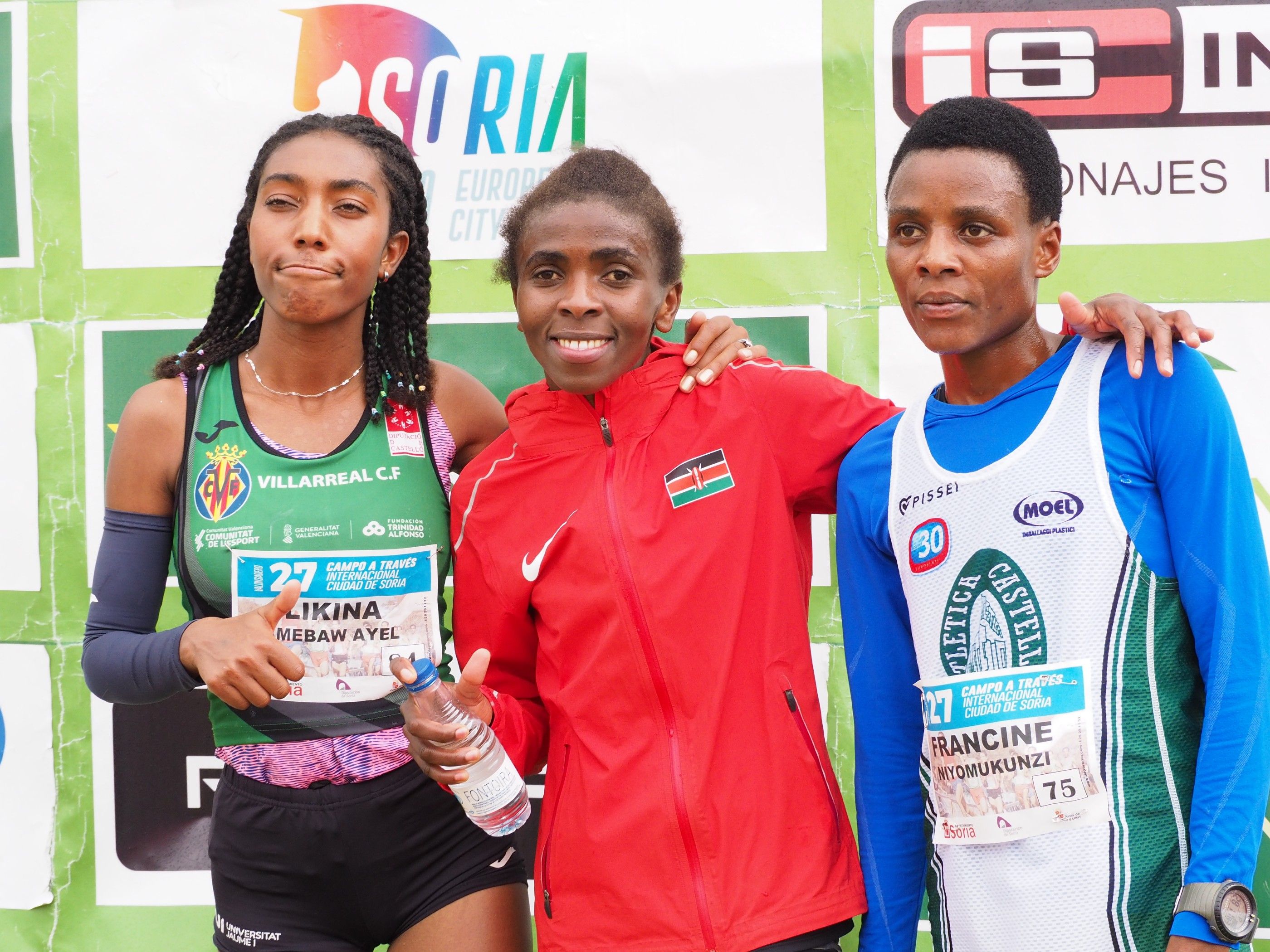 In the fight to be first European home, the 2019 European U20 cross country bronze medallist Machado proved to be the strongest and kept Ruiz at bay to cross the finish line in fourth, some 1:08 behind Muli.
The 22-year-old winner Muli said: "I expected to be on the podium but the win has been a surprise for me."
Emeterio Valiente for World Athletics


Leading results
Women
1 Lucy Mawia Muli (KEN) 27:22
2 Likina Amebaw Ayel (ETH) 27:29
3 Francine Niyomukunzi (BUR) 28:11
4 Mariana Machado (POR) 28:30
5 Cristina Ruiz (ESP) 28:32
6 Rosalia Tarraga (ESP) 28:34
7 Marta Perez (ESP) 28:37
8 Lia Lemos (POR) 28:38
9 Lidia Campo (ESP) 28:42
10 Azucena Diaz (ESP) 29:00
Men
1 Rodrigue Kwizera (BUR) 28:57
2 Thomas Ayeko (UGA) 29:04
3 Joel Ayeko (UGA) 29:12
4 Nassim Hassaous (ESP) 29:57
5 Thierry Ndikumwenayo (BUR) 30:03
6 Zakaria Boufaliat (ESP) 30:07
7 Ibrahim Chakir (ESP) 30:15
8 Juan Antonio Perez (ESP) 30:19
9 Andreu Blanes (ESP) 30:25
10 Ayad Lamdassem (ESP) 30:30