Awet Habte wins in Amorebieta (© Unai Sasuátegui)
Eritrea's Awet Habte and Burundi's Francine Niyomukunzi earned victories at the 67th Cross Internacional Zornotza, Spain's first World Athletics Cross Country Tour Gold meeting of the season, on Sunday (24).
Following the late withdrawal of Uganda's Thomas Ayeko and Sheila Chelangat due to visa issues, fellow Ugandan Joel Ayeko dominated the early stages of the men's 8.7km contest in the company of Eritrean duo Habte and Yemane Hailesilassie.
The opening 2km lap was covered in a moderate 6:15 but Ayeko increased the pace over the second circuit and a 6:02 split left only himself, the Eritrean pair and Uruguay's Santiago Catofre at the helm of the race. Meanwhile, Spain's Oussaim Oumaiz was alone in fifth, some 20 metres behind the leaders.
Half way through the penultimate lap, Habte surged and began to build a slight margin on Ayeko while Hailesilassie seemed to be in trouble in third after Habte's 5:54 split.
In a fascinating final circuit, Habte extended his lead while Oumaiz first overtook Catofre and then started to gain on Hailesilassie in third place. Habte finished well clear of the rest of the field, but Oumaiz finally managed to reel in Hailesilassie and then Ayeko in the final 100 metres to take second spot, marginally ahead of the Eritrean who also overtook a fading Ayeko by inches.
The 24-year-old winner lives for much of the year in Madrid and is coached by Jerónimo Bravo who led Tadese Zersenay to his world half marathon record of 58.23.
"I competed last Sunday at a half marathon, but despite that effort today I felt strong throughout," said Habte, who reached the 5000m final at the 2017 World Championships in London. "A couple of years ago I sustained a knee injury and that hampered my progression, then the pandemic came and was another setback but now I feel ready to do great things. My next race will likely be a half marathon in Lisbon."


Niyomukunzi dominates over Tesfu
The women's 6.7km event started with Burundi's Cavaline Nahimana taking an early lead, closely followed by her compatriot Francine Niyomukunzi, pre-race favourite Dolshi Tesfu of Eritrea and Spain's Isabel Barreiro.
Niyomukunzi, who last week completed her fifth half marathon within a seven-week period, showed no signs of fatigue when she broke away from the rest of the lead group after the second kilometre.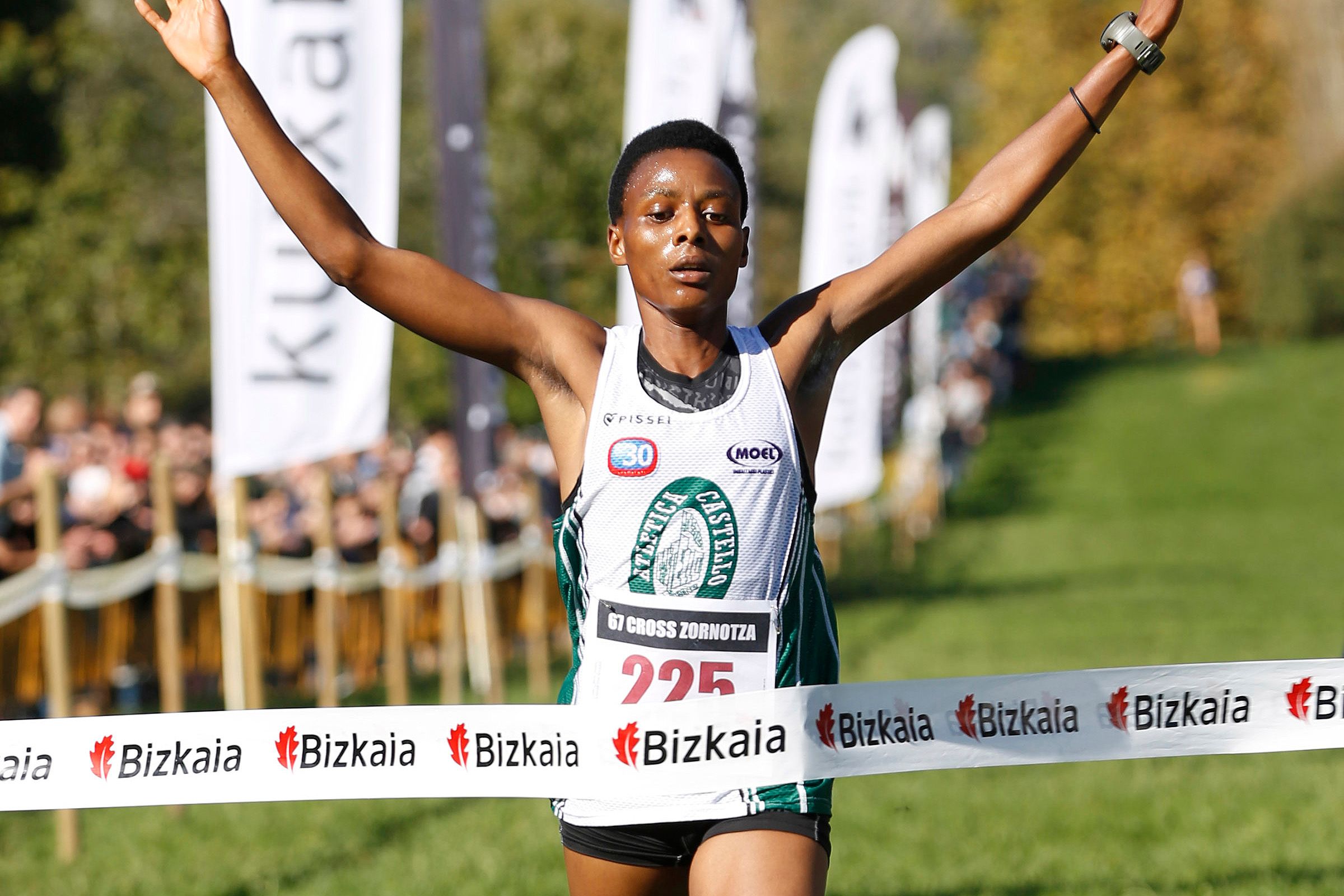 She covered the first 2km lap in 6:50 and held a six-second advantage on Nahimana, Tesfu and Barreiro. Following another 6:50 circuit, 22-year-old Niyomukunzi still led but Tesfu had shortened the gap to four seconds, herself eight seconds clear of Nahimana and Barreiro.
To the delight of the crowd, Tesfu caught the Burundian with some 700 metres remaining and it looked as though she was well on her way to victory, but Niyomukunzi bounced back strongly and managed to overtake the Eritrean in the closing stages. Barreiro finished ahead of Nahimana to complete the podium.
Emeterio Valiente for World Athletics


Leading results
Women (6.7km)
1 Francine Niyomukunzi (BDI) 22:39
2 Dolshi Tesfu (ERI) 22:40
3 Isabel Barreiro (ESP) 23:08
4 Cavaline Nahimana (BDI) 23:26
5 Blanca Fernández (ESP) 23:37
Men (8.7km)
1 Awet Habte (ERI) 25:54
2 Ouassim Oumaiz (ESP) 26:07
3 Yemane Hailesilassie (ERI) 26:08
4 Joel Ayeko (UGA) 26:09
5 Santiago Catofre (URU) 26:18